Regular price
Sale price
$49.99
Unit price
per
Sale
Sold out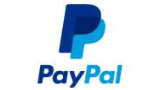 Shipping & Returns

Shipping

Free shipping on all orders to the contiguous U.S.

Return and Refund

We offer a 30 days risk-free return. Check our return and refund policy.
View full details
This laptop stand riser with phone holder has a unique, functional design and WOKAMALL holds the patent. Manufactured with aircraft-grade aluminum, this laptop riser is sturdy and lightweight. The angle is adjustable and it holds laptops up to 17''. A great addition to this laptop stand is, it is built with a telescopic phone holder. By sticking a magnetic patch at the back of your phone, you can easily magnet the cell phone on it. 
2 colors are available: dark gray and silver
What's the difference between the WOKAMALL laptop stand and the other similar laptop stands?
You may have seen some indistinguishable laptop stands that have a similar shape to the WOKAMALL laptop holder. So is there any variation between them? The answer is yes. There are 2 core differences. 
First, the WOKAMALL laptop stand has buttons to adjust the angle and there are 6 pre-set stages to adjust. Others in the markets are designed with infinitely variable control. It seems more flexible indeed, however, through the test in the lab, infinitely variable controlled laptop stands are likely to tilt down after a long time of usage. 
The second difference is, this laptop stand is built with a phone holder. The phone holder is retractable as a telescope and the way it holds your phone is through a magnet, which is super sleek and cool! One more bonus, the phone holder can extend, turn and rotate. 
Adjustable laptop stand riser
This laptop holder has a Z shape and both of the joints are adjustable. One button is to adjust the shelf, and the other is to adjust the panel. Press and hold the button, you can tilt the shelf or the panel among 0°,20°,40°,60°,80° and 90°. Thanks to the Z shape design, It is portable and foldable. You can fold the laptop stand and put it in the laptop bag. 
Laptop stand with phone holder
The phone holder is built on the frame. It is extendable up to 6.2'' and can be turned 360 degrees. The magnet head is rotatable. Just sticking the enclosed magnet pad on the back of your phone, you can place the phone vertically next to the laptop. It ergonomically lifts your phone to eye level while you are working with your computer. 
Sturdy aluminum laptop stand for desk with rubber pads
Panel measures 10'' x 8.2'', built with strong aluminum, this laptop stand is solid and stable. Loads up to 18lbs, this laptop riser supports any laptop including MacBook, iMac Pro, ThinkPad, Lenovo, Alienware, and more. The base has rubber pads to keep the riser stand steady. The panel is also designed with rubber plates that avoid laptop slip. The panel has a ventilation hollow design. The ventilation hollow has a modern pattern and it does it work - keep your laptop cool.
Rise the laptop, enjoy a productive working experience
If you use a laptop frequently, it is vital to invest in a good laptop stand to raise your screen. Using a laptop stand helps put your screen to a proper height, and prevent neck strain and back pain while allowing the laptop cooling. This is one of the best ways to build an ergonomic workspace in minutes.
The laptop stand comes ready to use. No assembly is needed.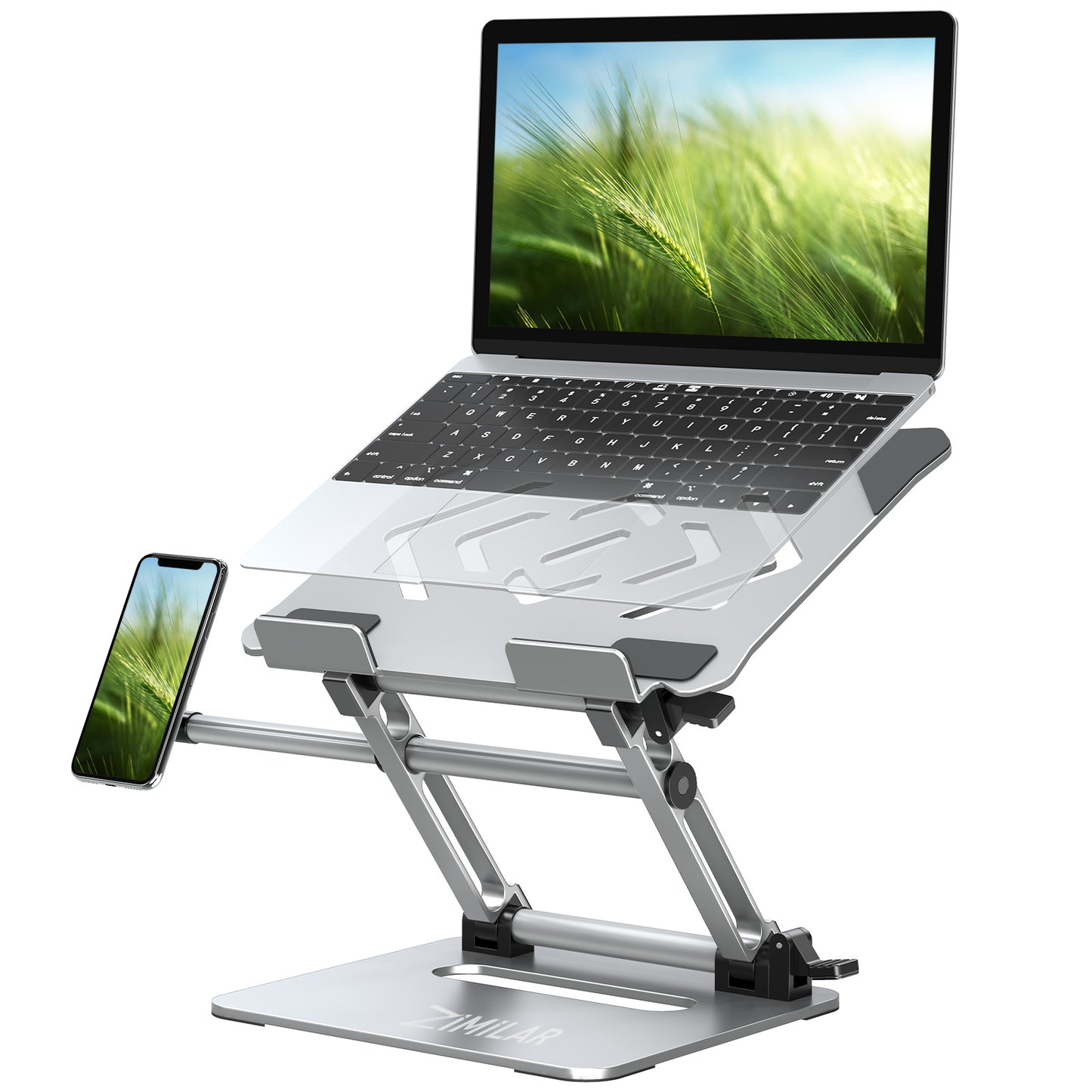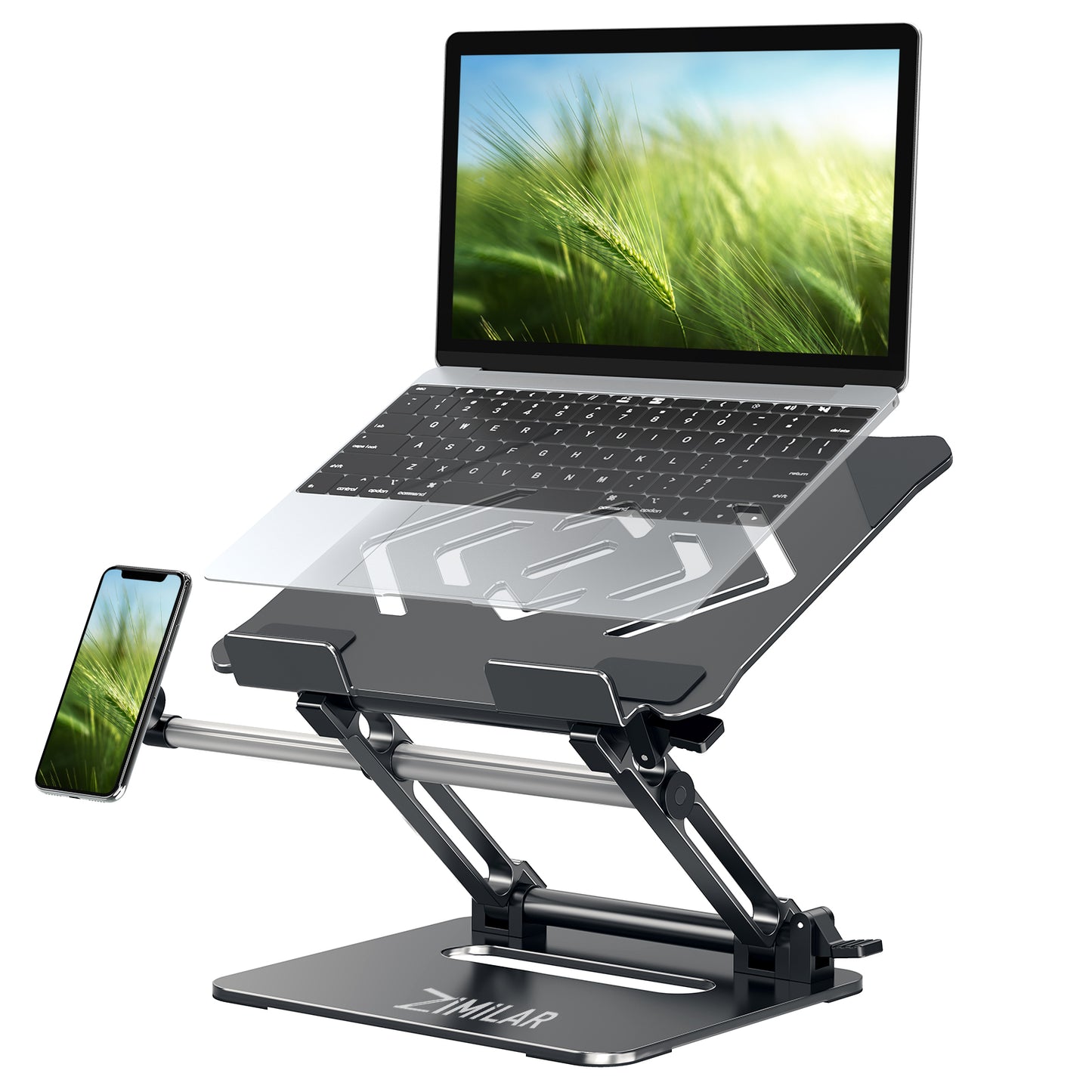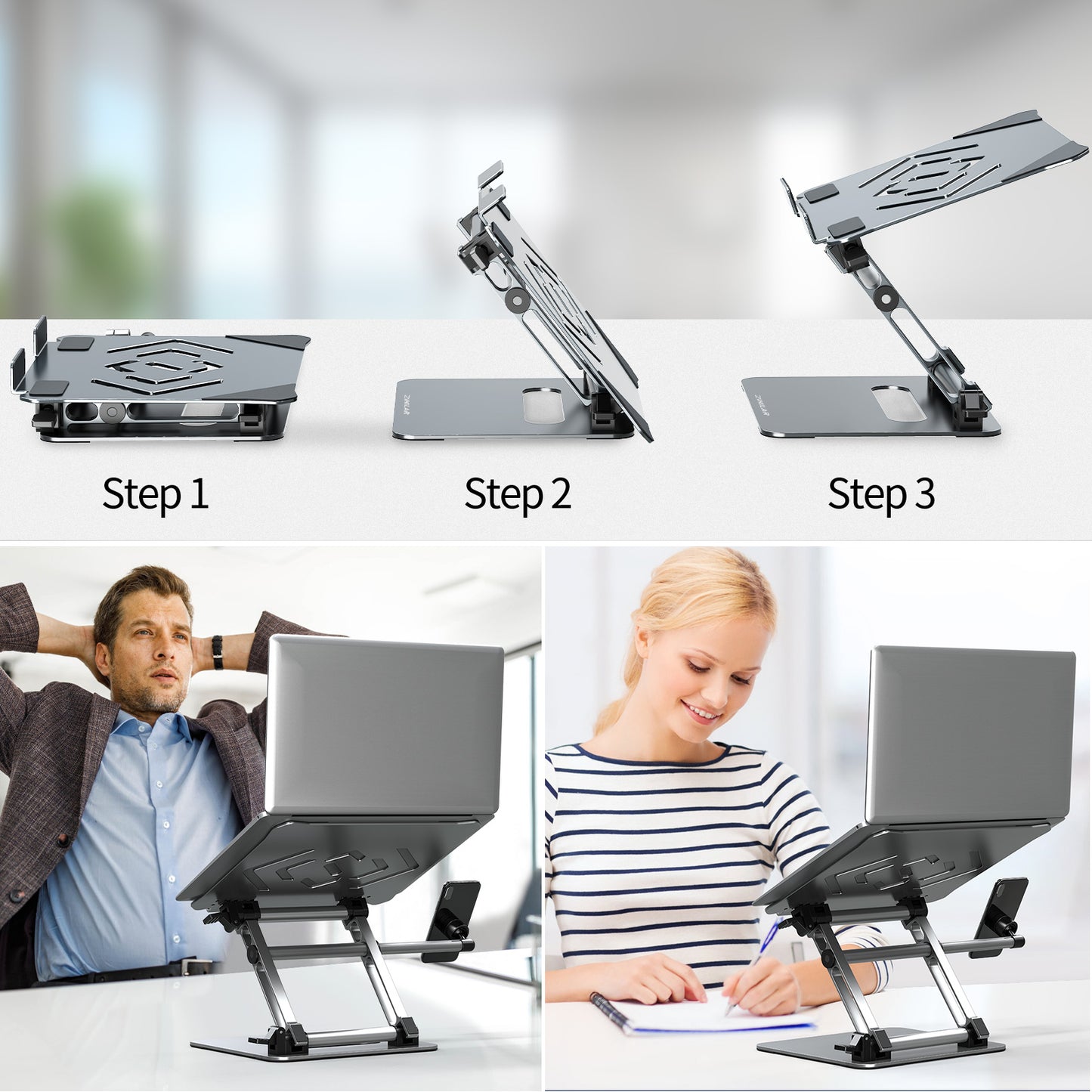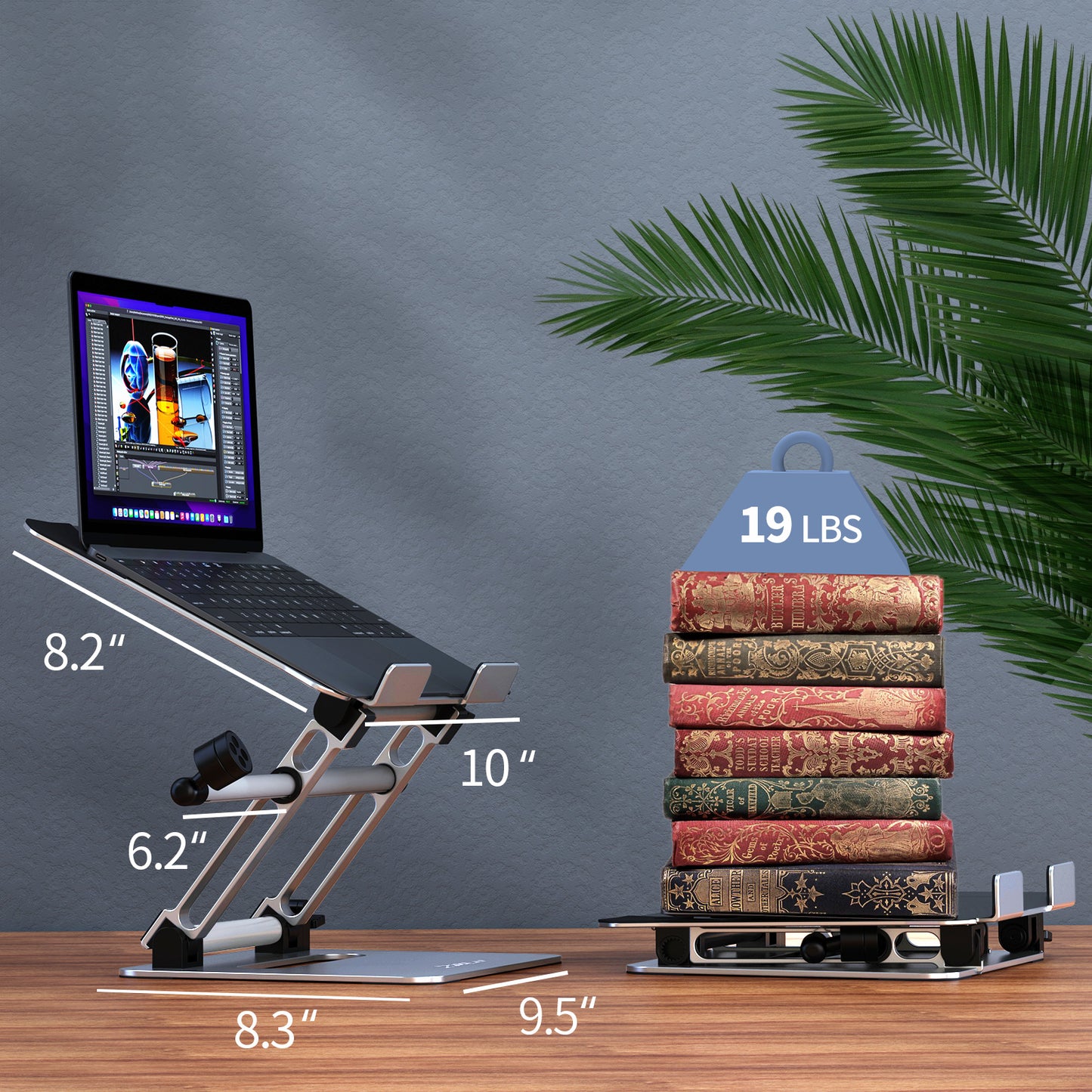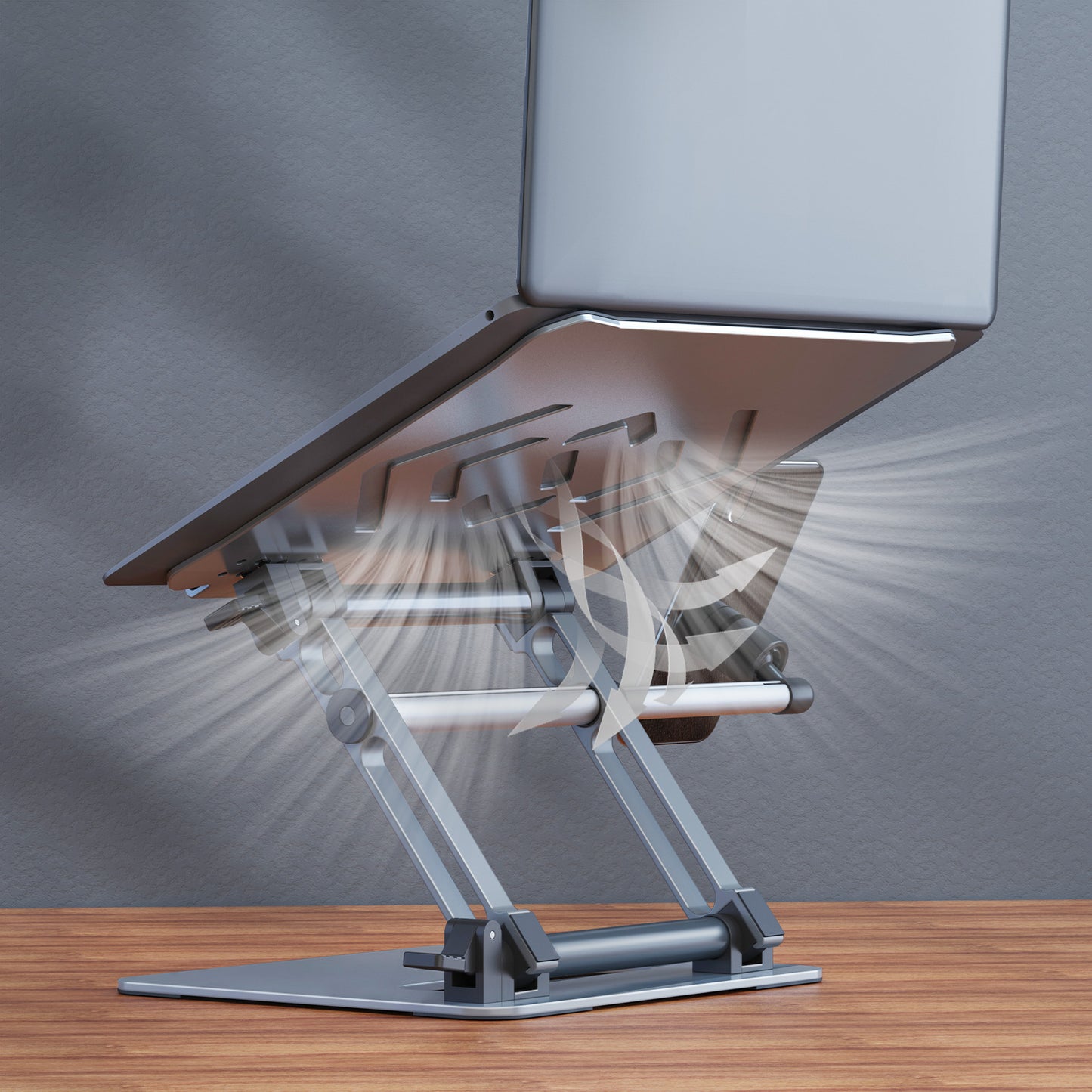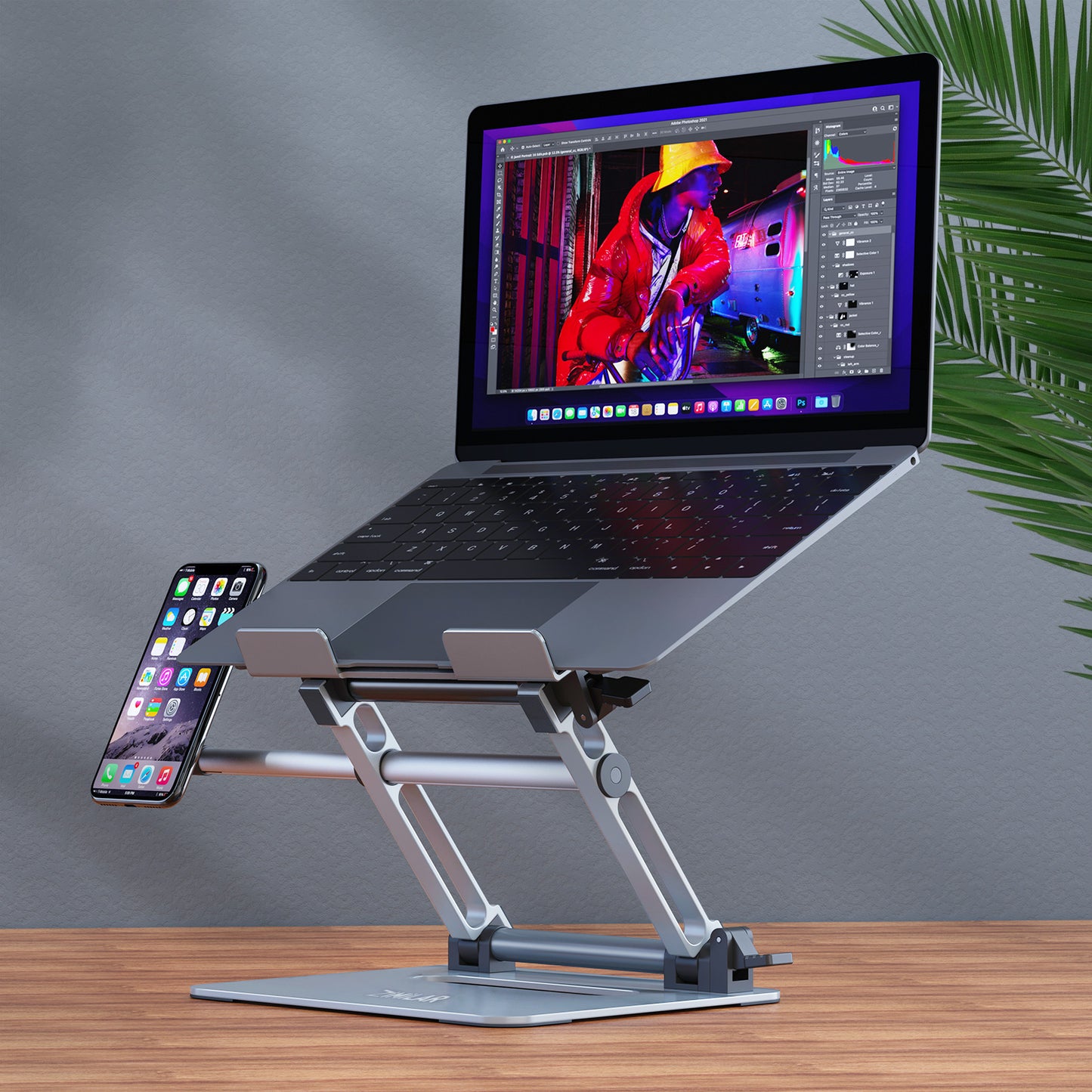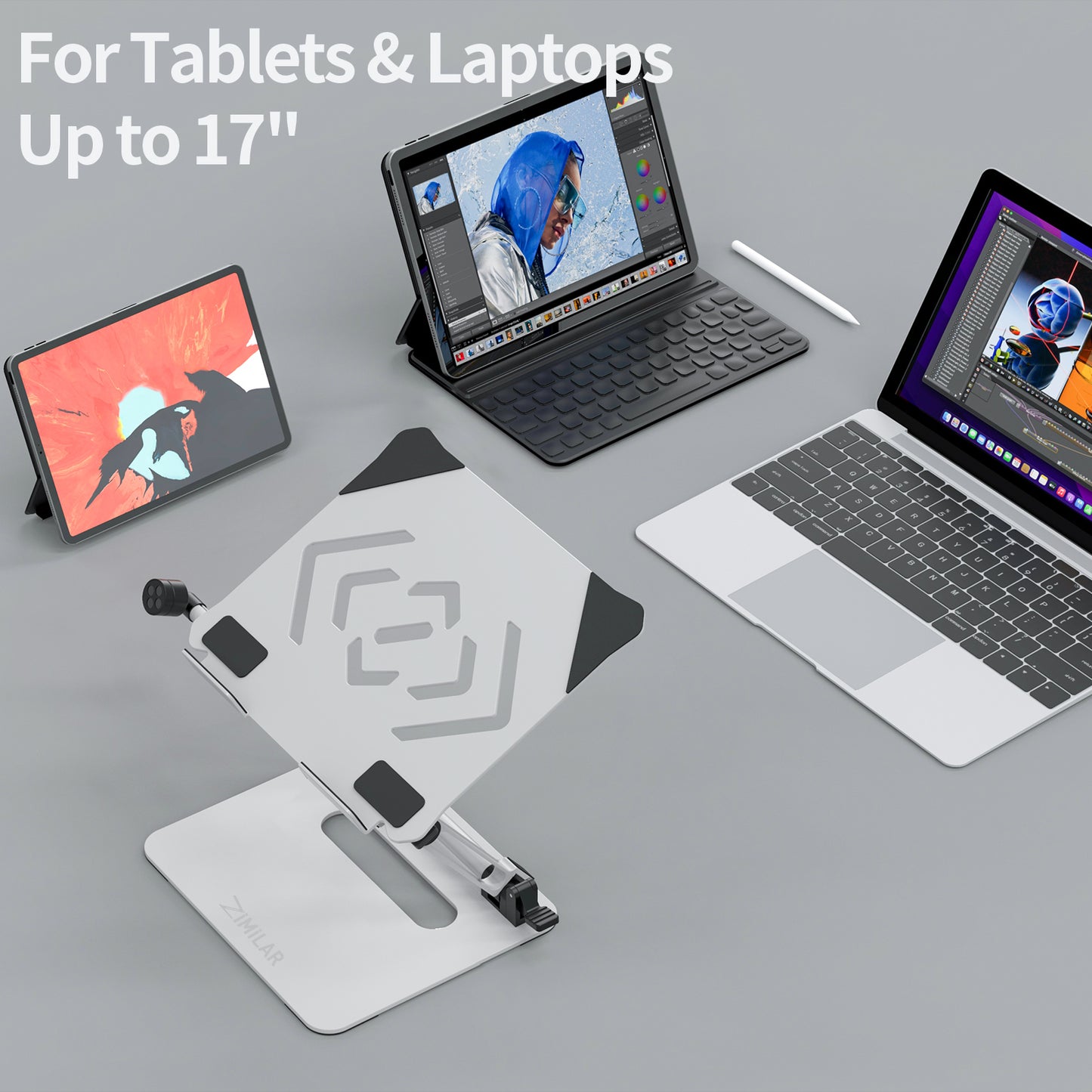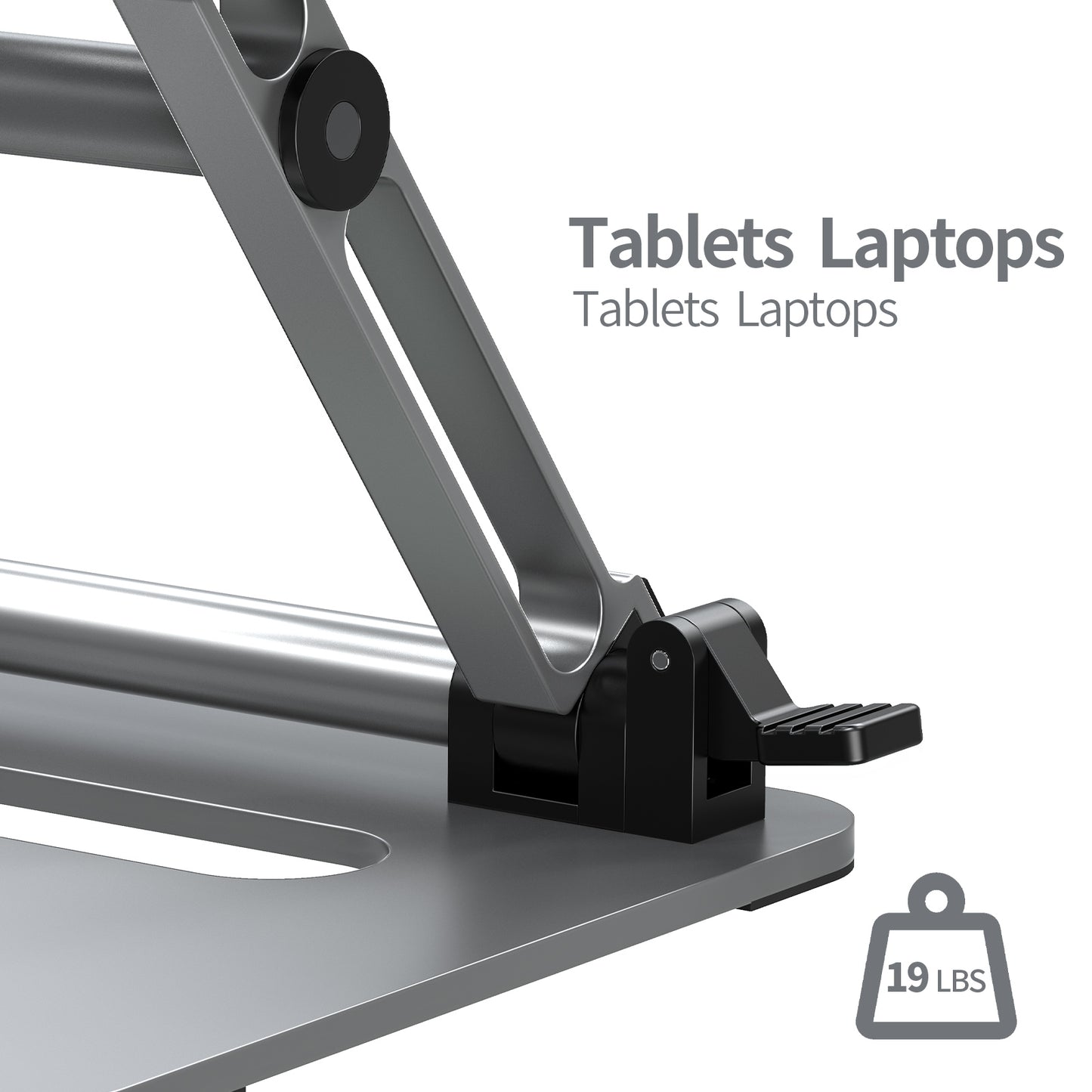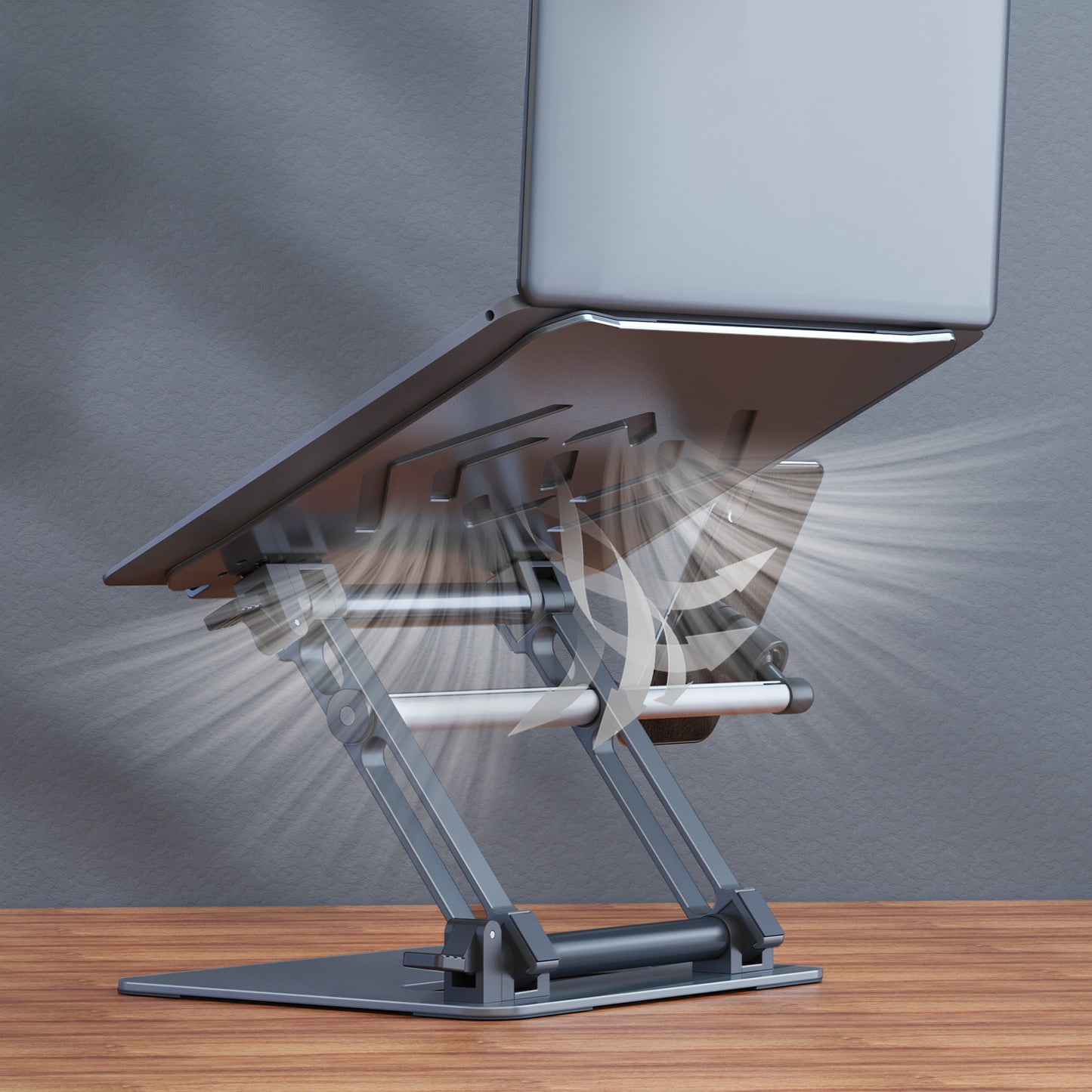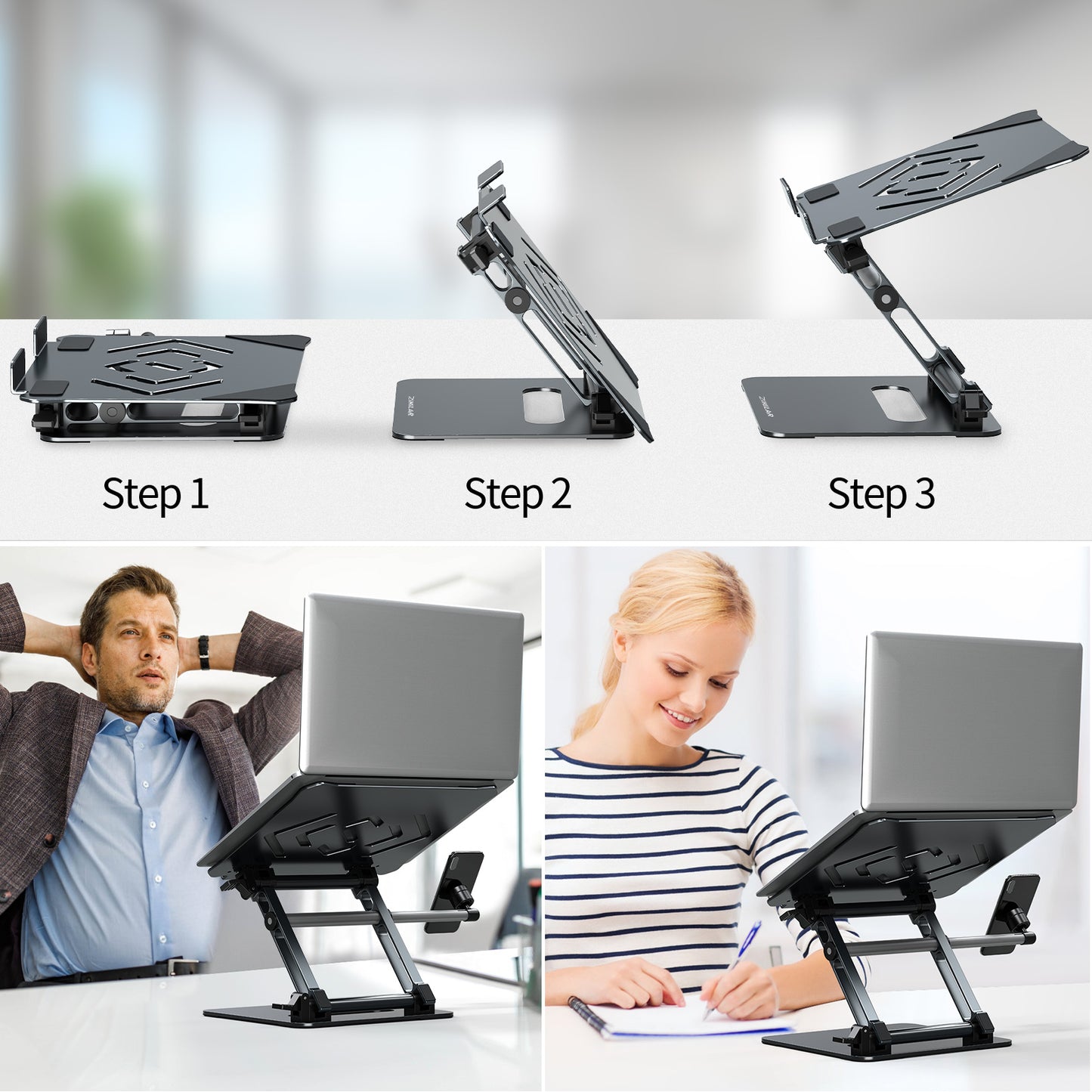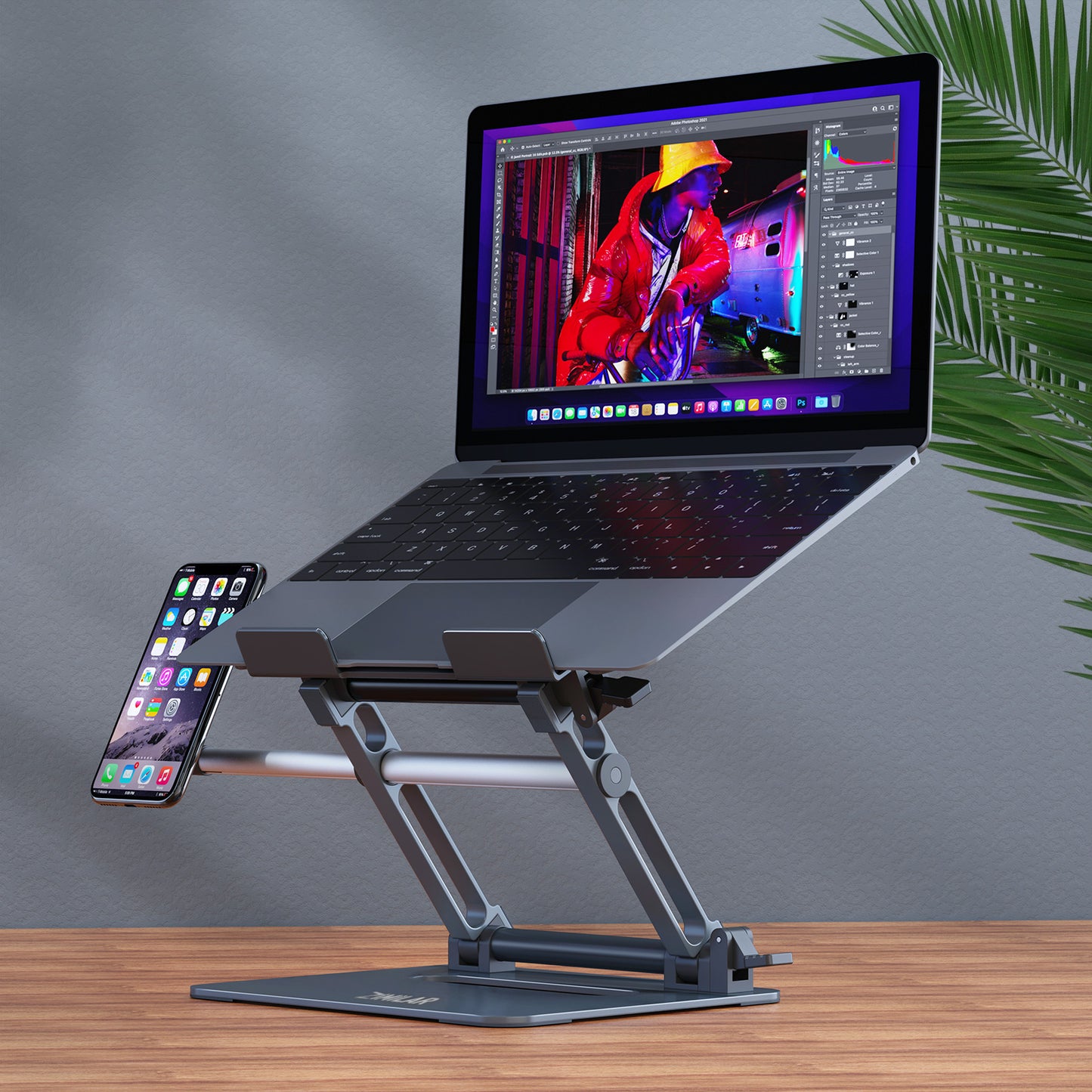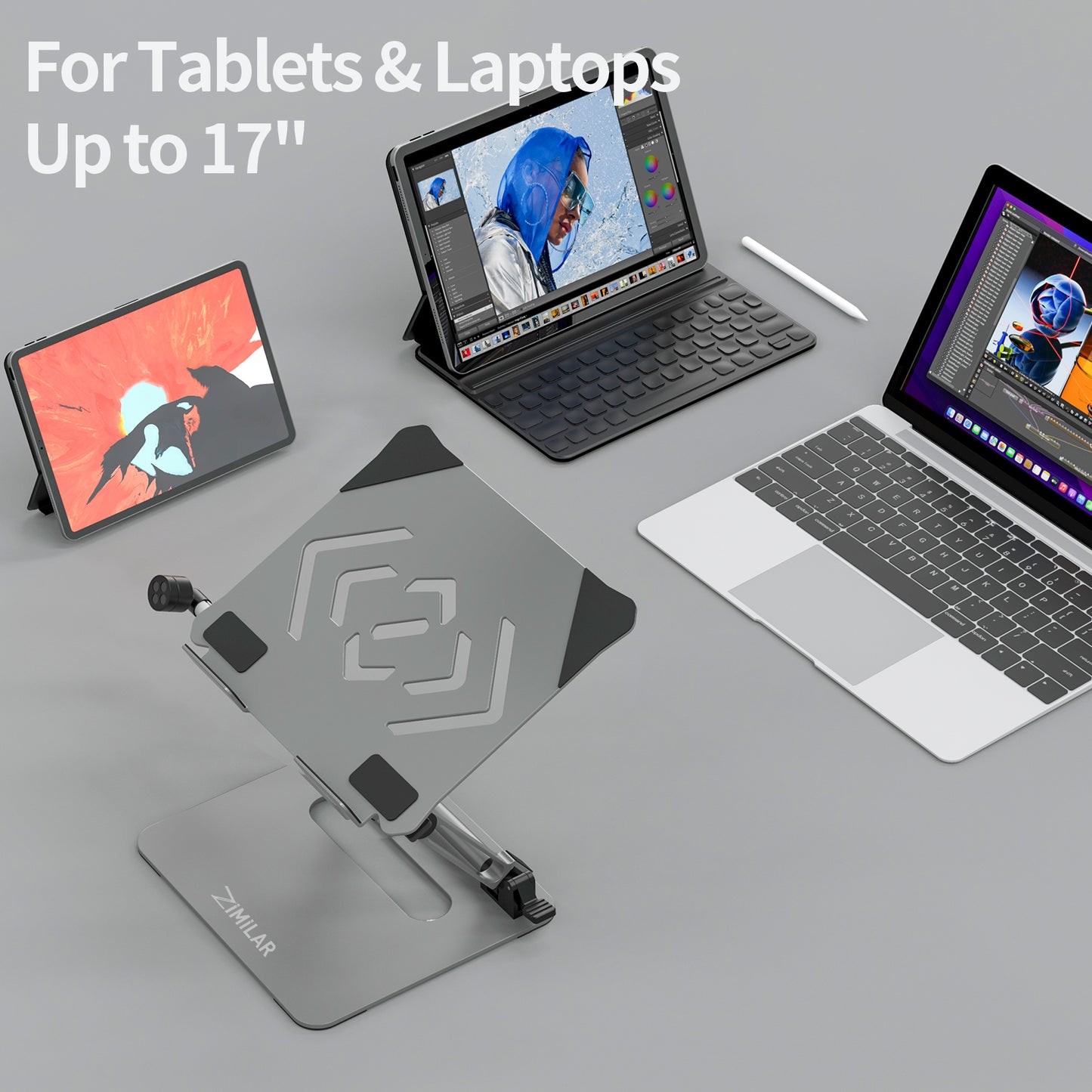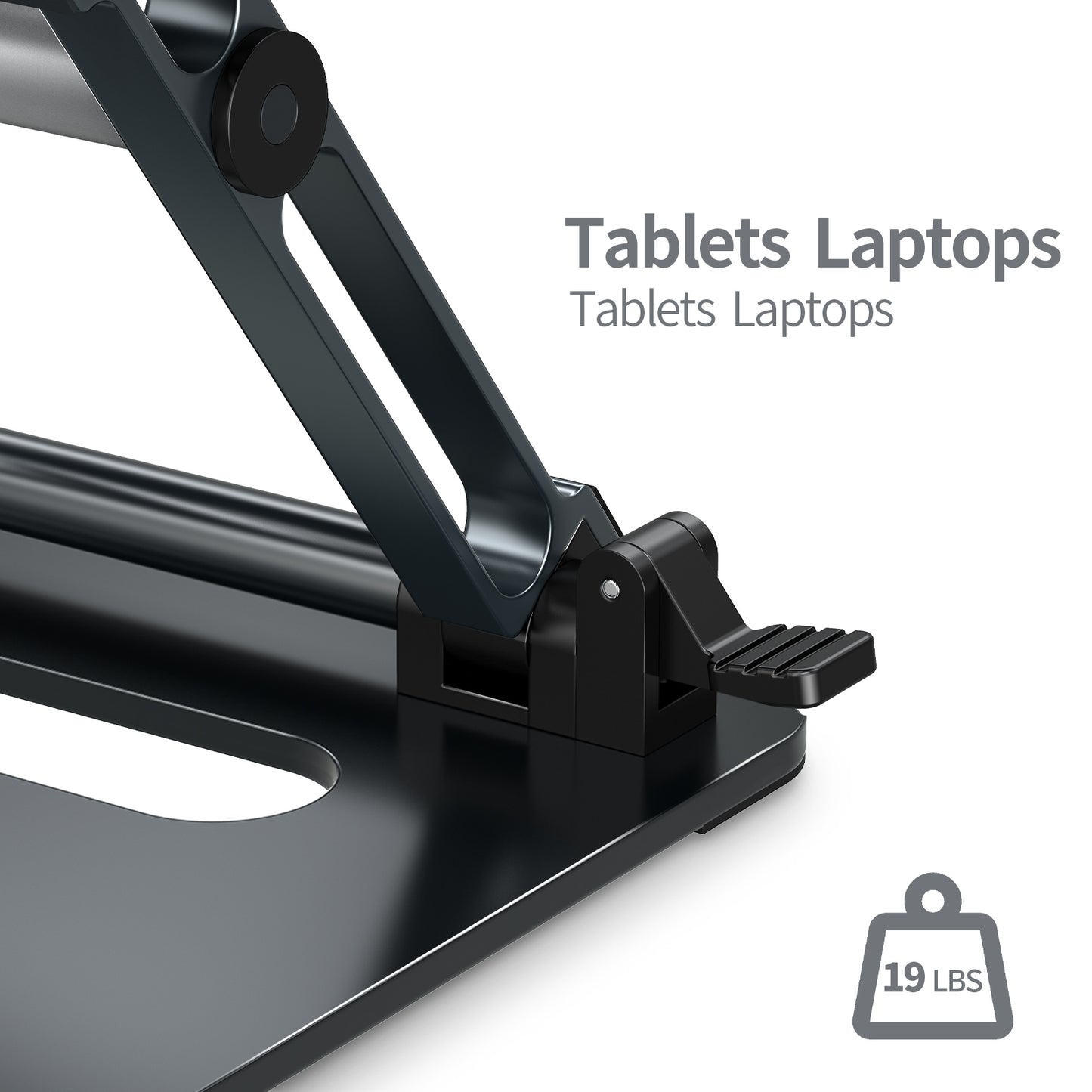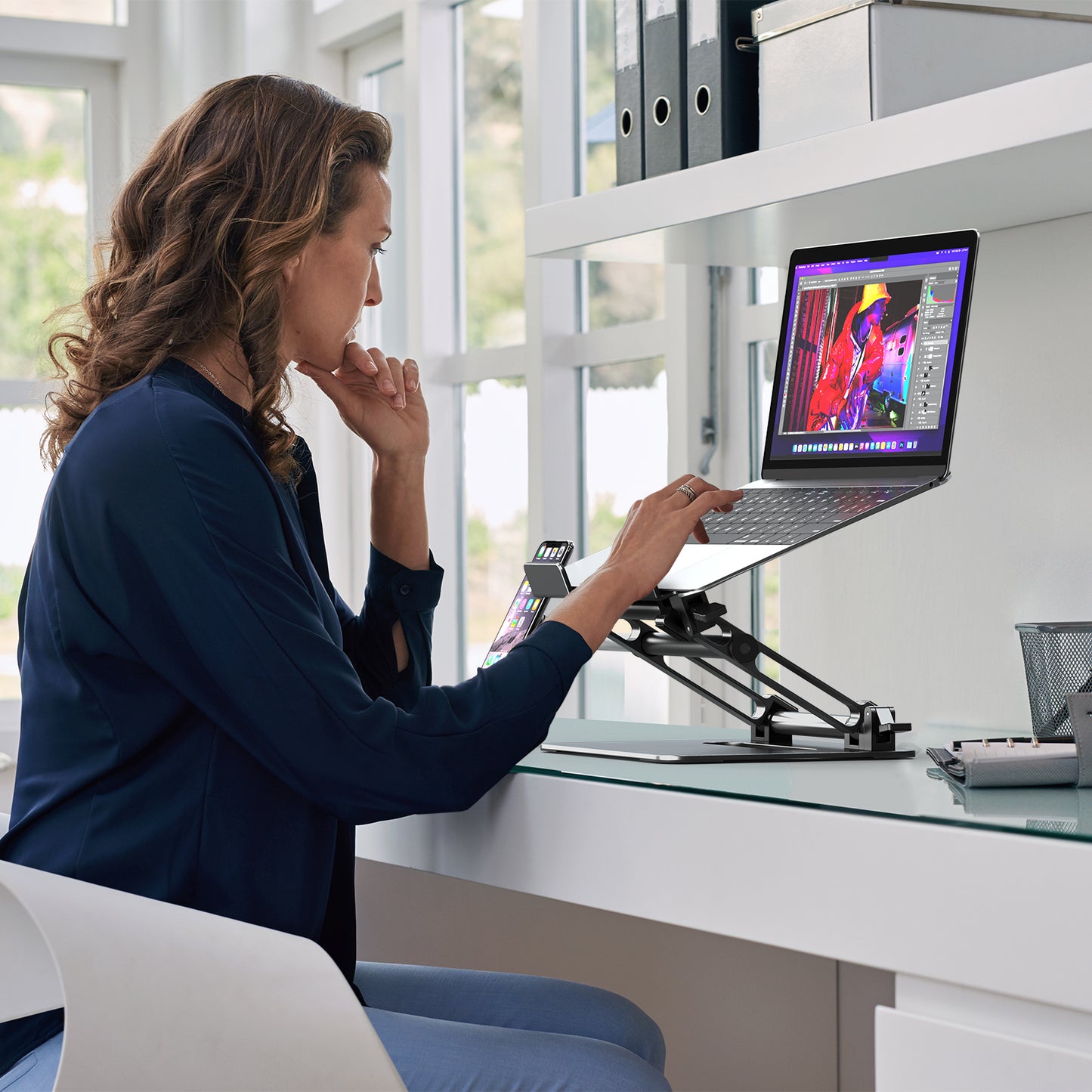 It does makes the work a lot easier but it only last 2 days before it broke
It broke but they sent me another one right away , this product actually makes my work a lot easier , Im very happy with it
Did not fit our 17 HP.
Nice for a smaller laptop. Did not work well with our 17 laptop, it became top heavy. Overall it was very nice.