Introducing WOKA Eletric Standing Desk 
If you are looking for a sturdy standing desk to upgrade your workplace or home office, check the new WOKA standing out. This adjustable and electric standing desk is operated by dual motors and has a memory preset controller, enabling you to enjoy all the benefits of standing up while working. Let's take a look at this new WOKA standing desk and get to know its key features and benefits.
Who Is The WOKA Standing Desk For?
Standing up more helps while you're at work you to burn calories, as well as reduce tension and pressure around your back, shoulder and neck. This standing desk is designed with minimal noise, which is an ideal investment for your workplace or home office. For student, however, this standing desk might be too expensive to afford. With a price of $369.99, this high-quality piece of ergonomic furniture is good for professional who spend a lot of time sitting at their desk.
Electric Stand Up Desk Specfications & Key Features
Now it's time to have a look at the WOKA standing desk specifications and key features!
Price: $369.99
Color options: walnut, black, blue, oak, mahogany
Min height: 27.6''
Max height: 47.2''
Noise level: quiet design below 50 db
Loading capacity: 220 lbs.
Desk dimensions: 47.2''(L)×23.6''(W)×0.98''(thickness).
Motor: Dual-motor lift system with smart programmable handset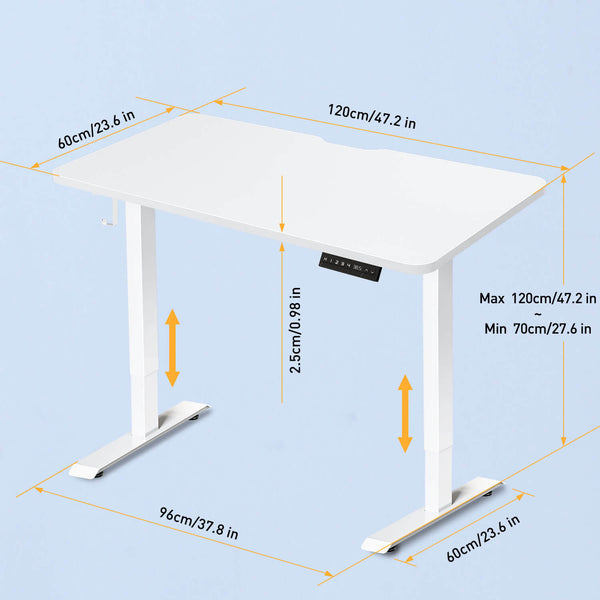 WOKA Adjustable Standing Desk Key Features
User-friendly design
The standing desk is designed with you in mind. Letting users to quickly transition from a sedentary position to standing up while working, this user-friendly design provides a great addition to a home office or corporate office. This particular model is also equipped with a desk hook to hang headsets or a small bag as well as a socket tray to run through wires to keep your desk neat and tidy.
Adjustable Ergonomic Office Furniture
After you buy it, you will have the ability to pre-set not one but four custom heights, giving you complete control of how you work. To switch height, simply press the controller and the desk will automatically recline back to the lowest position, or increase in height to allow you to stand up and work comfortably. The rapid transition is achieved in 1.2'' per second.
Quiet Dual Motor Capabilities
If you're the only one in your office to have a stand up desk, the last thing you want is to draw attention to yourself when you change position. But thanks to its quiet dual motor capabilities, you can enjoy the benefits of an adjustable standing desk without the noise that is typically associated with standard electric desks. Plus a peaceful and quiet space is the best possible environment for productive and focused work.
Safety Comes First
When you buy WOKA standing desk, you can rest assured that you will be getting quality ergonomic office furniture that has been designed and tested to ensure your safety. The safety system includes a lock function to prevent the desk from reclining without your control. It also has an anti-collision feature which the desk will retract back when encounters obstacle to protect your desk and other furniture.
Customer Reviews
What are people saying about the new WOKA electric standing desk?
The desk is totally worth the money. High quality and easy to assemble. Michael L.
This standing desk completely changed my working style. I can sit or stand freely while I am working.  John W
It operates quietly and smoothly. And I really like the memory presets, which can adjust to the height I set before just in second. Carrie T
Where to Buy The WOKA Electric Standing Desk
If you're ready to upgrade the way you work with the new WOKA standing desk, you can now order it online directly from WOKA.
WOKA offers an excellent customer support service and all desks are easy to assemble at home or at work.