Regular price
Sale price
$19.99
Unit price
per
Sale
Sold out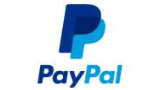 Shipping & Returns

Shipping

Free shipping on all orders to the contiguous U.S.

Return and Refund

We offer a 30 days risk-free return. Check our return and refund policy.
View full details
This tempered glass monitor stand comes with a glass platform and height-adjustable legs. The legs can be adjusted from 2.9 inches to 3.39 inches (7.36 cm to 8.6 cm) and the stand holds up 44 lbs (19.96 kg). You can put iMac monitors, Dell monitors, Samsung monitors, or a laptop on it. For long-term use, this glass monitor riser would be recommended.
Tempered glass monitor stand for desk
Tempered glass is about 4 times stronger than ordinary glass. The tempered glass monitor stand is stronger and safer compared with the one made of ordinary glass. When broken, it would fracture into small and harmless pieces instead of jagged shards.
Thanks to the glass surface, this glass monitor stand can stay as new for years. The surface of the glass is smooth, easy to clean, and resistant to heat. The glass monitor riser never bends.
Clear glass monitor stand
WOKAMALL has clear glass platforms in this style.  It matches the modern interior design and creates a cool workstation. A clear monitor stand is low-profile and keeps a minimalistic look. You can find stuff at a glance on the desk. 
Height adjustable monitor riser
This glass monitor stand is height adjustable. To adjust it, just rotate the nuts under the legs of the monitor riser. In this way, you can put your screen at your eye level. A slight difference in height makes a big difference in your posture, which helps avoid neck pain and back pain boosts your productivity while working.

The height of this adjustable monitor riser can be adjusted from 2.9 inches to 3.39 inches (7.36 cm to 8.6 cm). In addition, each leg has anti-slip pads underneath. It allows the monitor stand riser to stand firmly on the desktop.
Keep workspace ordered and clean
It is a monitor riser as well as a desk organizer. It helps raise your screen to a perfect height. In the meantime, you can use it as a desktop organizer. You can directly put your keyboard and mouse underneath. In this way, you can make room for reading or writing.

Universal computer monitor riser and laptop riser
This tempered monitor stand holds up to 44 lbs (19.96 kg). It works perfectly with 12 inch - 41inch screens. Whether you have iMac monitors, Dell monitors, Samsung monitors, or a laptop, this glass monitor stand will be a great choice.
It is more than a monitor riser. It can also be a printer stand if you own a mini printer at home. It can also be a desktop showcase. You can display your garage kits, potted plants, soundbox, and more, and build a fantastic workspace. The stand can also be placed in the kitchen or in the bathroom as an organizer.
2 Minutes assembly
This glass monitor stand is easy to assemble without the tools required. Just Screw the legs to the desktop and it is done.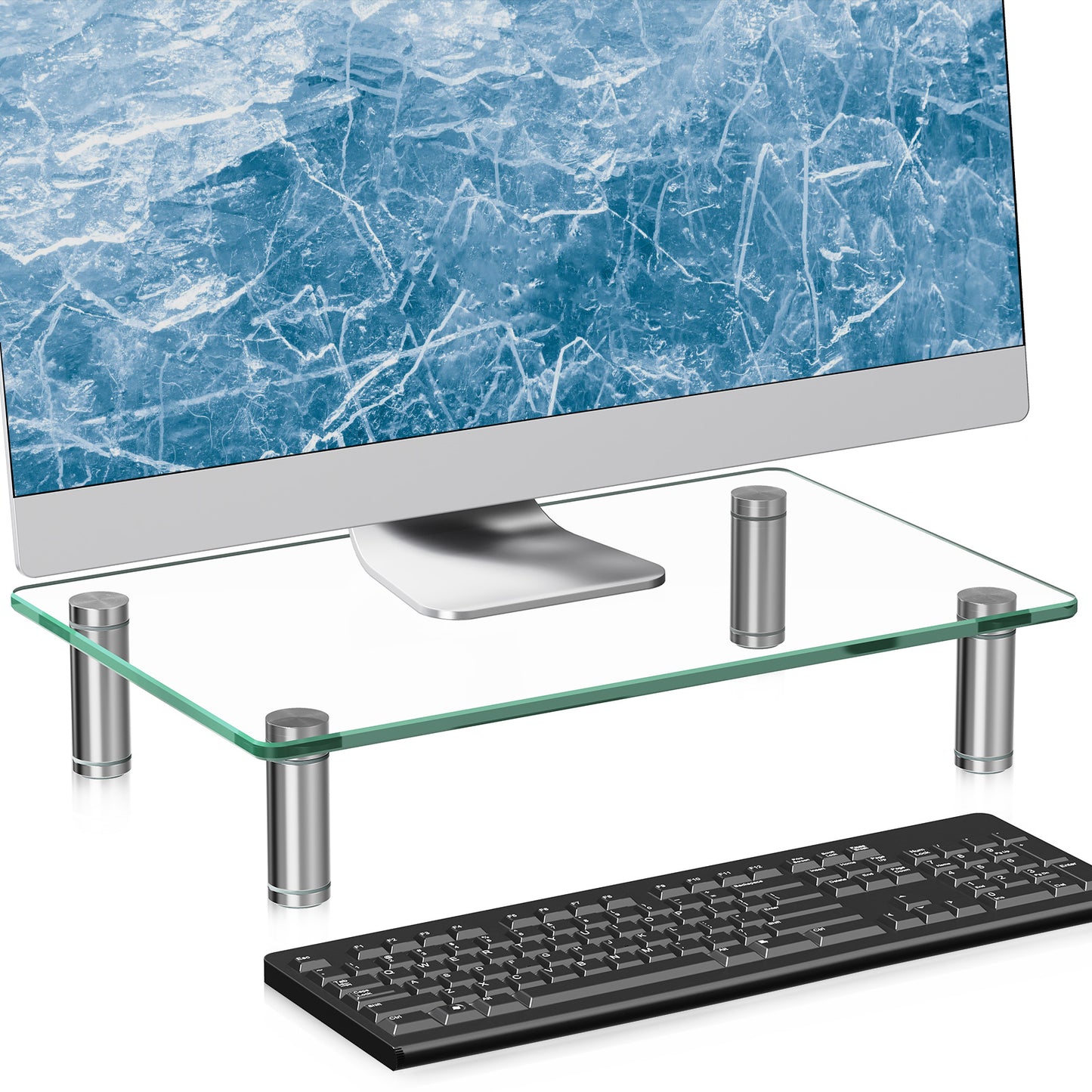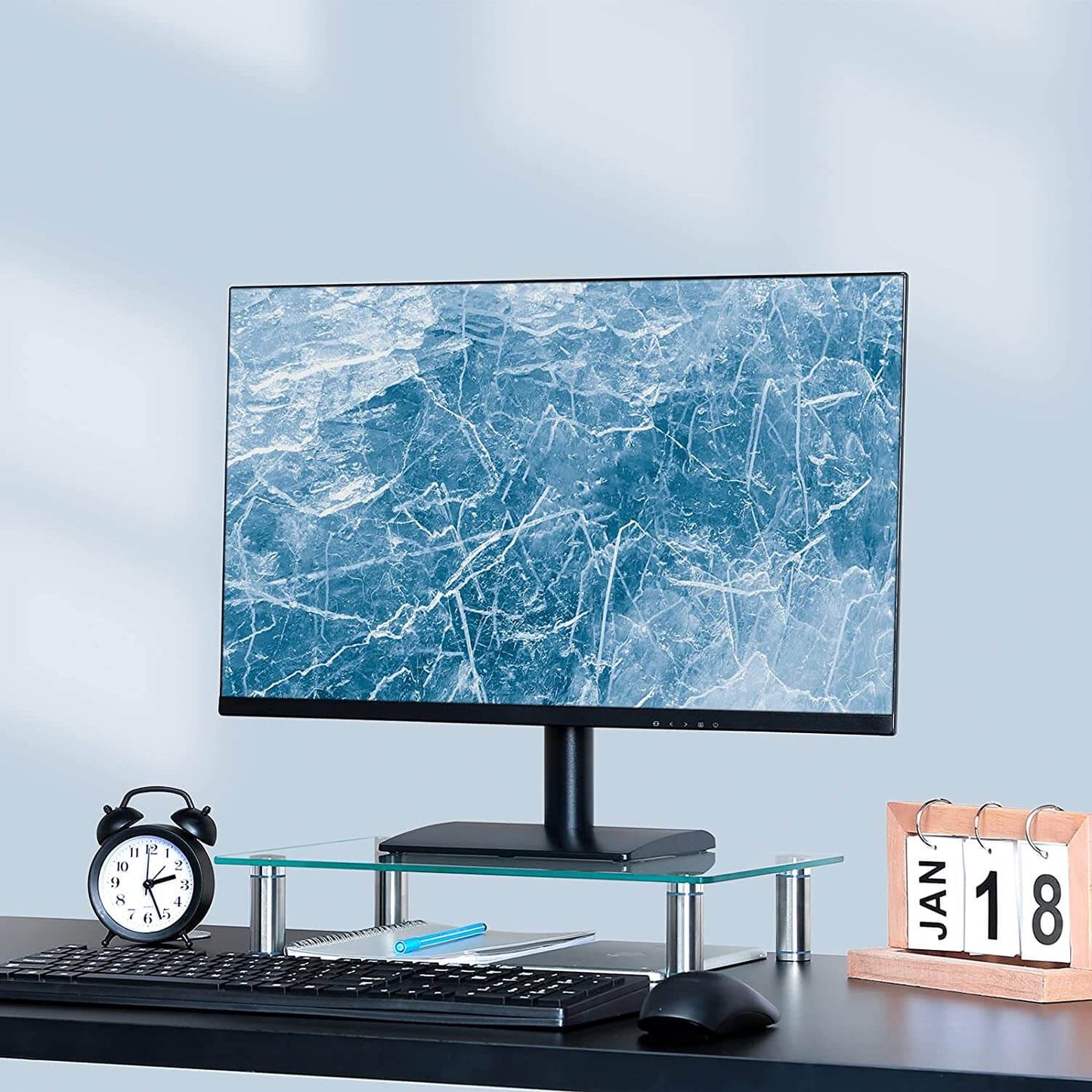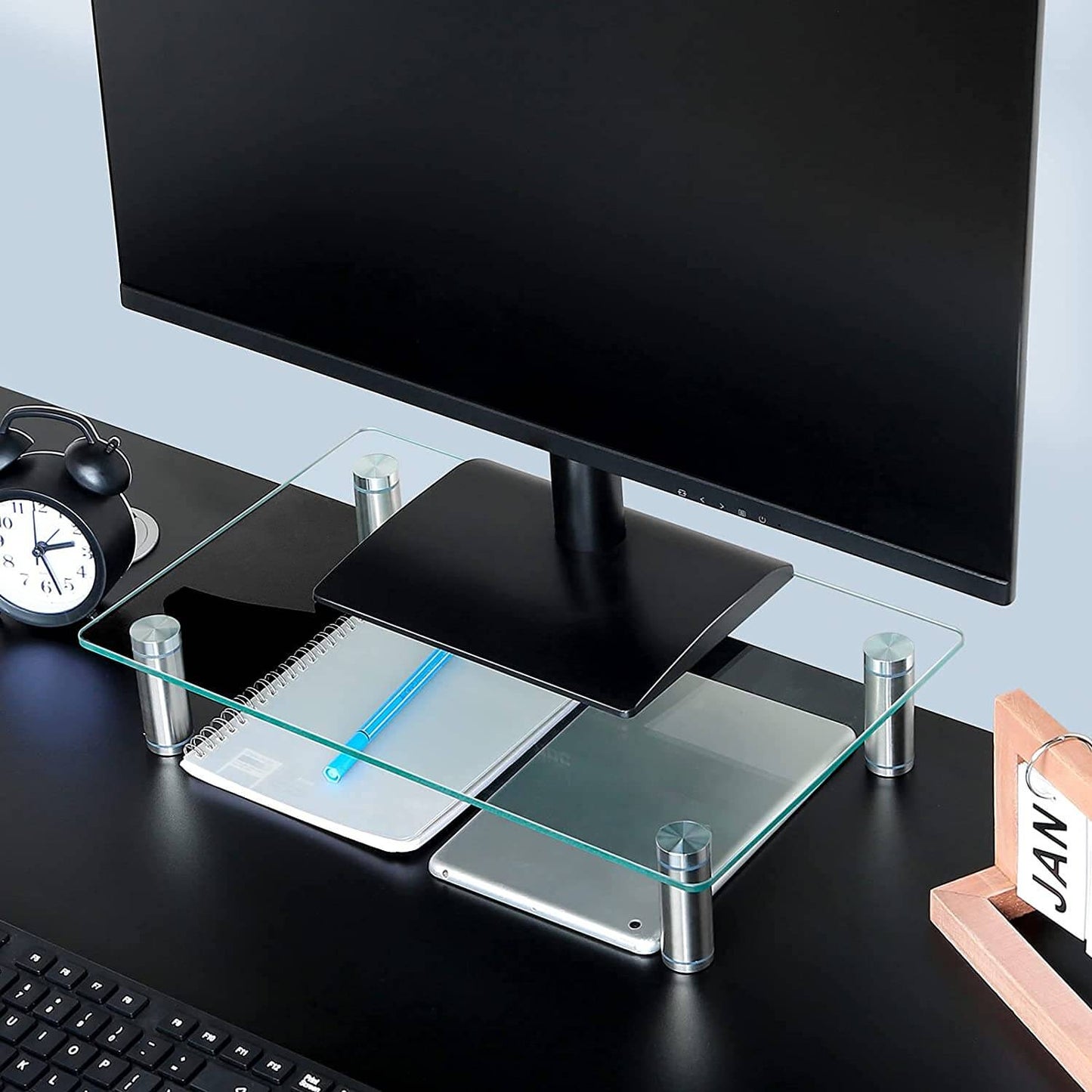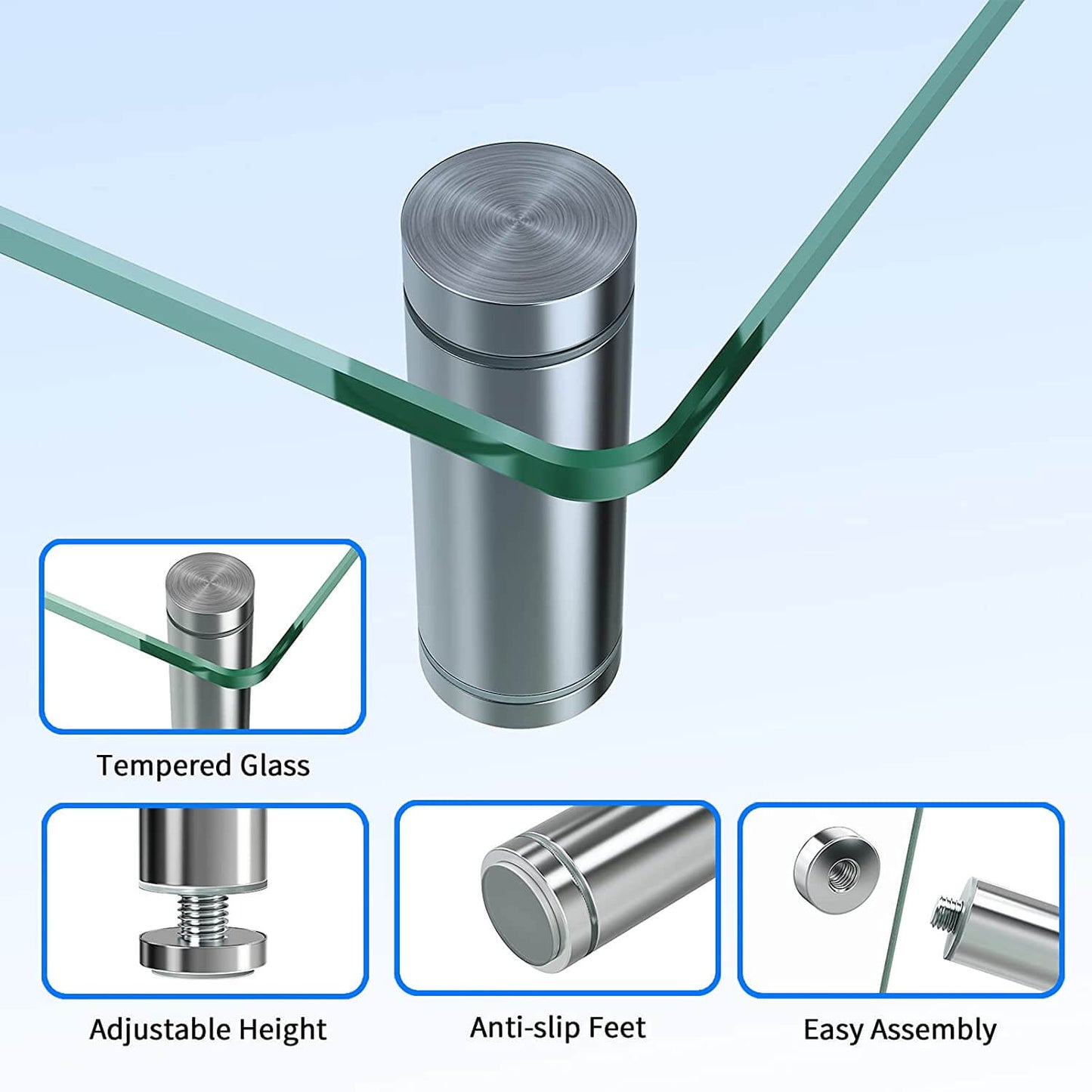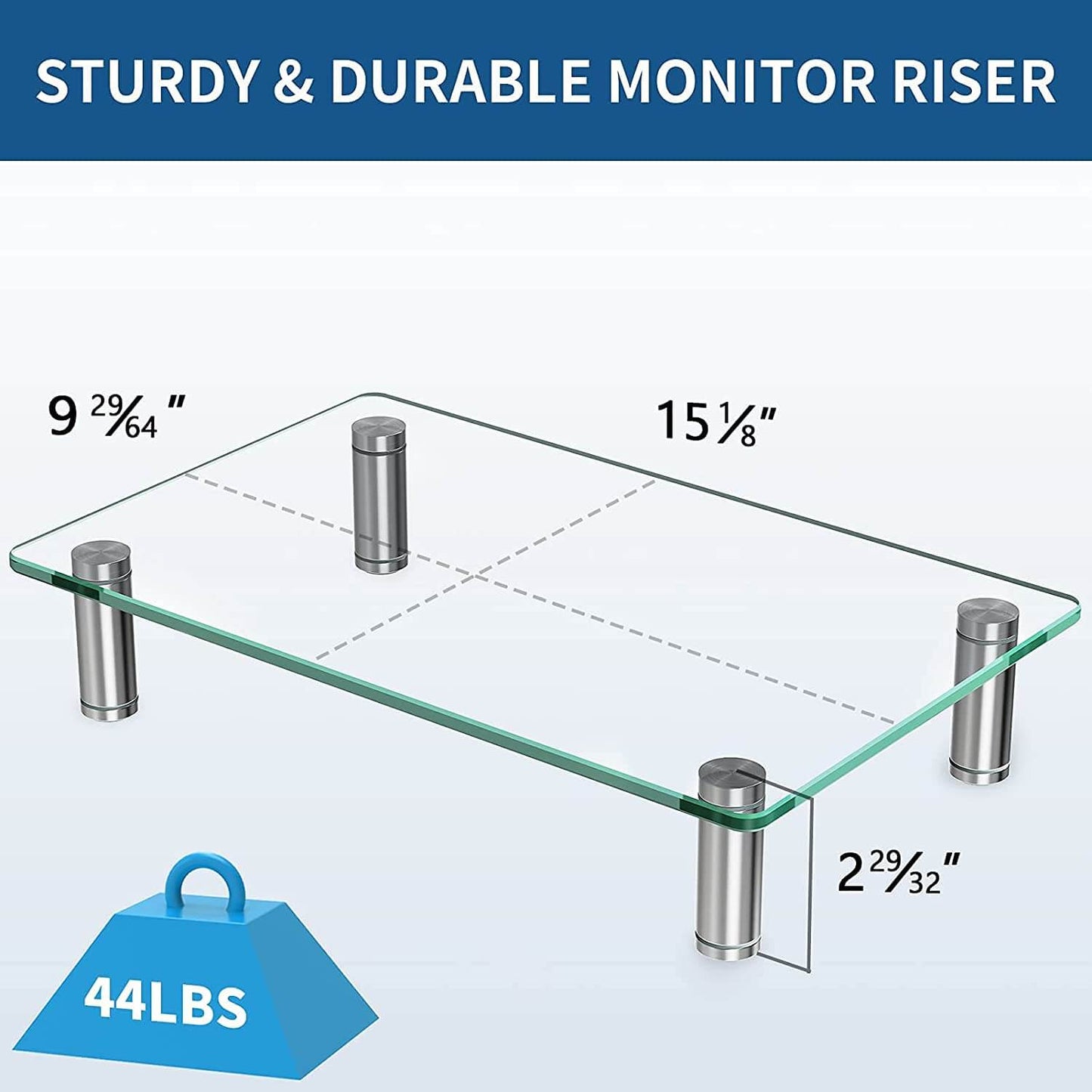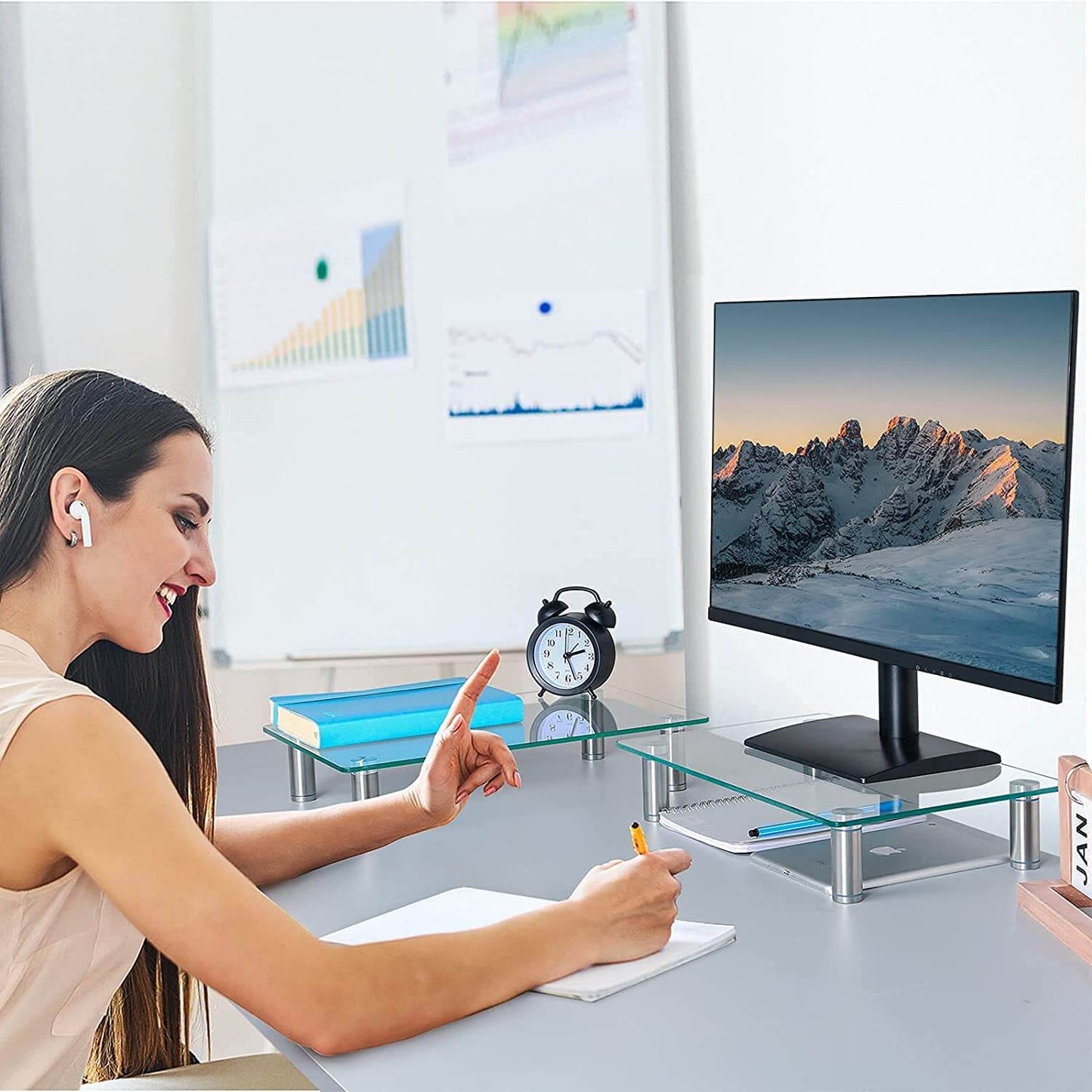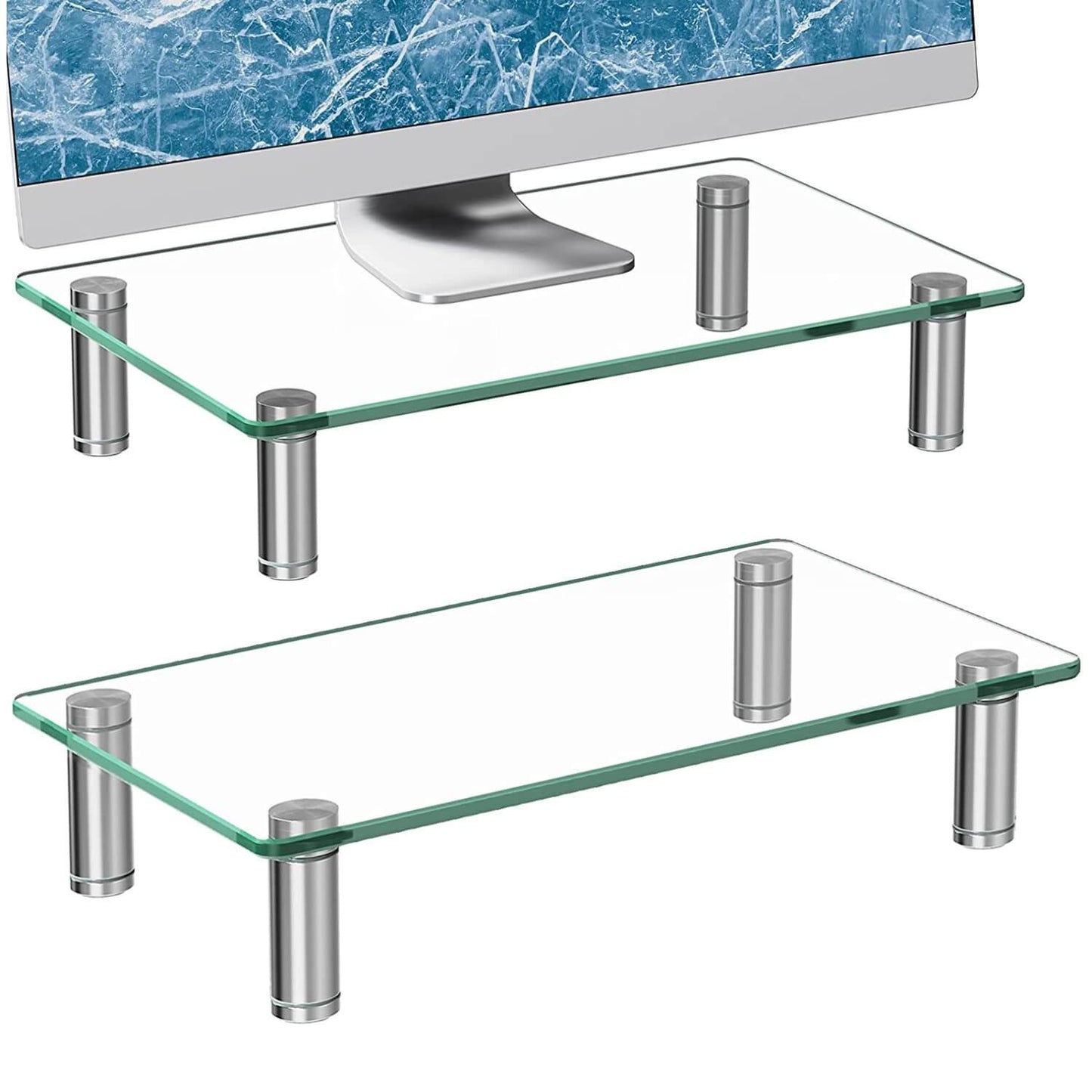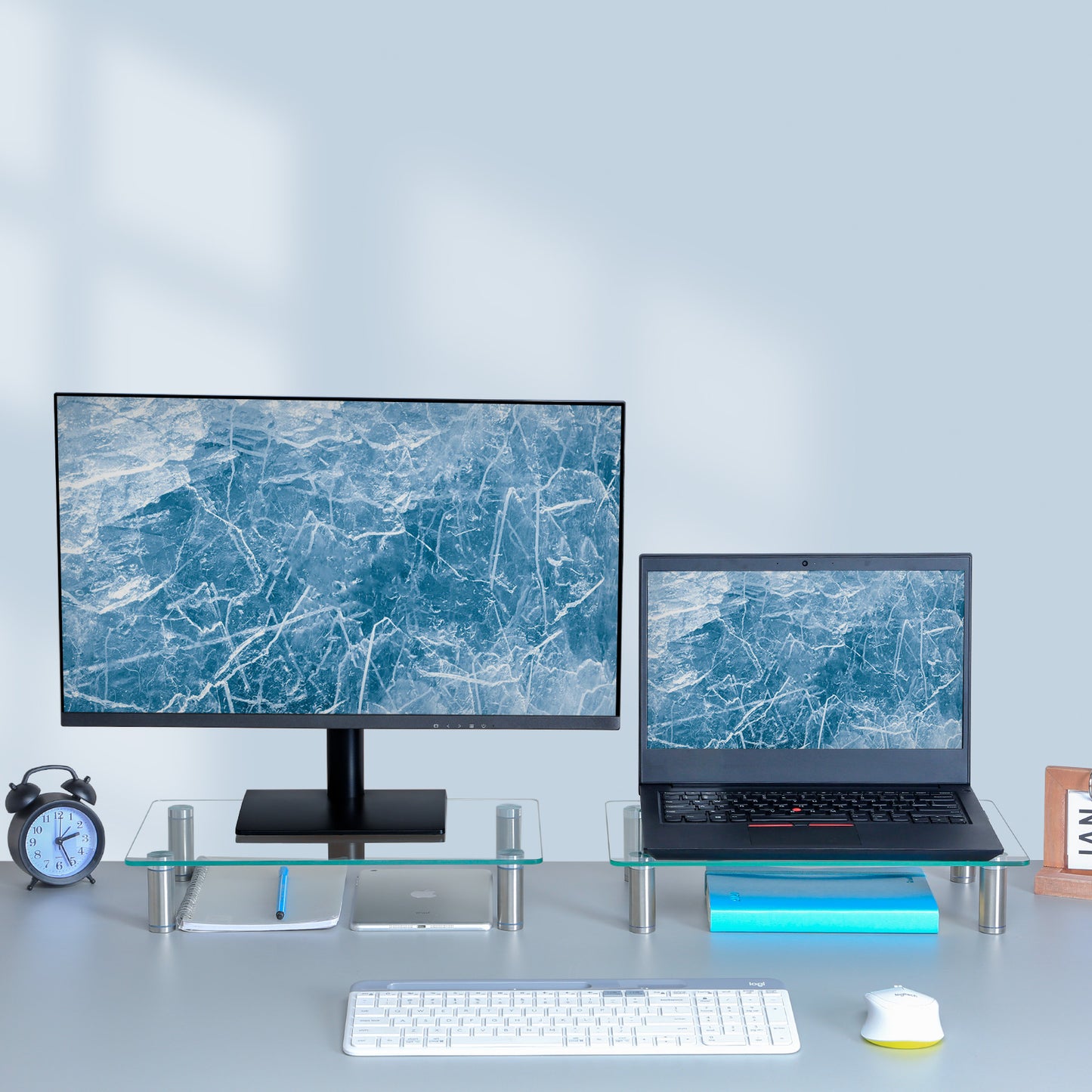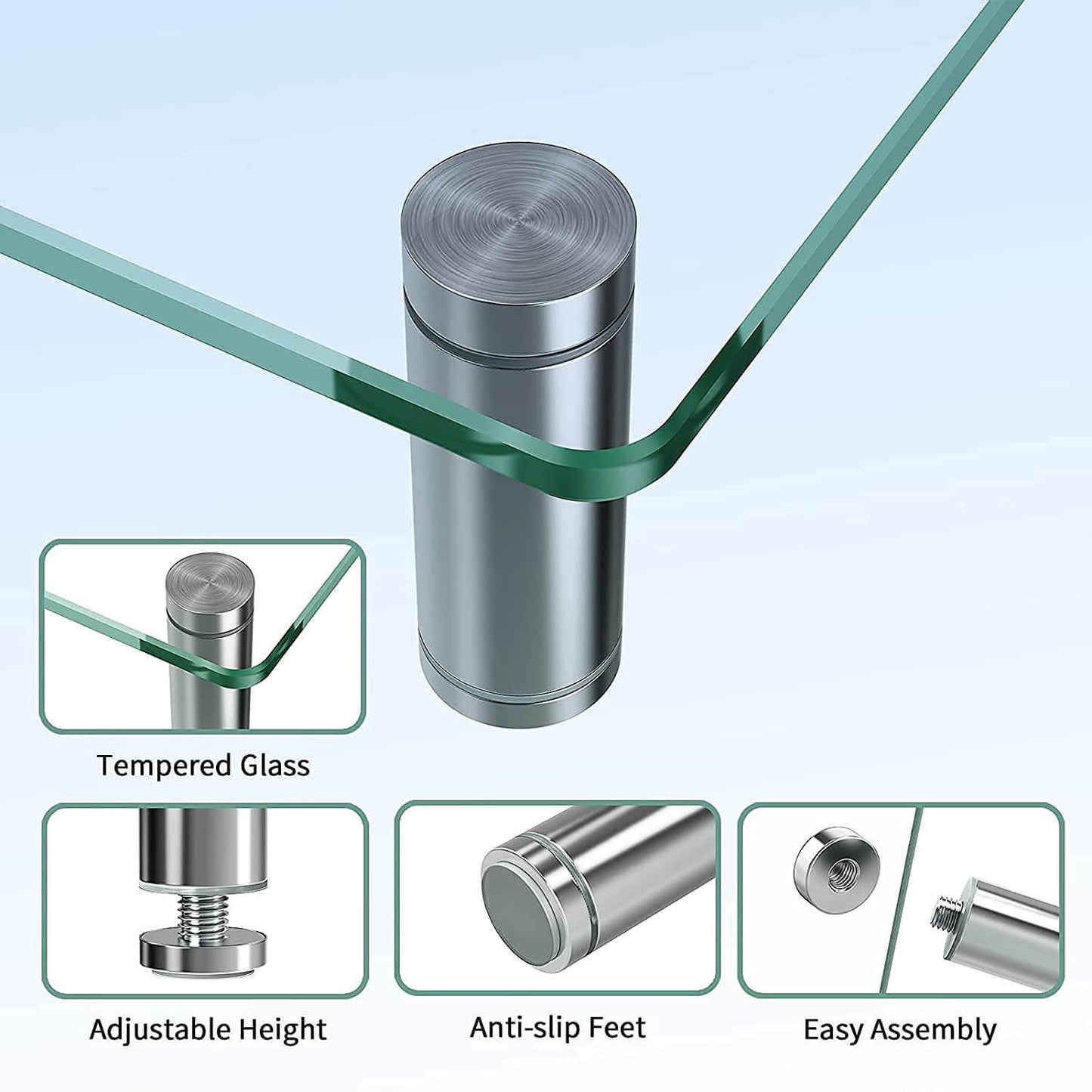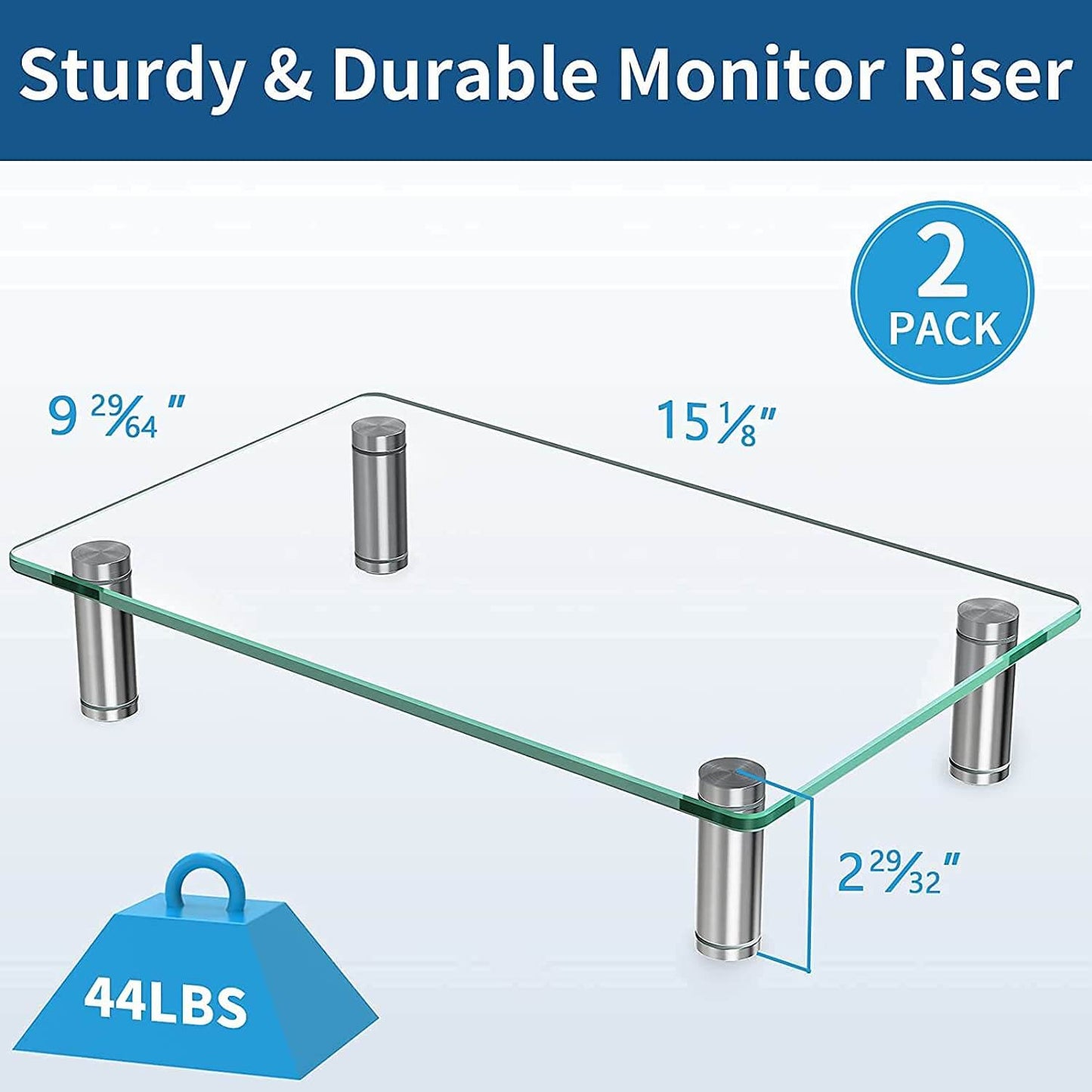 For the price can't be beat- perfect riser of glass for my glass desk!
Perfect for the price. Needed a glass computer monitor riser for a glass desk..couldn't have hoped for better and at $20 a deal!
Works Great!
Enough space for my monitors to sit over my soundbar. Would definitely buy it again.
I love this product!
Great value! Easy to put together. Coworkers asked me where I got them.
Love it - adds elegance
Glad it came with two stands because I used both if them to hold my TV on my bedroom dresser. Looks very elegant for my decor.