Regular price
Sale price
$49.99
Unit price
per
Sale
Sold out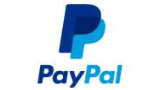 Shipping & Returns

Shipping

Free shipping on all orders to the contiguous U.S.

Return and Refund

We offer a 30 days risk-free return. Check our return and refund policy.
View full details
This is a 2022 new designed monitor arm stand. It has 2 styles to choose from single-arm monitor stand and dual arm monitor stand. Both of them have a slot on the desk plate, where you can place the phone or pad in it.
Freestanding monitor desk mount
No need to clamp the desk or mount it to the wall. Just place the monitor desk stand on the desk, and attach the monitors, you are ready to use. The solid 15.7" x 11" steel base provides excellent support for your computer monitors equipment. The V-shaped base is heavy and wide enough to lift and tilt the monitors, which can stably fit any desk and prevent your monitor from tipping or falling. The groove of the base can put the mobile phone to free your hands.
Monitor desk stand with a groove
There is also a unique design for professional or game-lovers. The base is designed with a groove for placing your cellphone to free your hands. With it, you can use both the phone and monitor while at work at the same time without holding the phone in your hands.
A monitor mount fits most 13" to 27" monitors
Single monitor stand fits one 13''-27''monitor supporting up to 17.6 lbs. Dual monitor stand works with most 13" to 32" LCD computer monitors loading up to 17.6 lbs. for each arm. They are both compatible with VESA 75 mm x 75 mm and 100 mm x 100 mm.
Height-adjustable monitor stand
The height of the monitor can be adjusted to up to 15.8'' on the center pole. ±45° tilt enables you to reduce glare and ±90° swivel lets you adjust it left or right to find a better viewing angle. 360° rotation makes you use the monitor for work or entertainment in portrait or landscape orientation. To have a fully adjustable monitor desk stand means you can always find a comfortable position to use, which can make you feel less fatigue and reduce neck, shoulders, and back pain.
Clutter-free desktop
Raising your monitor to a demand height, freeing up your workstation. It comes with clips for tidy cable management helps keep your power and AV cables clean and organized.
Non-slip rubber pad
The base of the monitor desktop mount is equipped with rubber pads, which can protect your desktop from scratches and prevent your desk stand from sliding.
Easy-to-assemble monitor desk stand
A traditional monitor mount always needs to be clasp on the tabletop and the desk thickness is limited to 3.5''. But this monitor stand has no limitation to tabletop thickness! Whatever the thickness of your desk is, this monitor desk stand works perfectly on it. The detachable VESA plate allows you to install the monitor quicker. Attach the VESA plate to the computer monitor, and put it on the desk stand, the installation is done. Comes with necessary mounting hardware, tools, and clear step-by-step instructions for easy assembly.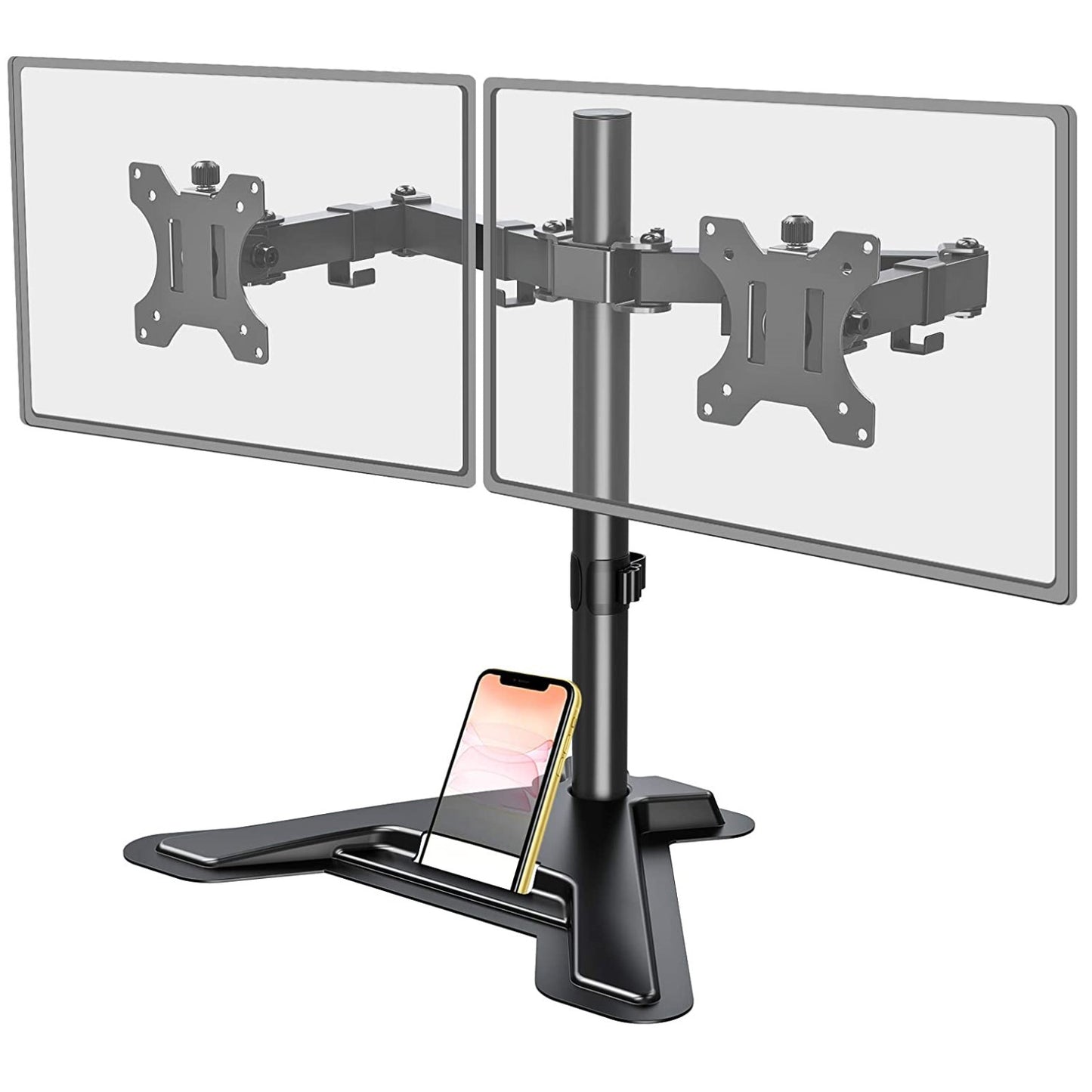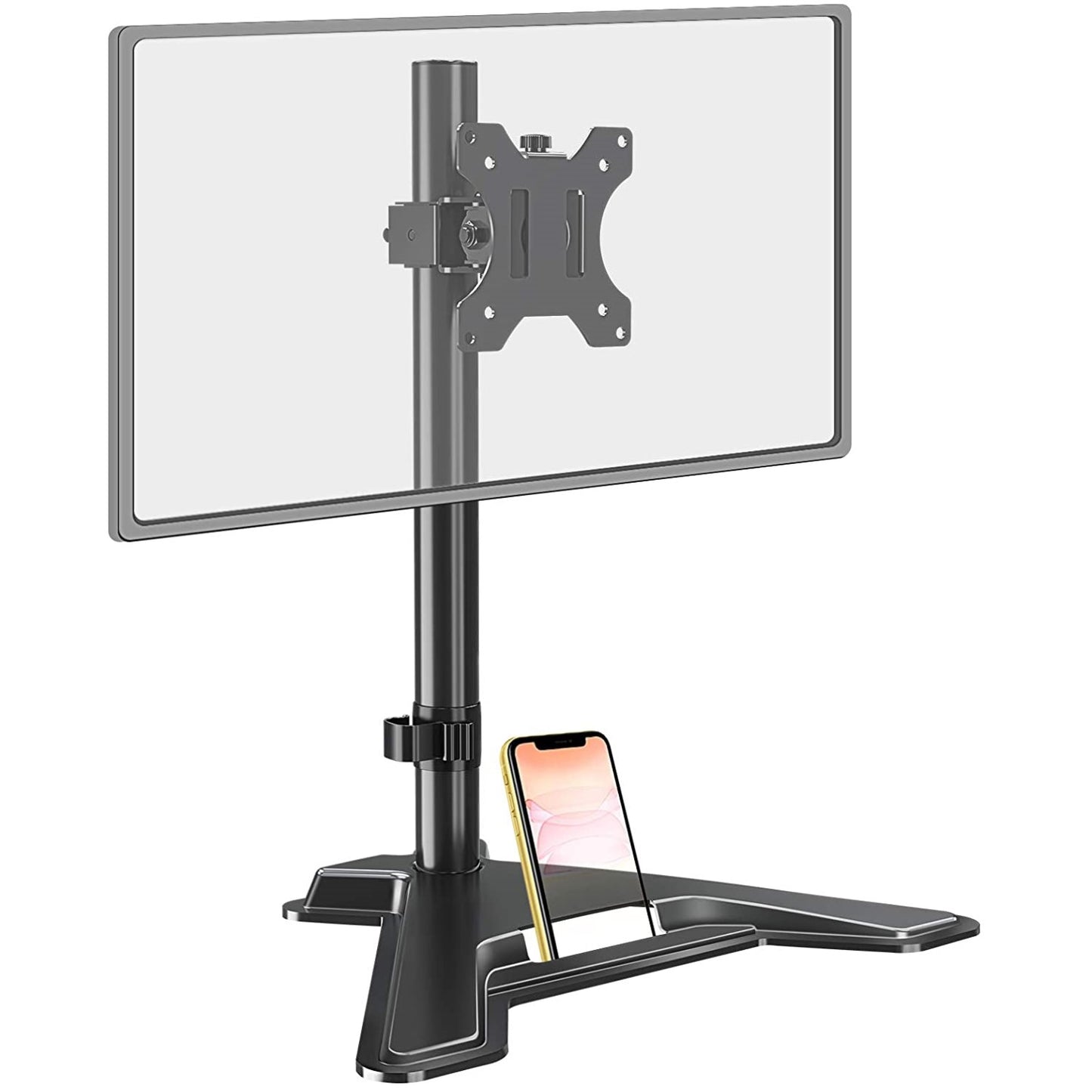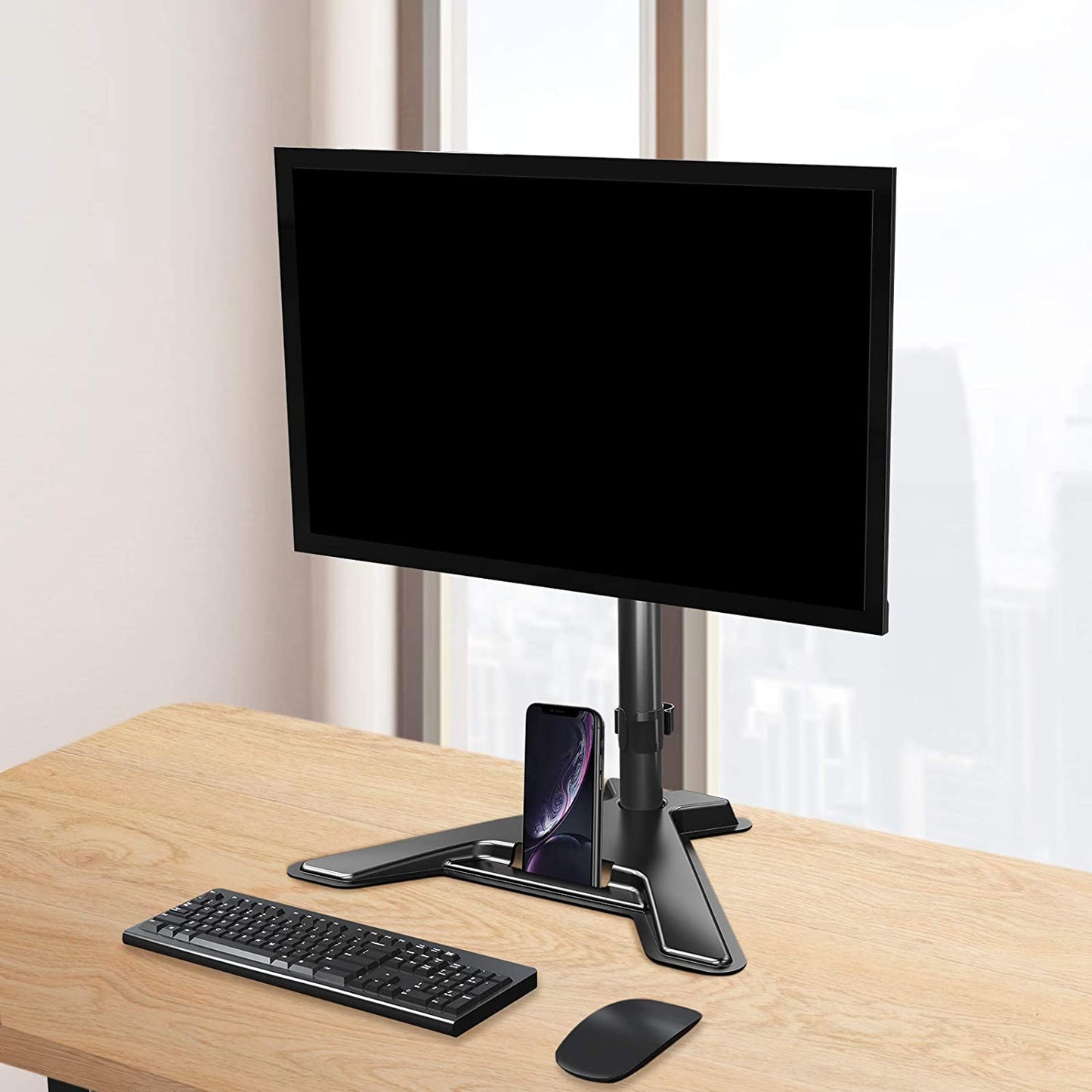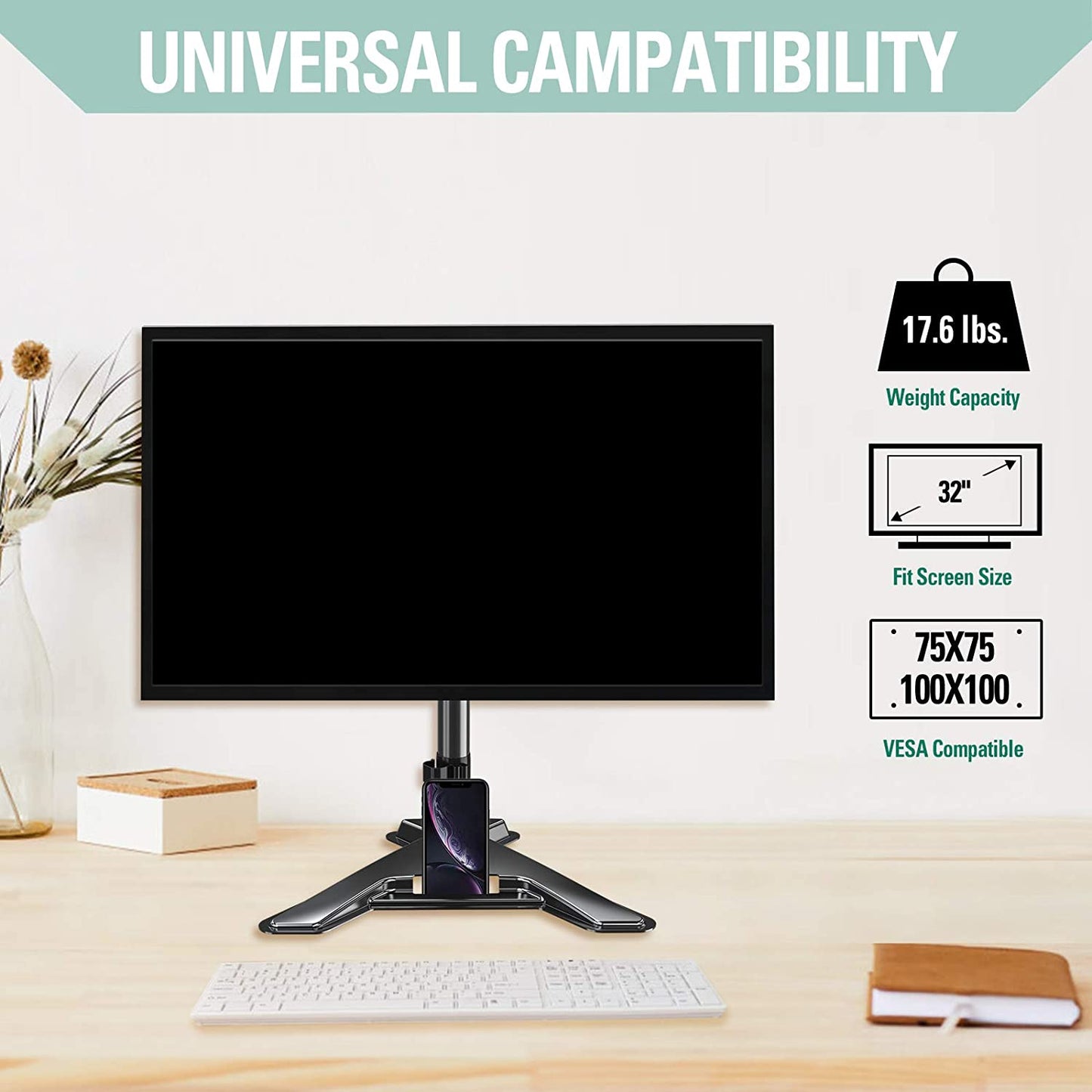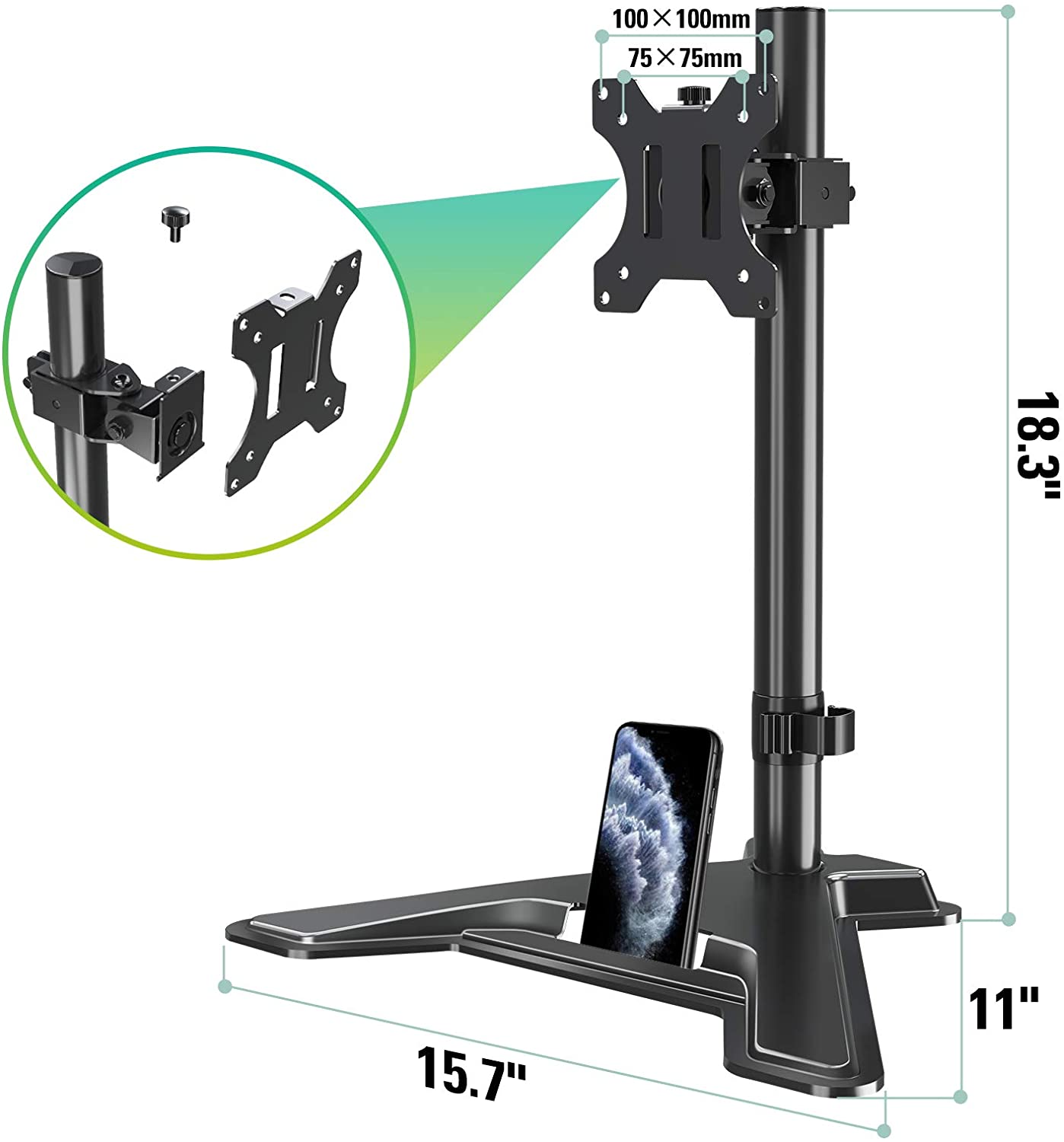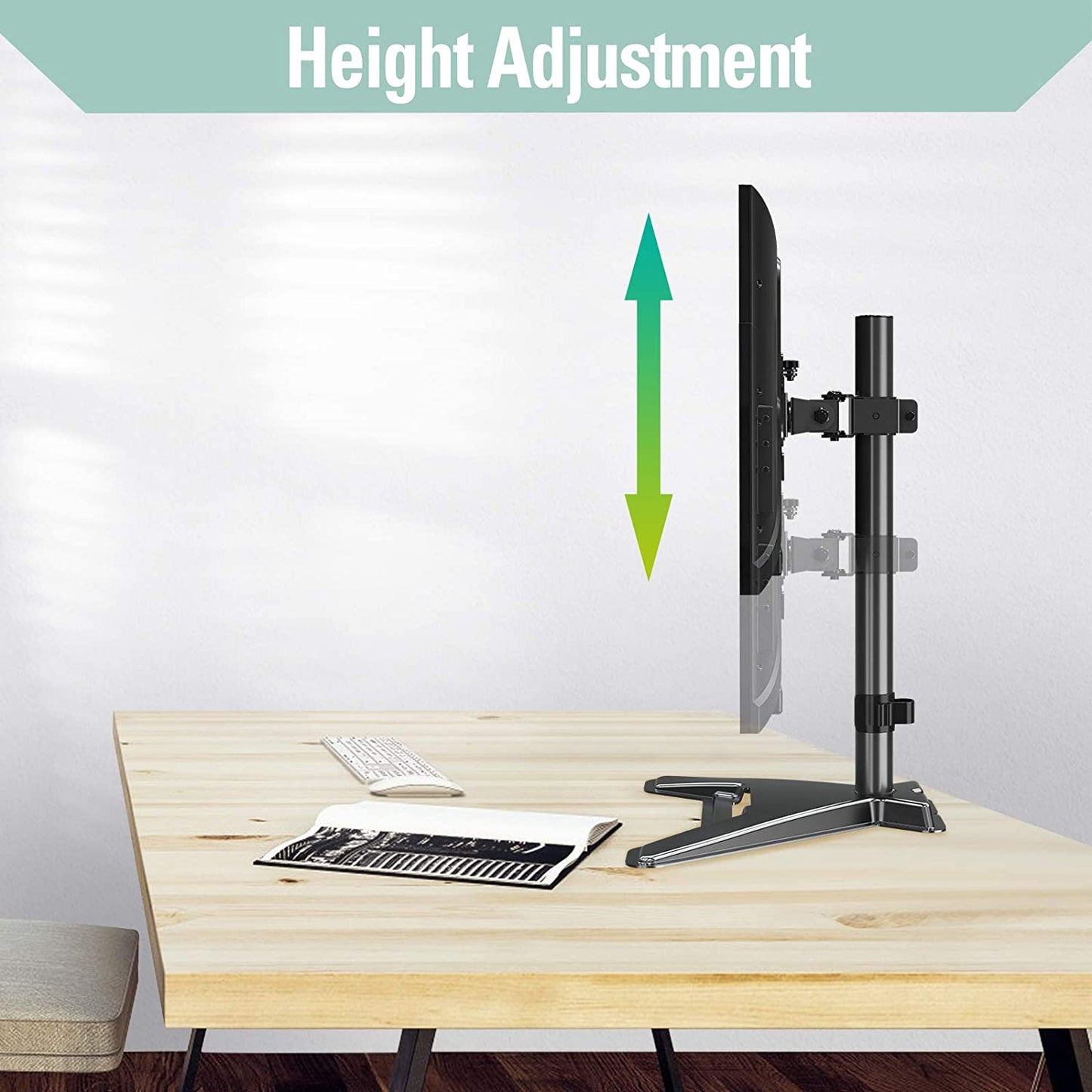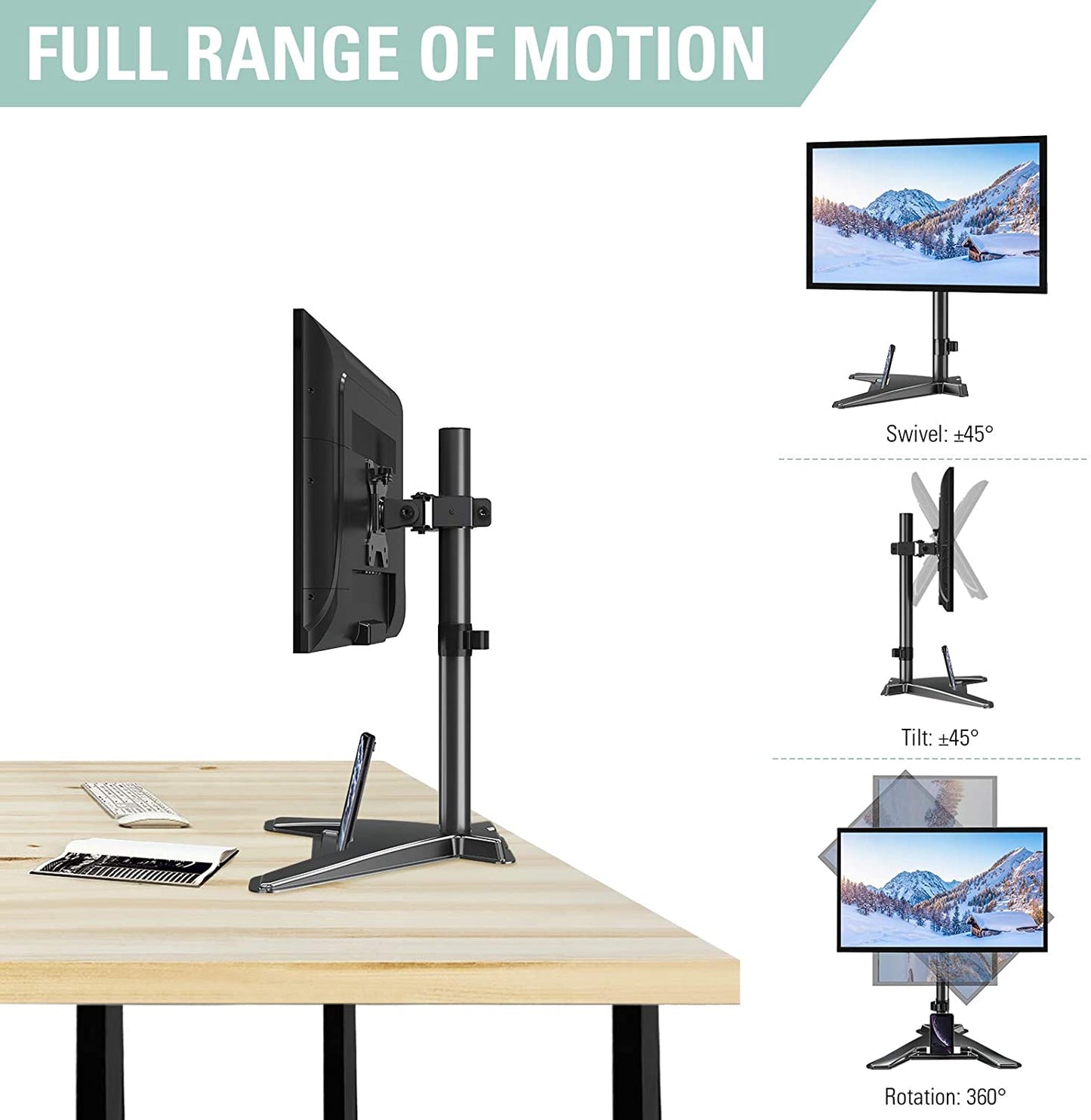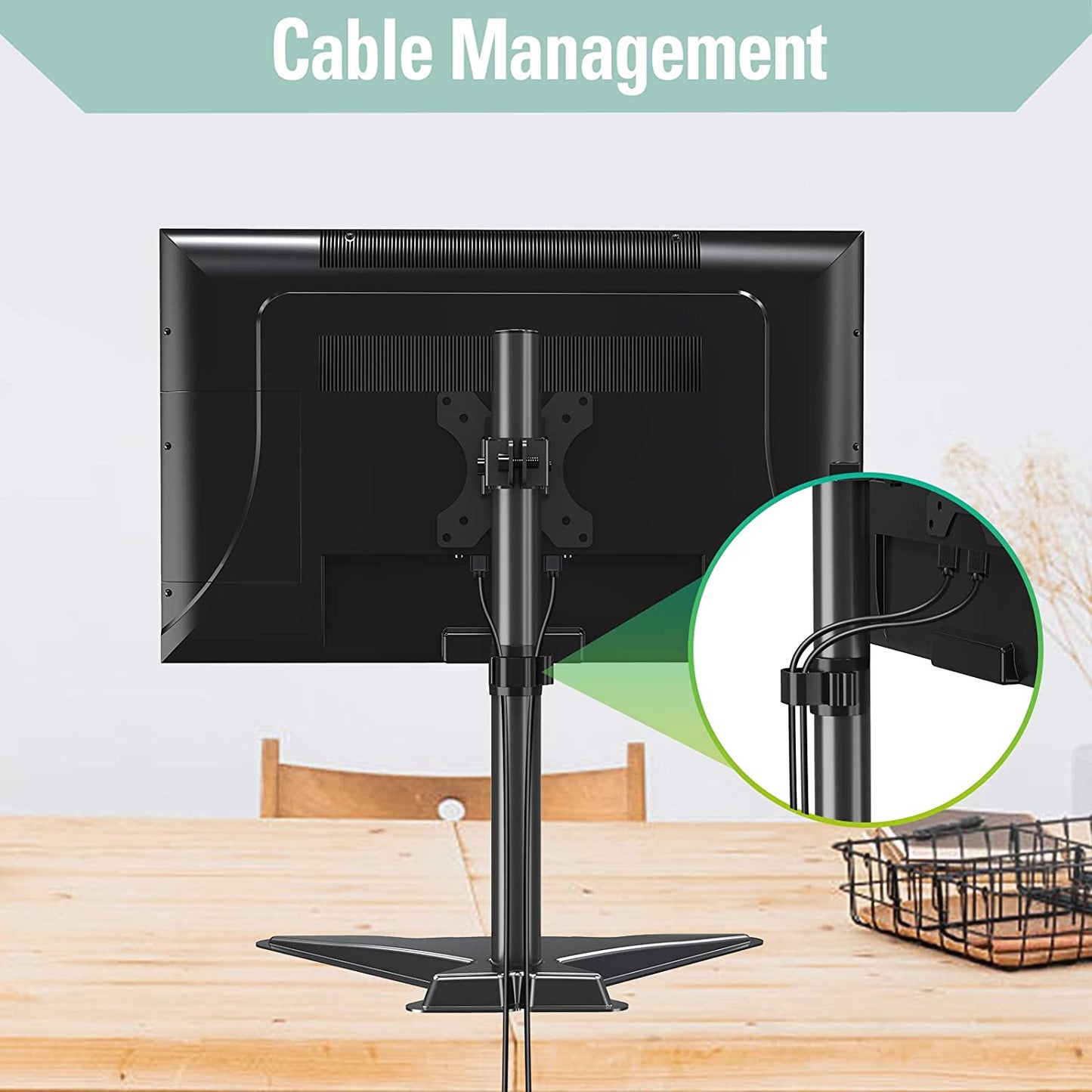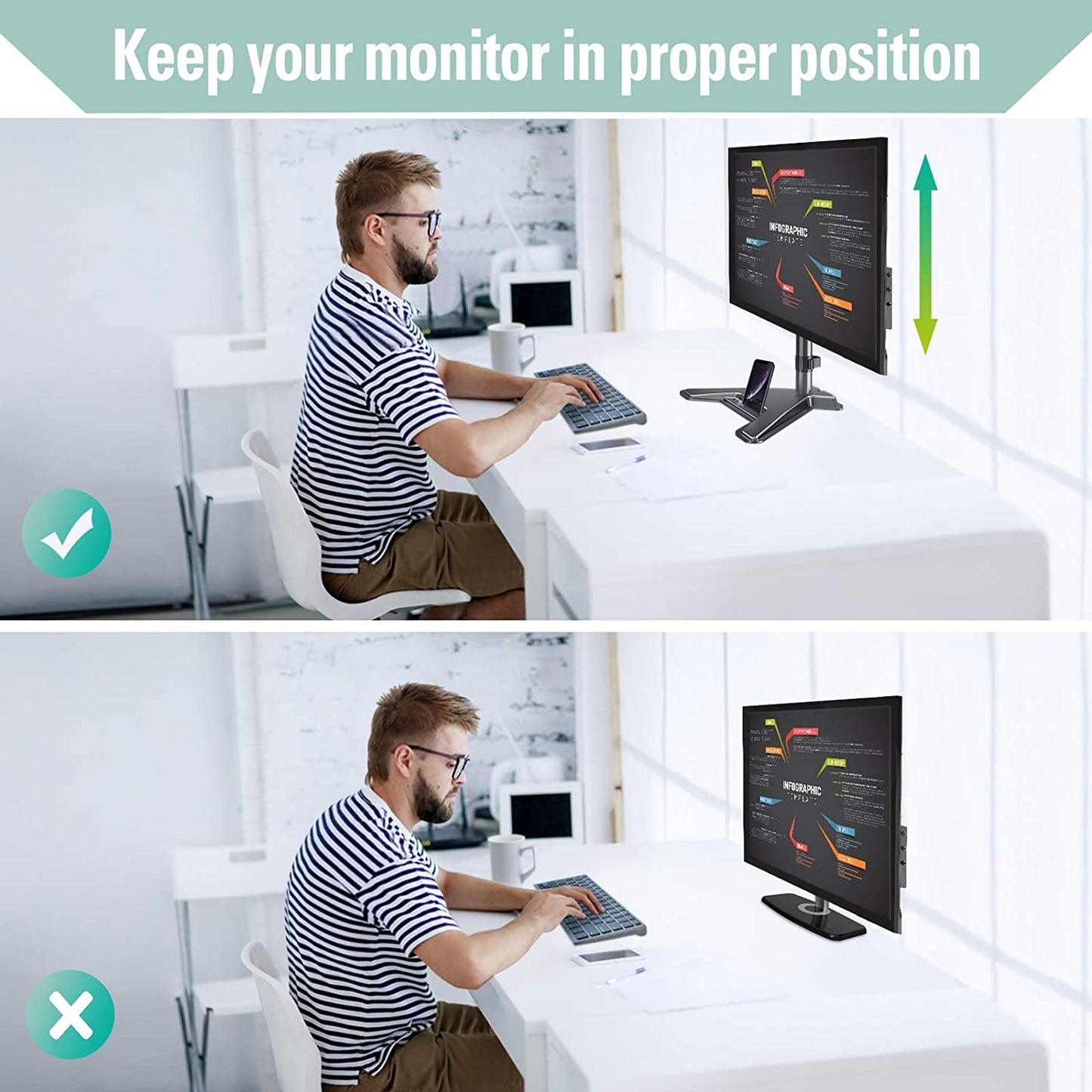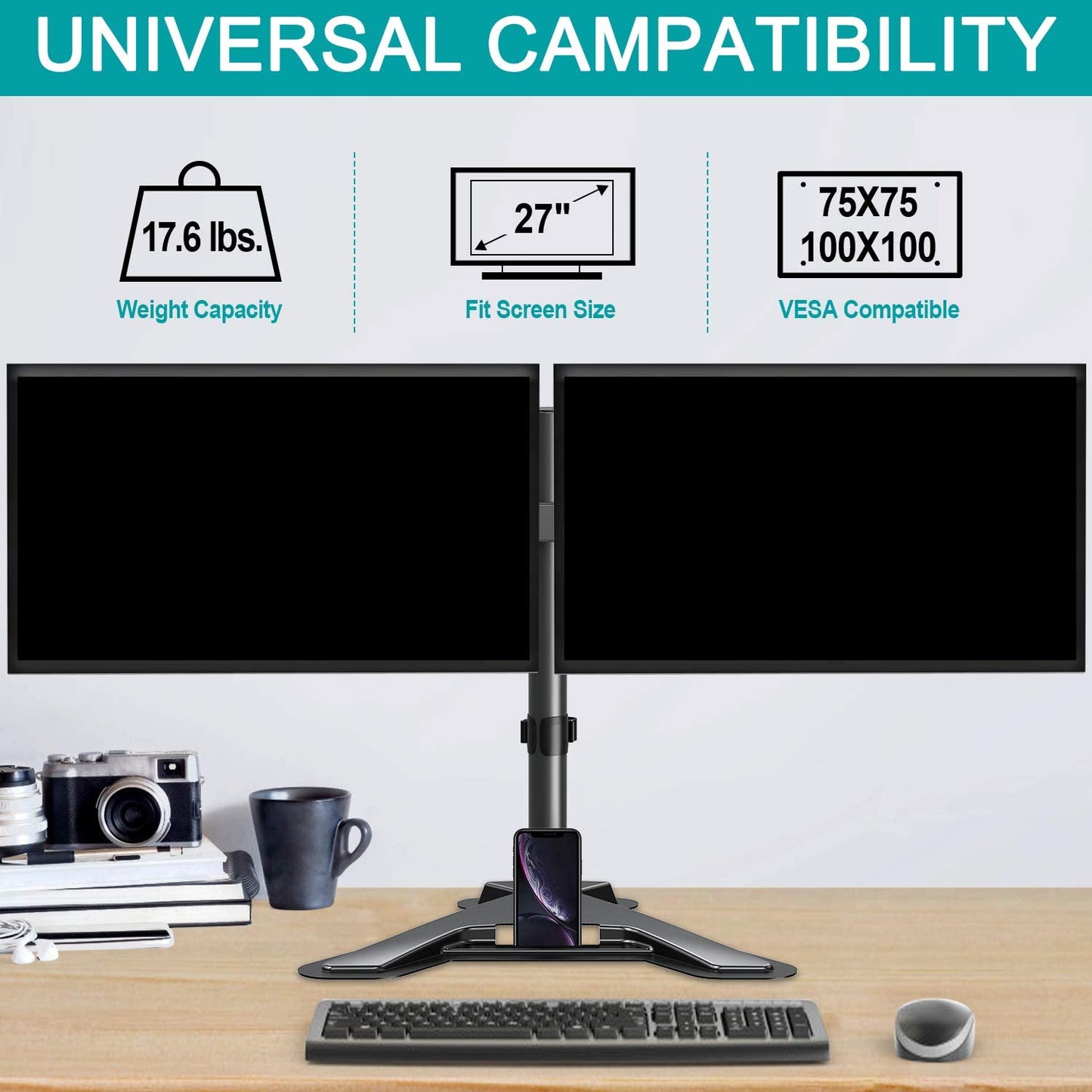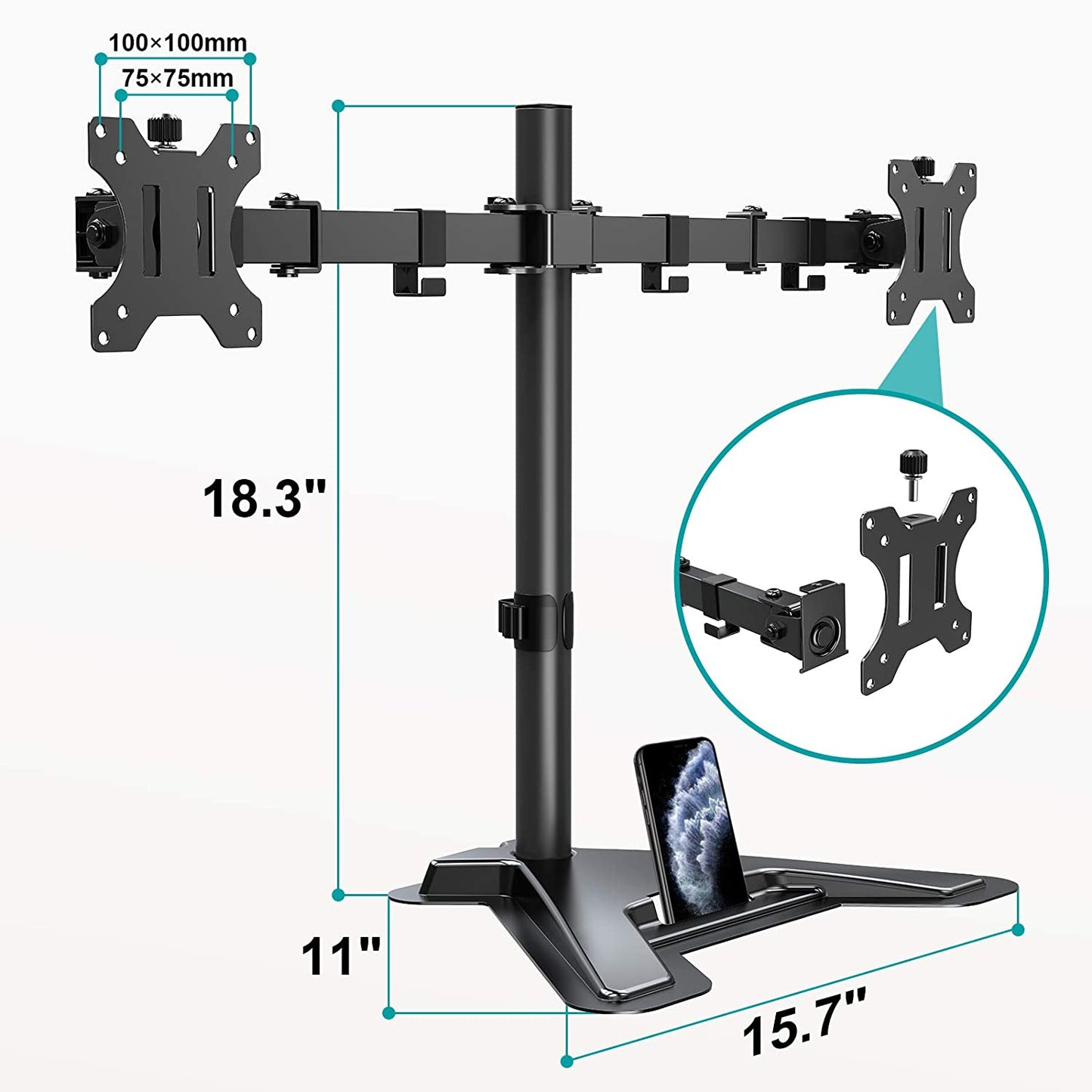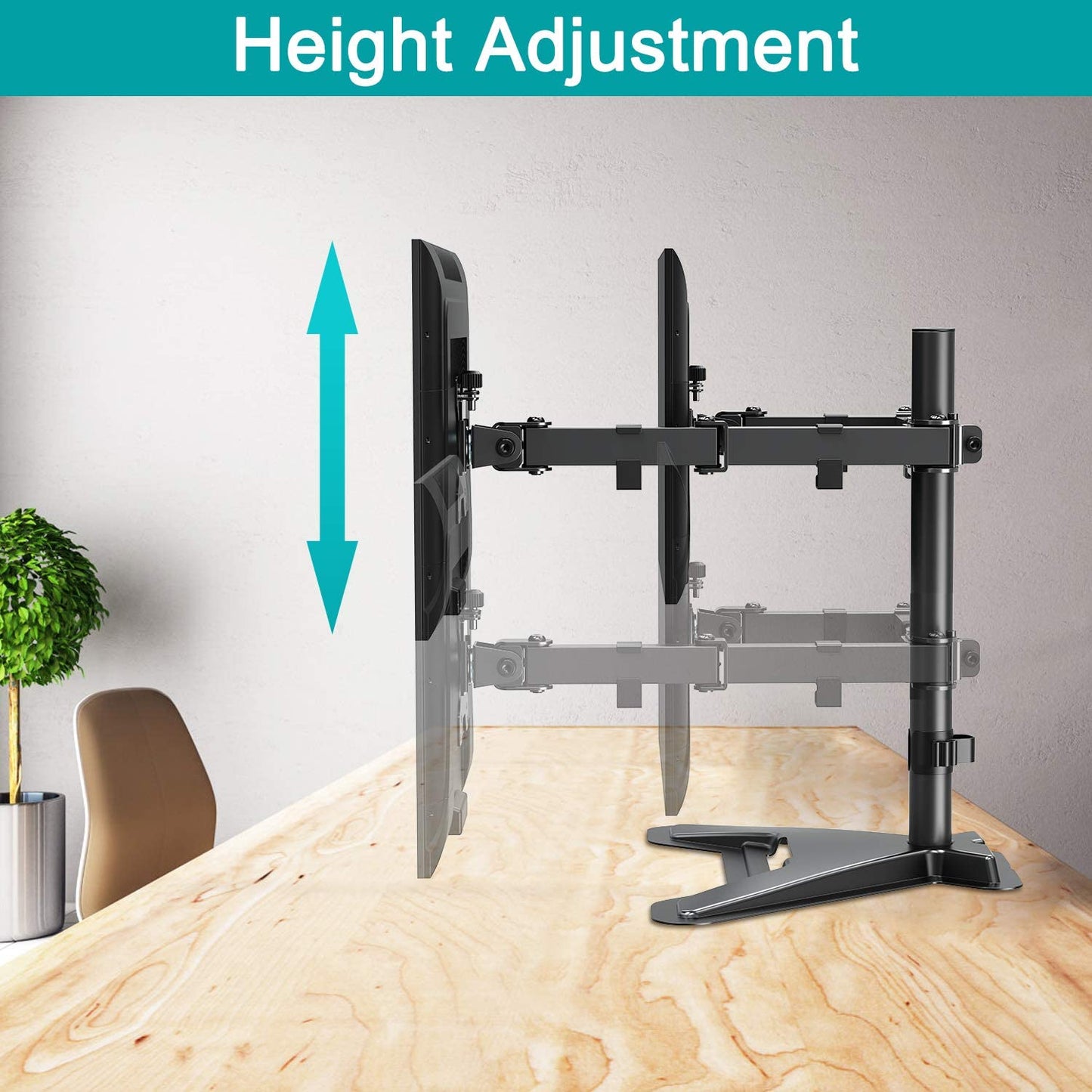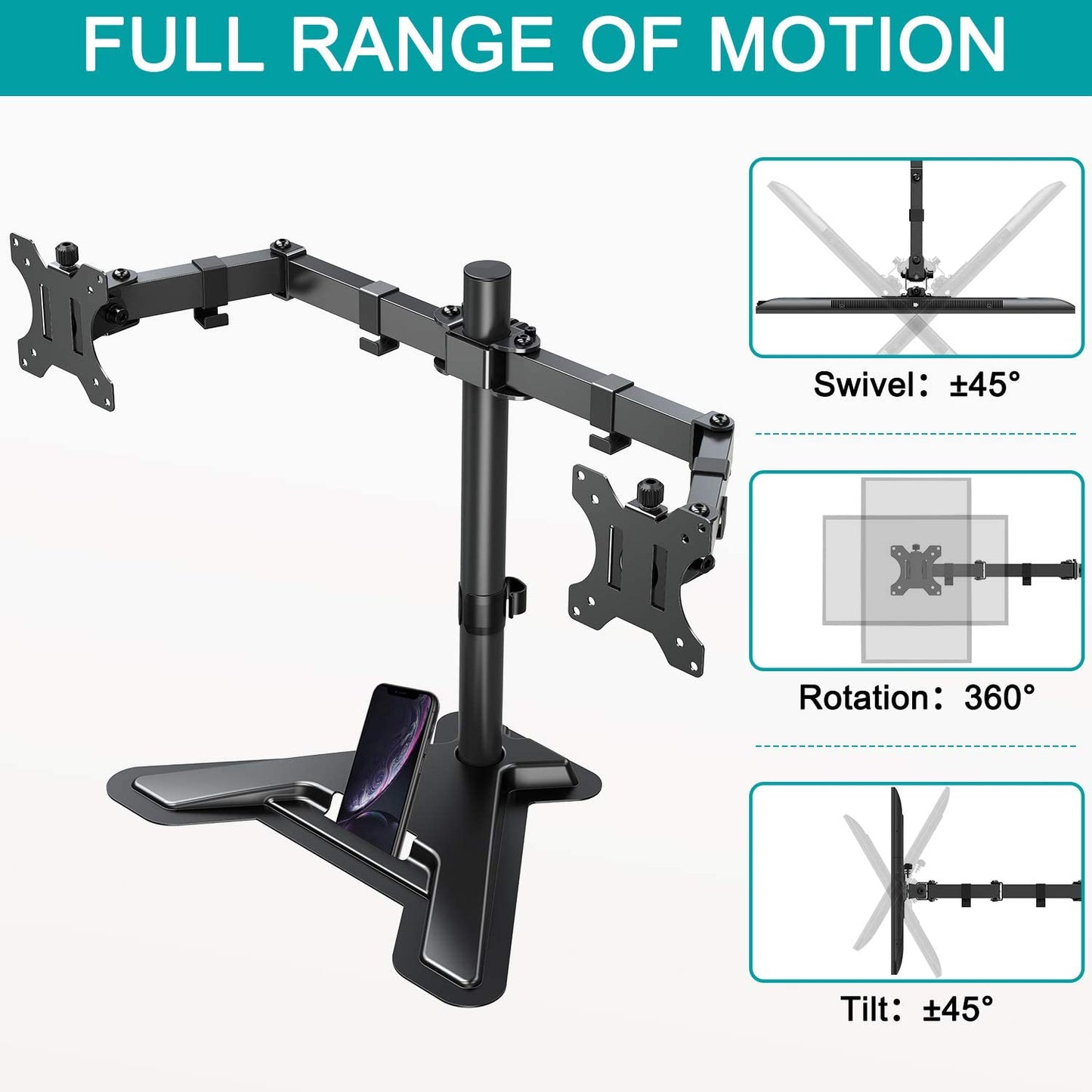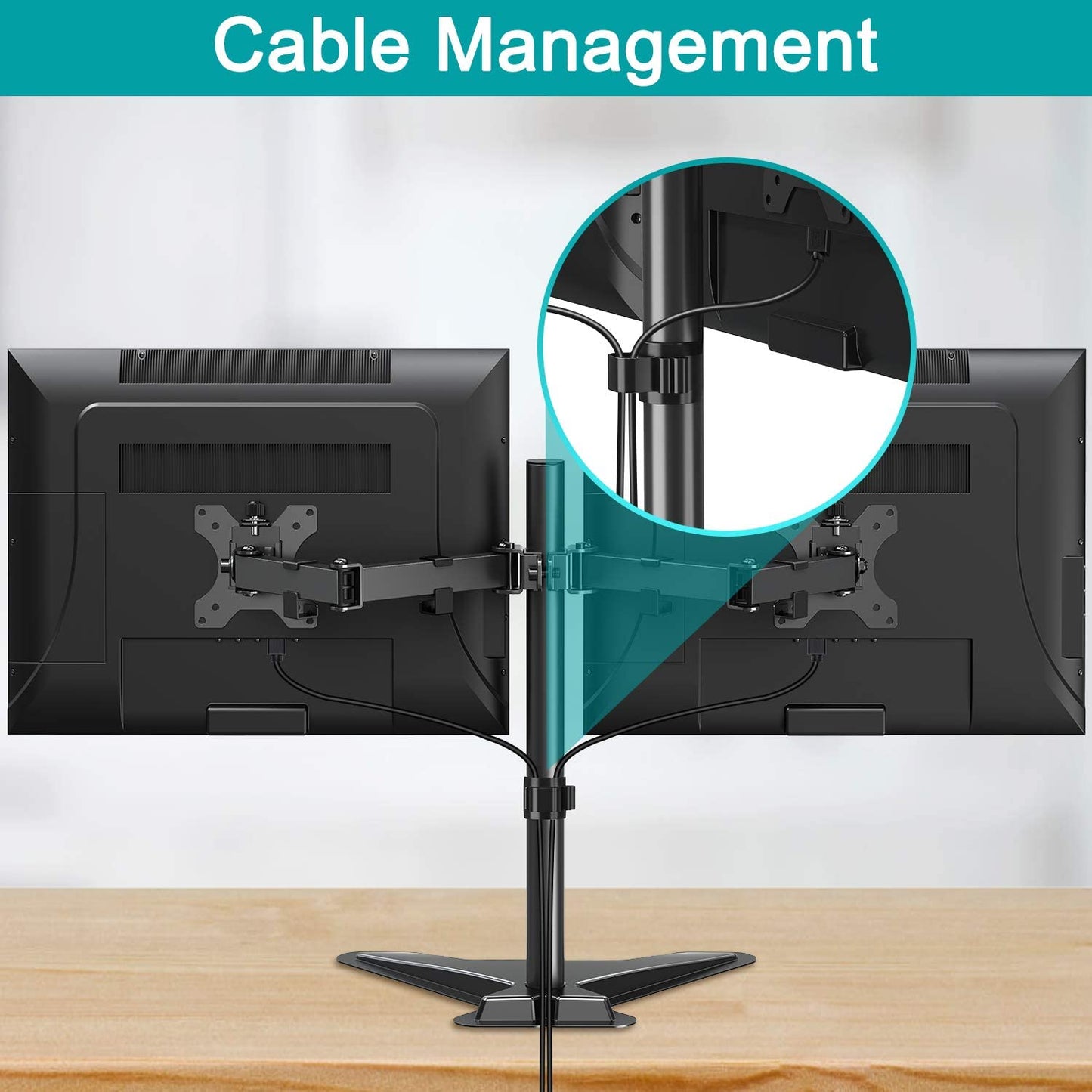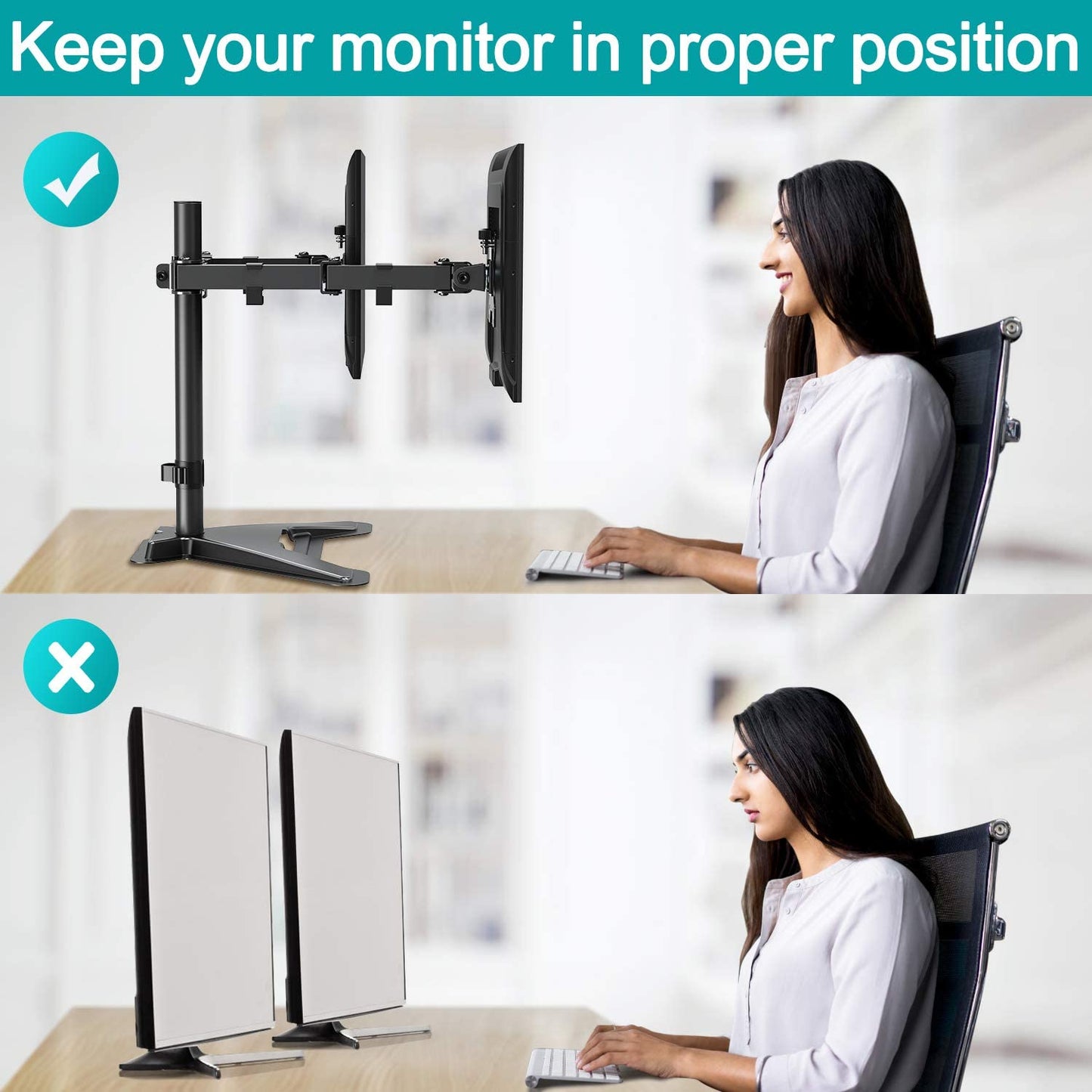 Great quality and great price
Great quality and great price
Fit the Need
I gave this product five stars as this product ultimately fit my needs well and the Customer support I needed to make it work for me was excellent. While I agree in a perfect world the brackets that allow the monitors to tilt forward and back could be more secure I was mounting a 27" monitor that did not have the standard VEISA connection centered on the monitor so I have to get a special bracket which still resulted in the monitor attachment point to the support arm being below the center. However with a little elbow grease I was able to tighten it and keep the monitor from tipping forward and once is was set it has stayed just fine. My other 23" monitor stayed where I wanted it just fine with little effort. Because I have two different size monitors and the mounting location for the larger monitor was off center in order to set the larger monitor whare I needed it the smaller monitor was lower than I wanted and was blocked if I wanted to have my laptop screen active. The folks OHOPE worked with me to provide me a new separate mounting bracket such that I was able to disconnect the right arm from the original bracket that held both arms and reinstall the right arm at a higher elevation as can be seen in the attached pictures.
this was worth the buy plus the price was very reasonable!!!
The sturdiness is awesome. easy movement for adjusting to my view is great, I didn't even really expect. also, the clips for hiding cords was even a surprise
For the price, it isn't bad.
Bought for my wife who is working 100% remote, kind of caught off guard by her new company, as they sent her everything she needed to work, including two monitors. I was transitioning to a new position where I would have to go to work, and she would be taking over my home office. Needed something quick and fast to get her set up.This was pretty easy to set up, the directions were pretty clear, but it was very straight forward once you get the base attached. The base is wide, and appears to be able to handle the monitors without leaning or being worried about it tipping over. Just make sure you're holding one side steady as you (or someone else) puts the other monitor on. There are adjustments on both sides where the monitor is dropped in place to adjust the height an inch or so.The allen keys/philips head combo tools that come with it are fine, but if you have your own tools, it is much, much easier. It's nice that there are slots in the stand that can store them so they're accessible in a pinch.Two weeks she's been using it, and aside from a couple minor adjustments here and there, it's stable.I will say, the right monitor sleeve (where the monitor sets in with the connector installed) wiggles a lot, but it's just the right side for now. The tolerances could have been better to where this isn't too much of a problem, but for a budget setup, it will do the job.I am sure I will upgrade her desk in the near future with a built in monitor stand, but for now, this does the job really well. Use your own tools to assemble if you have them, make sure you crank them down so they won't budge or drift, but it's still cheap Chinese-made materials, you can strip them out with enough behind it.
MOUNT PRO Dual Monitor Stand
easy to assemble, heavy and durable