Regular price
Sale price
$119.99
Unit price
per
Sale
Sold out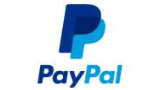 Shipping & Returns

Shipping

Free shipping on all orders to the contiguous U.S.

Return and Refund

We offer a 30 days risk-free return. Check our return and refund policy.
View full details
This compact standing desk riser, with a 27.4" x 16.5" desktop as well as a keyboard tray, can fit a smaller desk. With its small size and lightweight, it is portable and can be moved to different rooms in the office or at home anytime.
Budget-friendly sit to stand solution
We know that not everyone is ready to get a standing desk. Some people already have desks at home and there is no room for it. Some offices have restrictions on space and limitations on budget. A standing desk converter is a perfect choice to have the benefits of sitting and standing without incurring a large expenditure. Place the desk riser on the top of your traditional desk and get an ergonomic workspace.
Desk converter with smooth adjustment
The sit stand desk converter features smooth and quiet adjustments, which is ideal for open offices and public spaces. Single handle operation enables you to adjust the height easily and quickly. You can set the height of the desk converter effortlessly from 4.9'' to 19.3'' to fit your height. When you stand, you can see watch the monitor or computer at eye level and type comfortably with elbow bent at 90 degrees.
Desk riser for different décor
This small desk riser is designed in 3 colors, which are black, brown, and white. Different professionals or different home/office designs, you can always find what you like and what suits you. You can choose the same color as your current desk to make them look harmonized, or pick a different color from the desk to deliver a special and lively look.
Heavy duty small standing desk converter
The desktop of this heavy duty standing desk converter is made of particleboard and the frame is made of sturdy steel. It loads up to 33 lbs, with a desktop up to 28.6 lbs. and a keyboard tray up to 5 lbs. Plus a desktop of 28.3''×15.7'', you are free to add accessories to it, like a laptop, monitor, keyboard, or other equipment. When it is filled with stuff, the standing desk converter can still have a stable and smooth lifting or lowering.
Standing desk riser with thoughtful design
The standing desk riser is built with thoughtful designs for better performance. There is a slot on the desktop to accommodate a cellphone or a tablet, and you don't miss phone calls or messages. The keyboard tray has stoppers in the front to prevent the keyboard from slipping away. Besides, it has a fillet design for comfortable typing and avoids scratches.
Stand up desk riser with minimum assembly
The stand up desk riser arrives almost fully assembled and is able to use after the keyboard tray is attached. The keyboard tray is removable. If you use a keyboard, attach and tighten the keyboard tray beneath the desktop only using screws and get ready to use. If you don't use a keyboard, all you have to do is take the stand up desk riser out of the box, put it on the top of a desk, and begin to use it. Assembled or not assembled, you will have the easiest way to upgrade your current work area.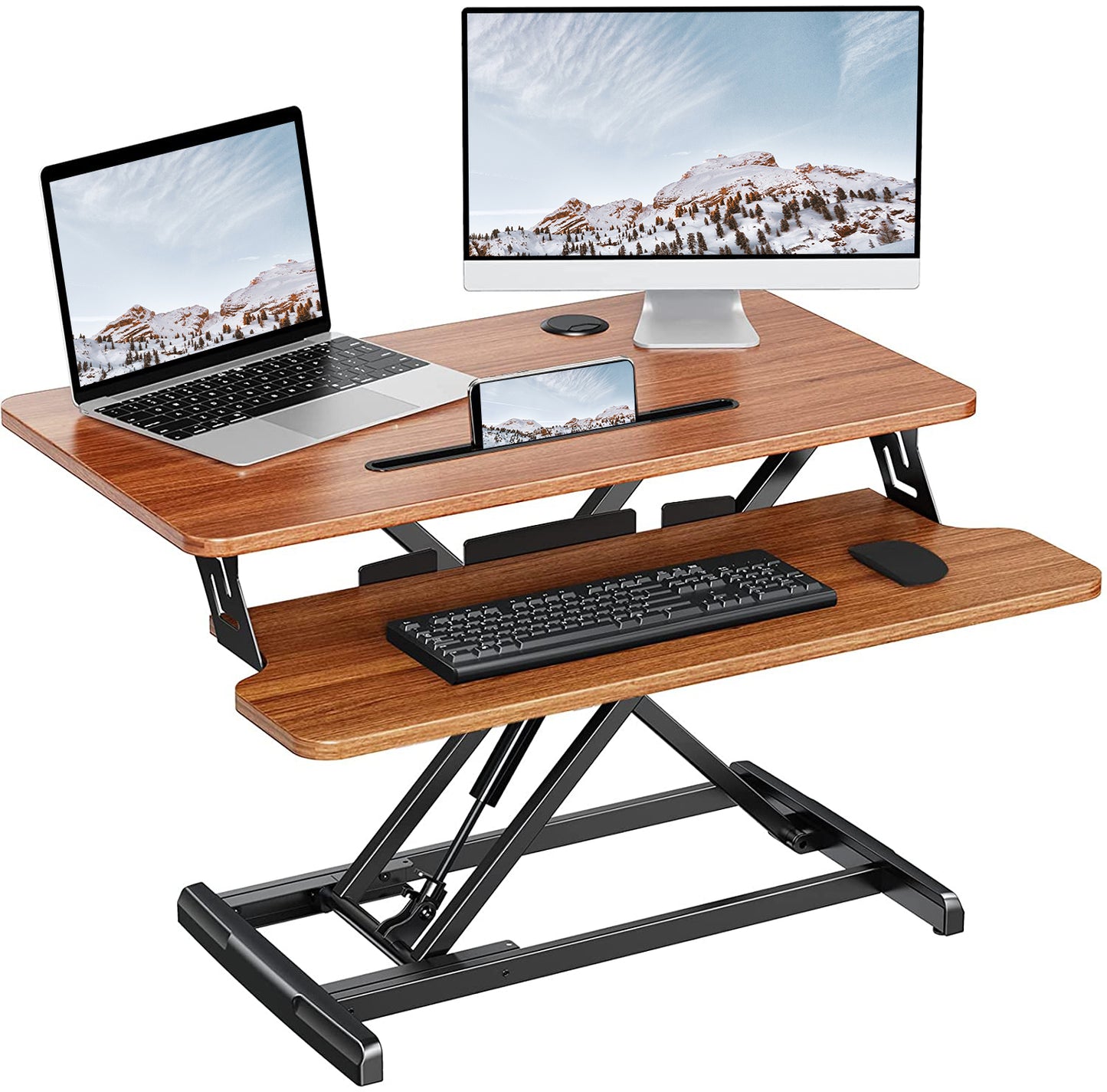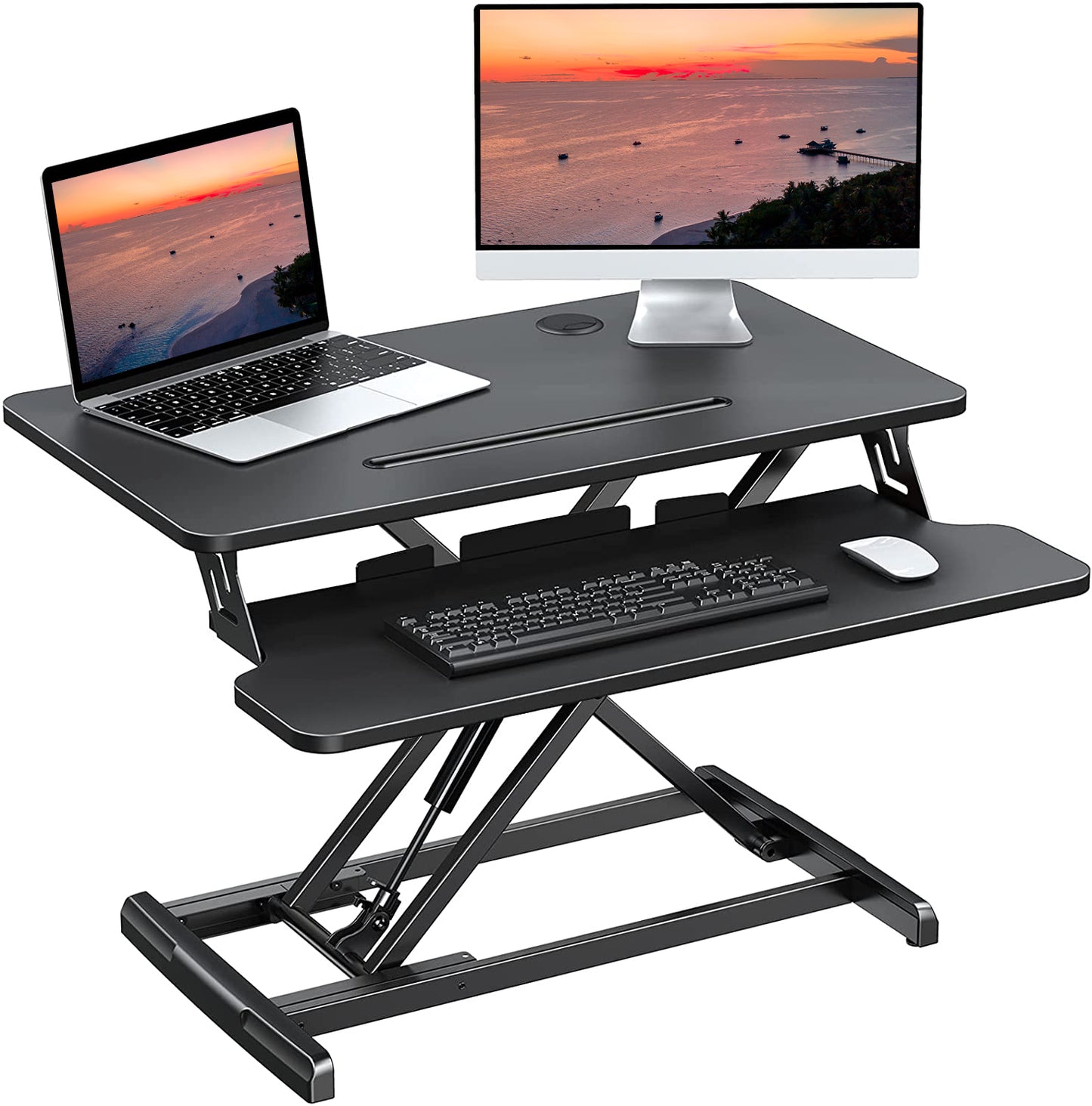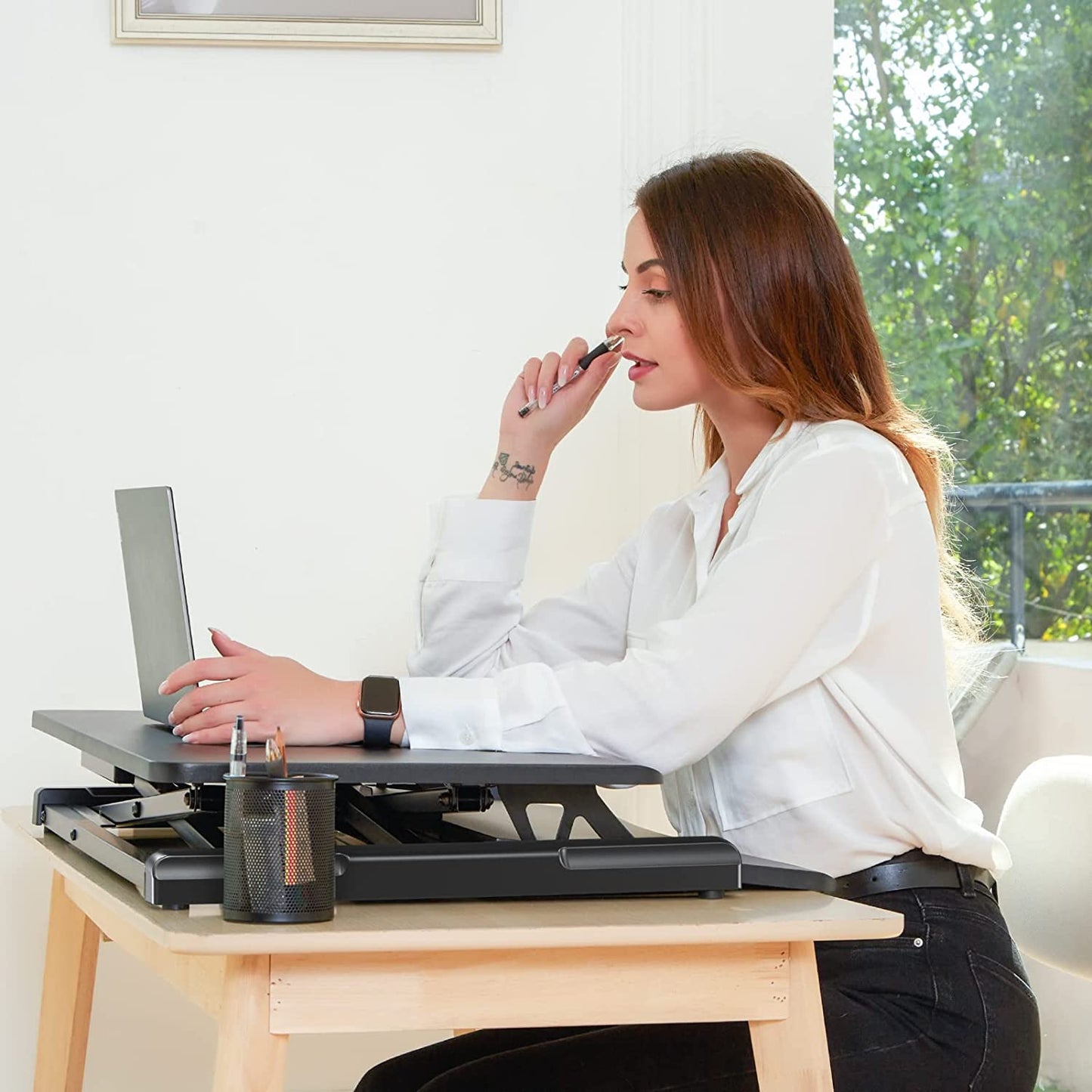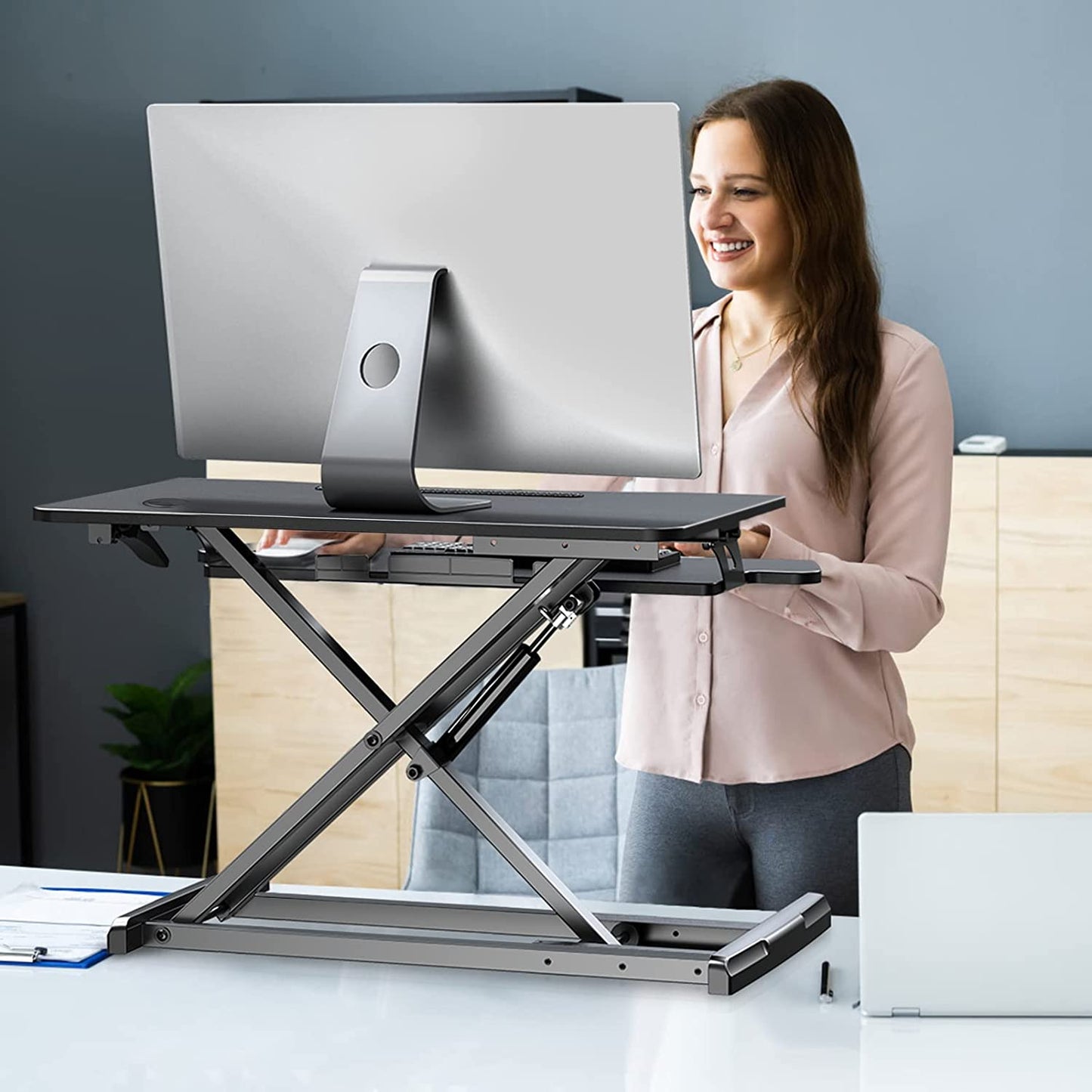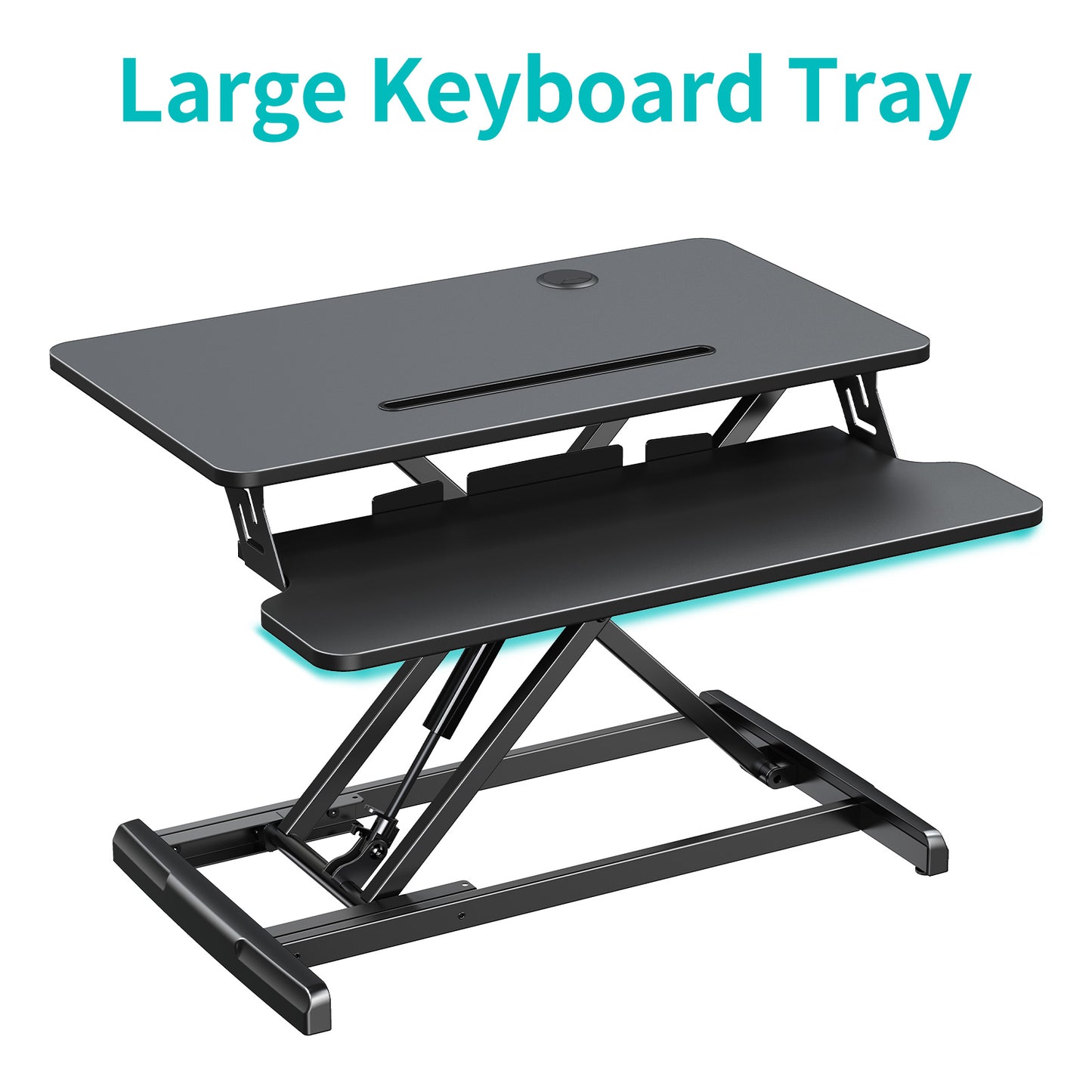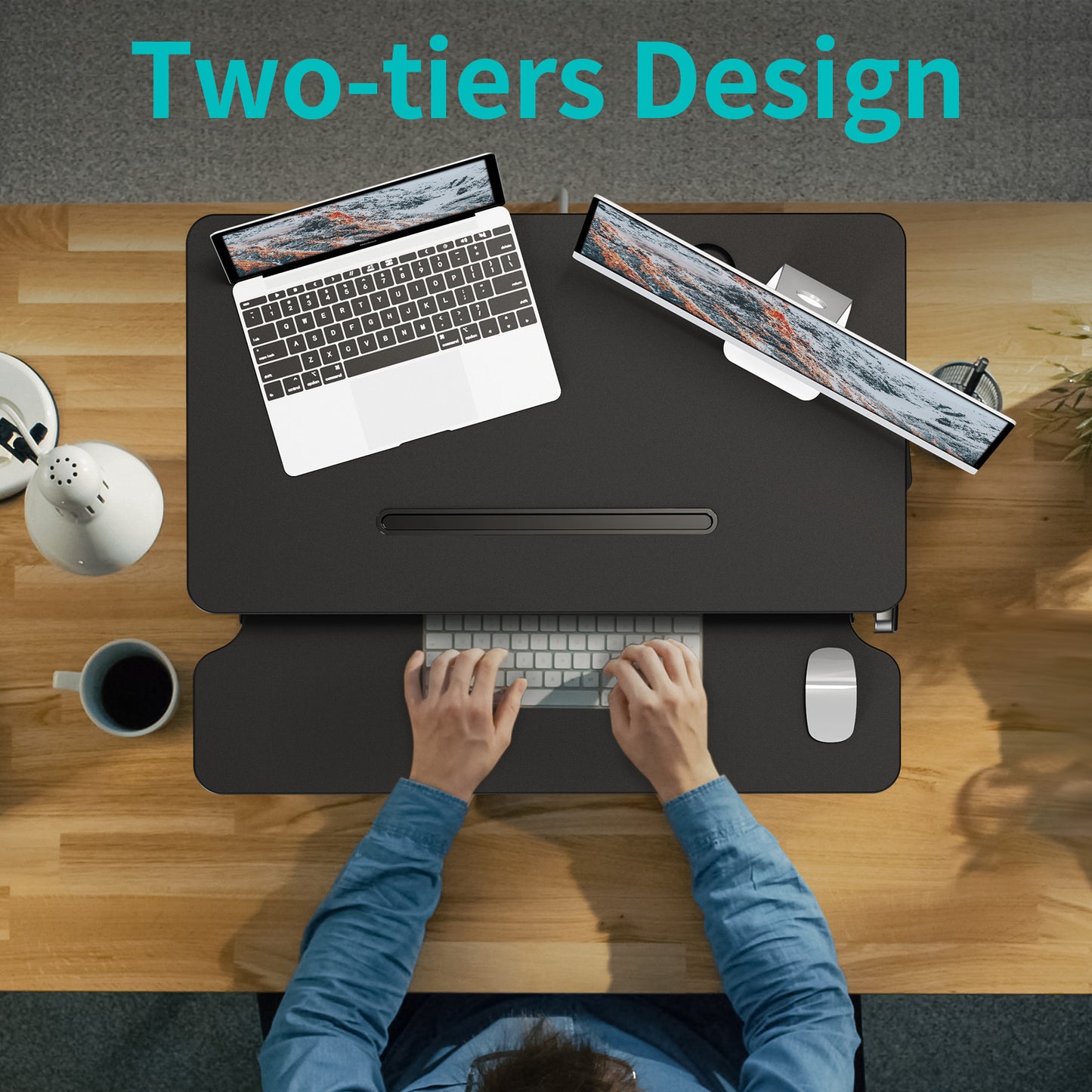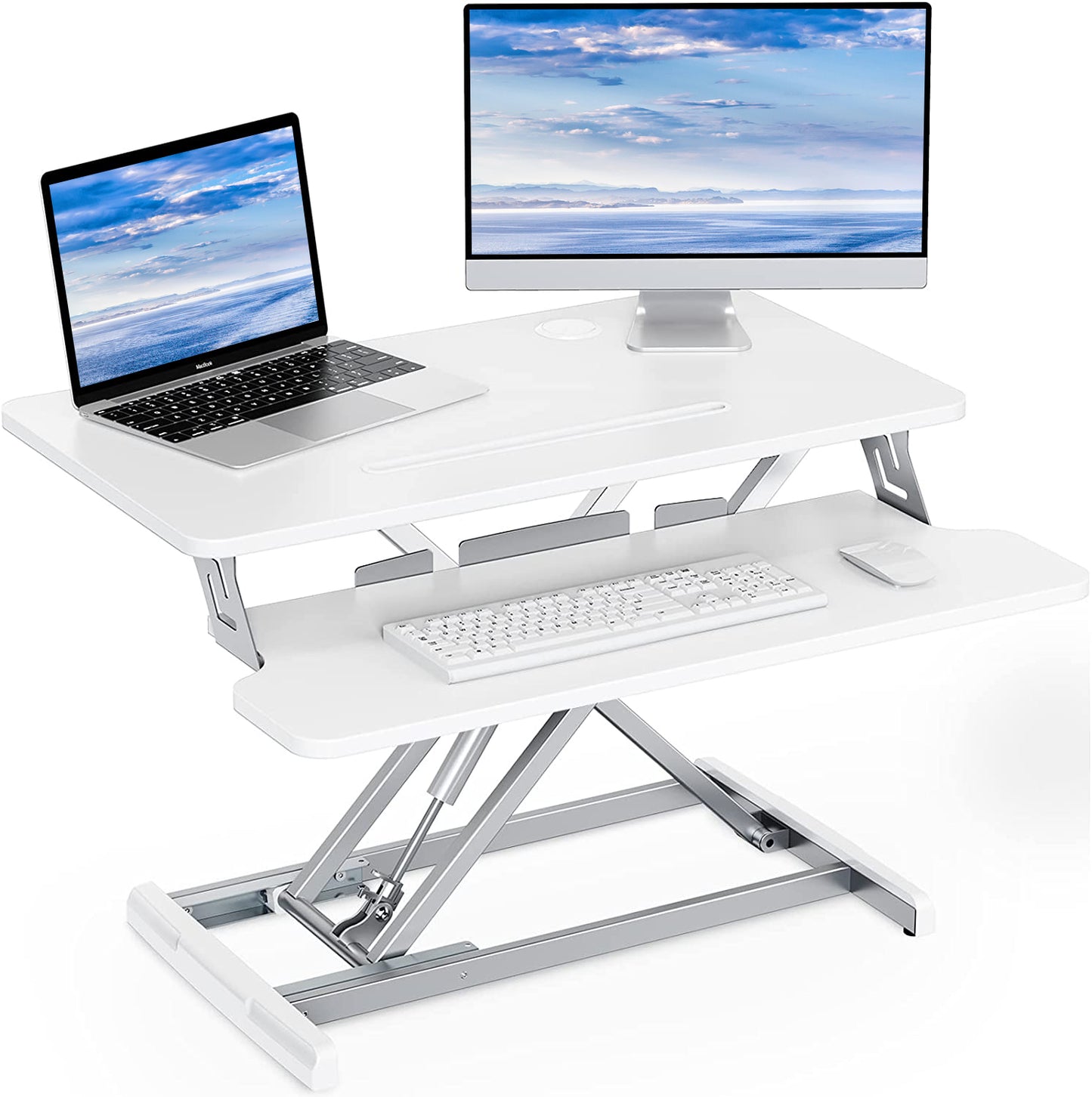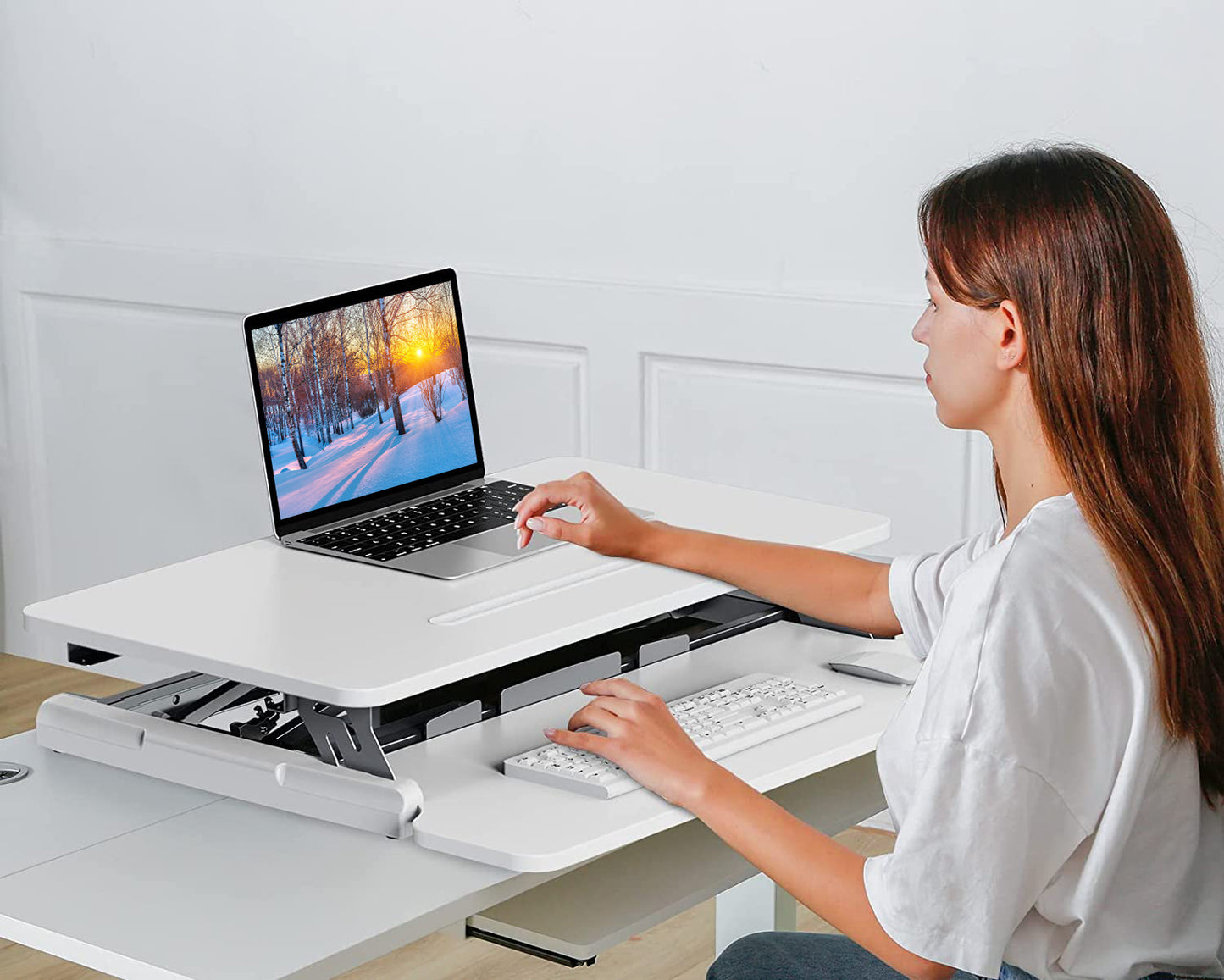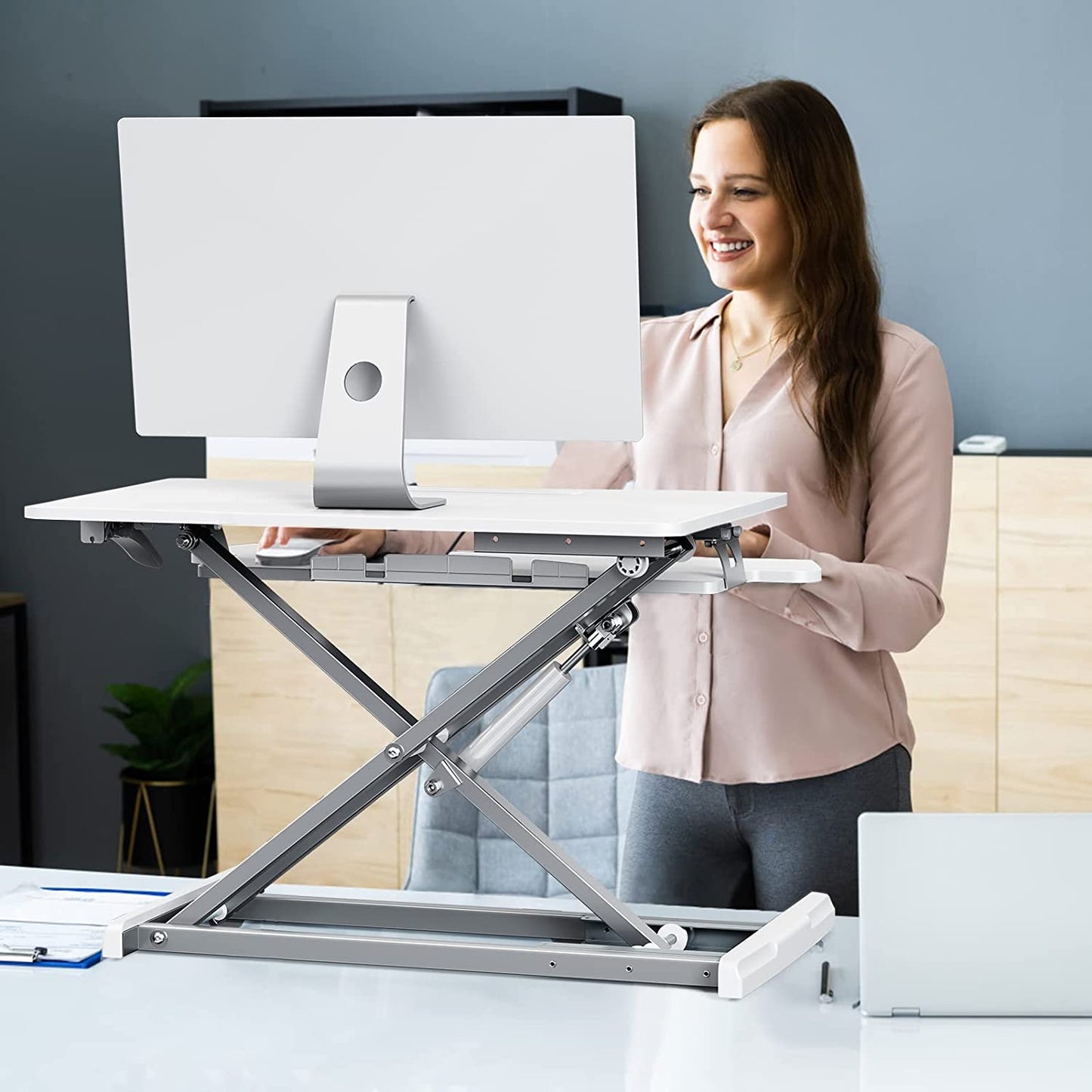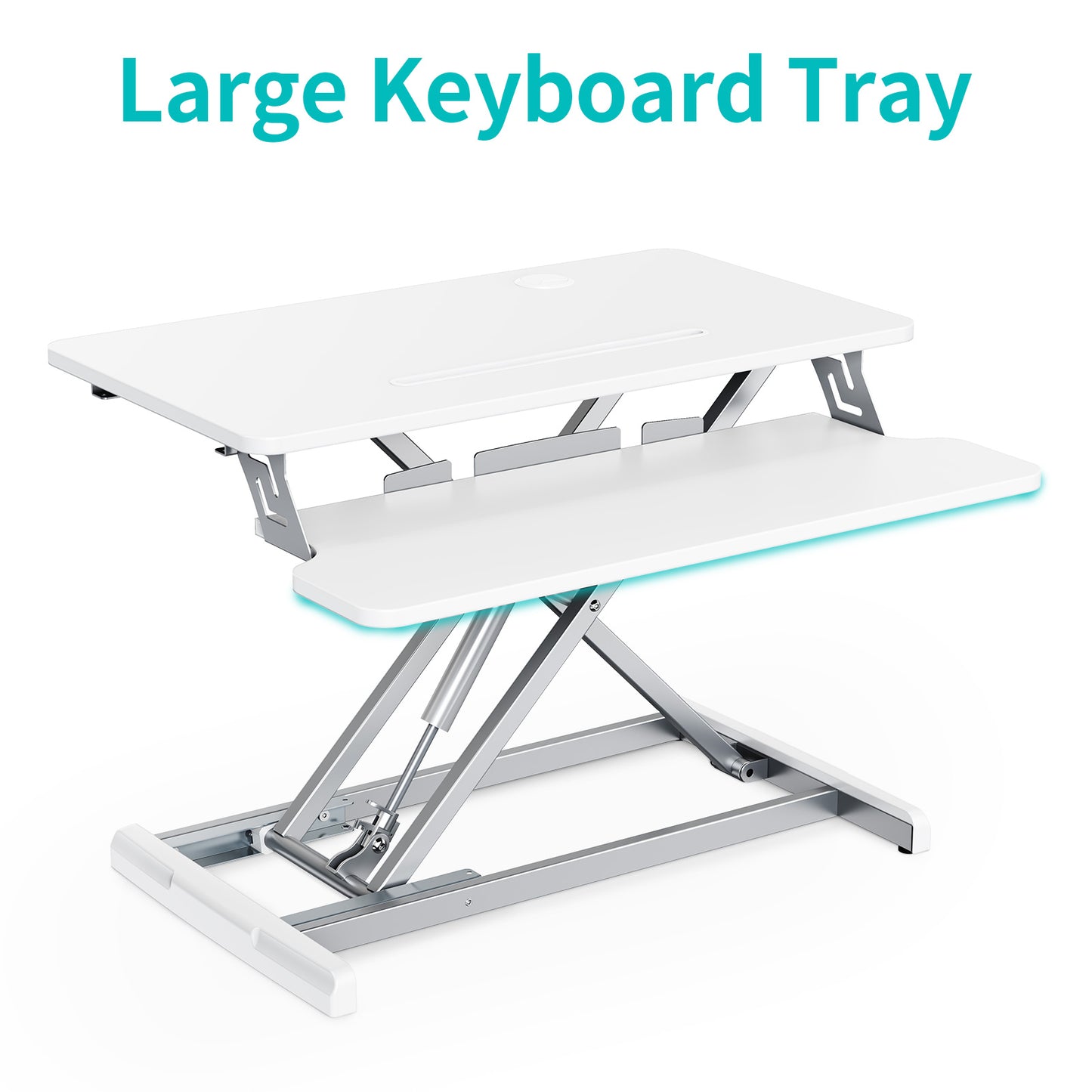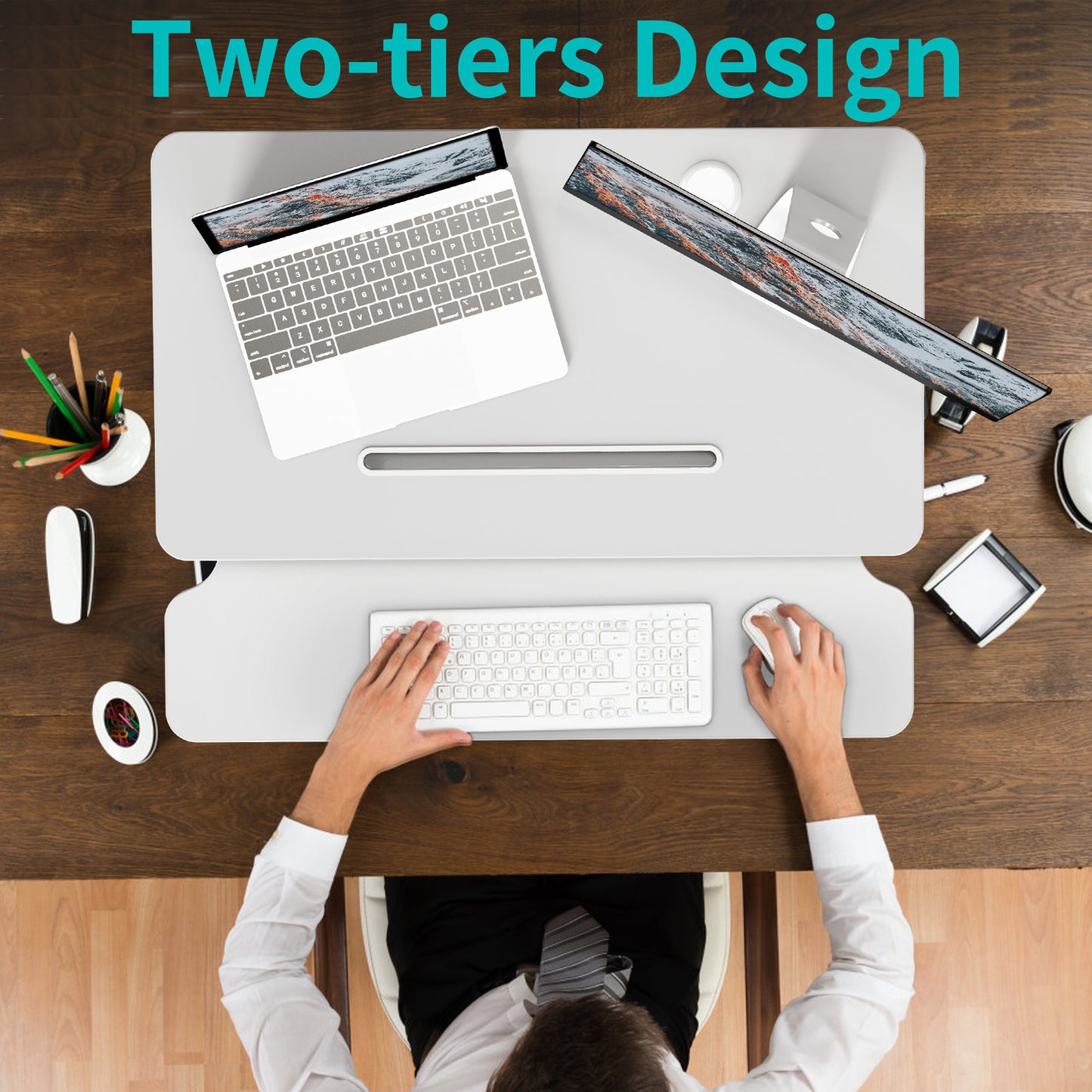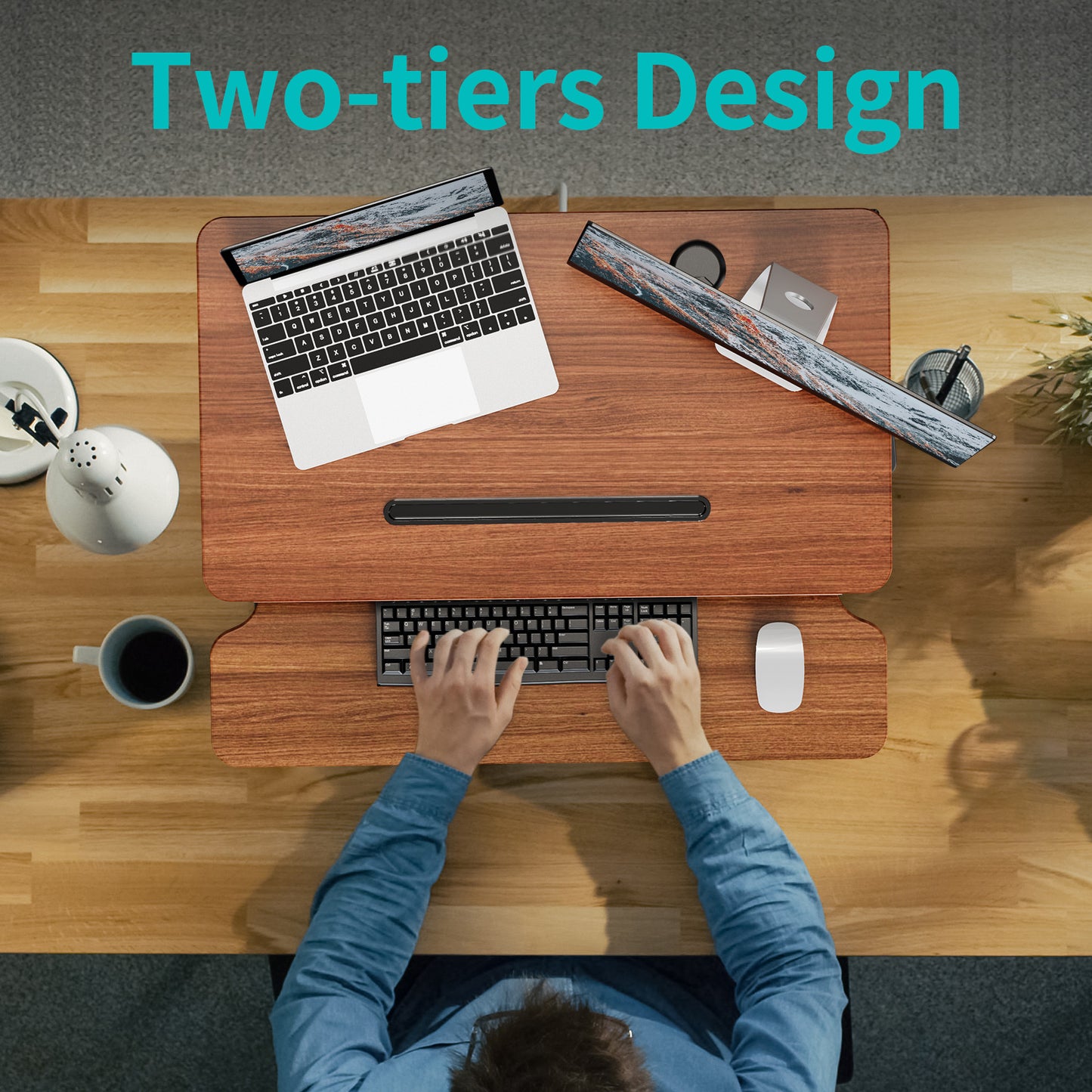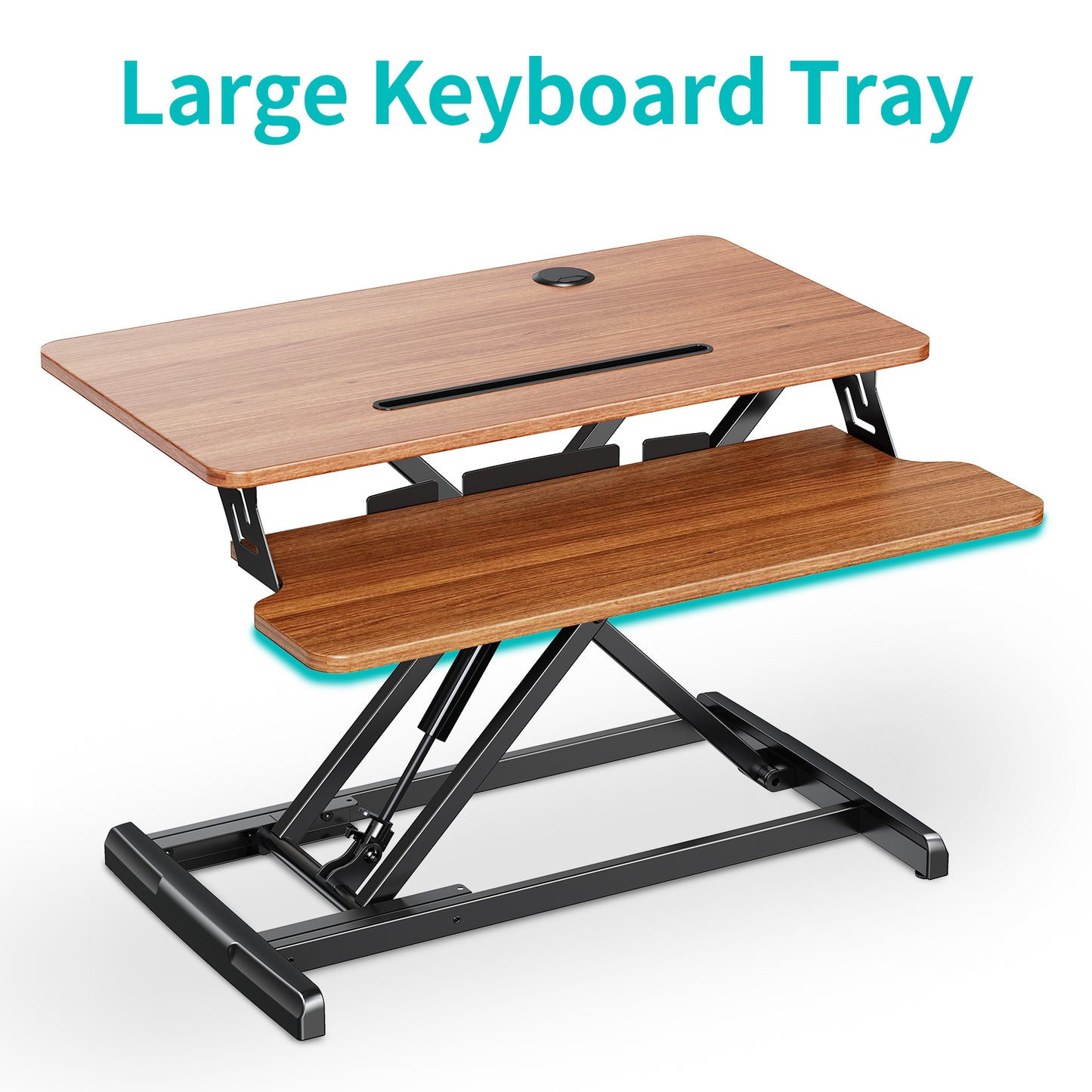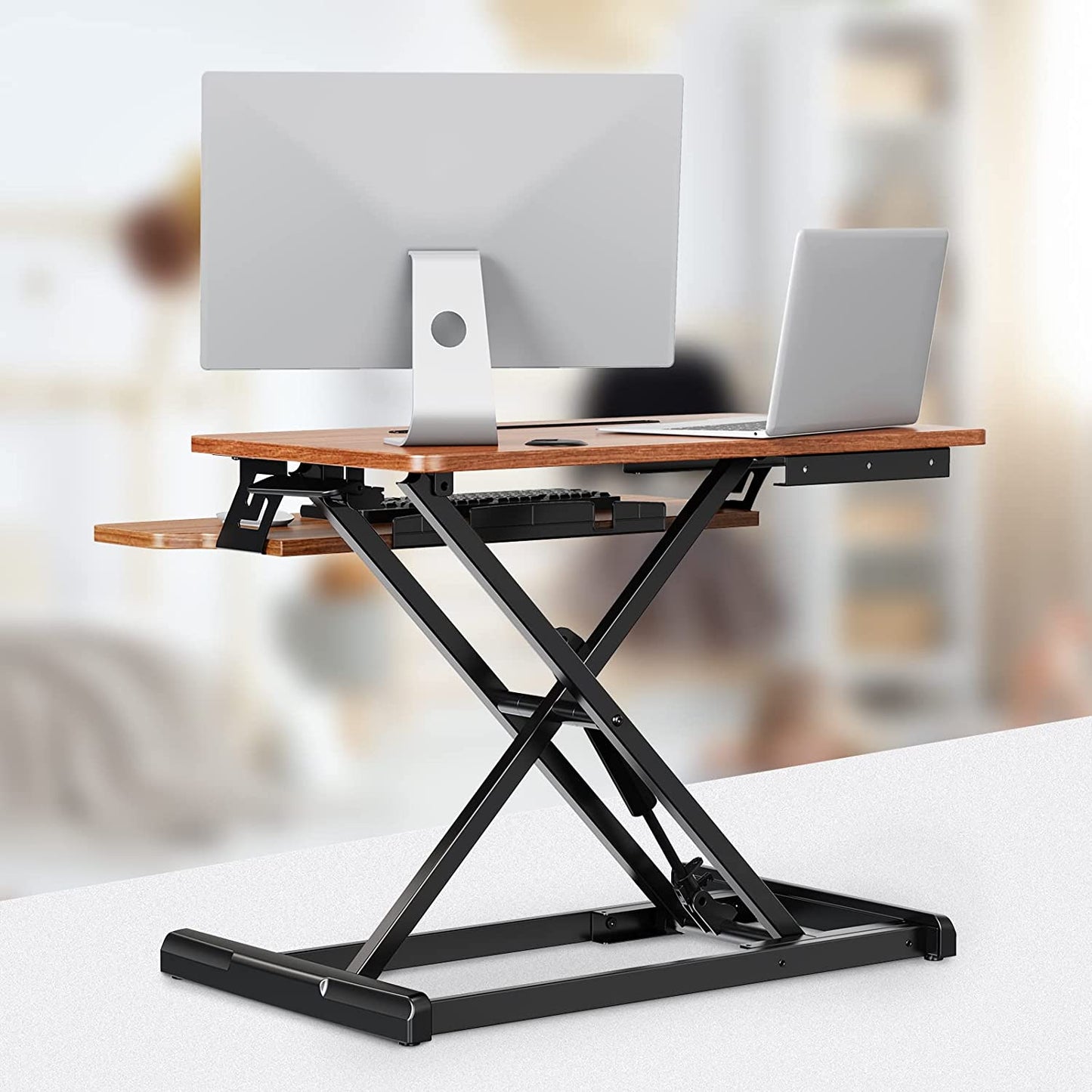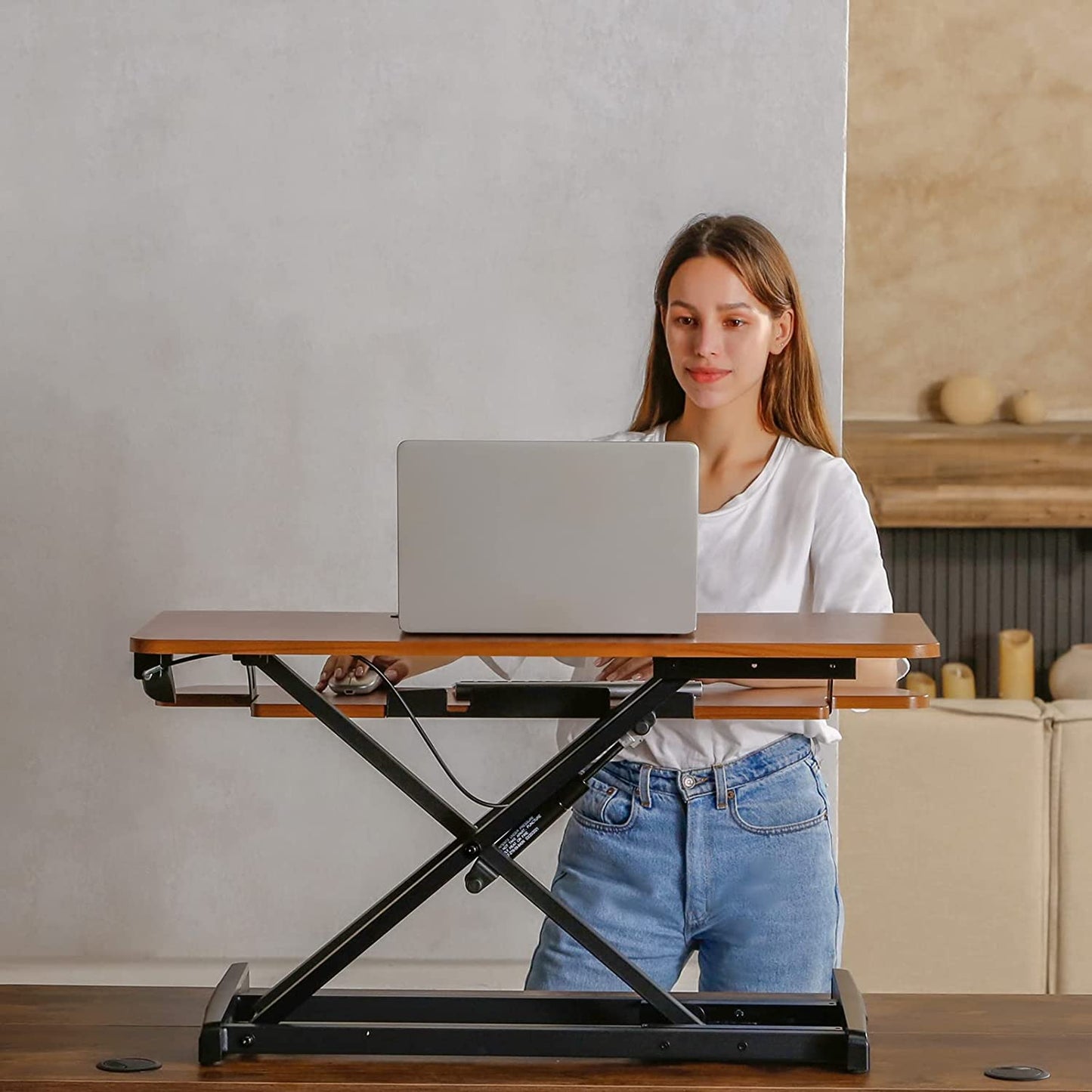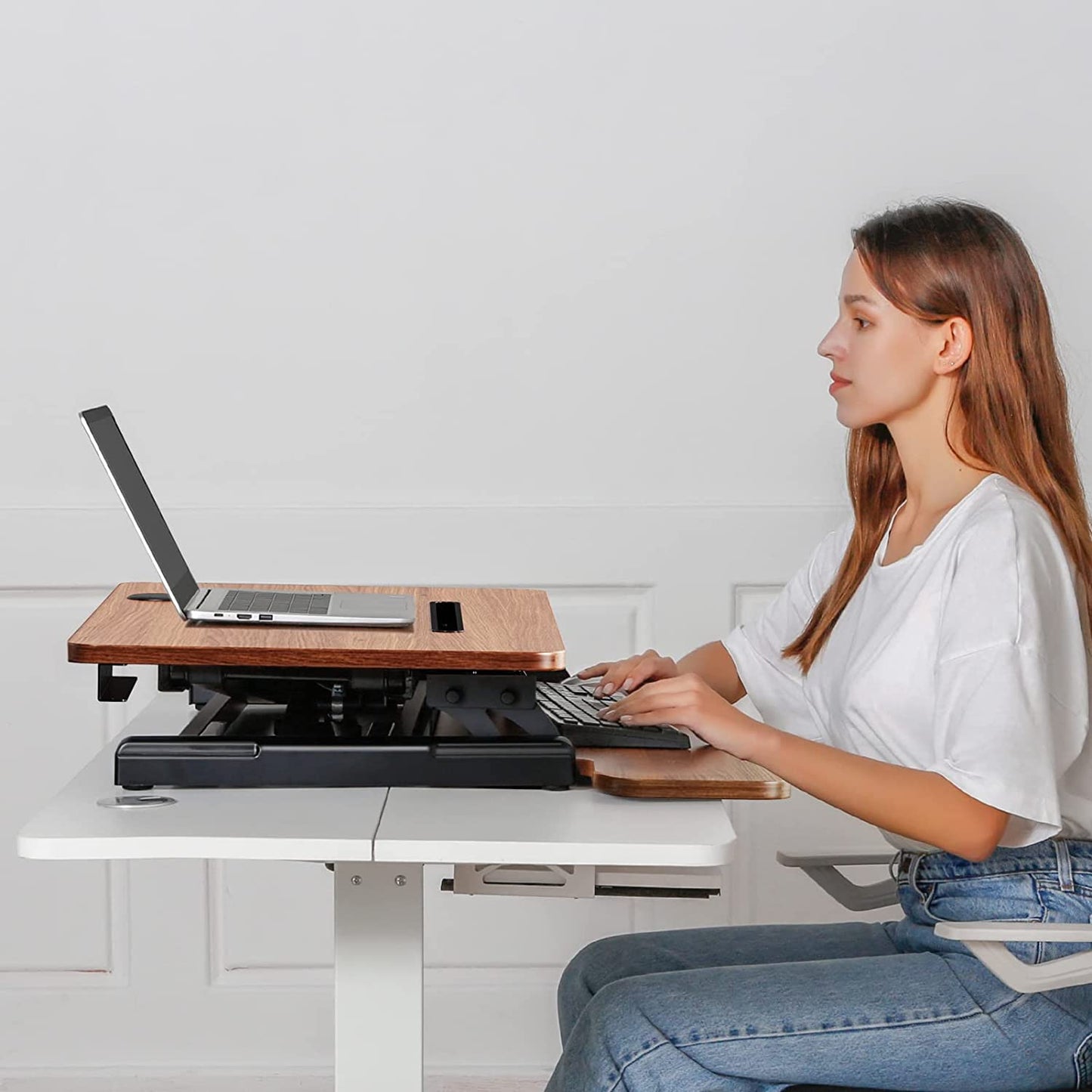 Nice looking desk!
This is a very nice looking desk, smooth operation, good sized work surface. My one and only small complaint that I have is that it is very lite and moves a bit on me. I do have something on under it to protect my leather top desk. Others my not have this issue and count this as a plus.
In love
Im so in love with this unit! Its a compact design at a very reasonable price and extremely good quality! Worth every penny!
I have a standing corner desk
And right next to it is a "regular" table-type straight desk. It isn't a huge one, so this converting style standing desk works great on it. My corner standing desk holds my desktop computer with two monitors and this convertible holds my laptop and a "real" keyboard because I have always hated using the laptop keyboard regularly - it's just too flat. I'm used to a curved, ergonomic keyboard and one with real keys that can handle the abuse from my typing on them regularly. Yeah, I am an old-school typist kind of person and having the extra piece on this convertible standing desk was a big selling point for me. This desktop version is great if you already have a desk you don't want to get rid of and buy a whole, new desk - just get this to place on top and you have a wonderful standing desk for your laptop or a desktop!
So far so good! Well worth it!
I had another desk that lasted 2 years and all of a sudden the handle broke. I couldnt understand why? So I had to buy another one! Cause it really is helpful to be able to stand every half hour or at least I try to while Im still working from home! And I was trying to buy another one where it had some metal parts to the handle hoping that will help it better this time!