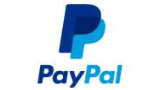 Shipping & Returns

Shipping

Free shipping on all orders to the contiguous U.S.

Return and Refund

We offer a 30 days risk-free return. Check our return and refund policy.
View full details
This desk is a multifunctional adjustable laptop desk. It is portable and foldable, meeting your various needs. It is designed to be used on the bed or couch, which rises your laptop and gadgets stably in a proper position. The desk comes with a phone holder, a book holder, a laptop stopper, and a wrist rest, which helps create a comfortable workstation. Thanks to its leather surface, the laptop table is smooth to touch. In addition, both the wrist rest and the stopper are removable, and you can mount them on right or left, which makes this desk-friendly to leftie users.

Black, gray, white, and pink colors are available.   
Laptop bed desk with a leather top 
The leather desktop measures 23.6'' x 17.7''. It is designed to accommodate a laptop, a mouse, a phone, and some gadgets in the same space. The surface is large, smooth, and multifunctional. You can put the laptop on one side and your phone, mouse, and cup beside it. There is a pad slot on the top end, where you can stand your pad on it. Underneath the top, left side, there is a drawer to accommodate gadgets such as eyeglasses, pens, cables, and more.  
Bed desk for laptop
This bed desk for laptop is friendly to both left-handers and right-handers. The laptop bed desk comes with a laptop stopper and a wrist rest, both of them are detachable. You can mount the laptop stopper on the right or left, to avoid the laptop slipping when tilting the table. 
The lazy bed tray also comes with a book holder. If you like reading on the bed, pick this bed desk. The book holder is extendable and it features clips to keep the pages in place.
Foldable, portable, and adjustable laptop table
Working on the bed can be healthy if you are using an ergonomic bed desk. This desk meets your various needs thanks to its adjustable desktop and legs. The desktop can be tilted from 0° to 90°; the legs have 5 heights to adjust from 10.2'' to 14.6". It is easy to find the most comfortable position by adjusting the height and angle. 
The is a foldable laptop table for bed. Both of its legs can be folded and fit into the desktop. You can pack away the laptop bed tray and store it under the bed or against the wall, which won't occupy space when it is not in use.   
More than a laptop bed desk
It is more than a "laptop" bed desk. This bed tray can not only support a laptop but also serves as a breakfast tray for bed. There is a slot to place a cup of tea and the surface is large enough to accommodate a full meal. It is also a great lap desk for writing in bed. 
It is more than a laptop "bed" desk. This laptop table can be used on the couch as well. wherever you can sit or lay down, where you can use this lap desk. It is also a wonderful alternative to a standing desk converter. Put this laptop desk on your desk, you are turning your ordinary desk into an adjustable standing desk. 
A great desk built with details
Besides all the solid benefits above, this laptop tray has more good bits to talk about. Compared with a wood surface, the leather surface offers stylish color choices. And a leather surface is anti-slip and waterproof. The legs are made of premium aluminum, which is sturdy and lightweight. 
The laptop desk comes ready to use. There's no assembly needed.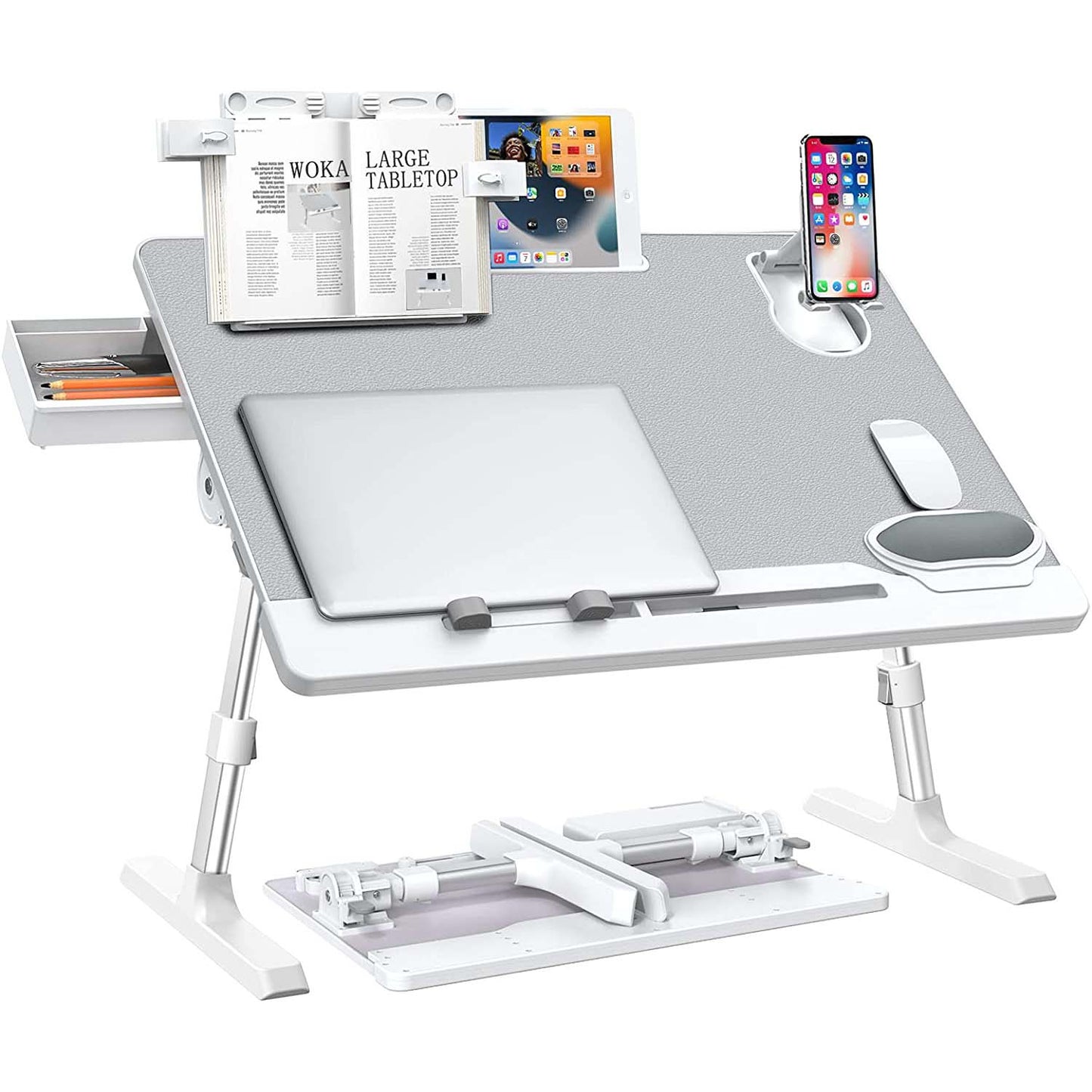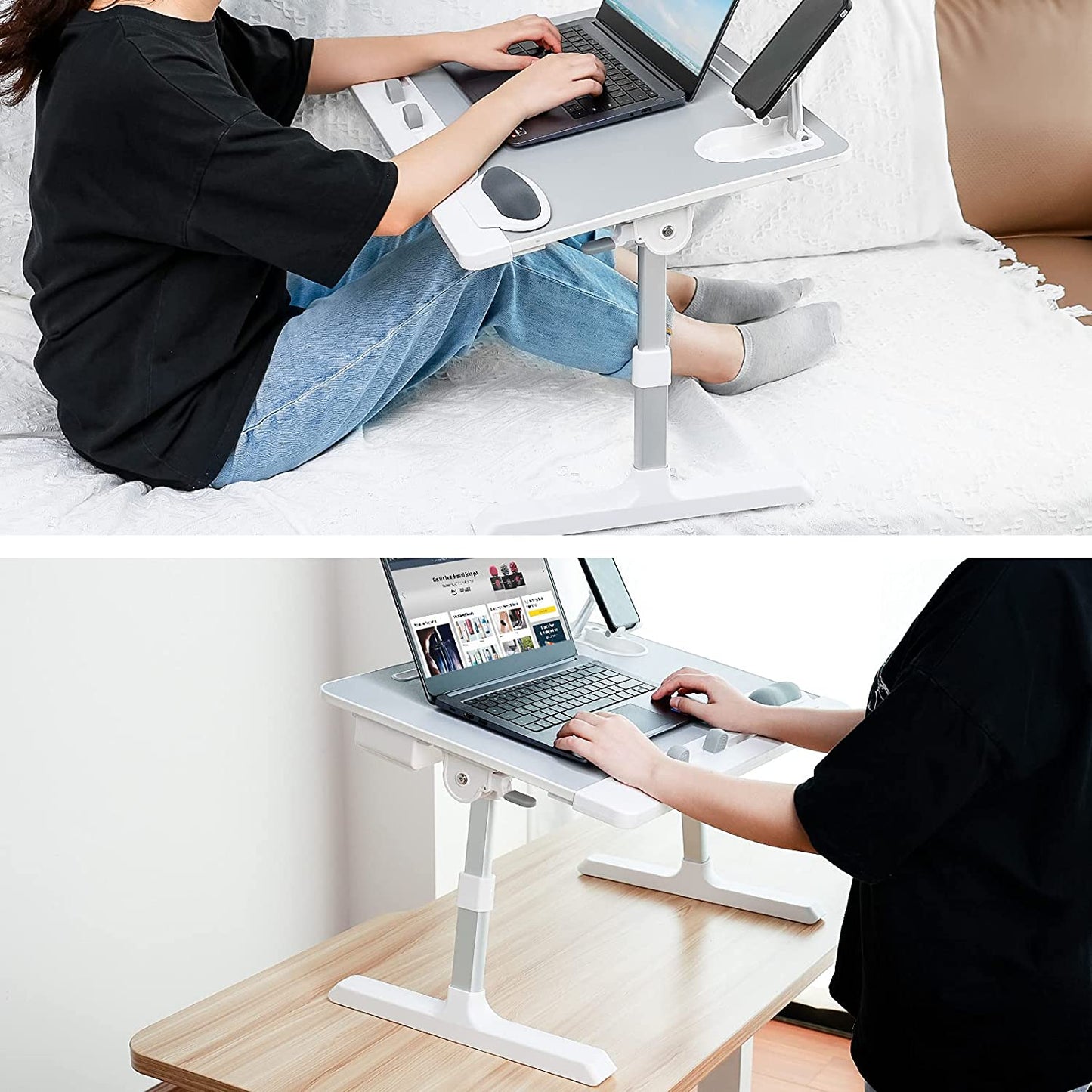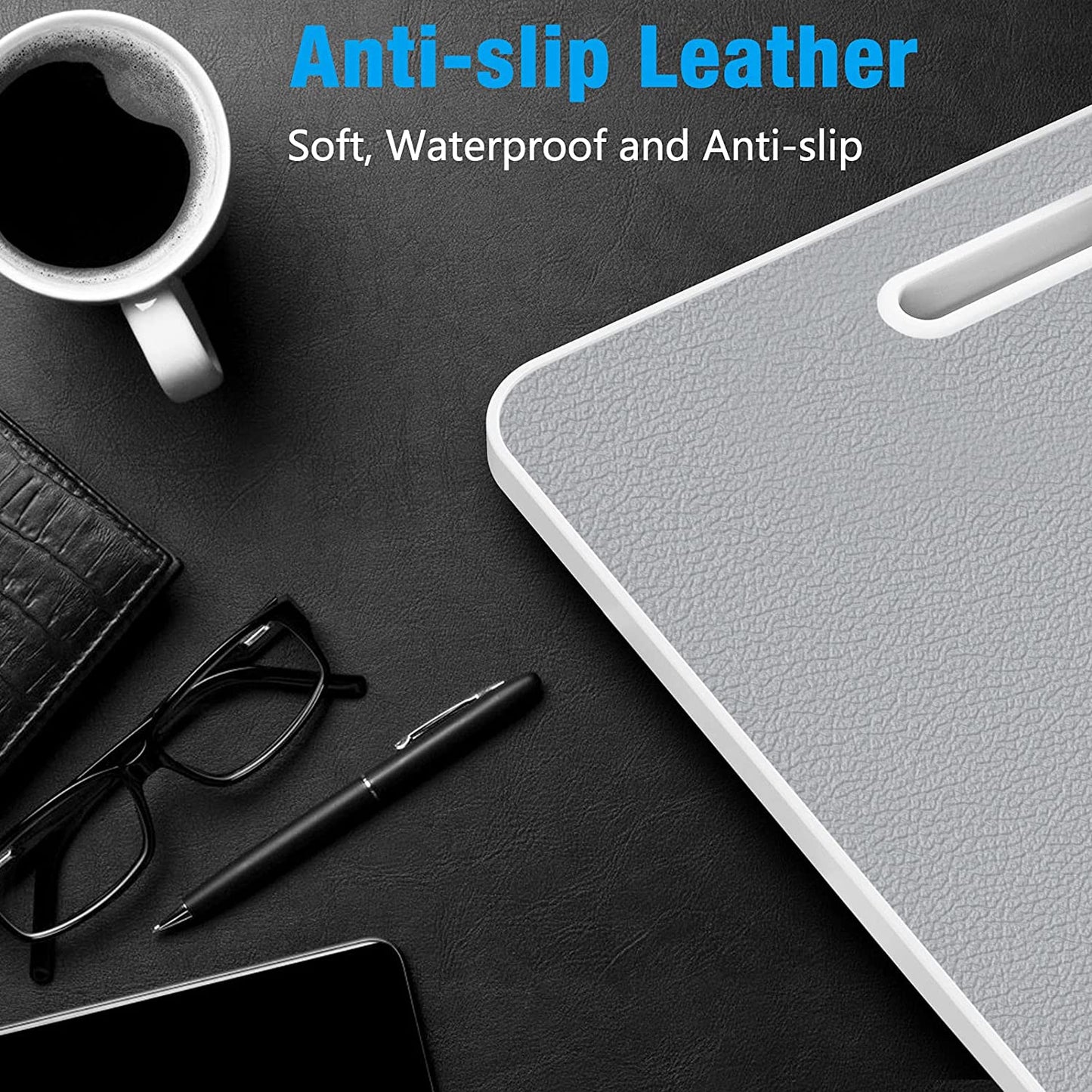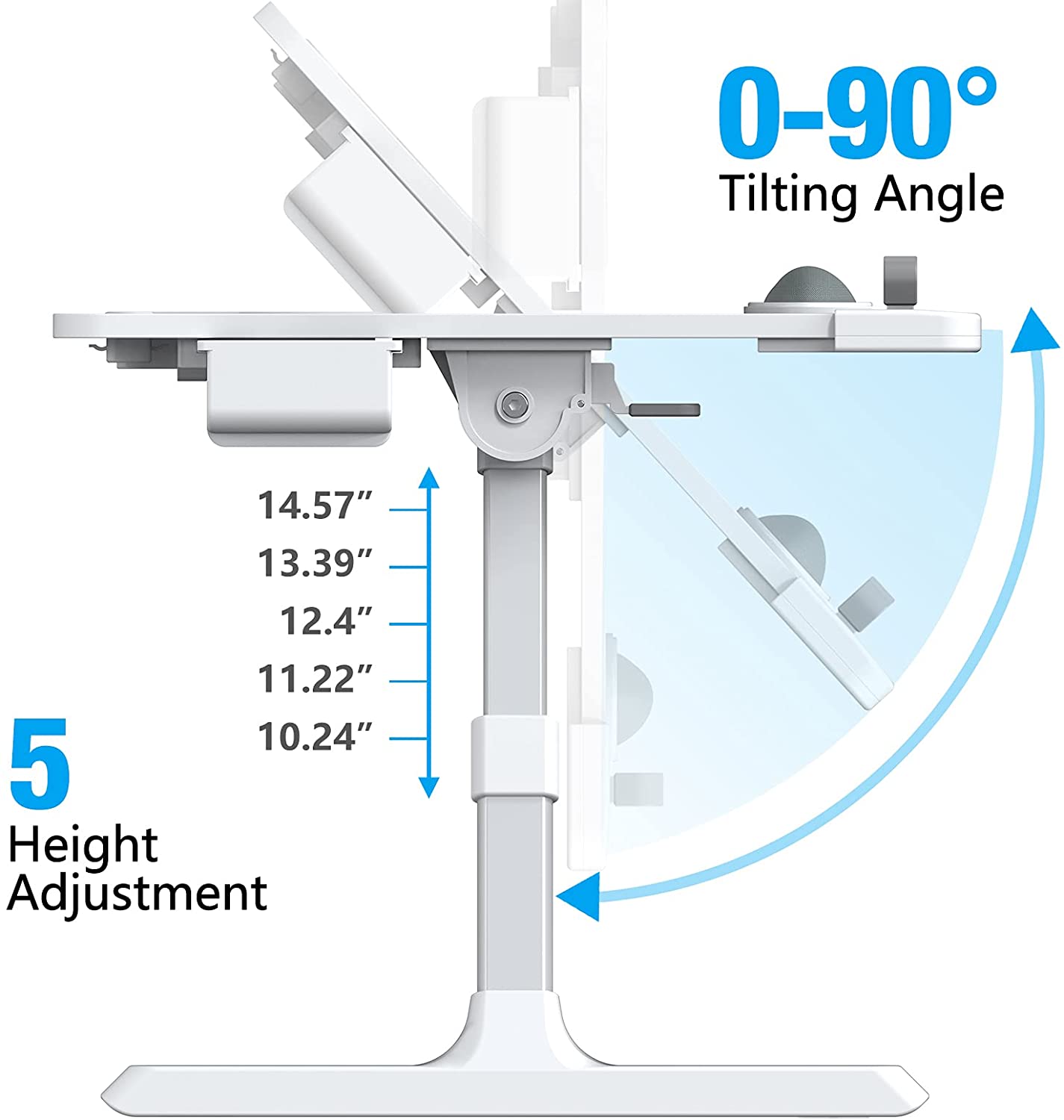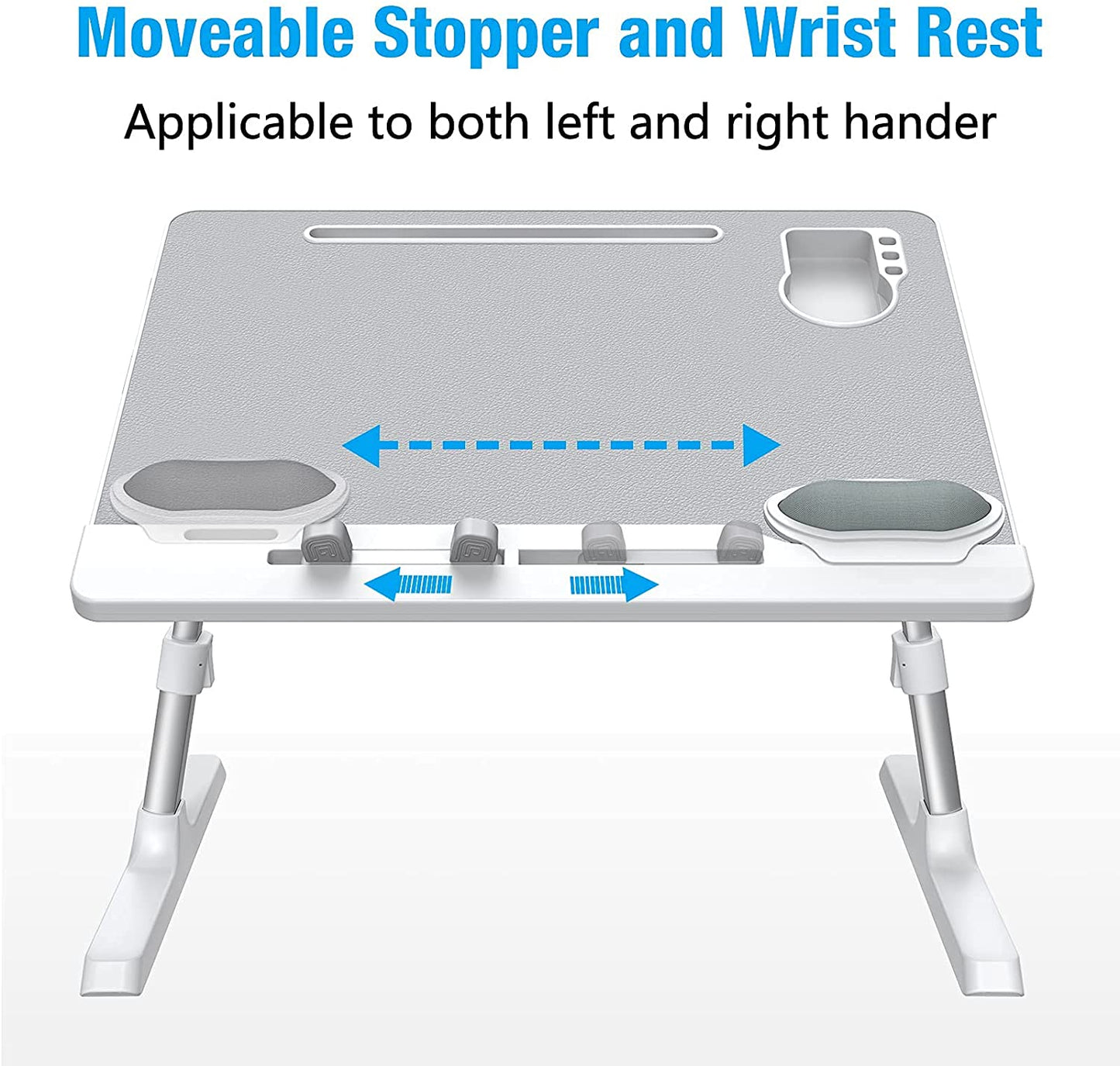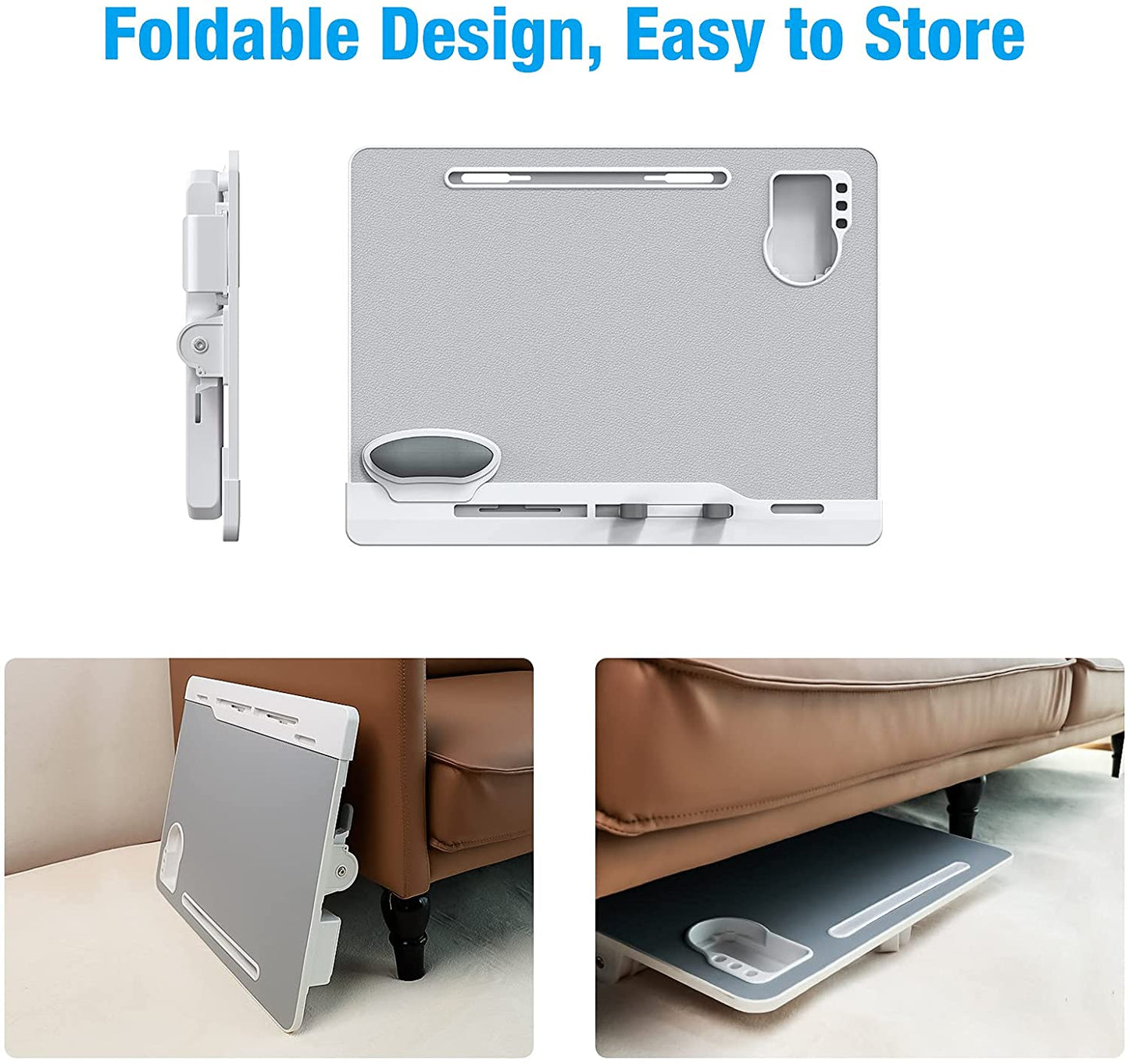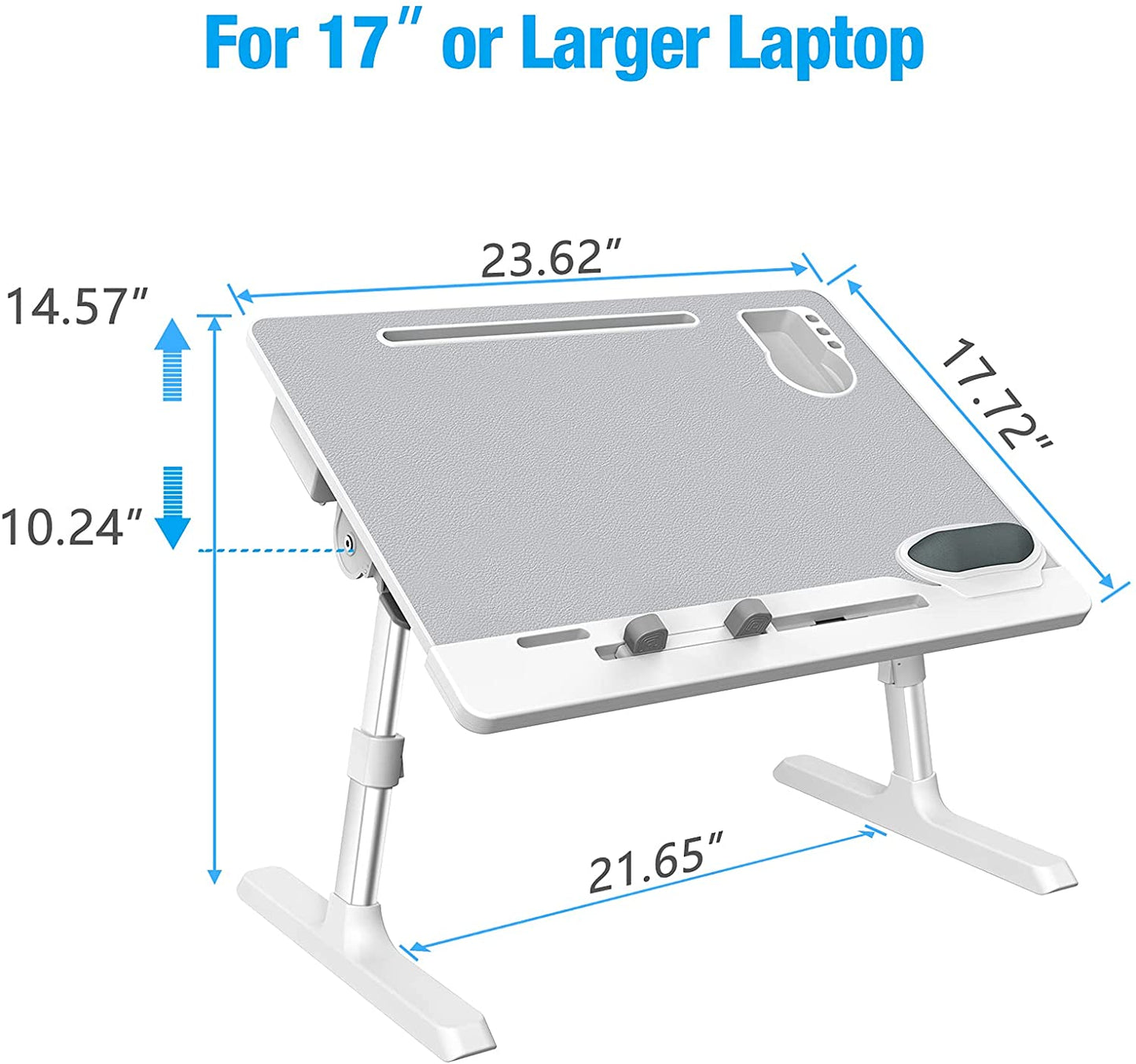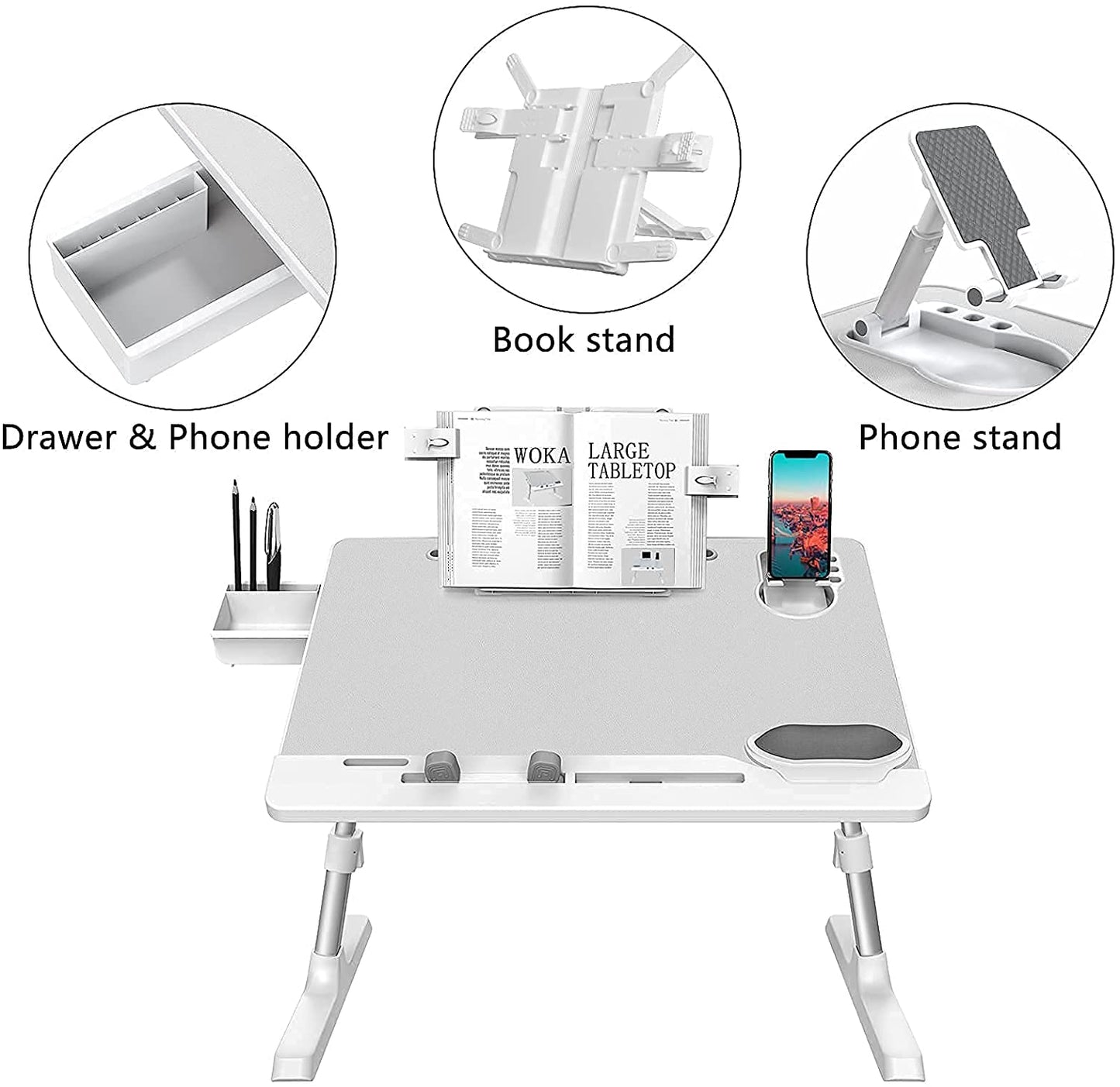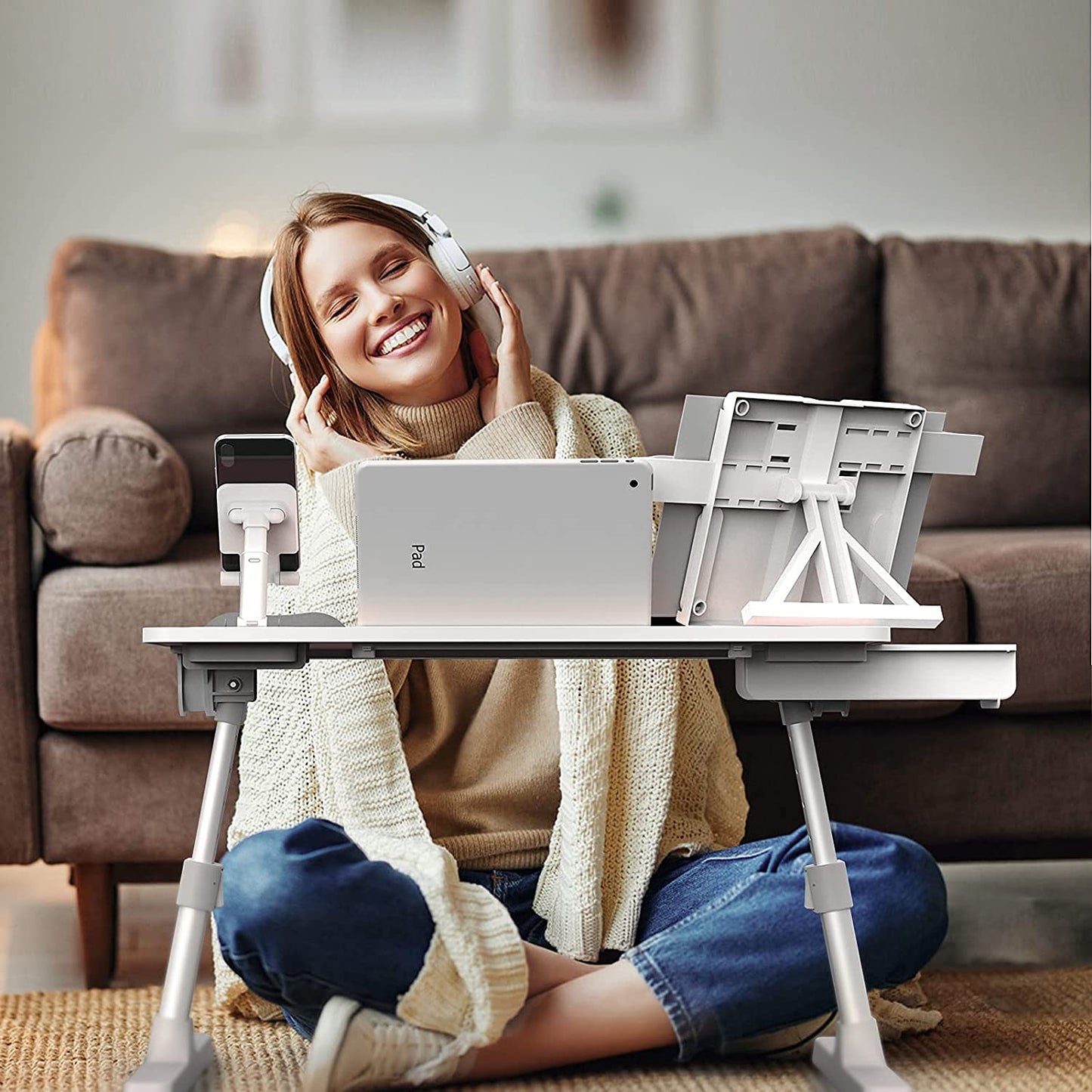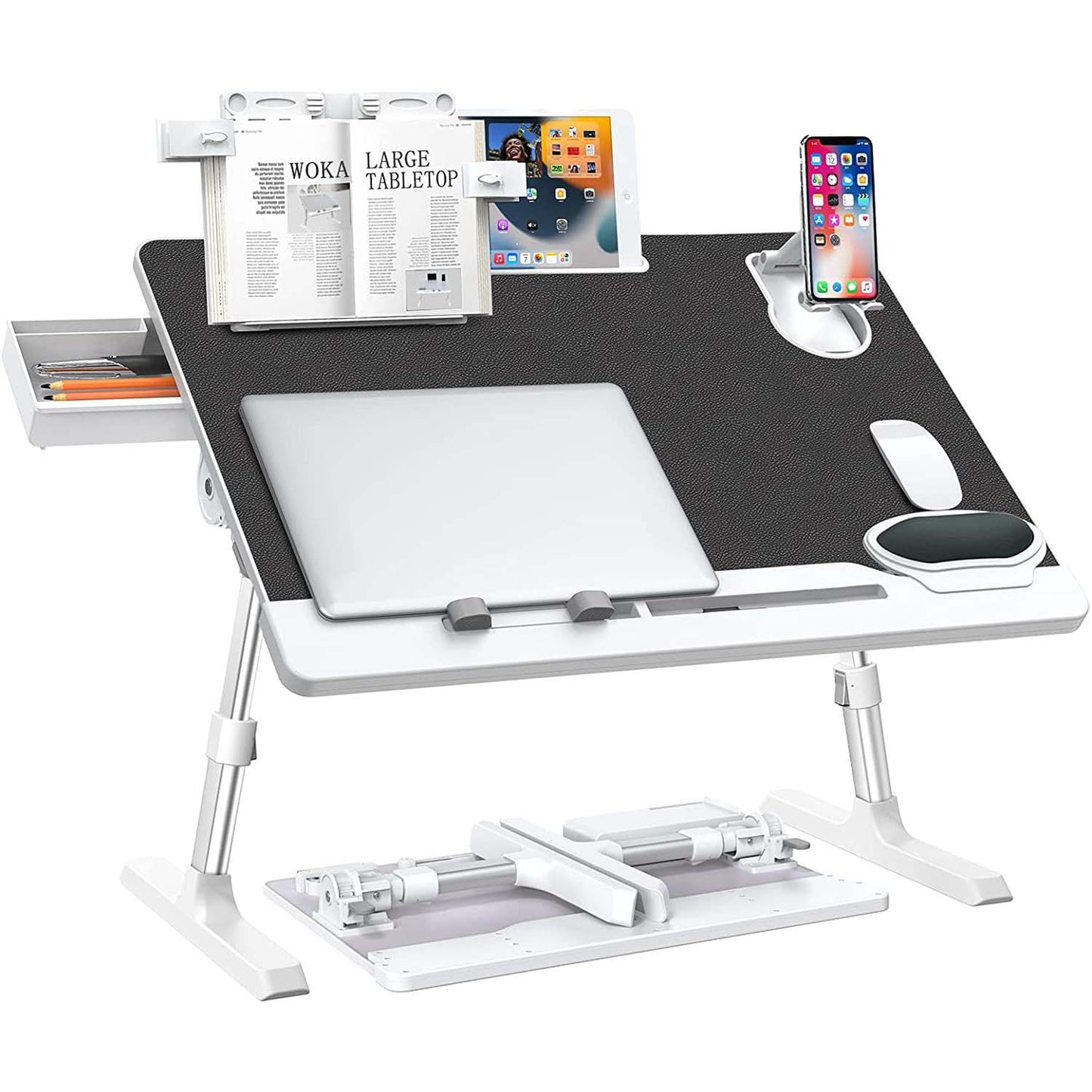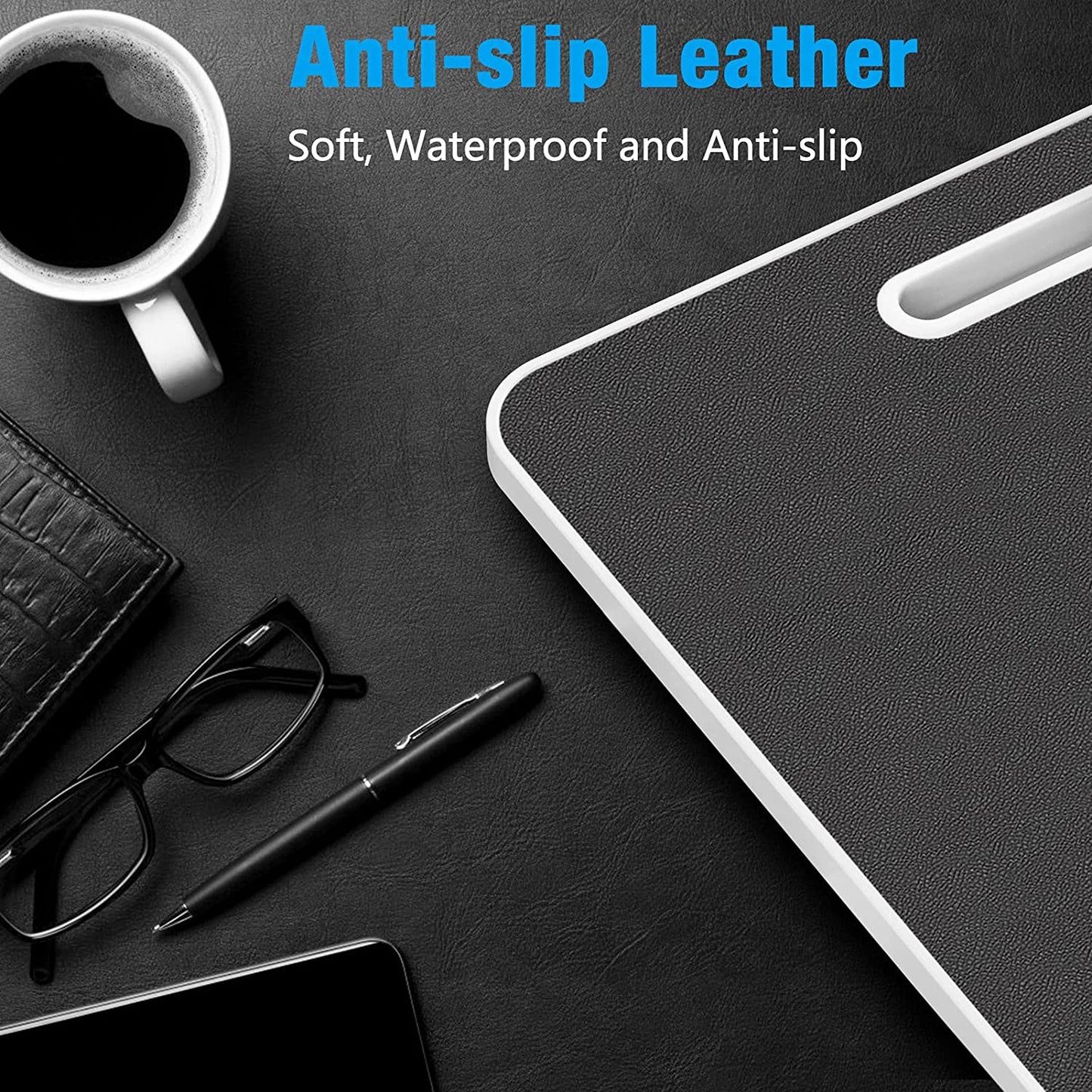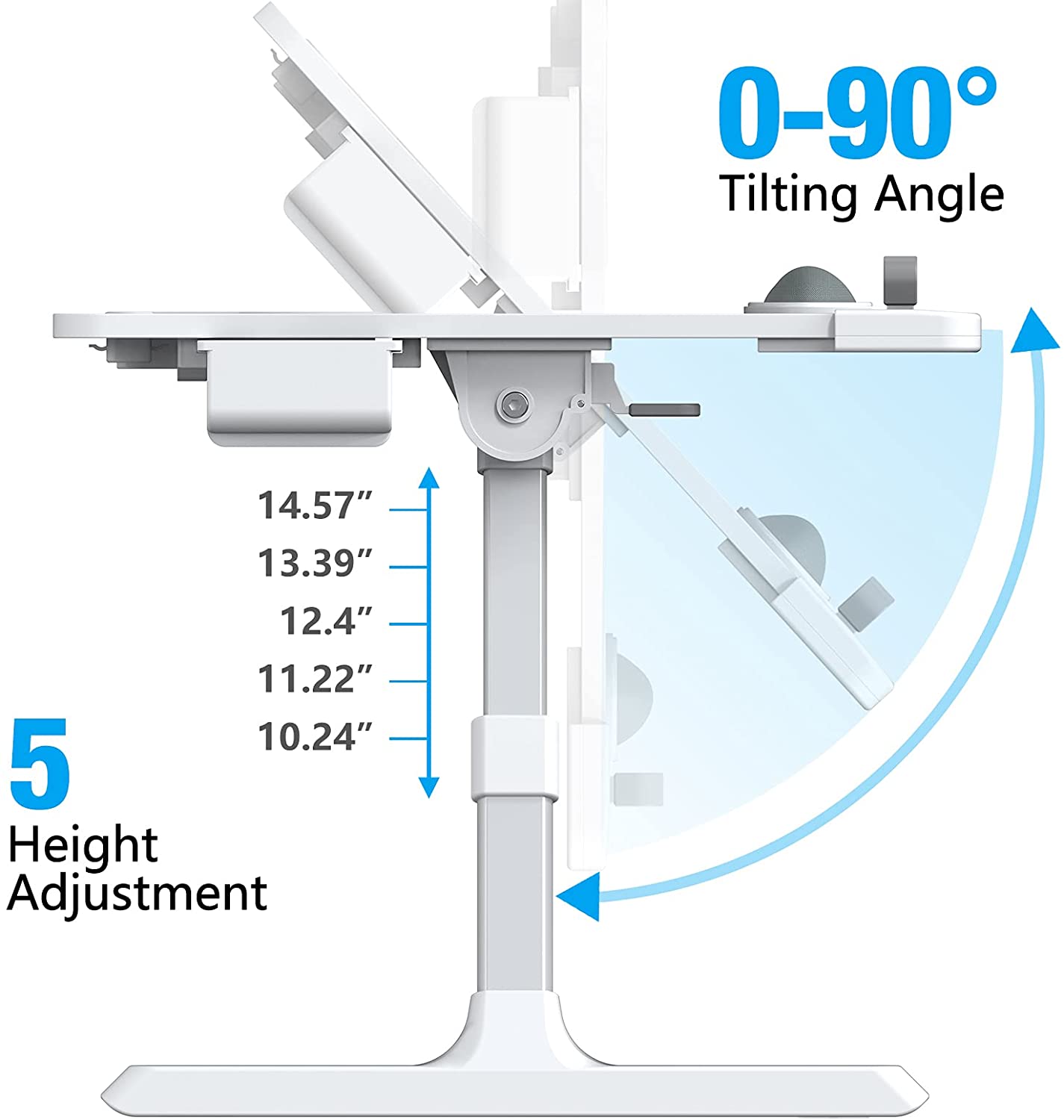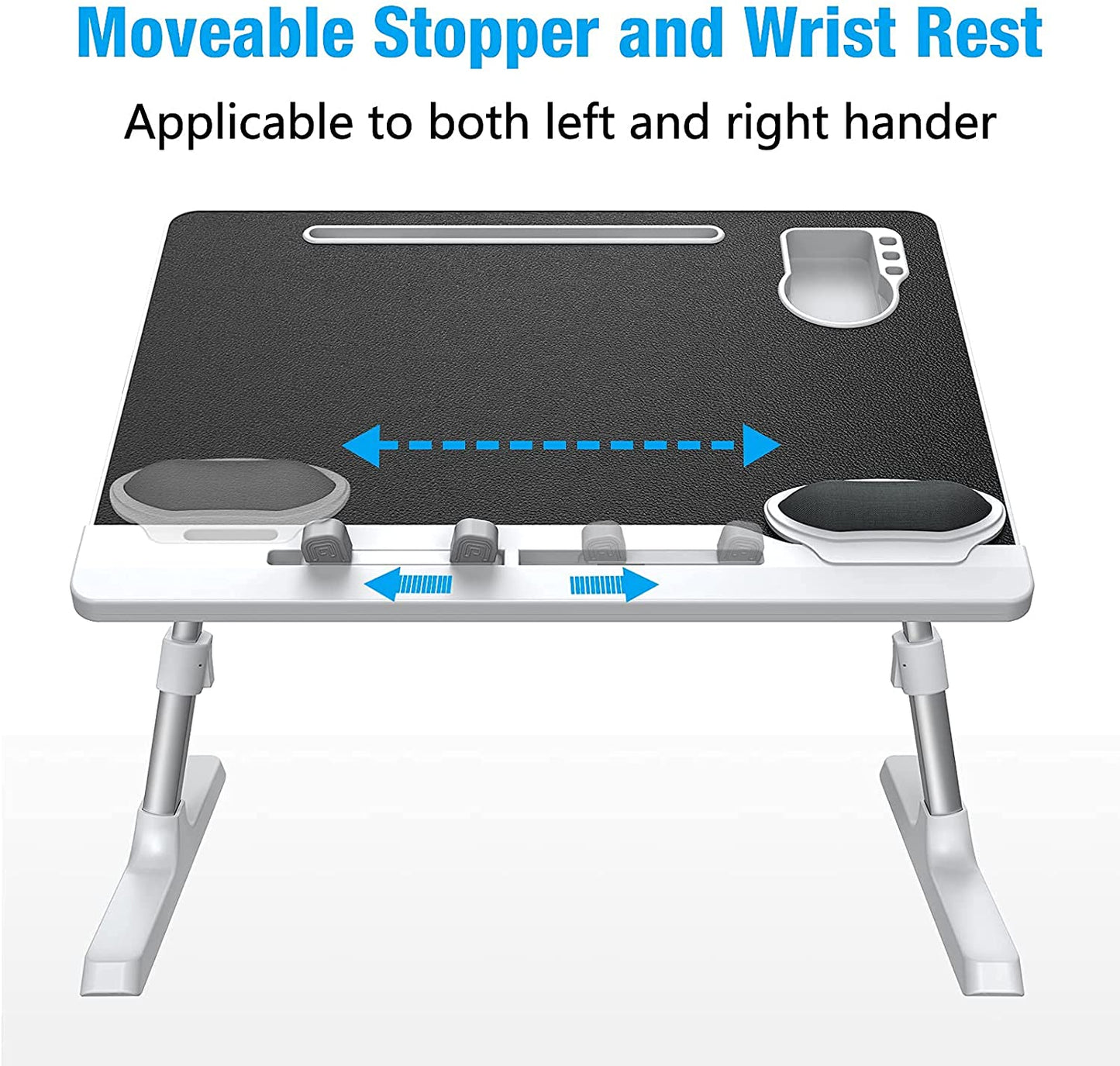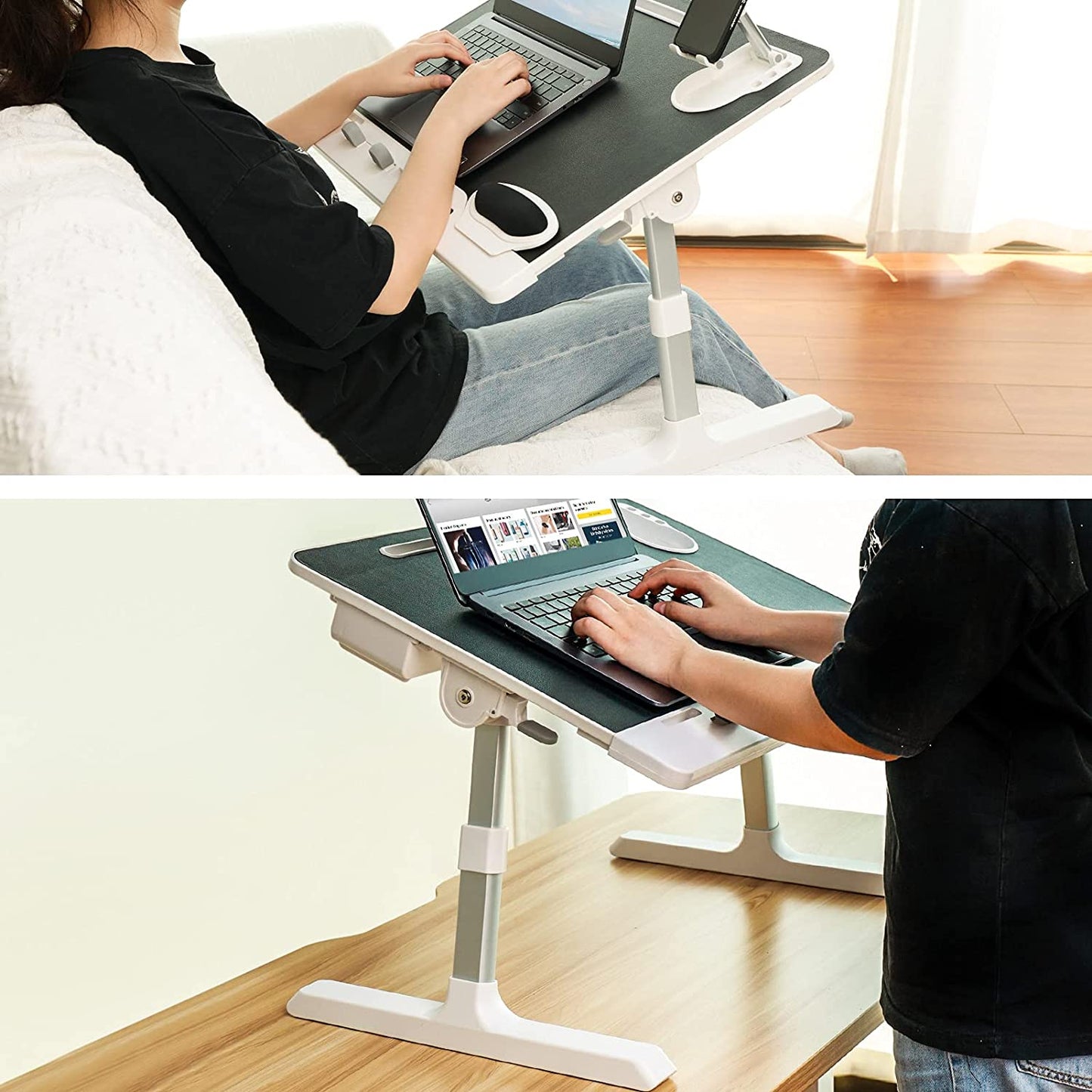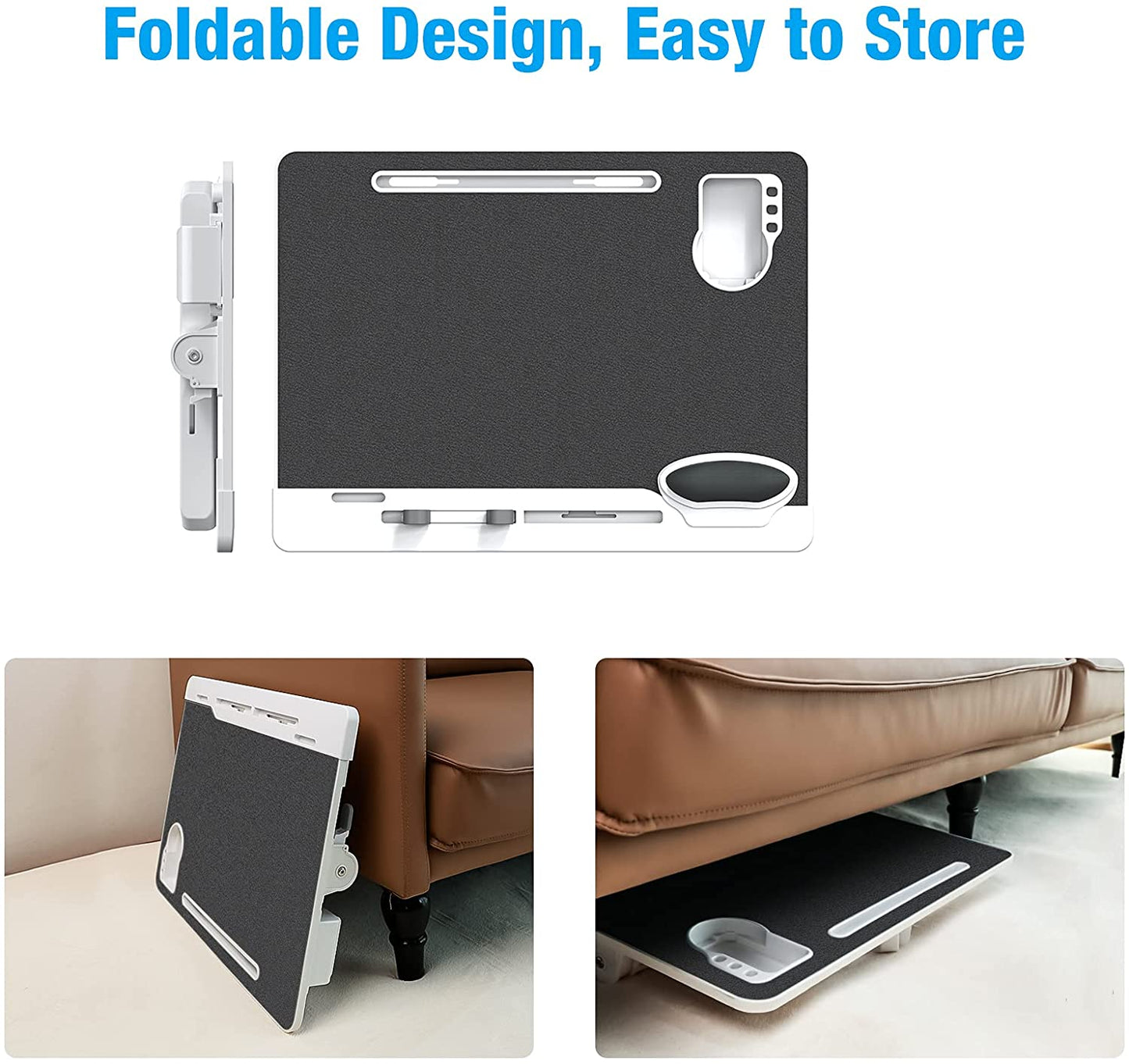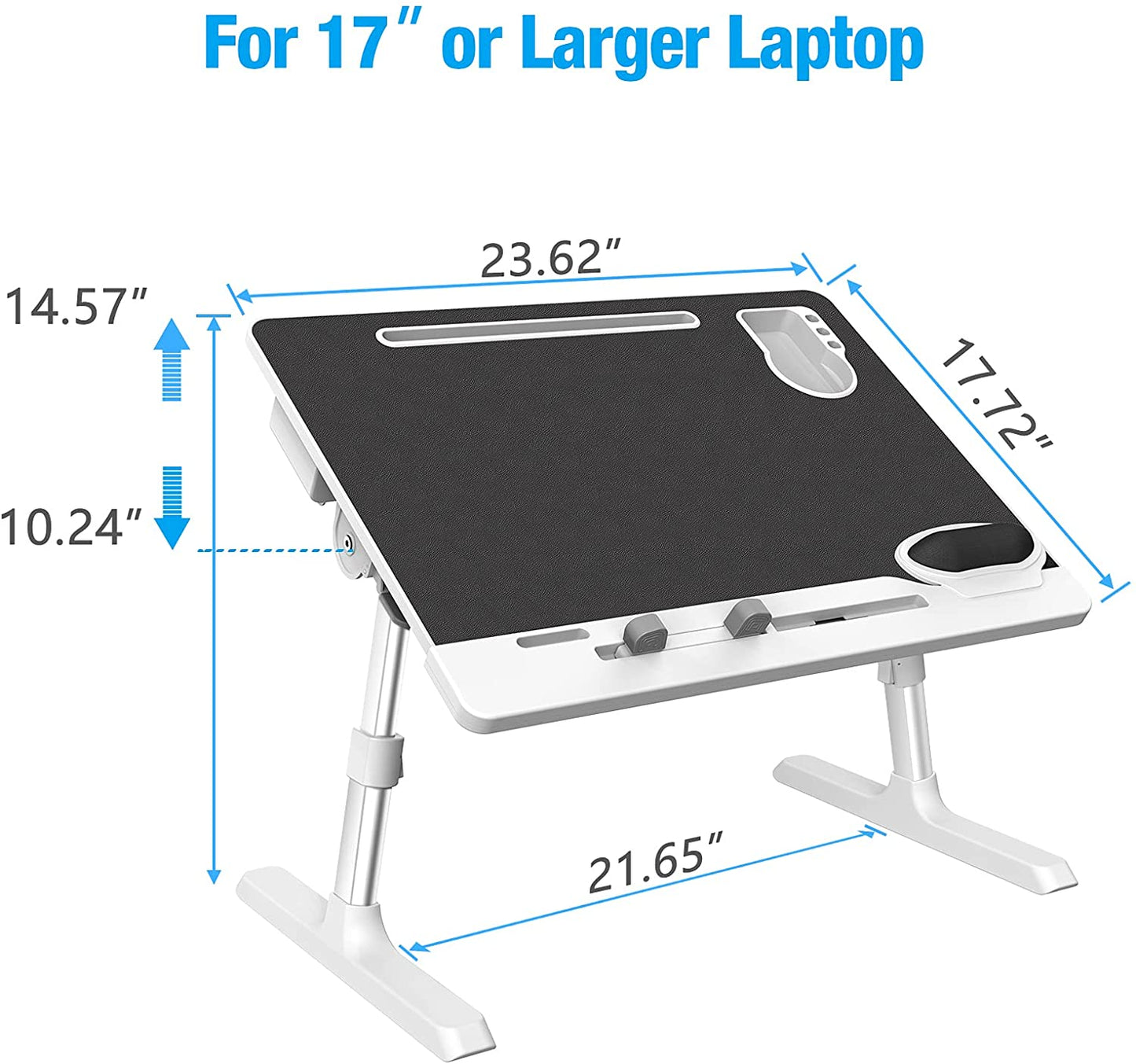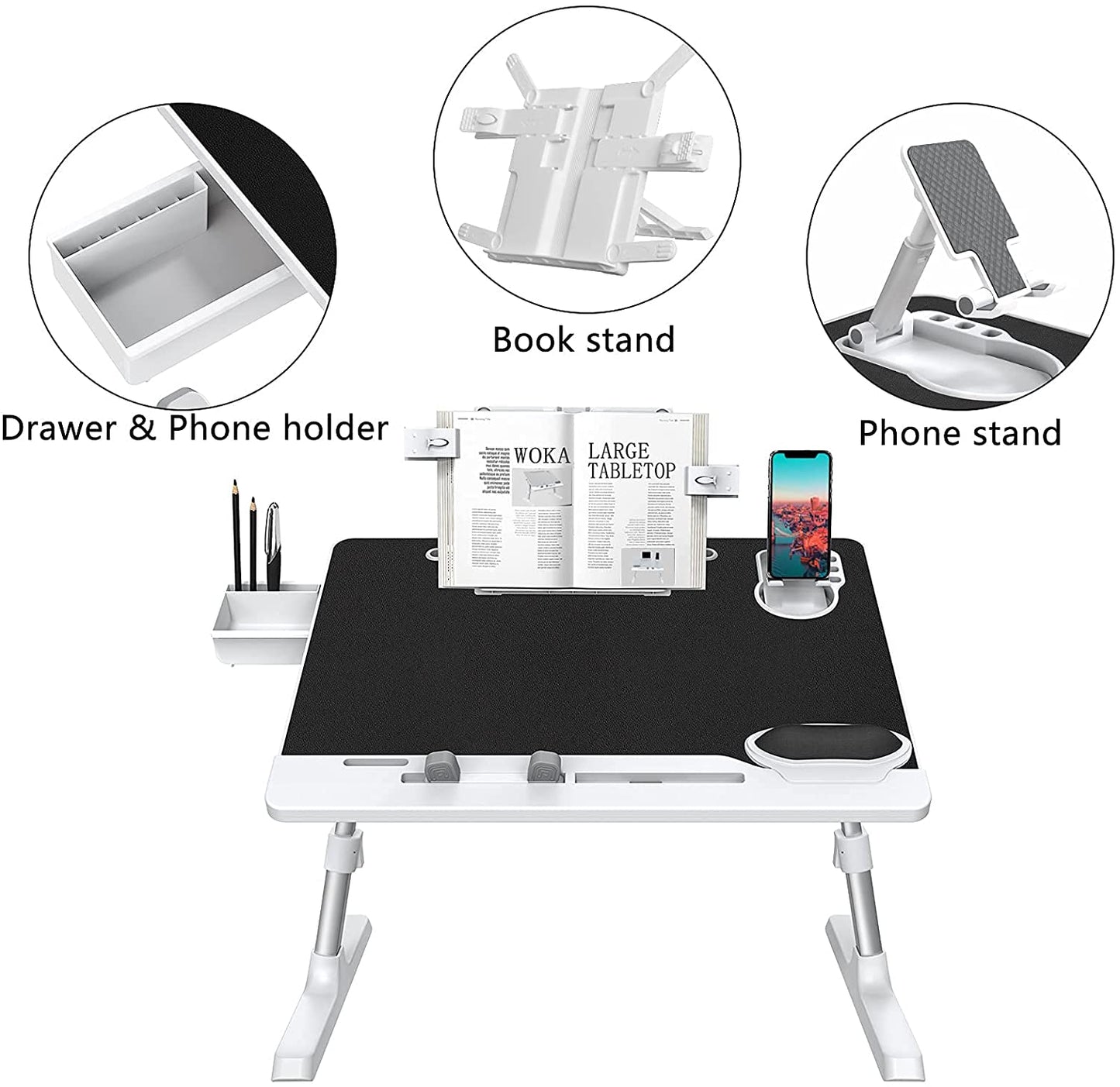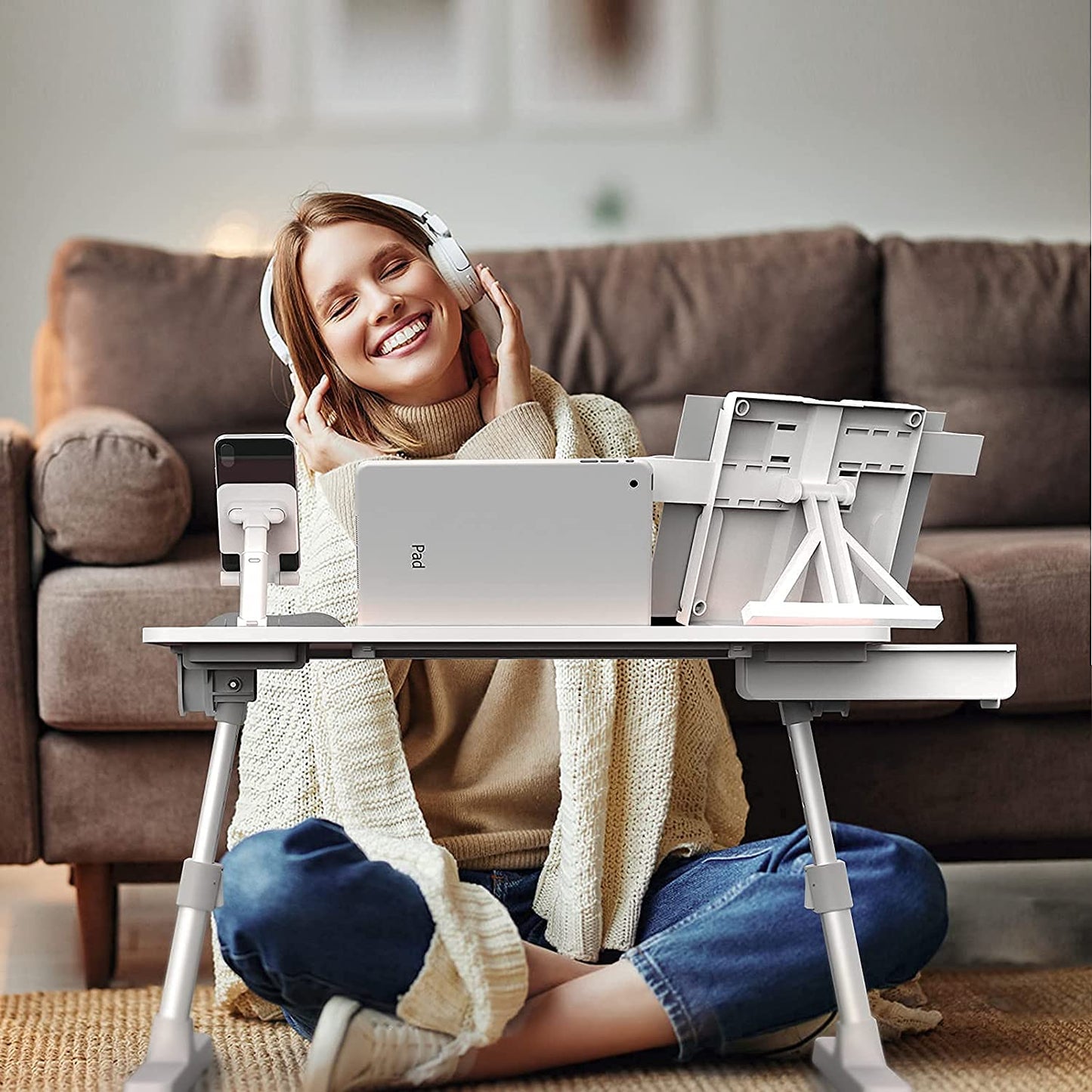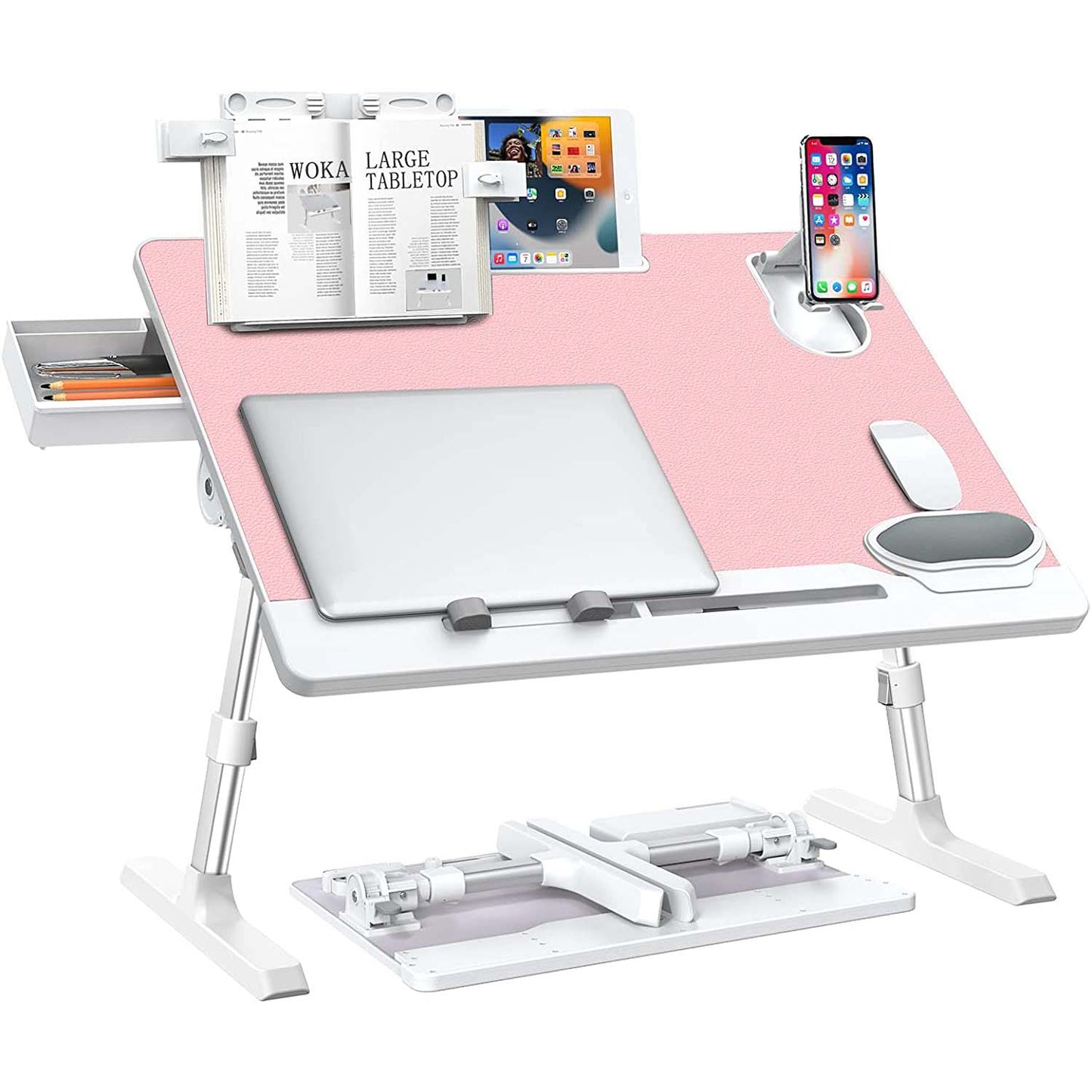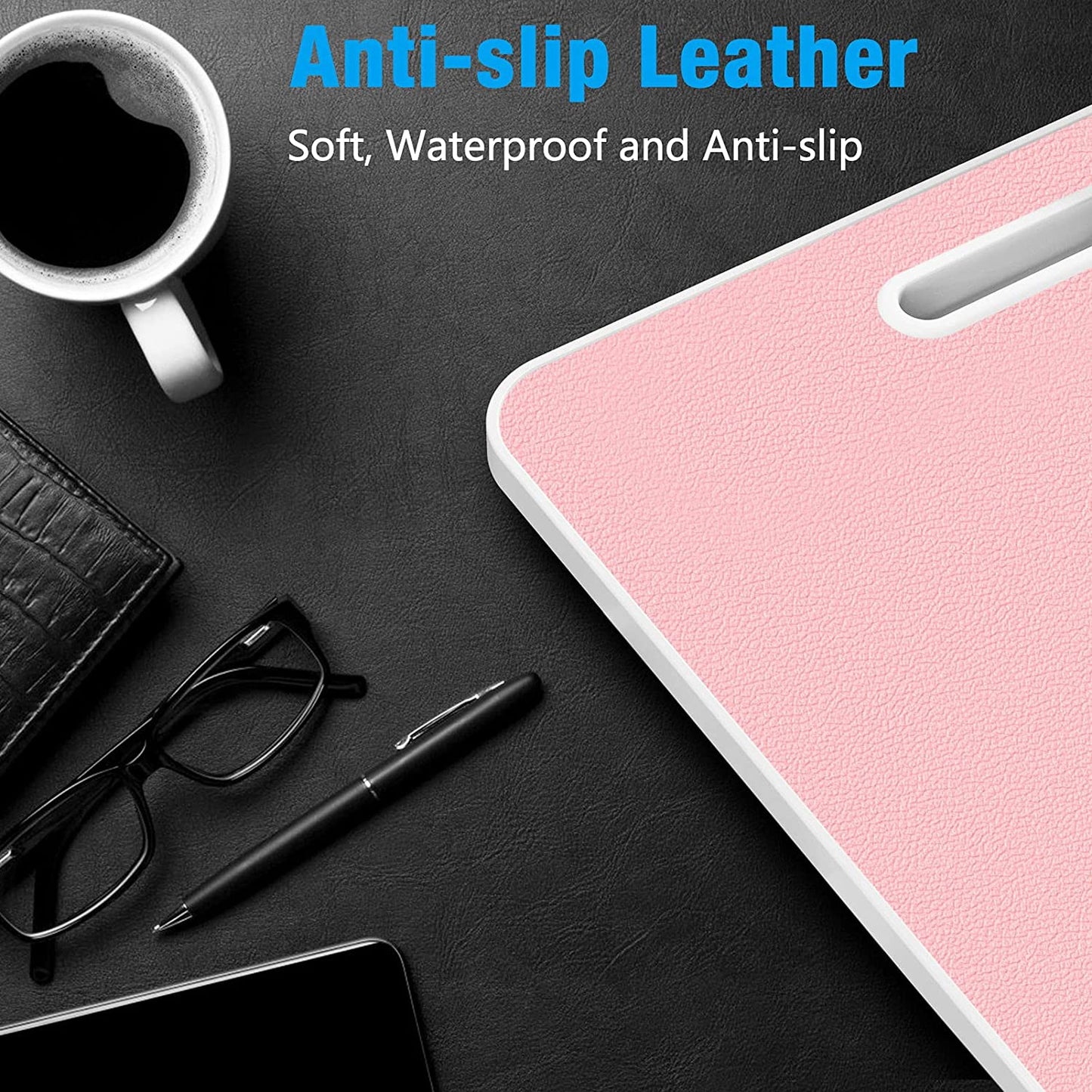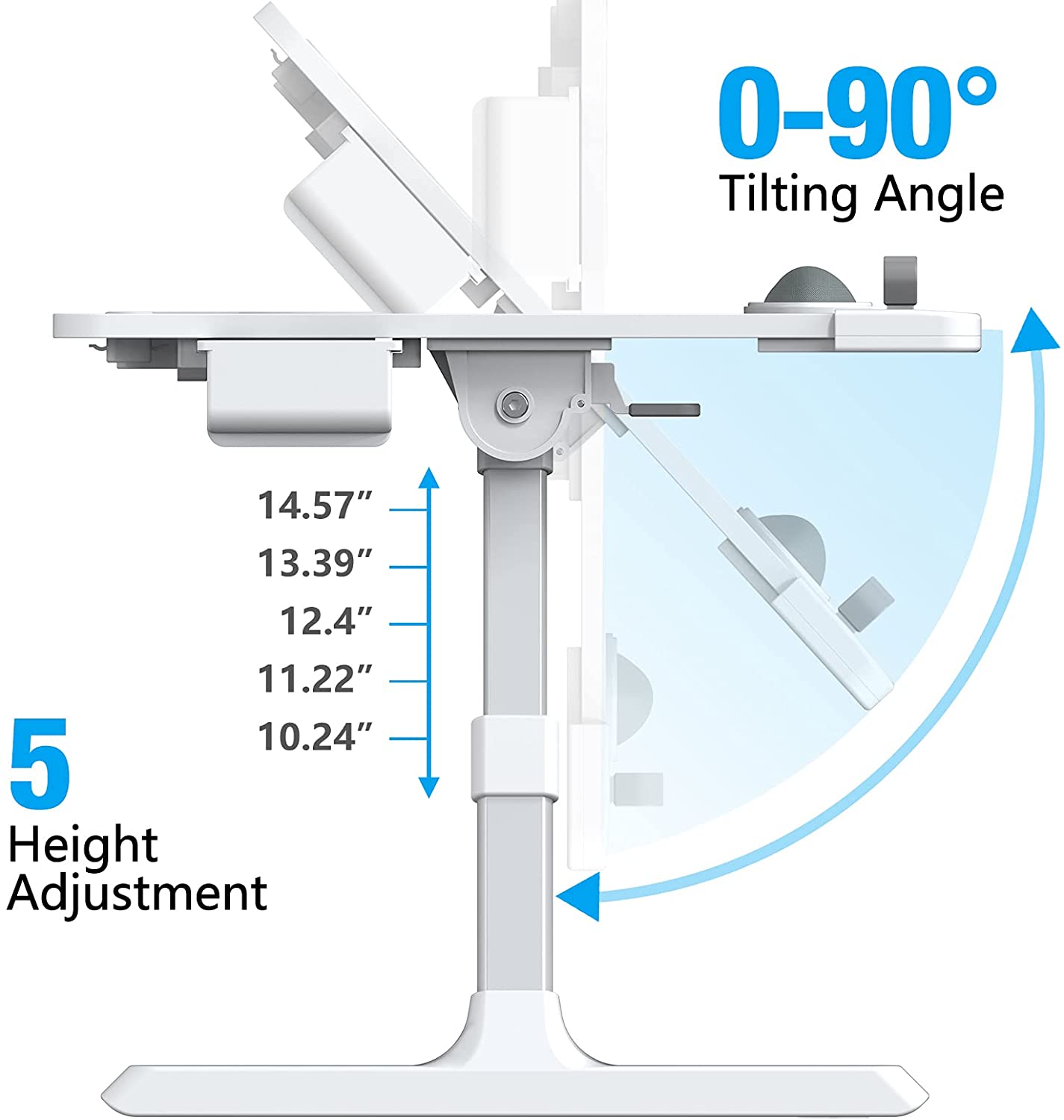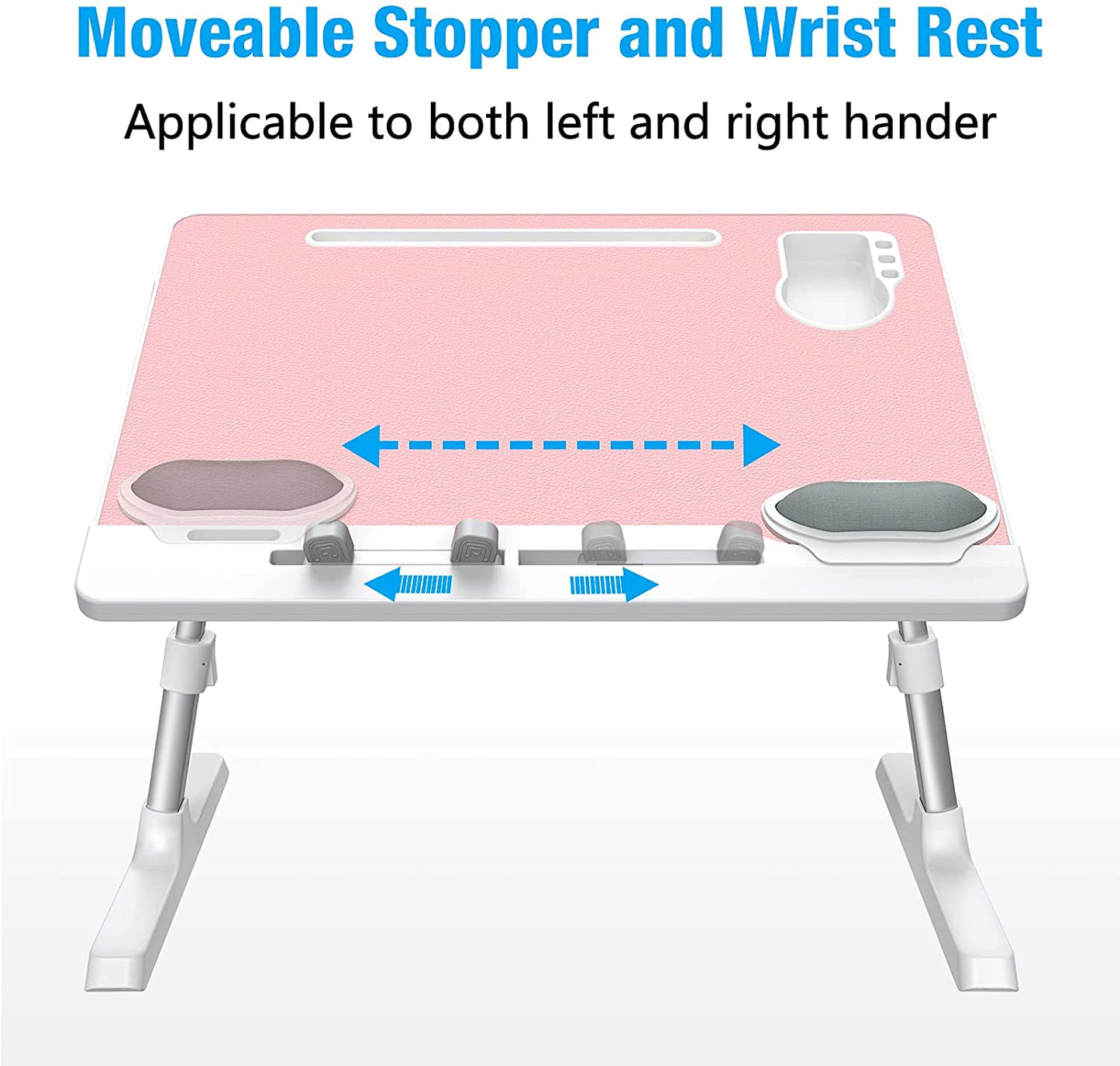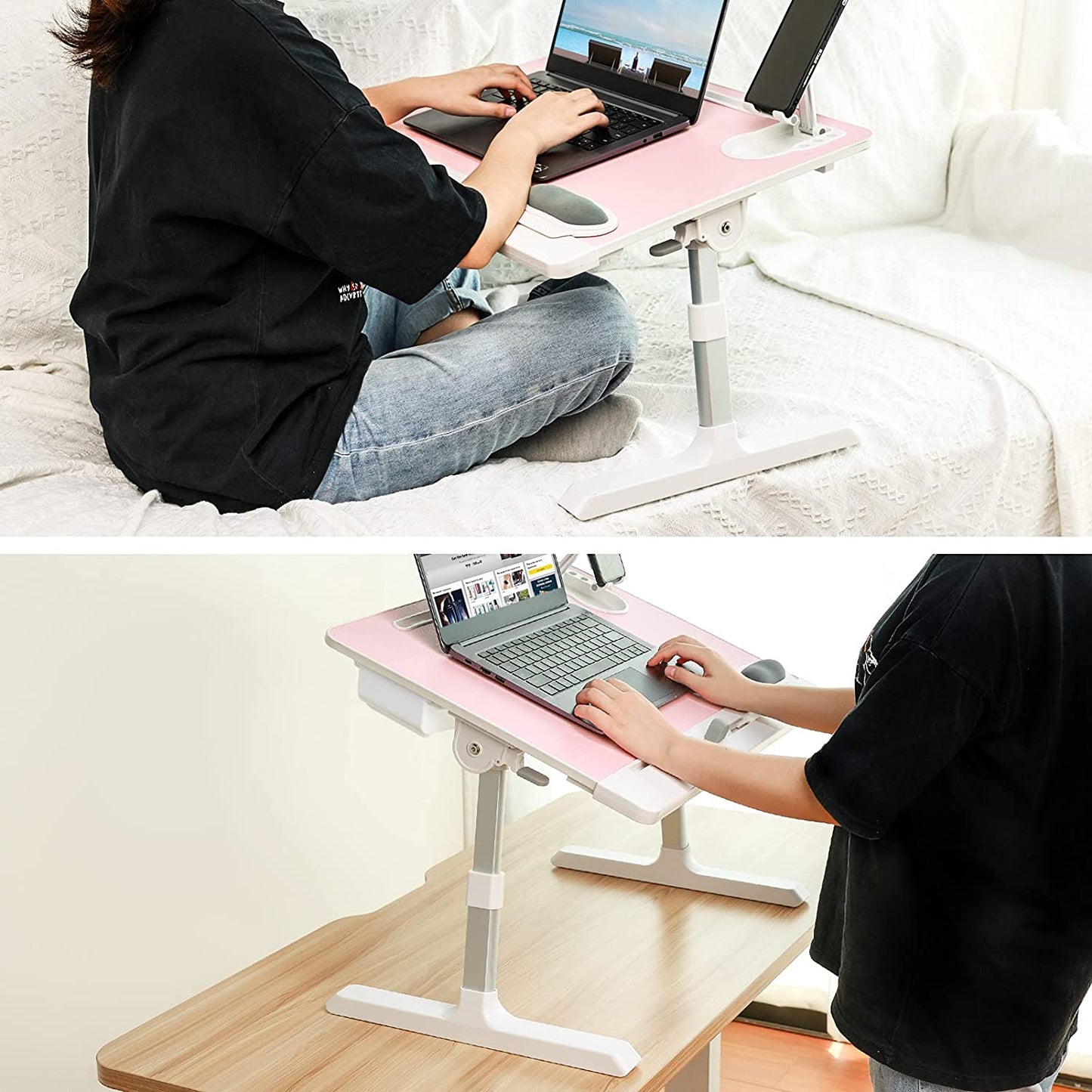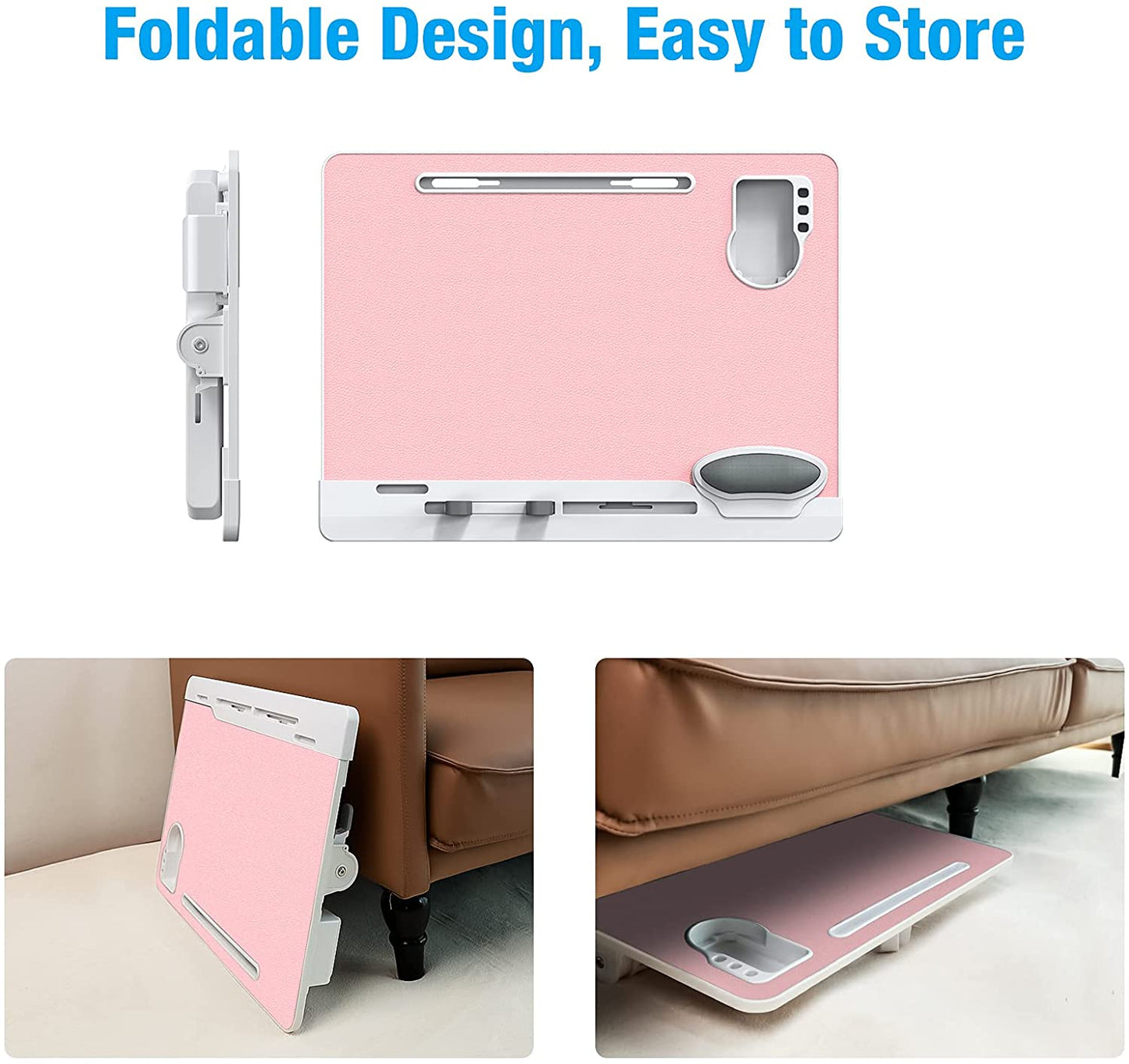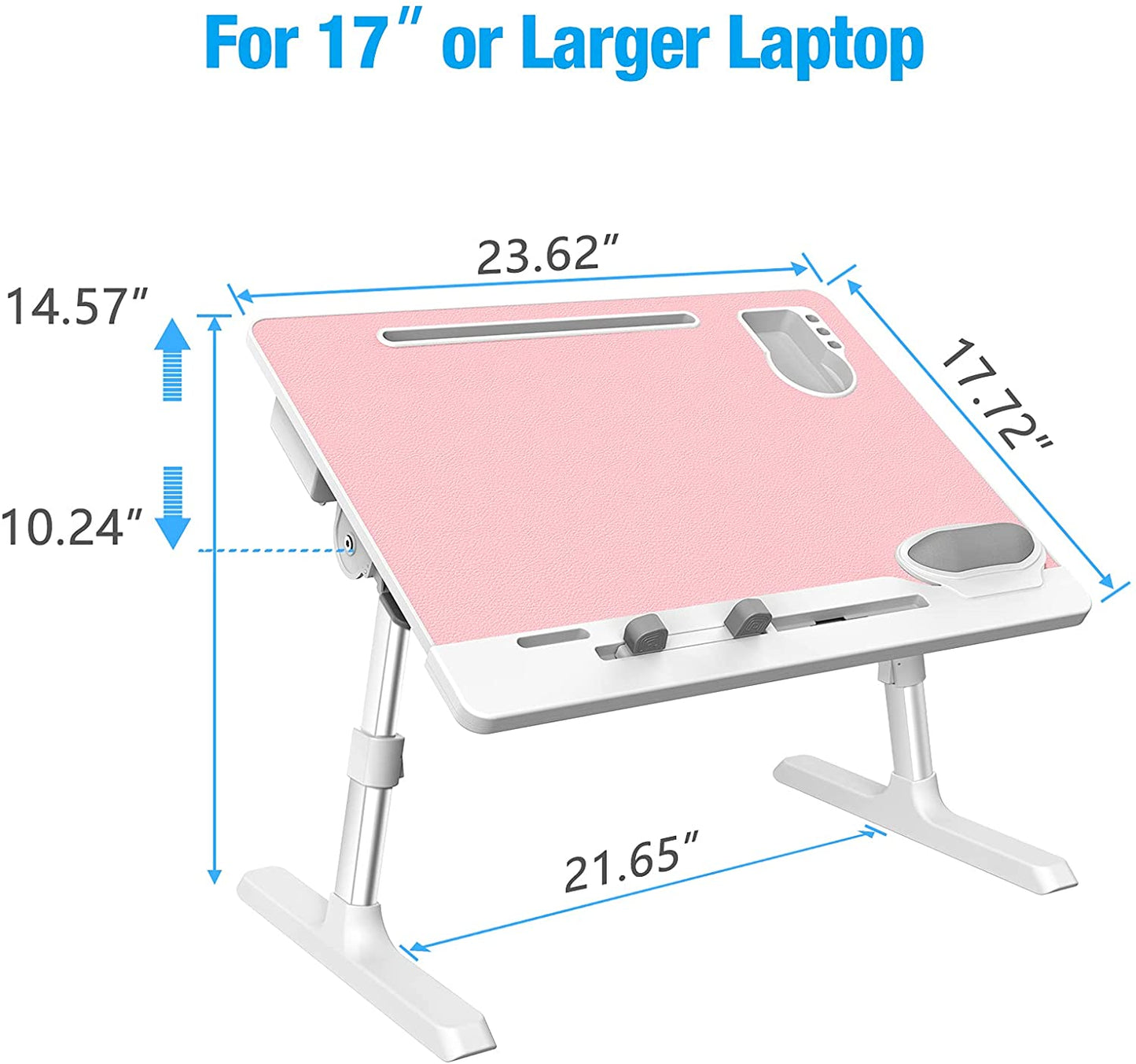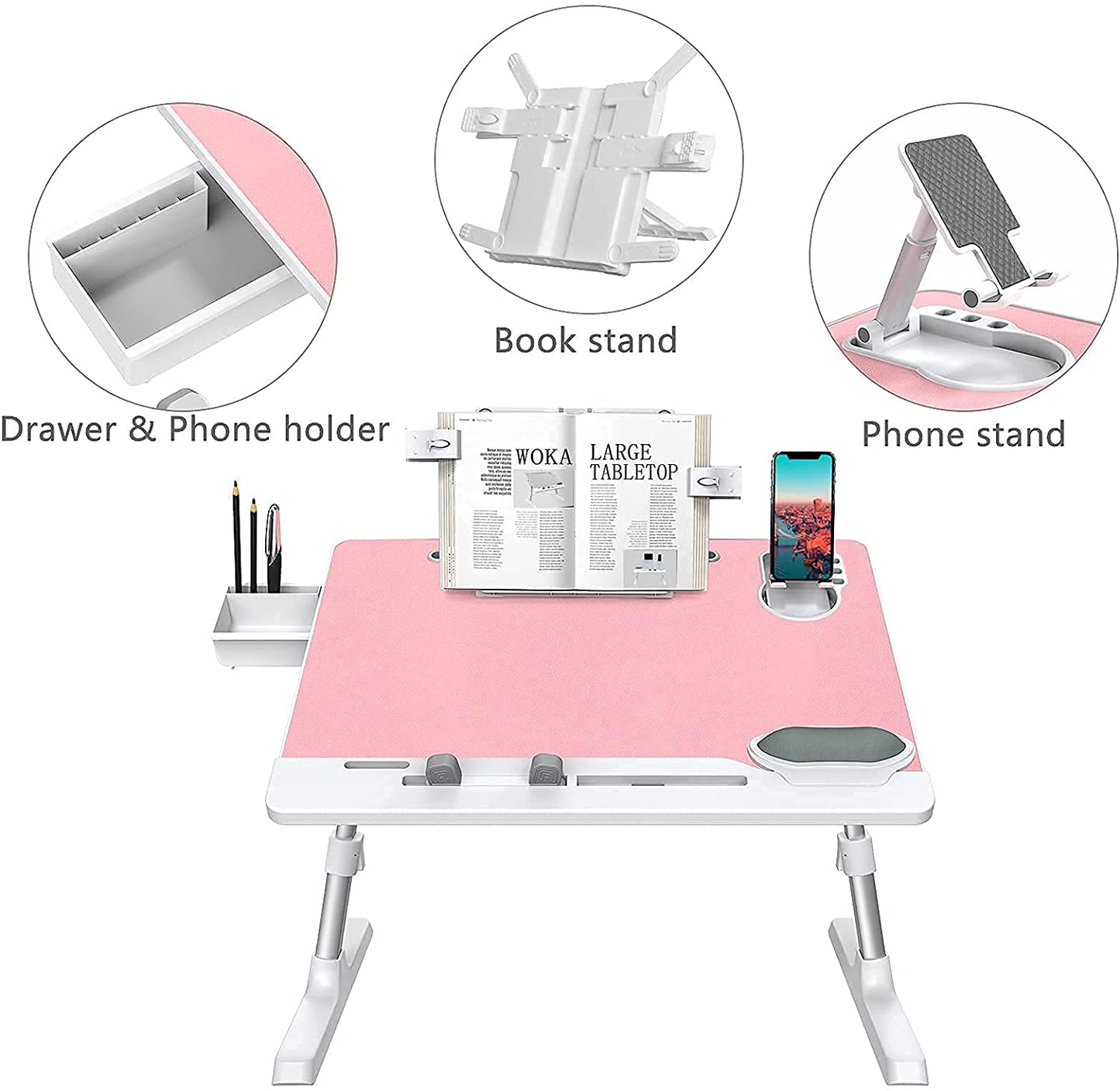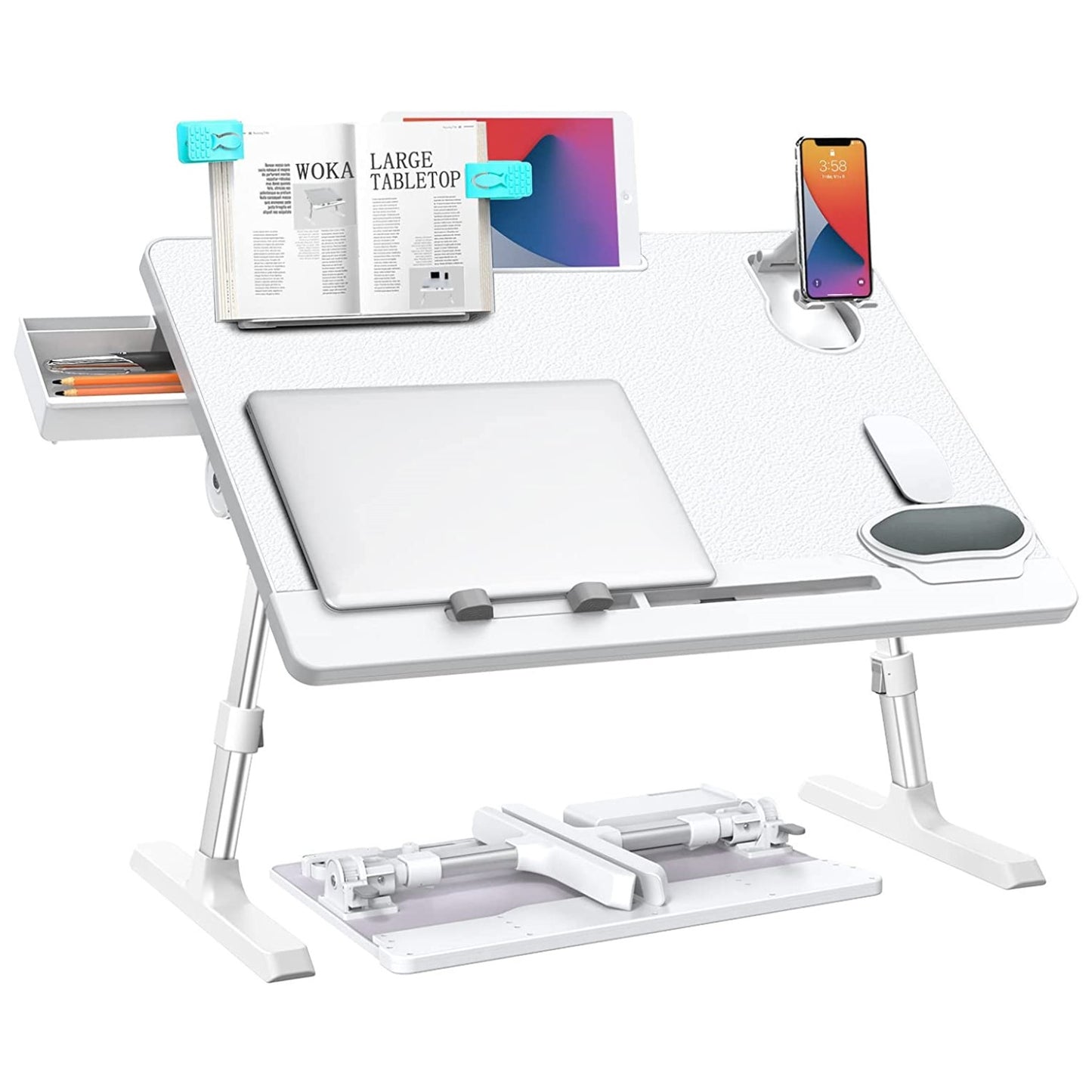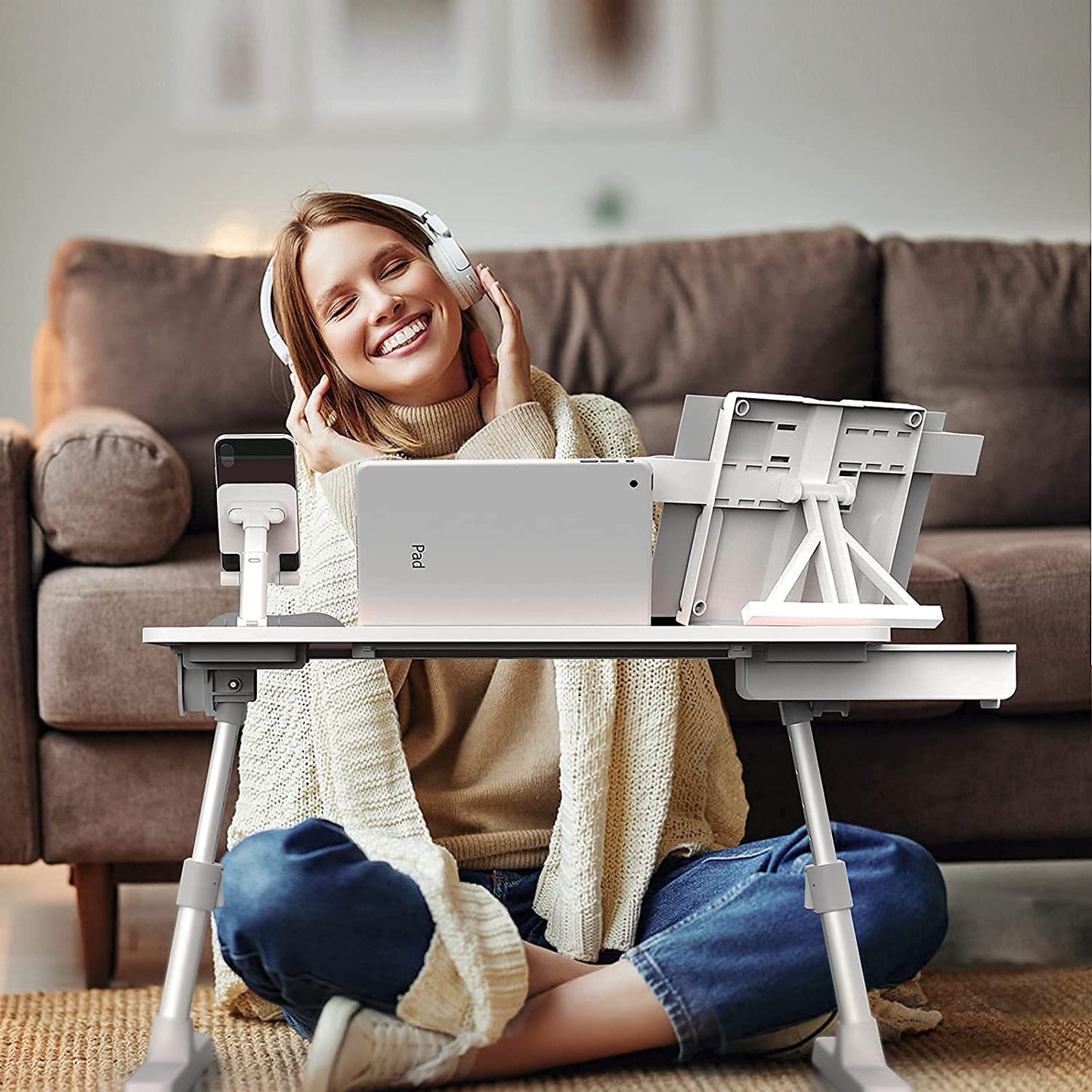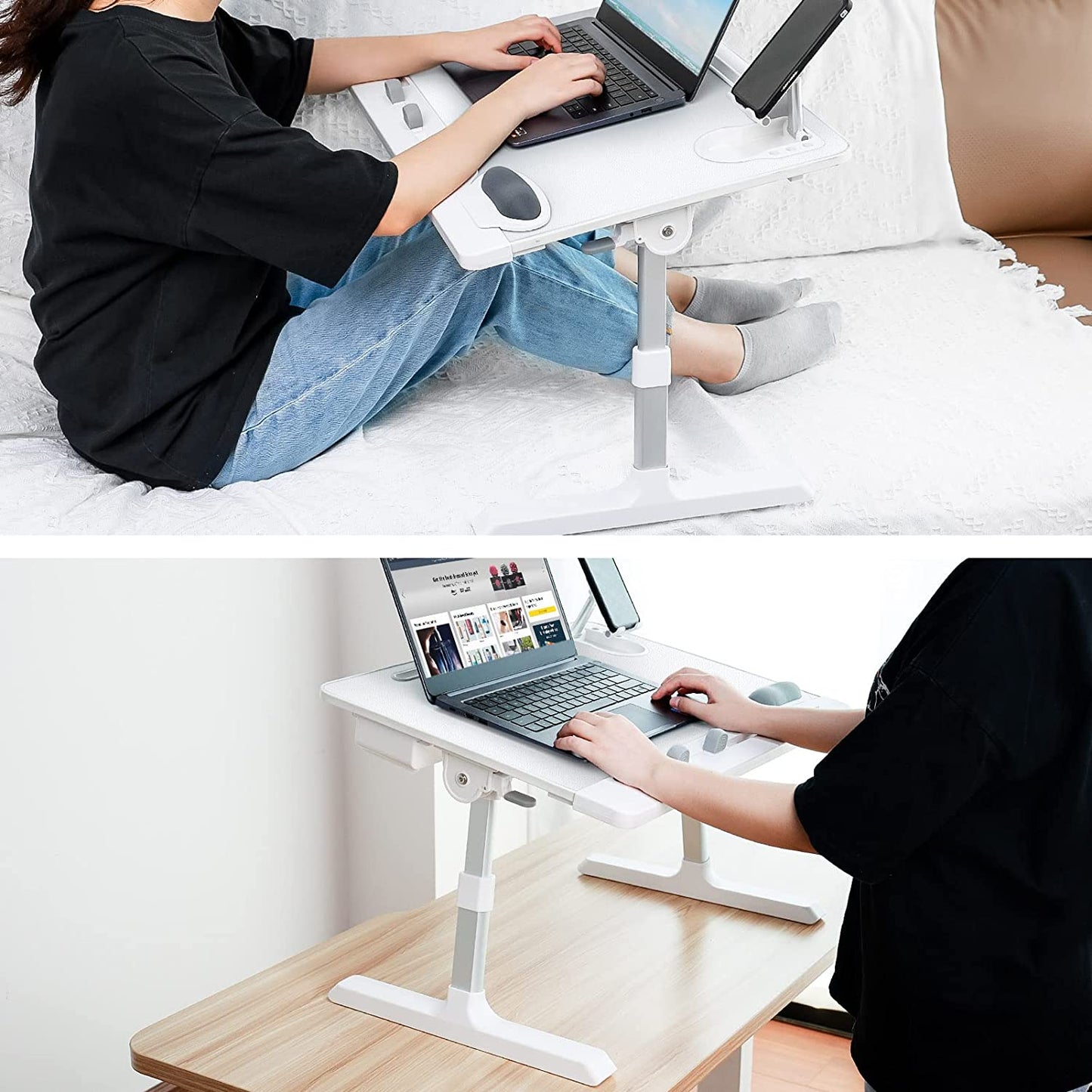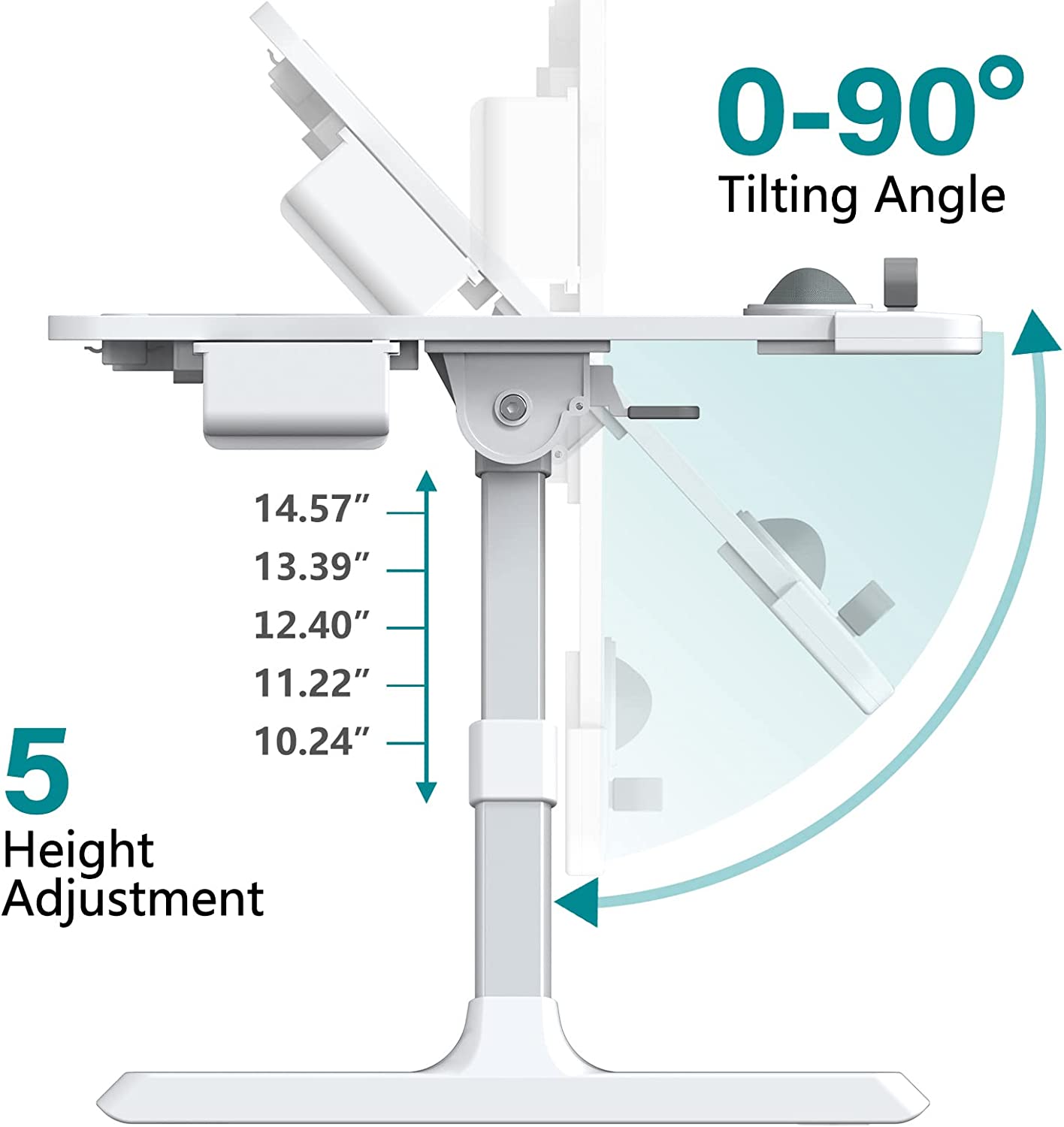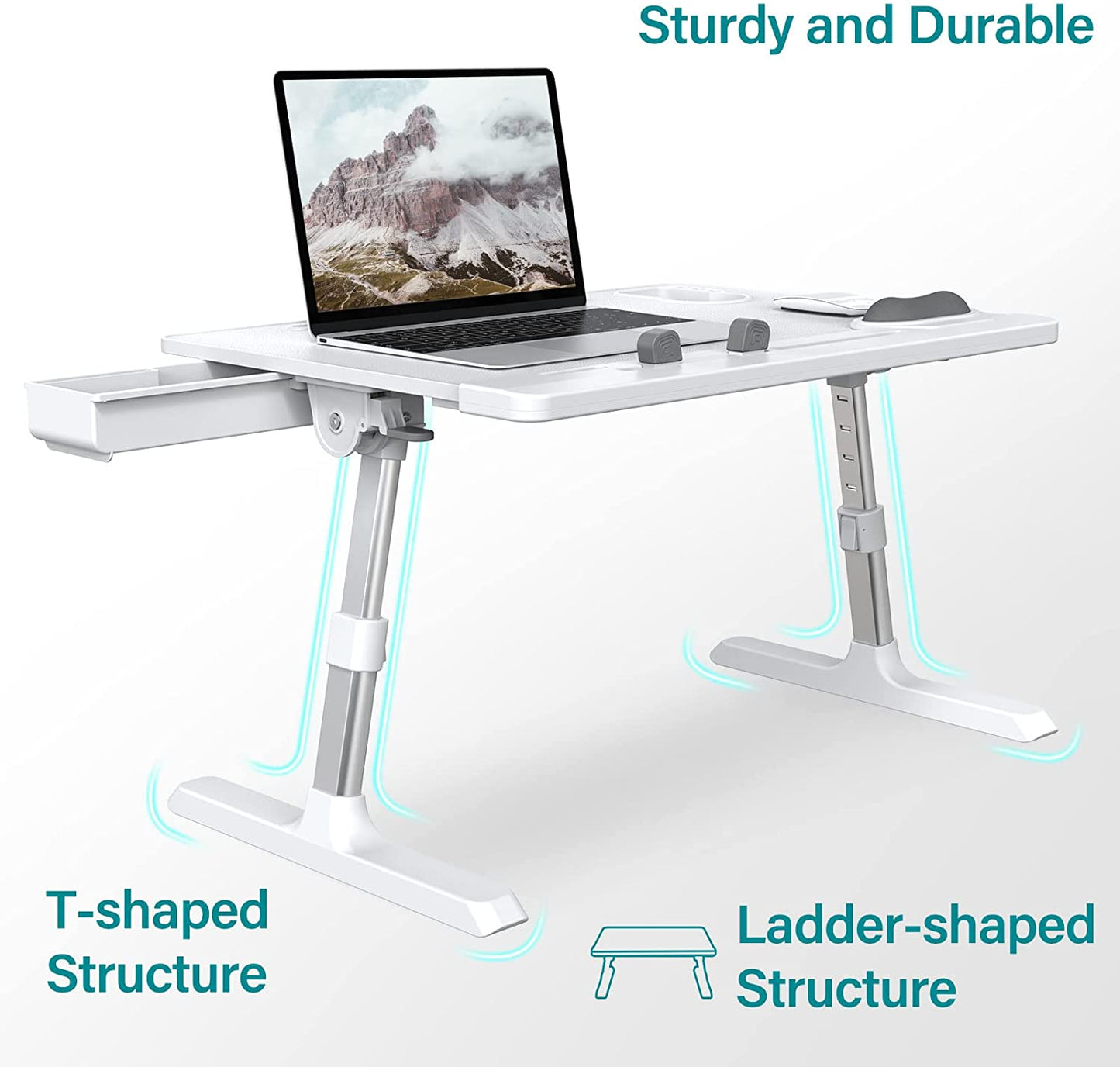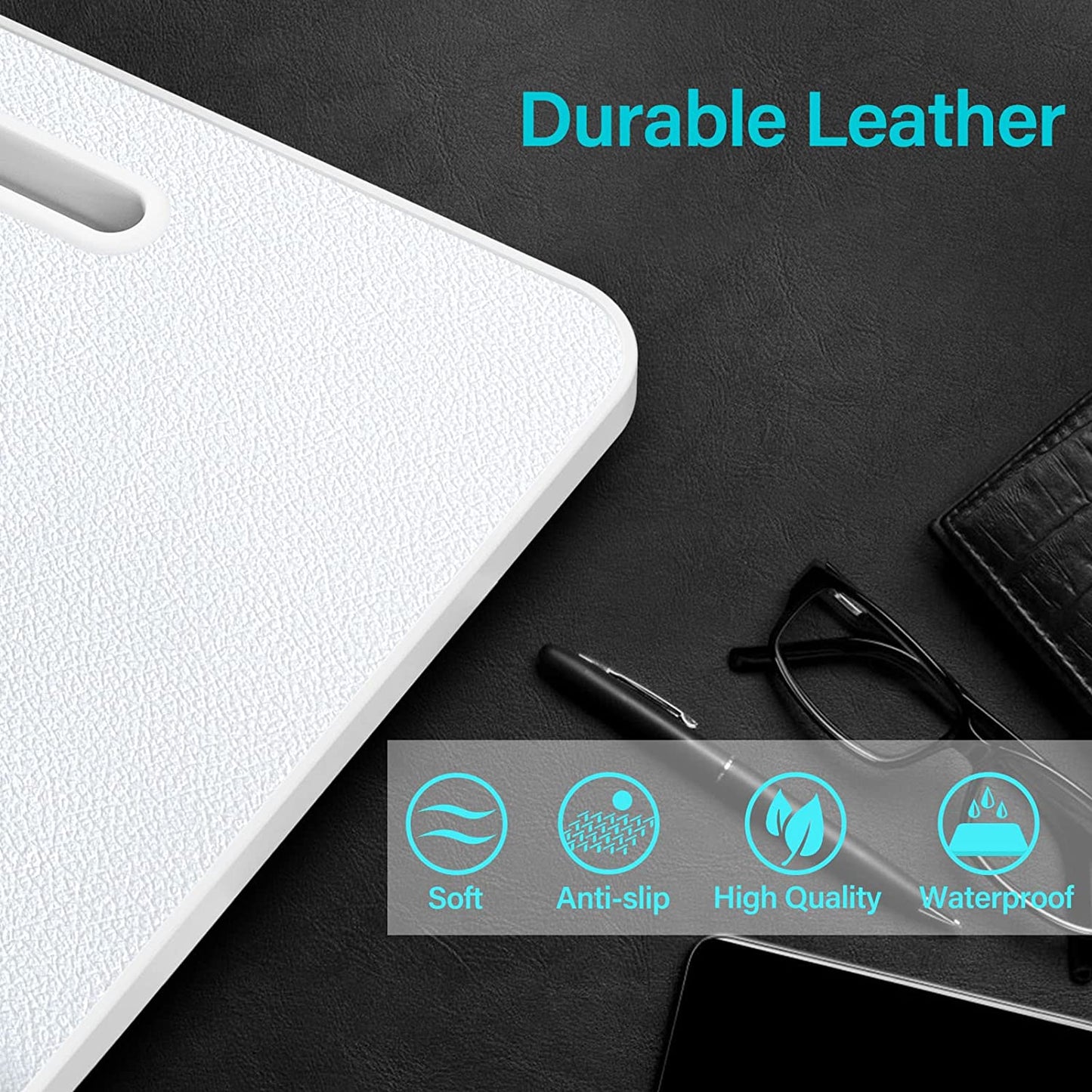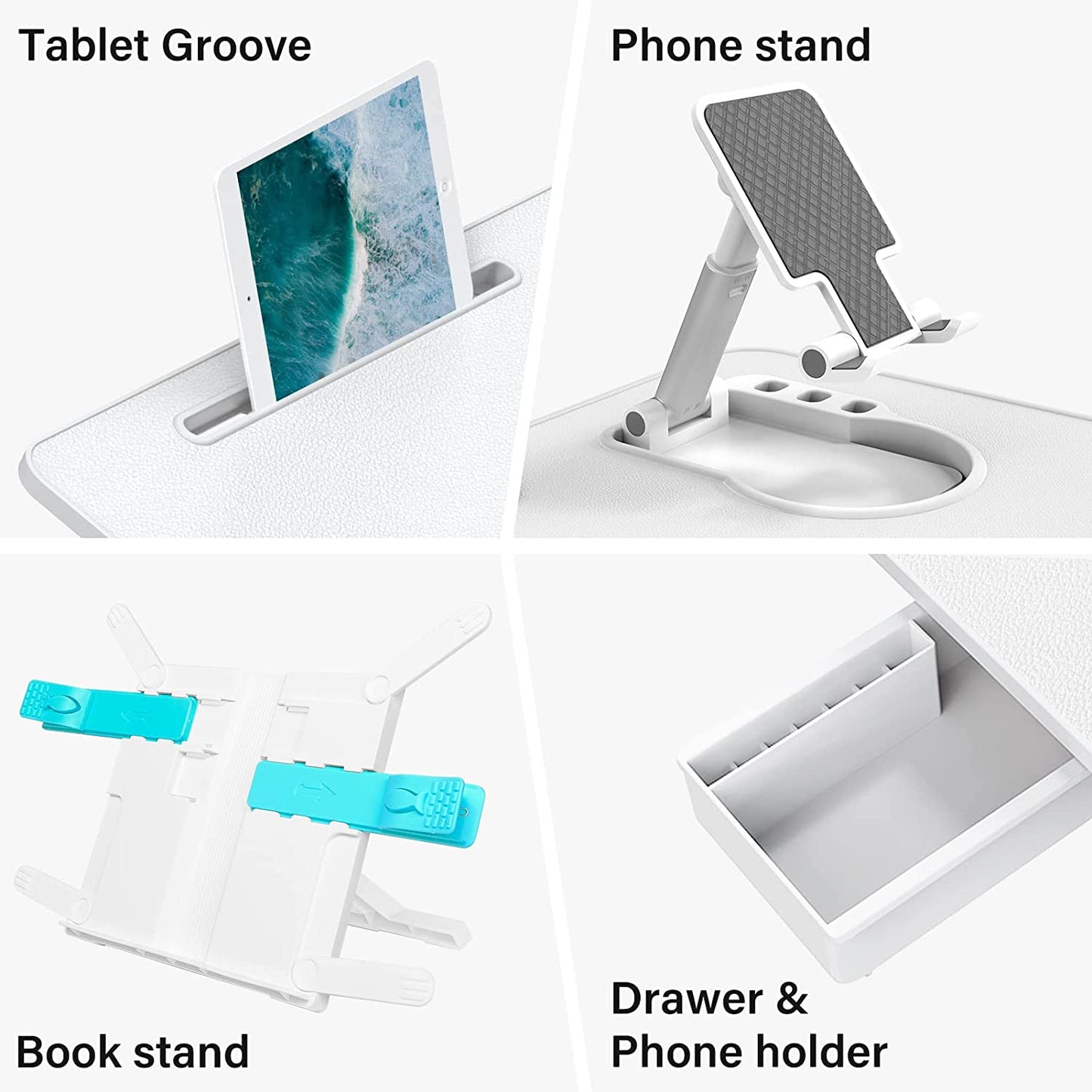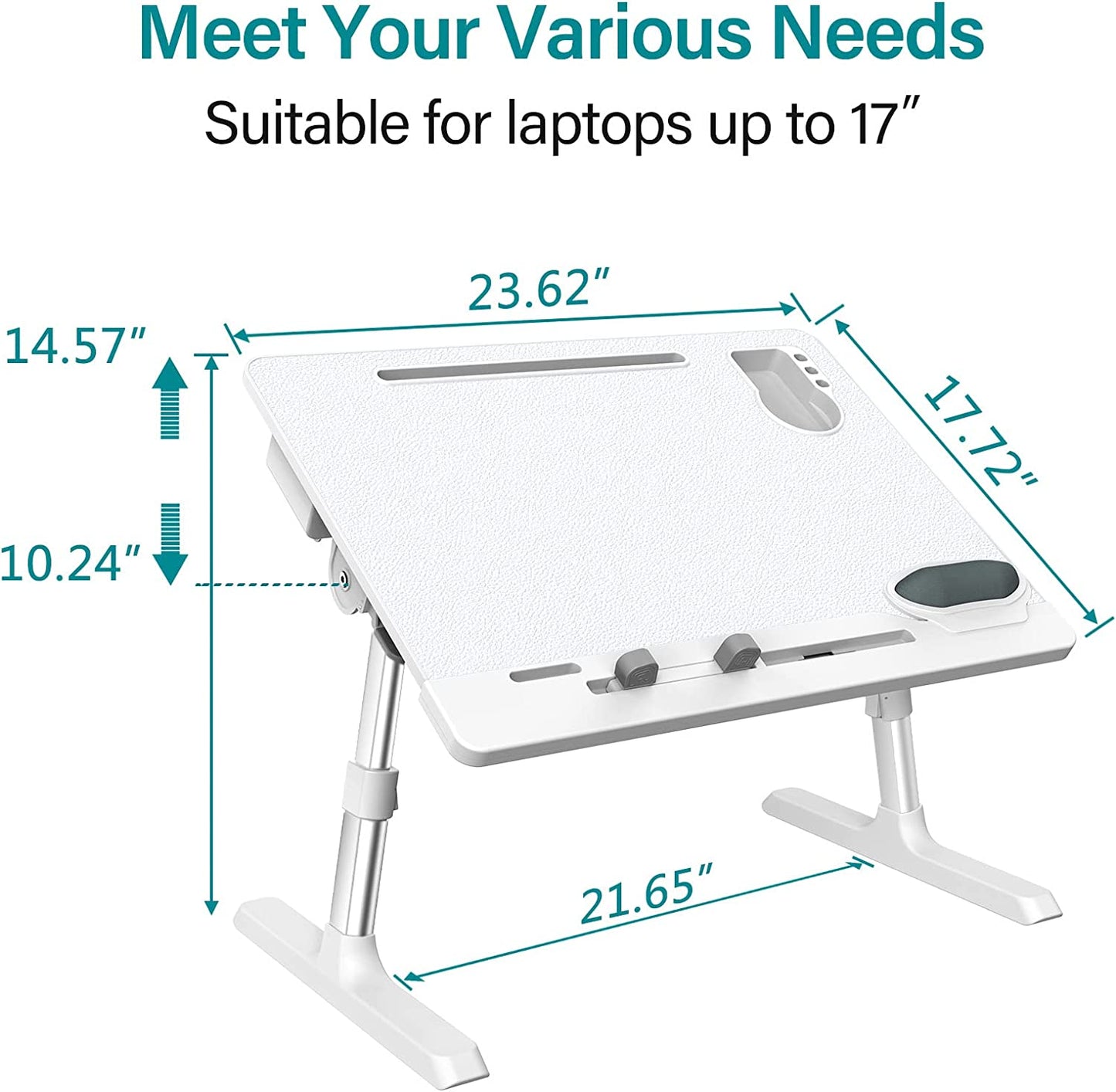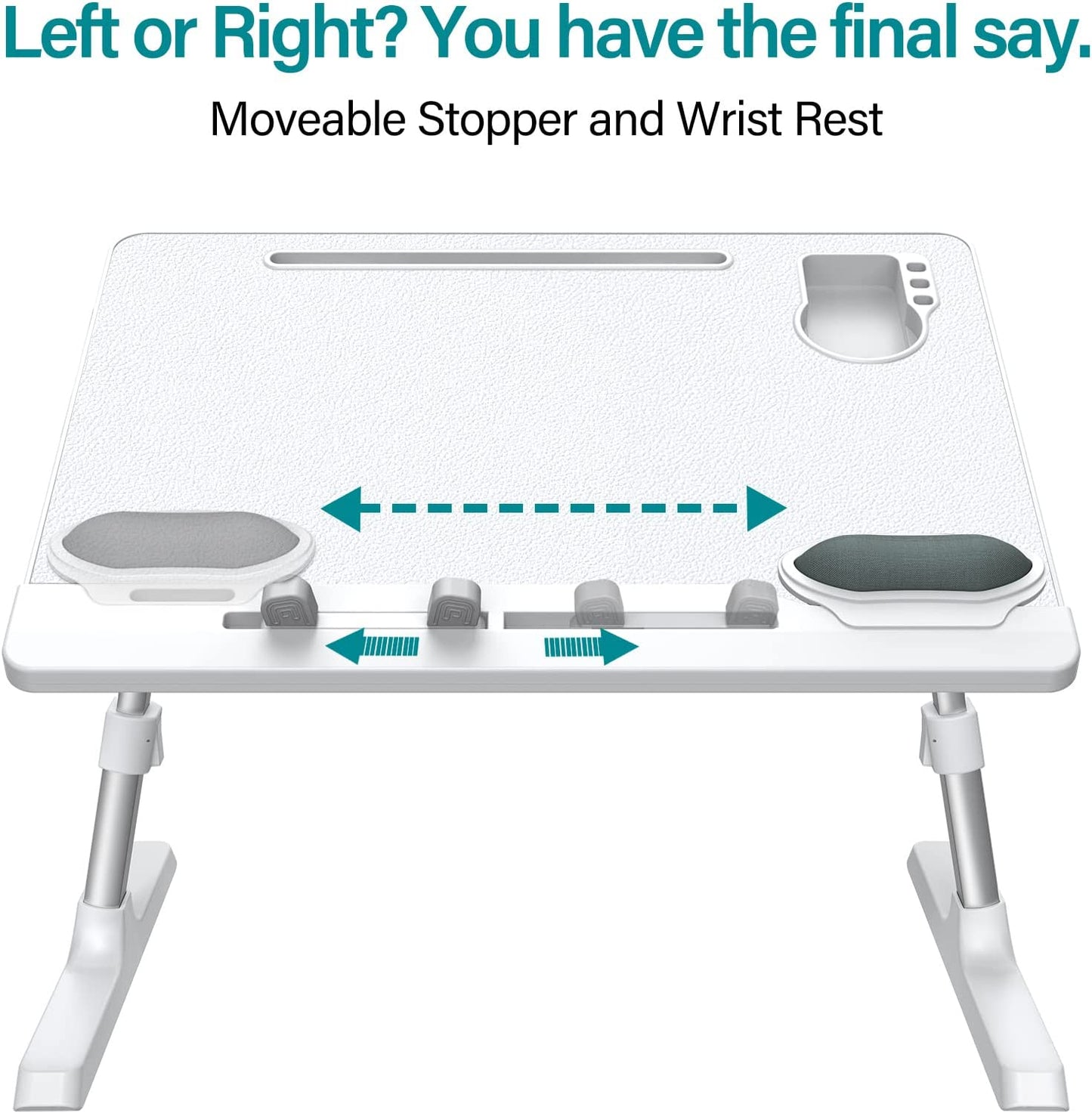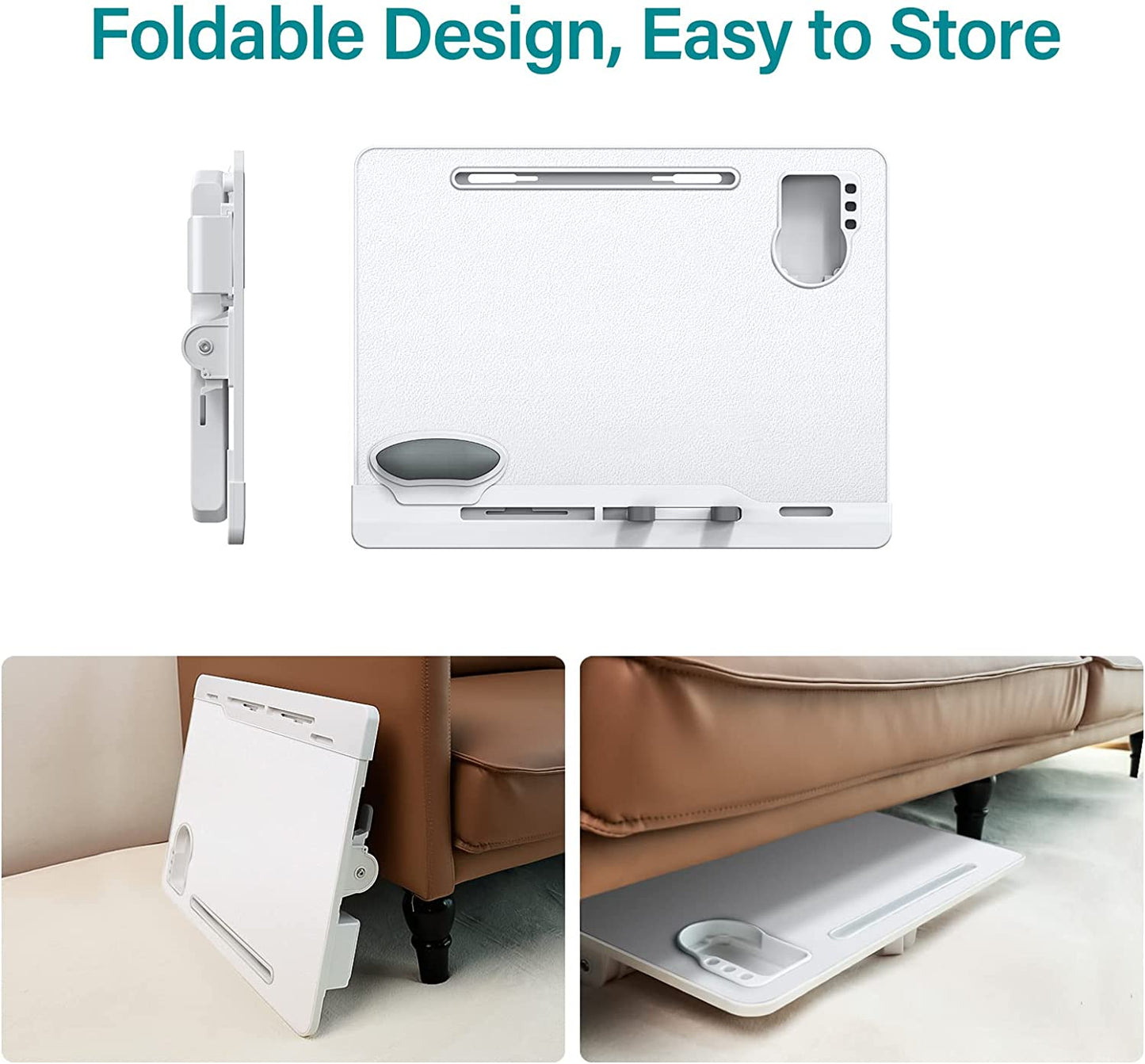 The almost perfect bed table!
I've had a few but this is the best one so far. It's the lightest which means this is the first time (out of 3) that I'll be able to travel with. The table slants with ease and the legs can be raised to higher levels. I love the leg stands that keep the table very stable on my bed. I'm quite a big person but I would've like to have been able to lower the table a little bit more. I use the portable laptop rest all the time which is helpful to stop the laptop from moving when the table is at an angle. The wrist rest, on the hand, is not in the right position if, like me, you work on a small laptop. The colour's not great but that's a minor matter. Overall, I'm really pleased and highly recommended it.
It works well but it's not the color I ordered. Someone was to call me to fix this issue and no one has.
Sturdy option
I use this desk as as another option when working in a small NYC apartment. Sometimes each of the 3 adults needs their own work space. I can take this to the bedroom or outside. The desk is sturdy, not heavy to move. The only thing that would improve the desk for me would be if it came in purple.
Clever device
Easy to assemble, well designed. Legs collapse too easily, a little small. I may buy another for my bed ridden son who is a avid gamer, he is going to test mine first. Very slow too arrive.
WOKA Laptop Table for Bed Portable Laptop Desk with Drawer Phone Holder Book Holder Leather Surface