Regular price
Sale price
$39.99
Unit price
per
Sale
Sold out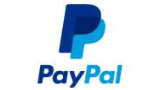 Shipping & Returns

Shipping

Free shipping on all orders to the contiguous U.S.

Return and Refund

We offer a 30 days risk-free return. Check our return and refund policy.
View full details
This bamboo laptop desk with storage will be a perfect addition to your office or home. It is a portable bed table and it can also act as an organizer. The platform is removable and you can keep iPads, notebooks, and chargers in it. It is a perfect lap desk for writing in bed. 
A laptop desk for 17'' laptops
Measured in 12''x16'', the tabletop fits most laptops including Macbook, Lenovo, Dell, Microsoft, Samsung, and more. Thanks to the large, smooth platform, the lap desk is a wonderful portable desk for writing, reading, outdoor sketching, and more. 
A laptop desk with storage
The bamboo platform is removable and there is large storage space. Thanks to the design, this laptop tray is extremely lightweight while providing storage. You can keep files, notebooks, pens, glasses, laptop chargers, and any office gadgets into it. Please mind the tabletop can support laptops up to 17'' while the pocket can store laptops up to 15.6''. 
How is the top of the lap desk secured? There are magnets located under the edge of the top, which attracts the platform to the lap desk. Moreover, 2 elastic bands provide additional security.
Portable laptop tray for working remotely
Designed with a carry handle, weighs only 4 lbs, this lap desk is lightweight and easy to be taken on the way. Whether you are leaning on a bed, sit on the sofa, or sit cross-legged on the floor, this lap desk is always at hand and ready to be your workstation. You can hardly feel its weight thanks to its ergonomic design. 
Lap desk with cushion, phone holder, and wrist rest
This laptop table is built with a whole-piece woven fabric cushion underneath for working comfortably. Whatever your laptop weighs, the cushion helps ease up the weight and gives your legs a comfortable touch.  
Comes ready to use, easy to clean, and maintain
This lap desk needs no assembly. It comes ready to use. The bamboo wood panel is eco-friendly, waterproof and it can be wiped clean.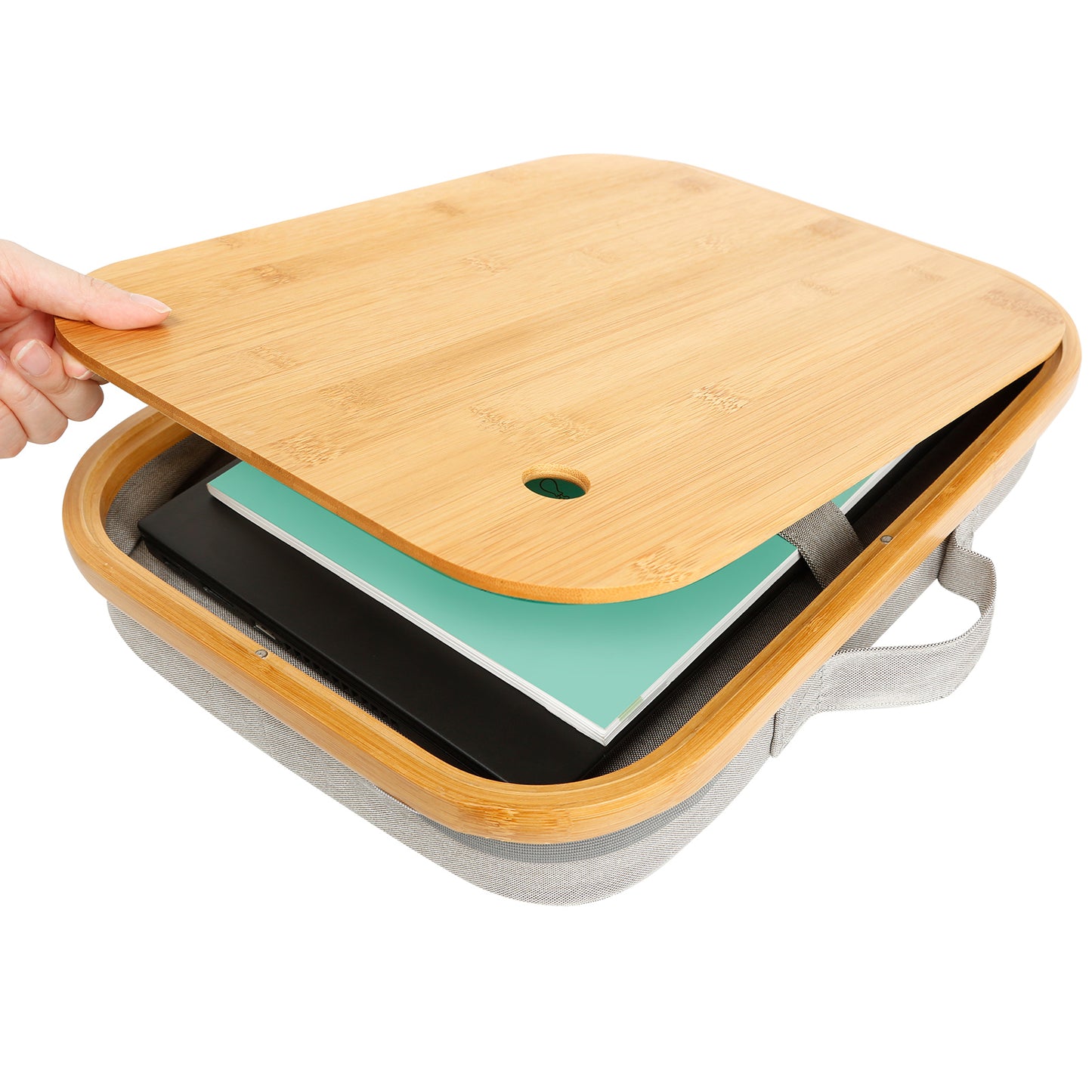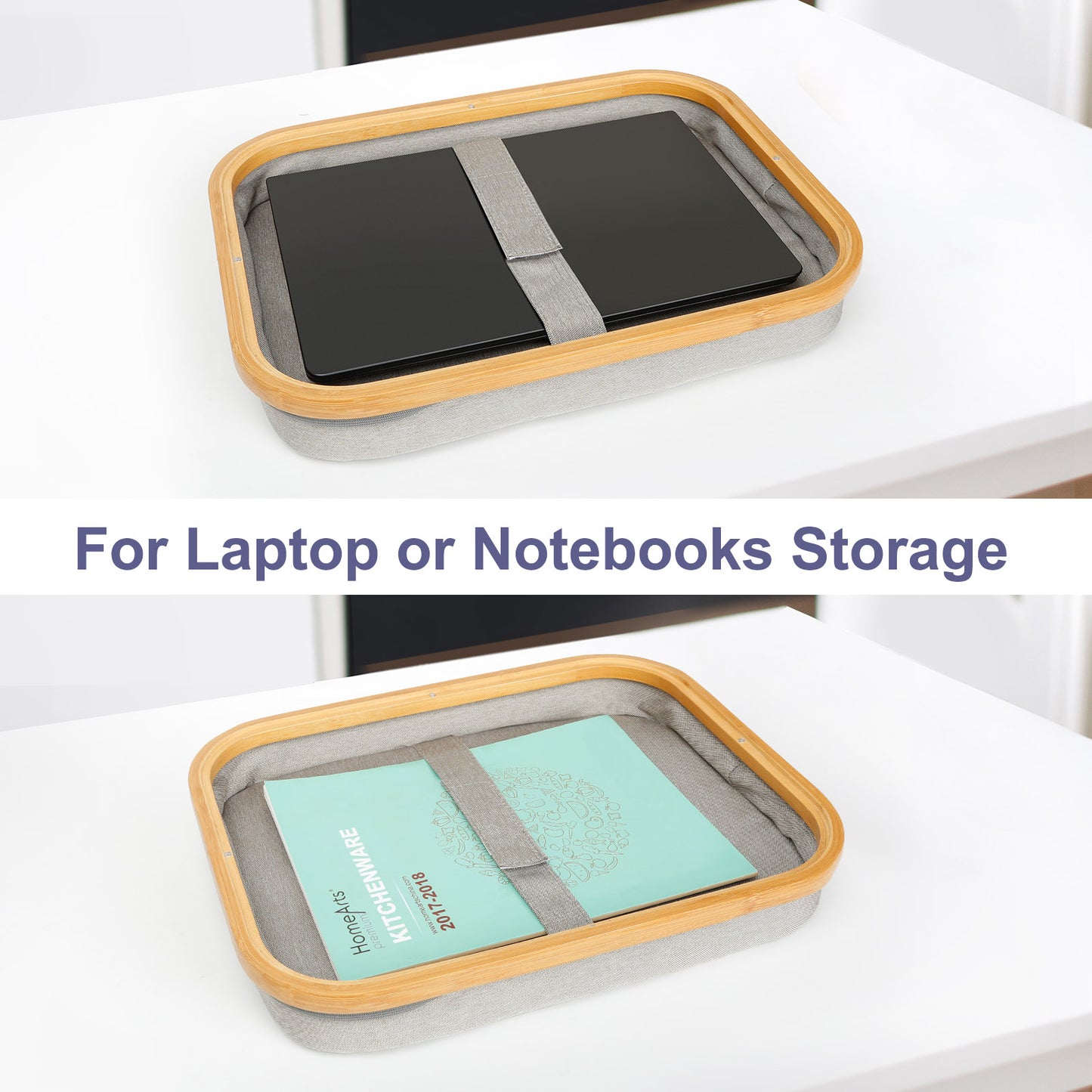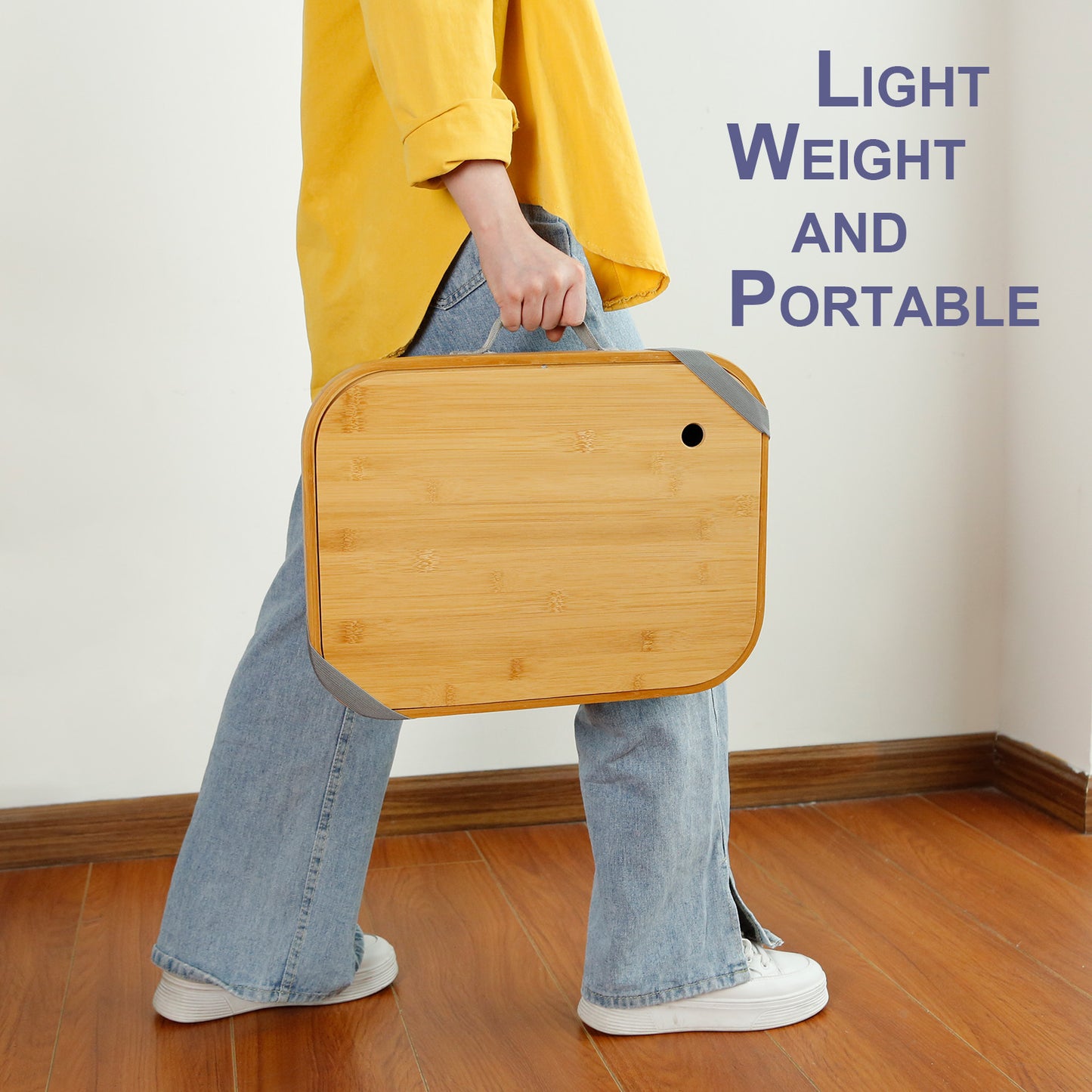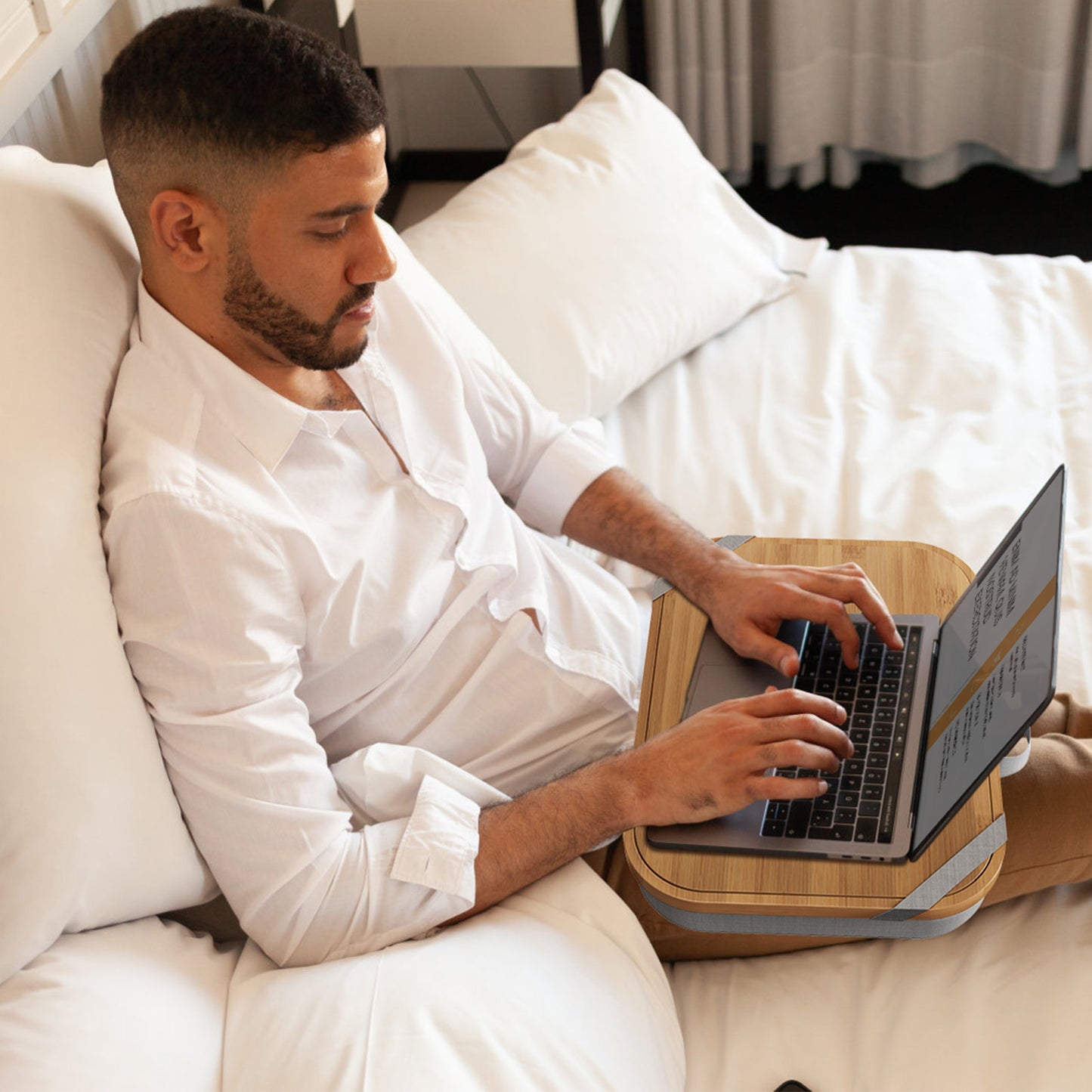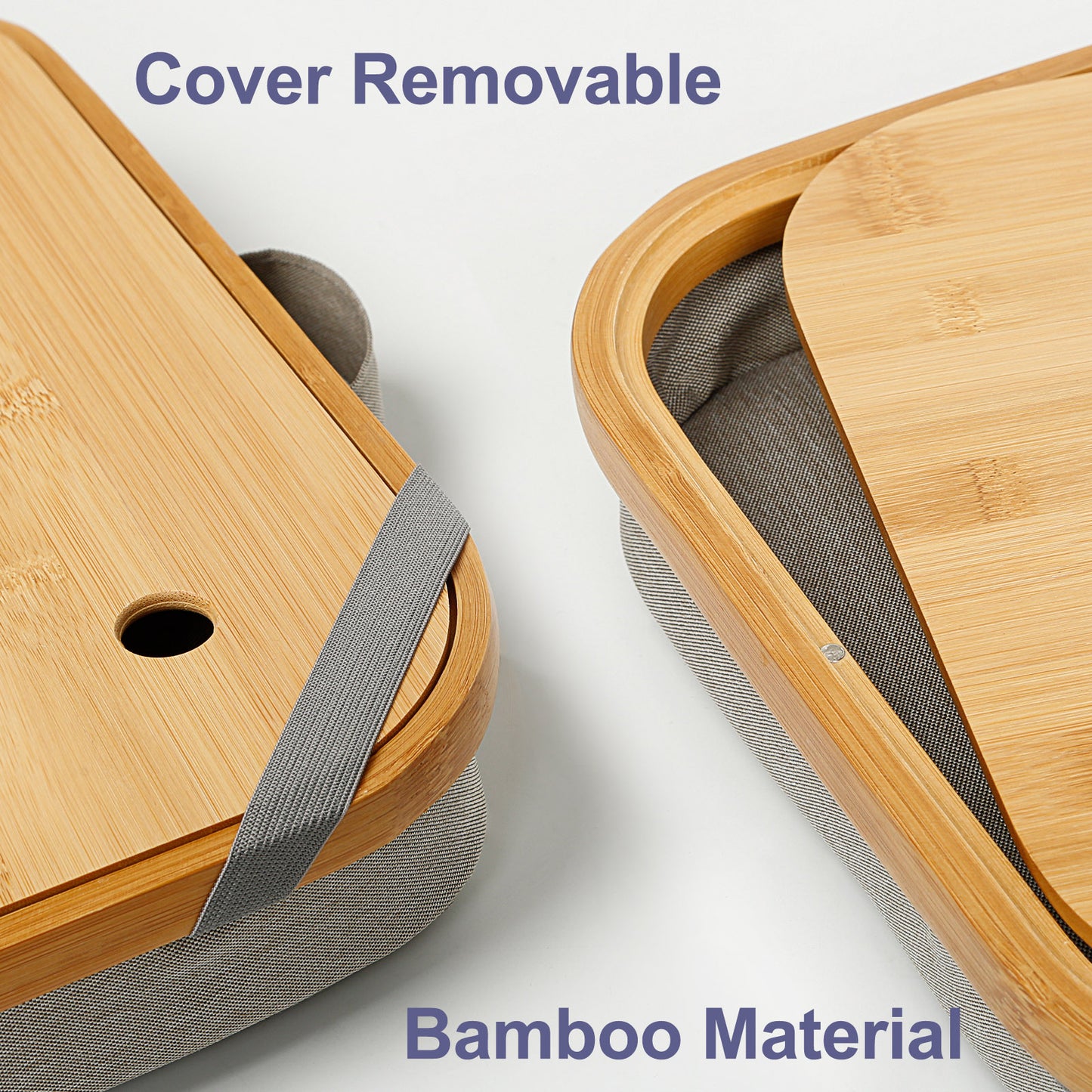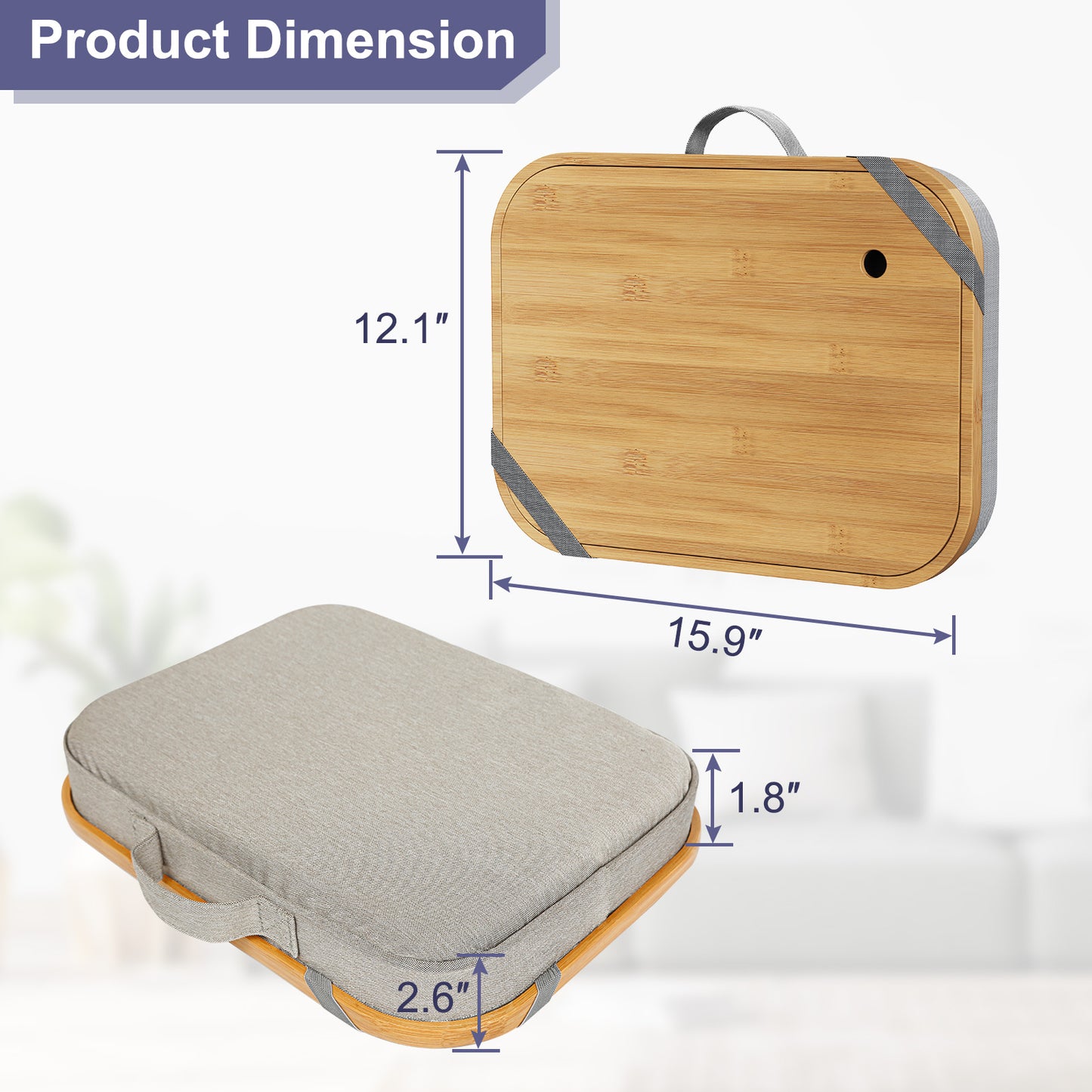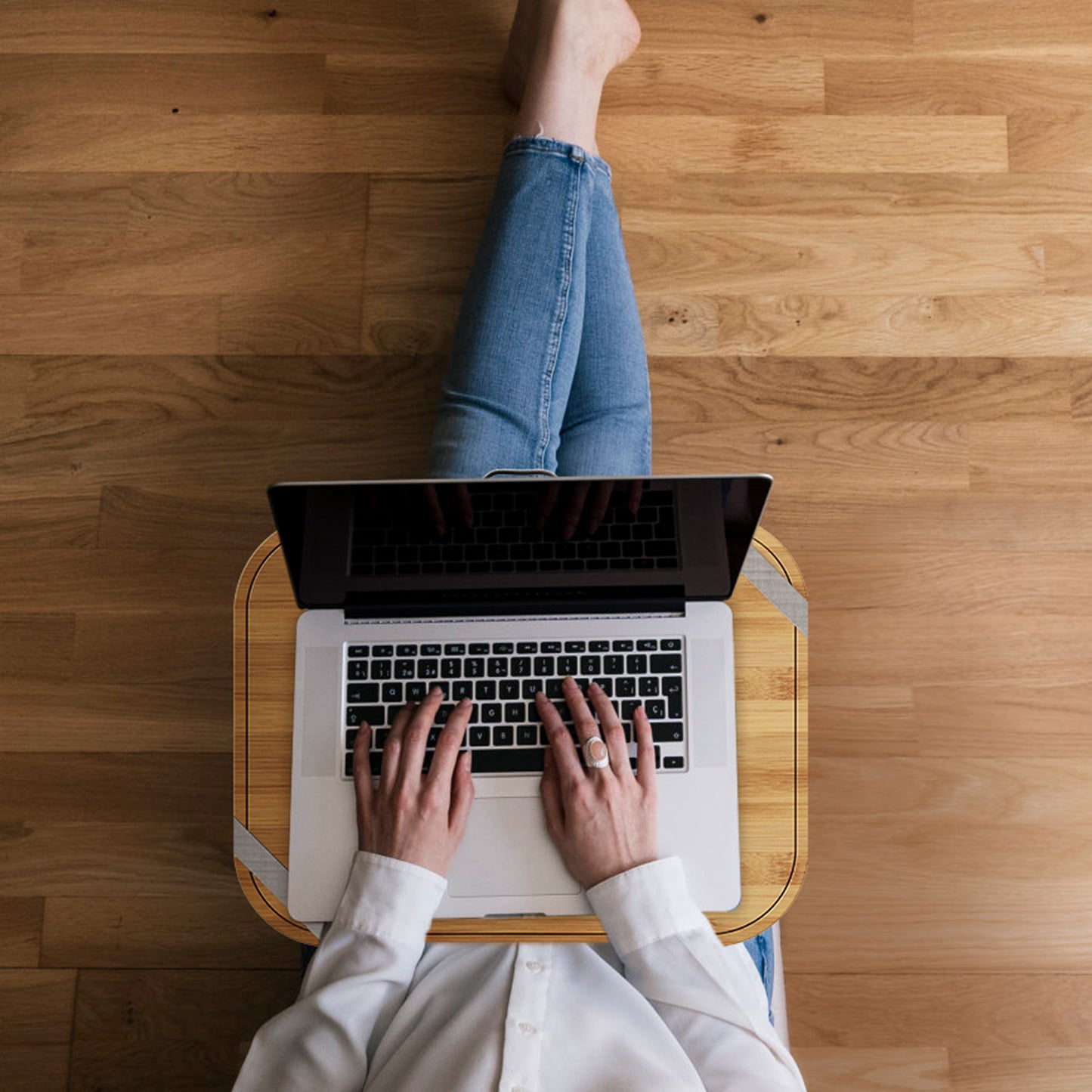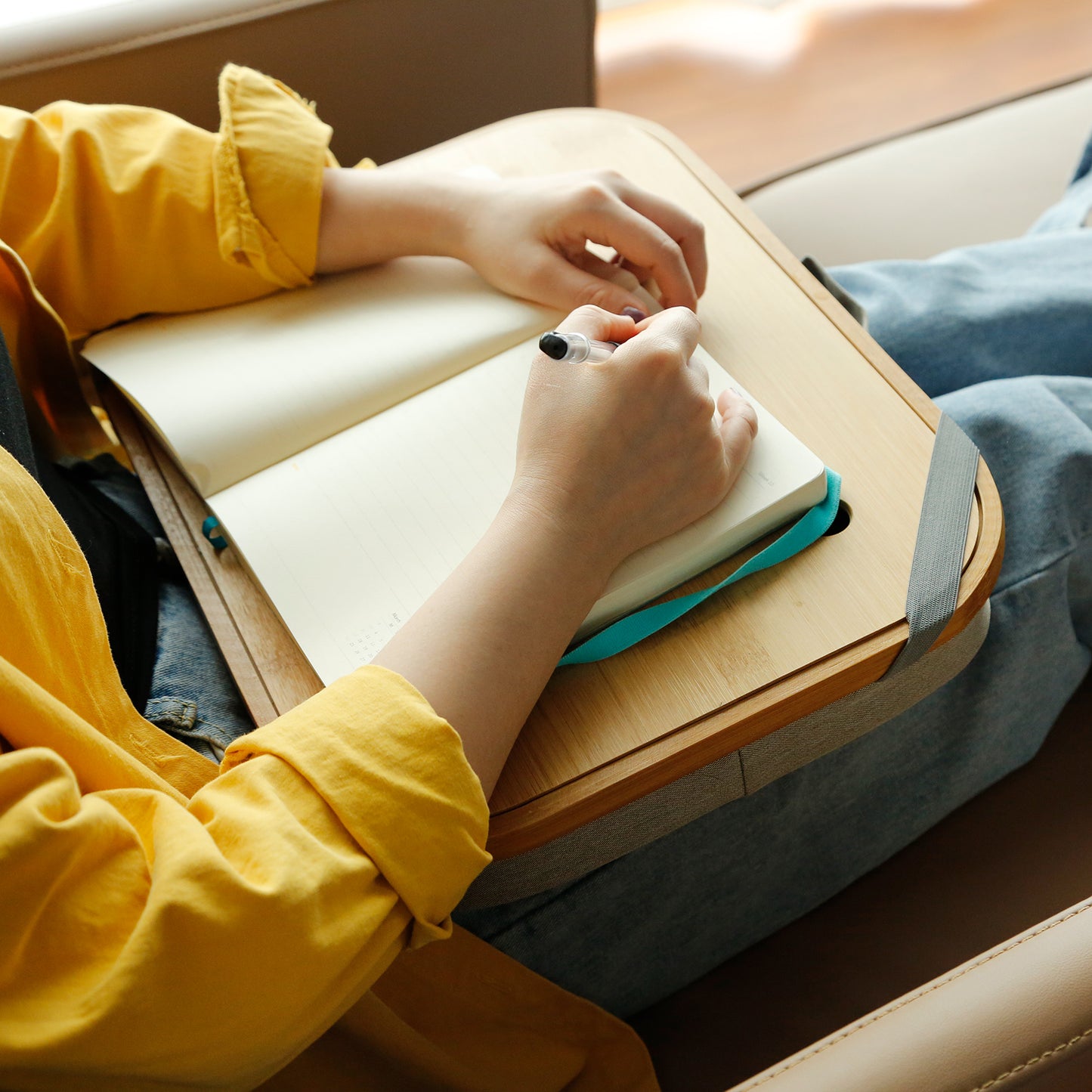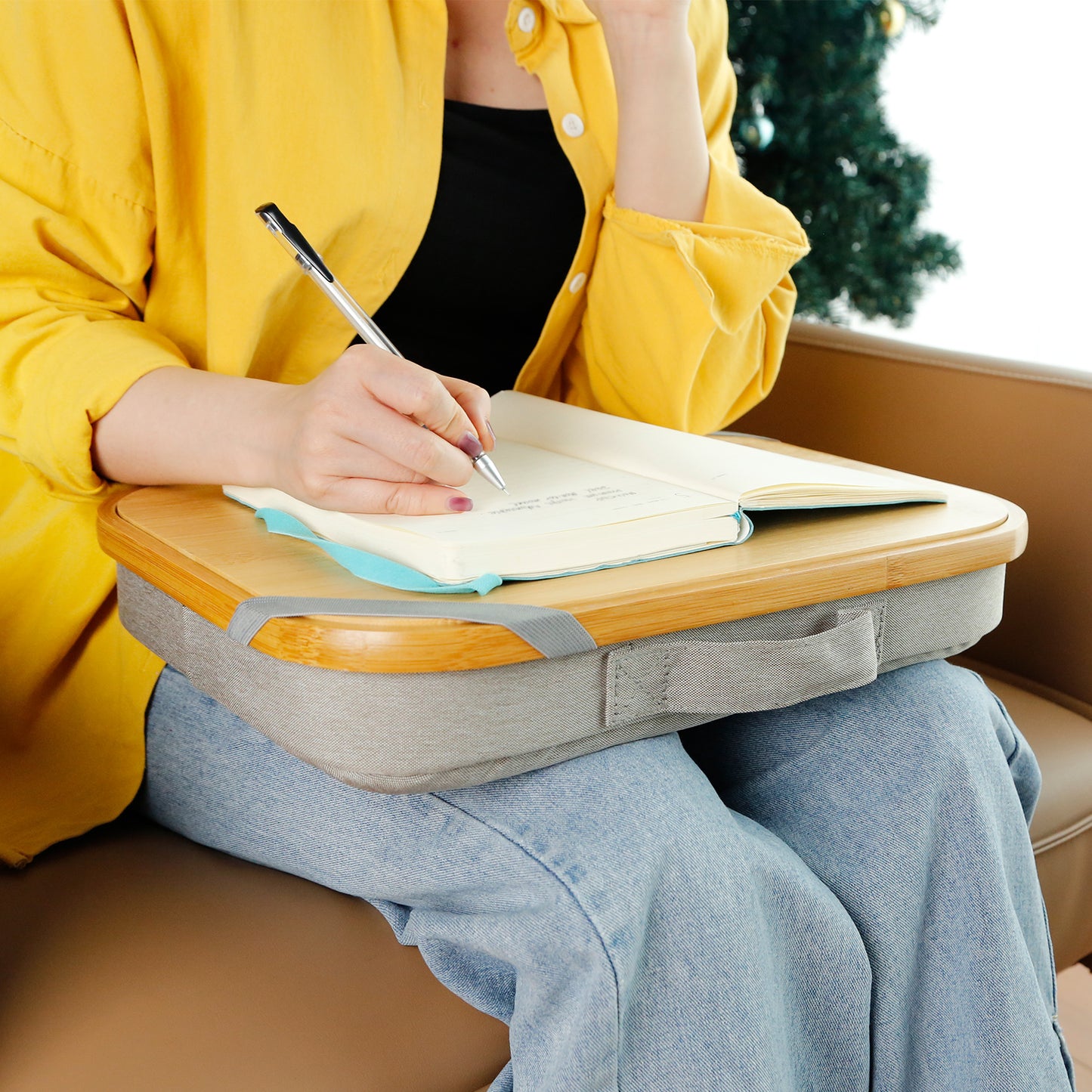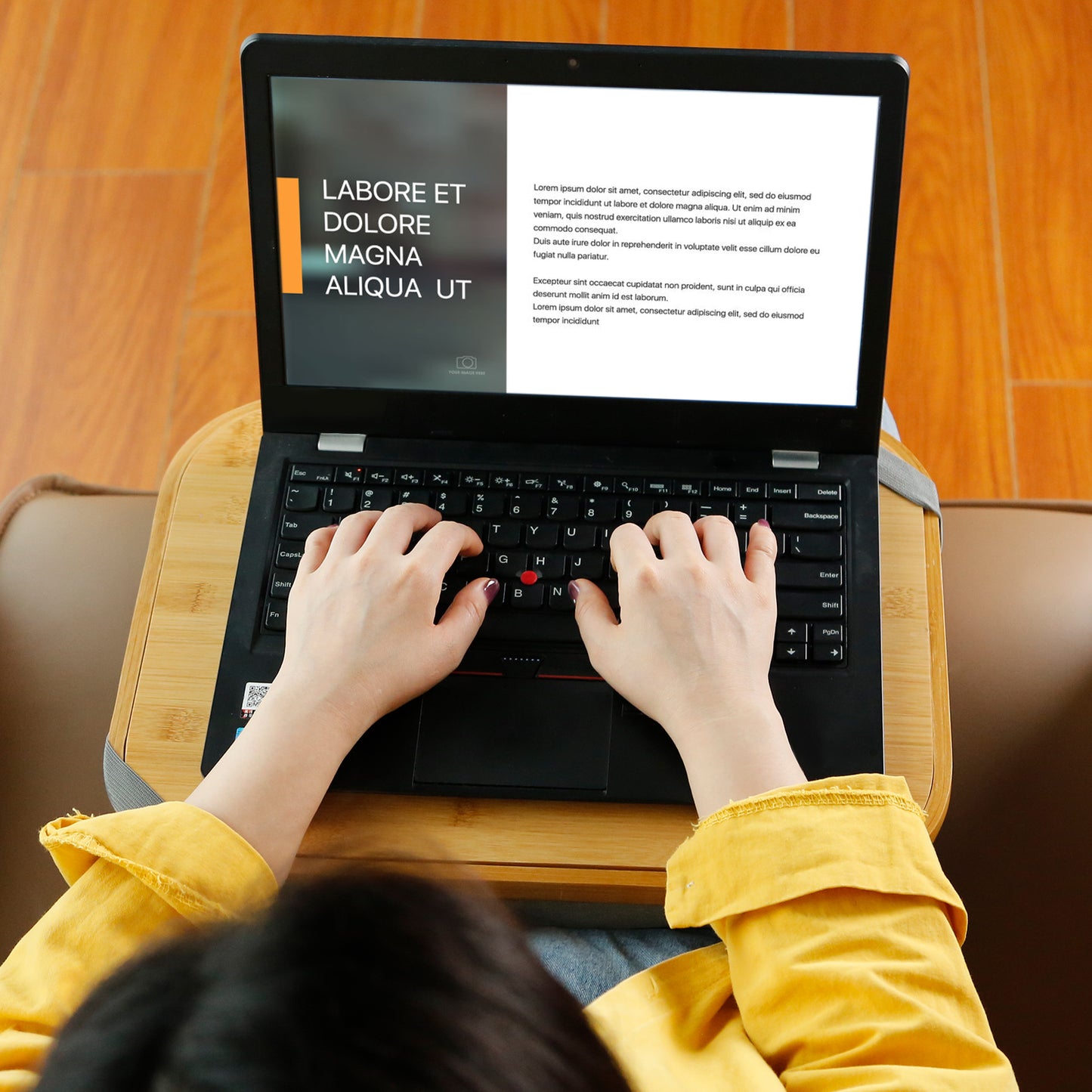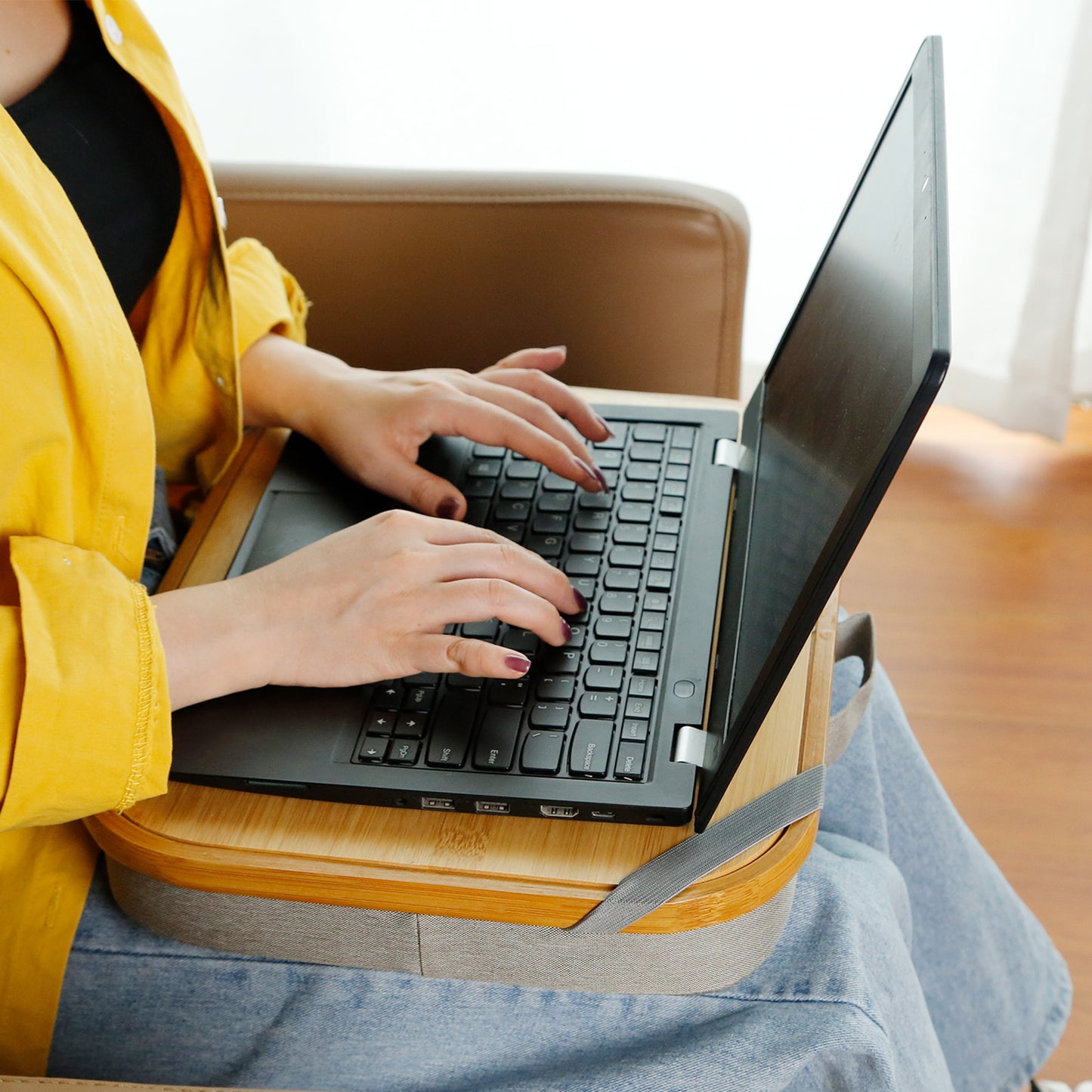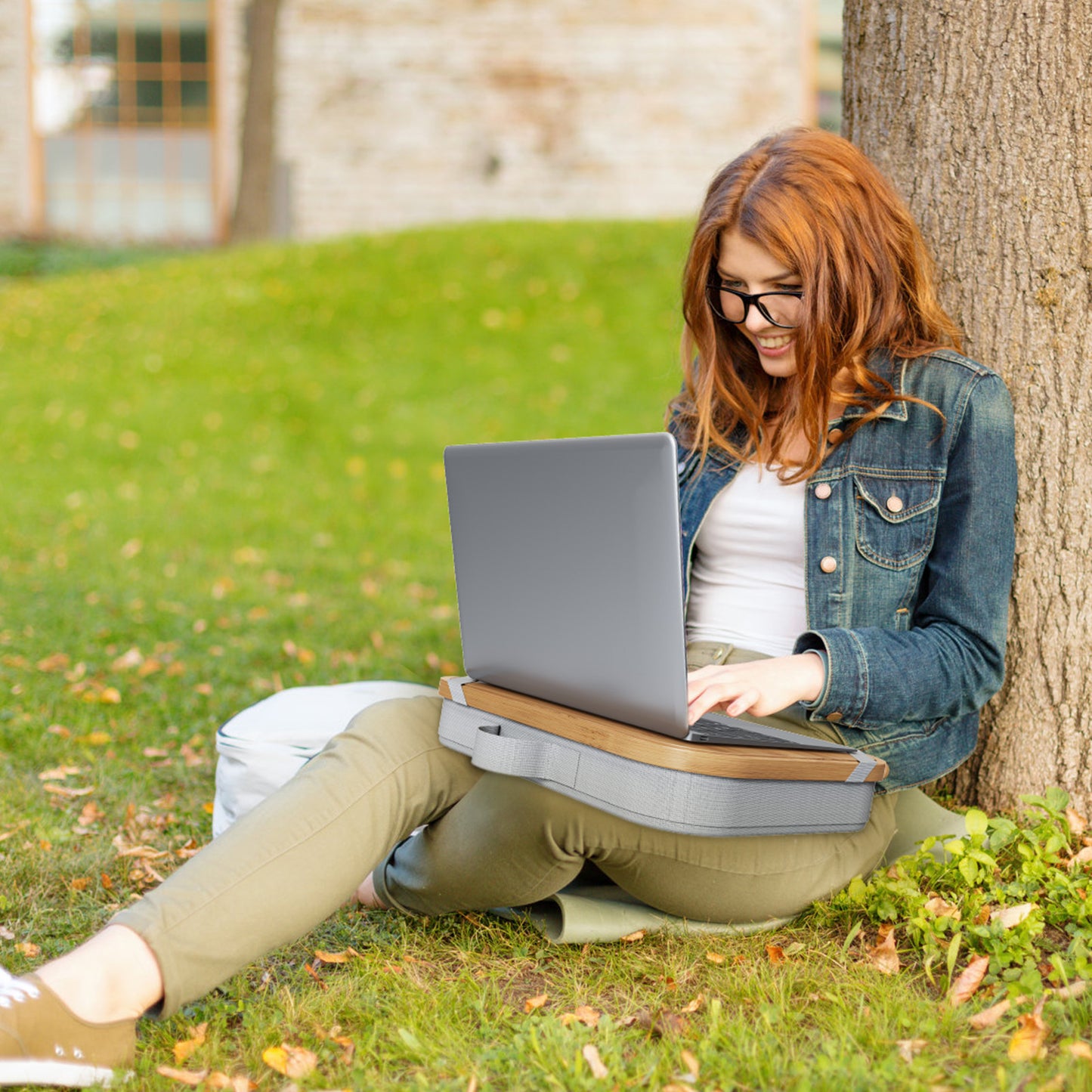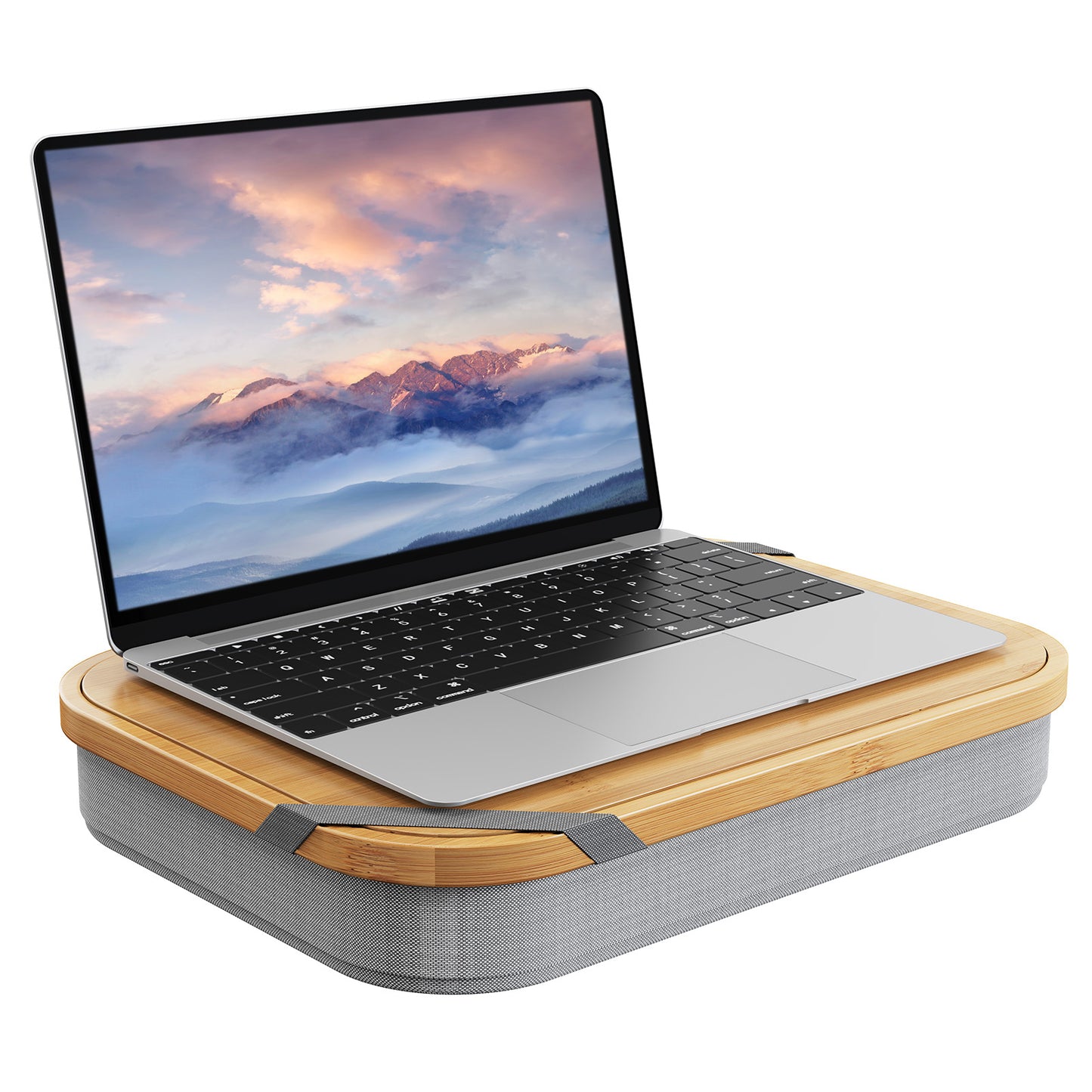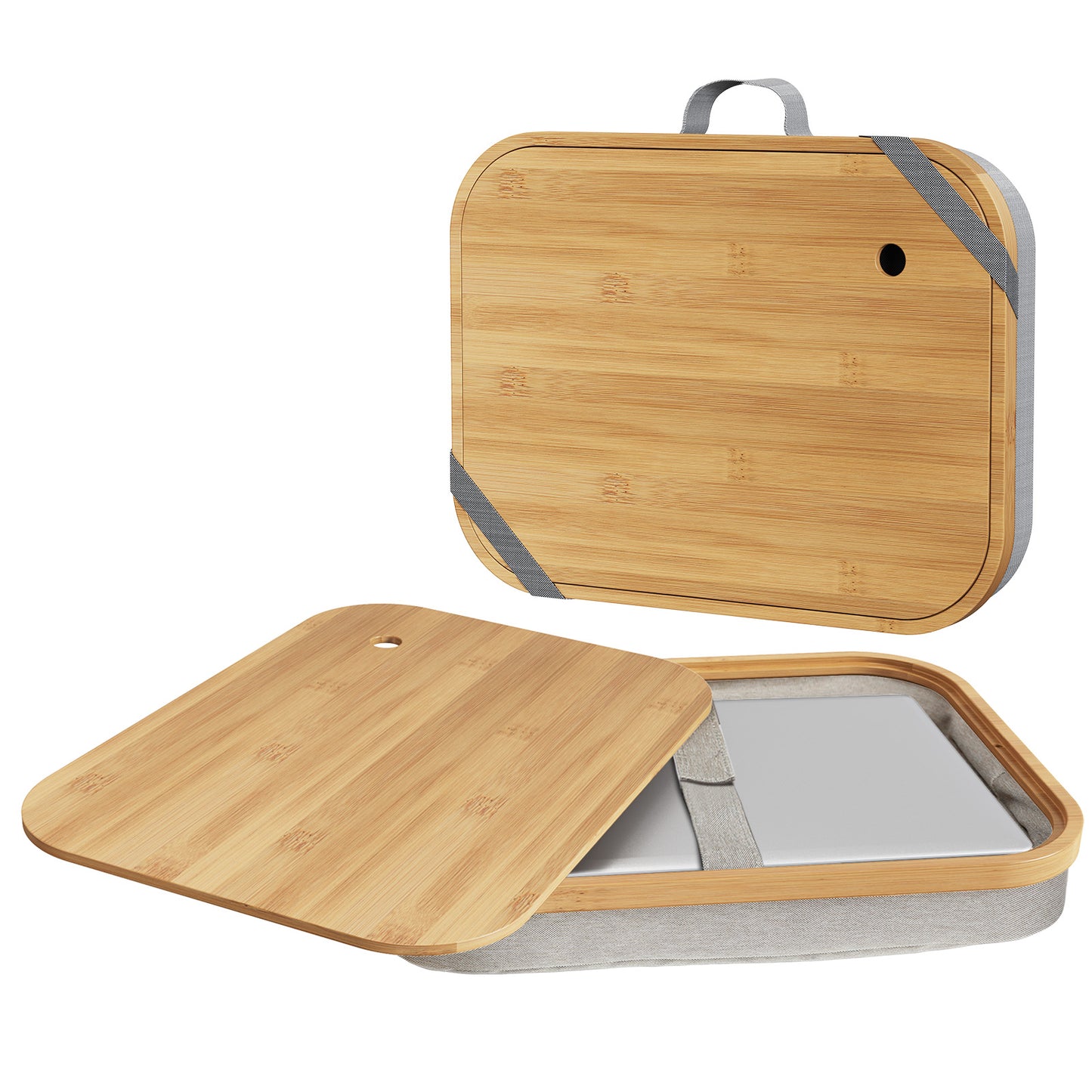 I love this lap desk!
I bought this lap desk because I have chronic health issues and I work on my bed sometimes due to pain and discomfort. My laptop gets hot if I don't have a lap desk between the device and my comforter.It turns out that this is such a great little lap desk! It's the perfect size for my laptop, without a lot of wasted space making it bulky.I love the storage space! It's quite a bit more roomy then I'd envisioned. I have learned that if my device gets warm it could melt my chocolate bar stash that I hide inside though.My husband admired my lap desk so much that he asked for one, so I ordered another. He was really pleased that his laptop fits inside.So whether you want the lap desk for more practical reasons or you want it for aesthetic reasons and to store your snack or candy stash for easy access while you work, this will do the trick!
WOKA Bamboo Laptop Desk with Storage Fits Up to 17'' Laptops Portable Laptop Tray
Not great
The bamboo table top came with a large chunk ripped off and the top does not lay flush. The cushion is fine. First one we bought the table top was warped and wouldn't lay flat. We were hoping the second one would be better. I guess they are just consistent with their mediocrity.
It's alright...
It holds a decent amount & the lap cushion is nice. Unfortunately the hole on top is very inconvenient. I find myself having issues writing with that darn hole in the way. The magnets that hold the lid on aren't strong at all, and within 2 weeks the 2 straps that hold it on became lose & harder to get to stay on.
it's ok
I wanted a halfway decent laptop pad with storage, and not too big; this fits the bill, and it wasn't too expensive. The lid isn't quite flat, so I have to turn it upside down to keep if from wobbling. I kind of wish the lid were hinged, but I can do that myself if I want to. So maybe it isn't perfect, but it'll do.