Regular price
Sale price
$89.99
Unit price
per
Sale
Sold out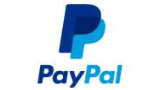 Shipping & Returns

Shipping

Free shipping on all orders to the contiguous U.S.

Return and Refund

We offer a 30 days risk-free return. Check our return and refund policy.
View full details
This 29'' stand up desk converter is especially suitable for a desk with a short width, because its base isn't framed and can be adjusted along with the height adjustment. It has a lightweight and requires no assembly at all. An adult is able to move it to various spaces without help.
Ergonomic desk converter
Switching between sitting to standing from time to time is known to have many benefits for employers and employees. However, some people have limitations on getting a full standing desk. That's why standing desk converters are designed and gaining popularity. A standing desk converter is a budget-friendly replacement for a standing desk and lets you enjoy the benefits of standing at work.
Height adjustable standing desk converter
Easily switch your position to sitting or standing by adjusting the height of this standing desk converter. With its gas lifting mechanism, the desk converter can be raised or lowered in seconds. When it is at its lowest position, it only sits 2'' from the desktop, increasing the height of the computer or monitor to meet your eye levels. If you sit for a long time and need to stand for a while, the desk riser can be lifted up to 15.7'', helping to stretch your body and refresh your mind. Even if there are many things placed on the desktop, its height adjustment is still smooth and quiet.
Compact and portable standing desk riser
The surface of this standing desk riser measures 29.2" x 18.5", making it ideal for small desks while still providing a large area for a monitor or a laptop, keyboard, mouse, and other office supplies. It is perfect for laptop users. A Laptop doesn't take much space and is easy to carry, so does this standing desk riser. It is easily folded to carry while at work and to store when not in use.
Sturdy sit stand desk converter
You may doubt that this sit stand desk converter can't stay at your desired height and will slide sideways. That's the last thing you need to be concerned about. Our sit stand desk converter is built for tens of thousands of movements by passing 25,000-cycle tests. The thicker steel frame, reliable MDF wood, and anti-slip feet altogether enhance the stability. This desk converter is able to load up to 22 lbs. with its sturdy and strong structure.
Stand up desk converter built with details
Details are not ignored when we aim for quality and performance. The stand up desk converter is designed in classic black, which suits any scenes or décor. There is a slope with the desktop edge to prevent wrist pain, and the sealed edge protects hands from possible blurs. The footings are rubber so they won't scratch the desk and have 2 rollers for easy movement.
Desk riser with no assembly at all
We know that your workload is heavy enough and your time is valuable. So, we made the installation process as simple as possible. This desk riser requires no assembly at all. After you receive the package, take the desk riser out of the box, place it on the desktop, and start a new work life. Start standing without wasting time on setup and enjoy the benefits of standing to reduce physical pain and increase productivity.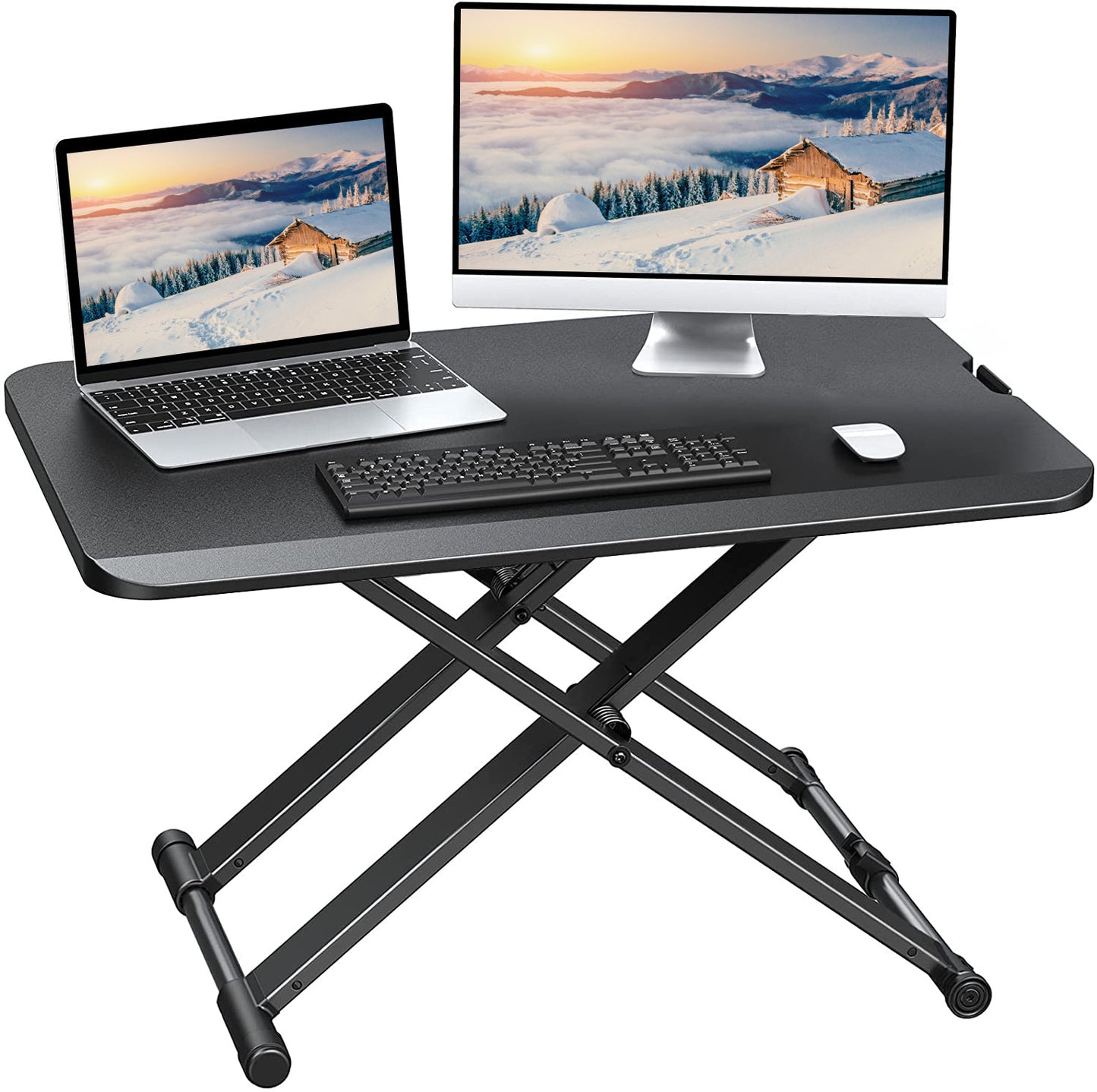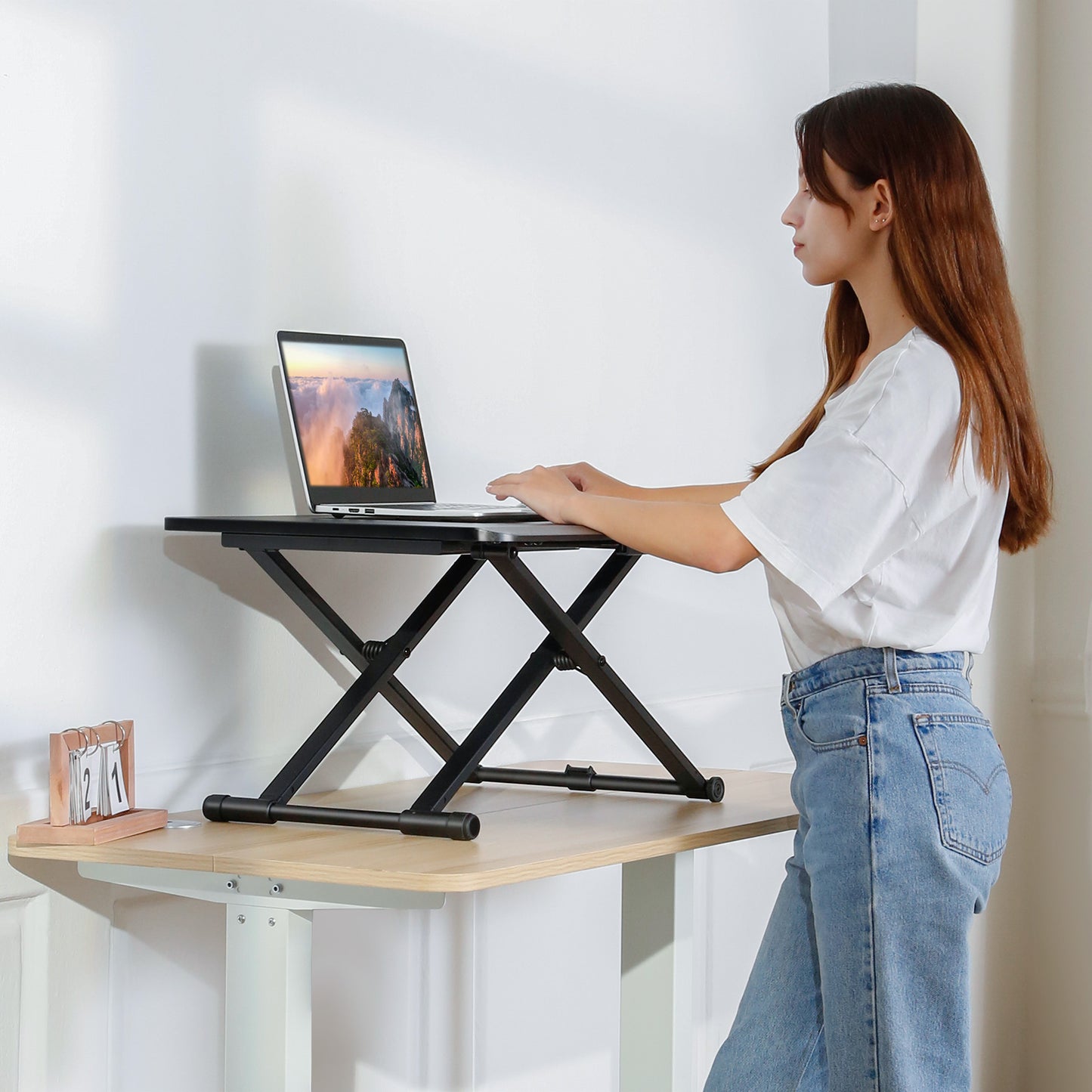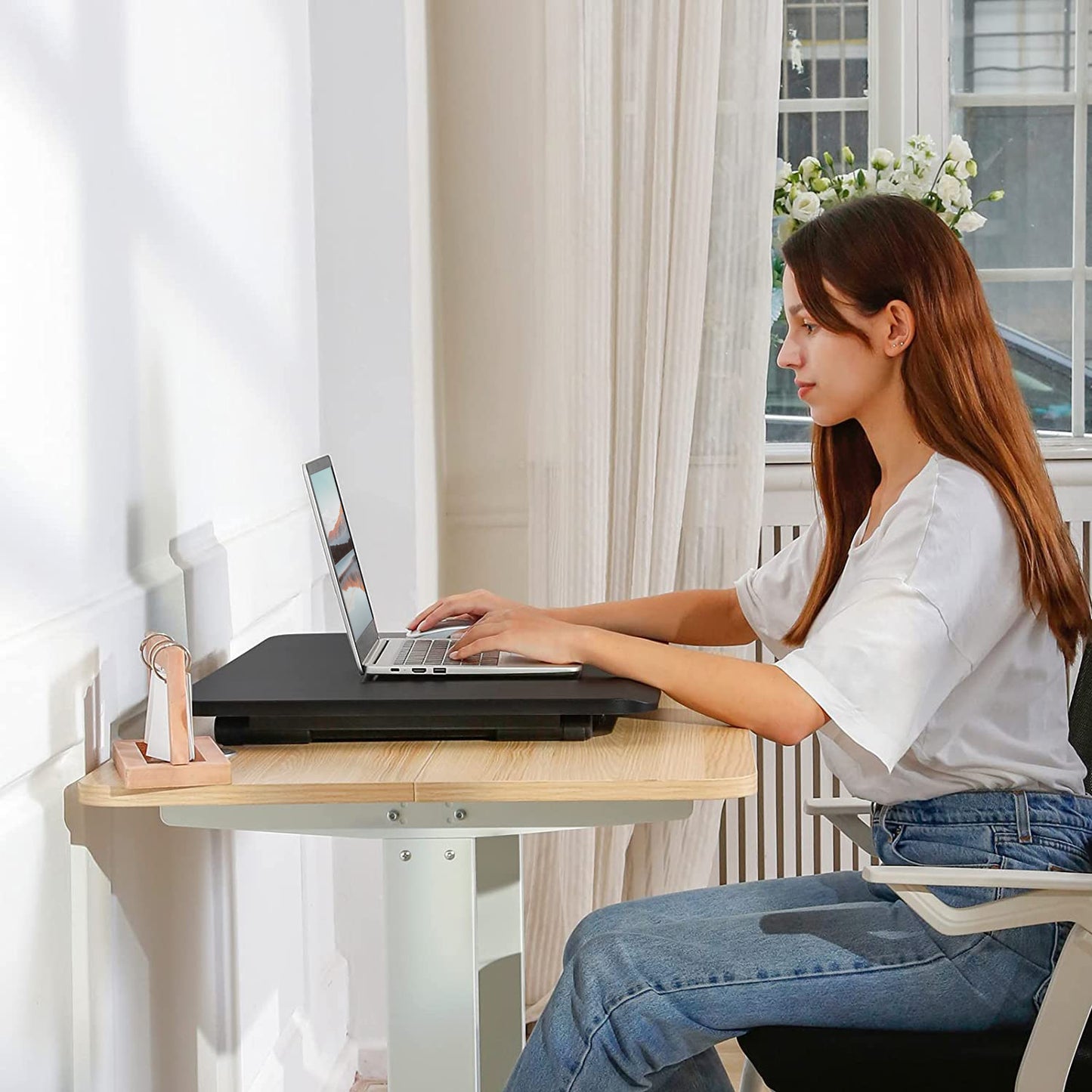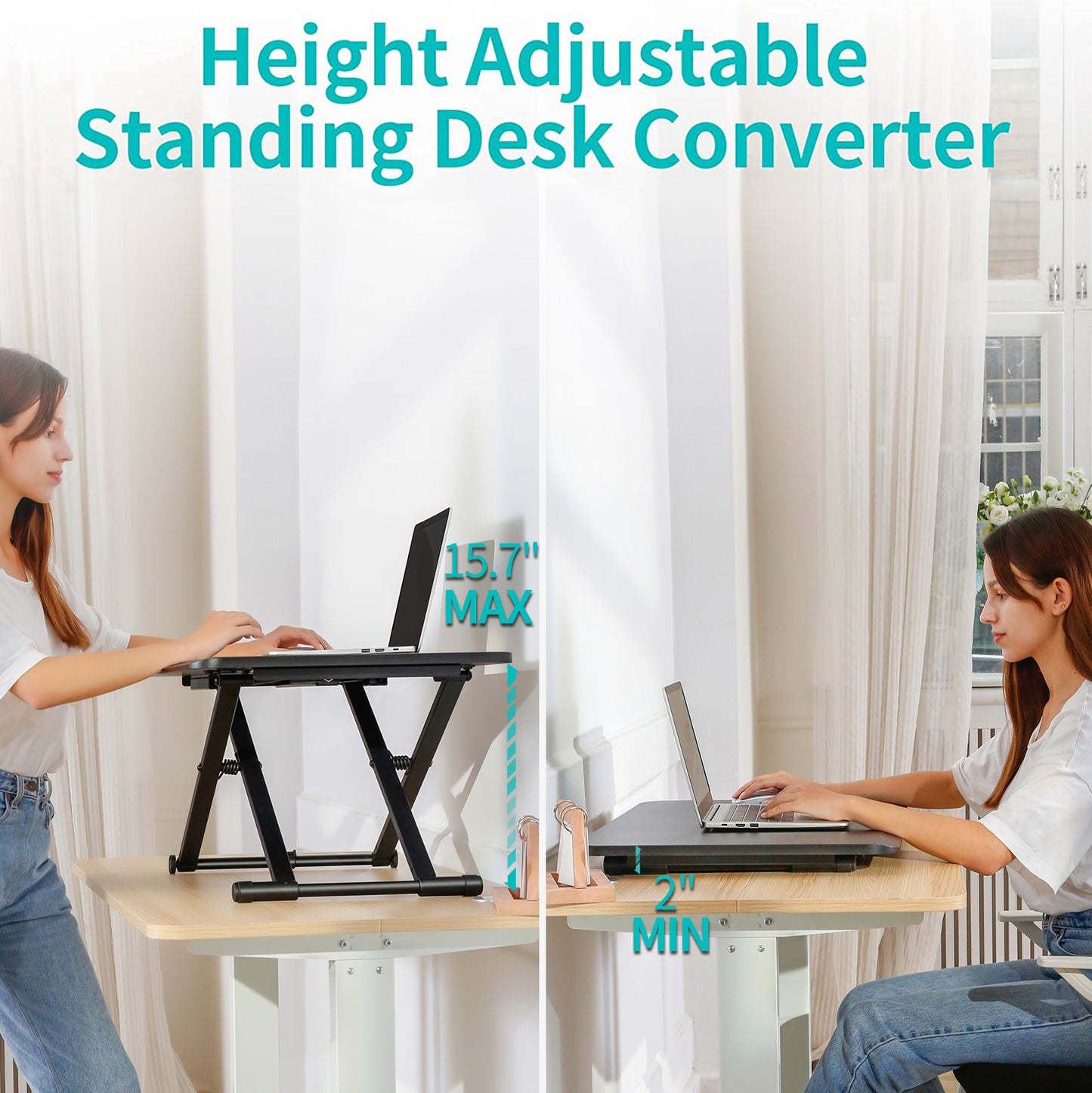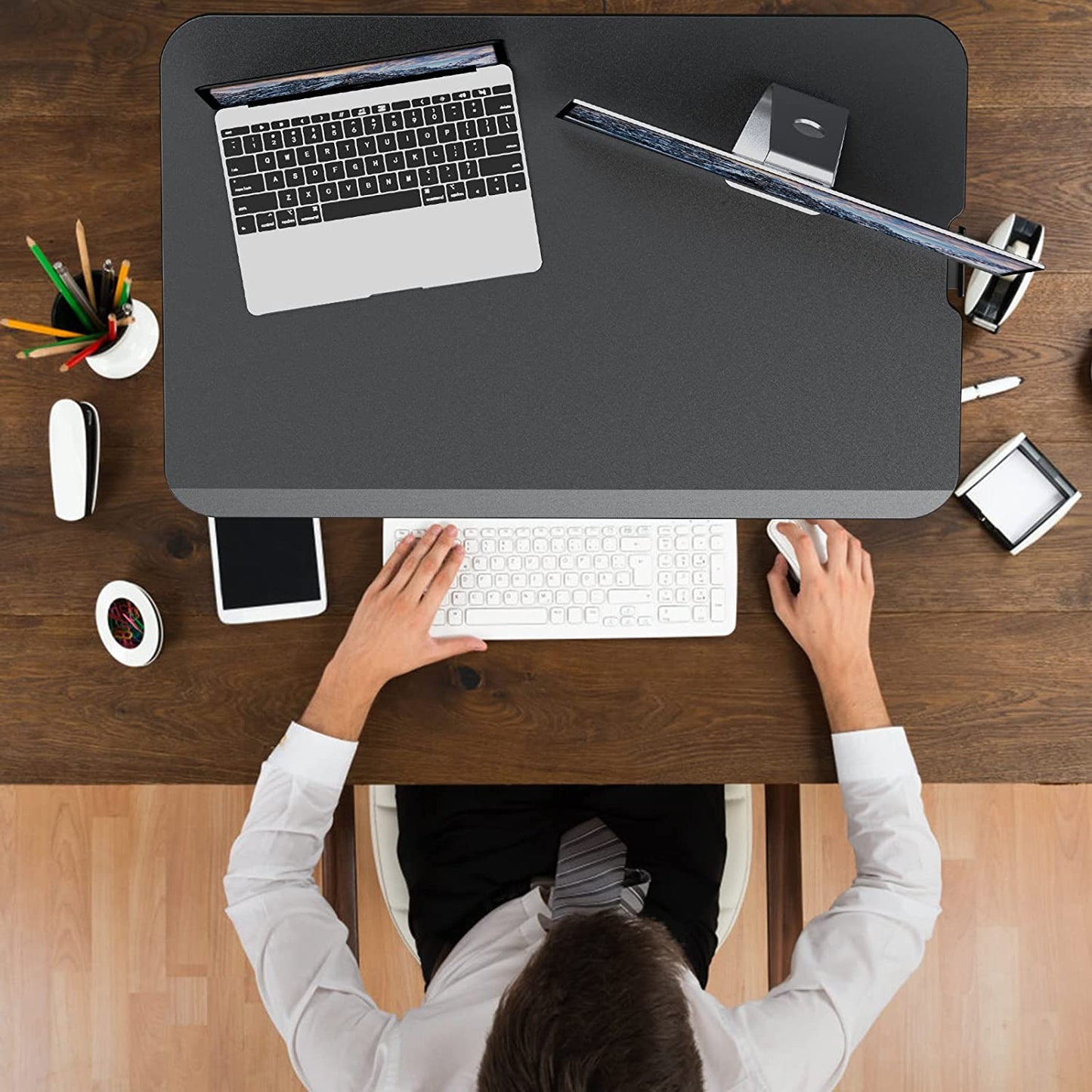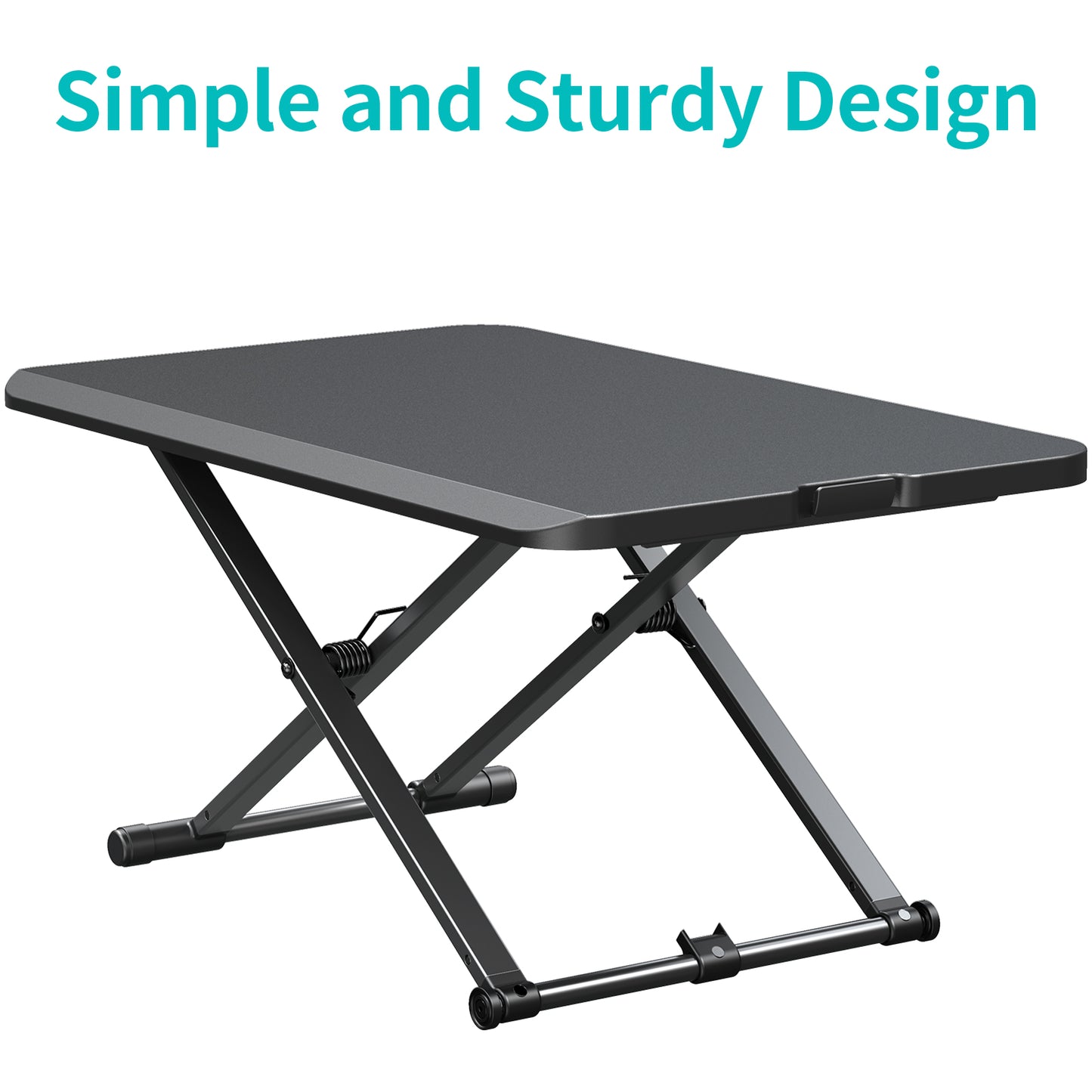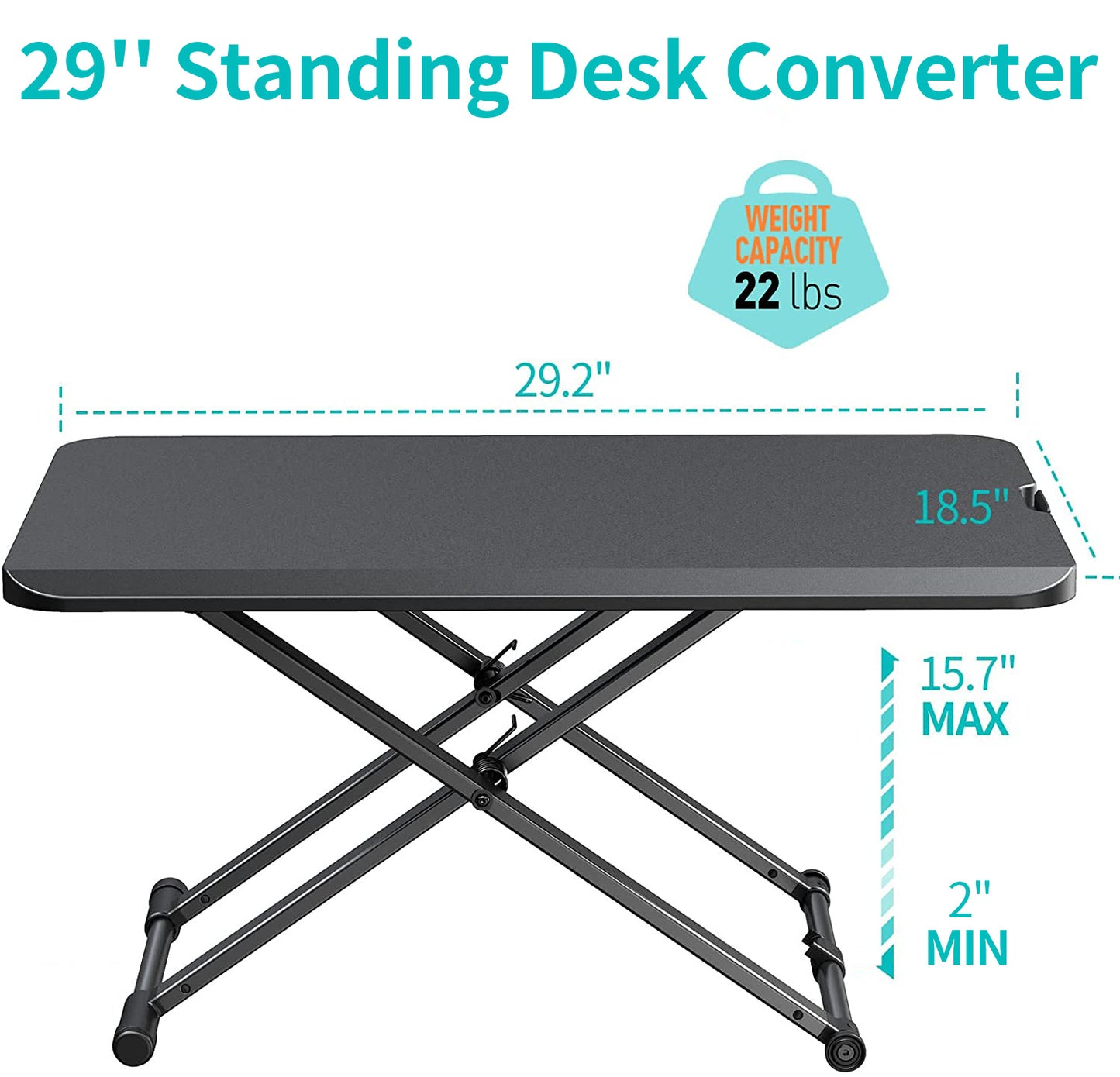 Great value, with NO assembly at all!
The desk requires no assembly at all! Take it out of the box and start using it in 30 seconds. Plenty of room for my 22" monitor and keyboard and mouse and a few small office tools. My back and neck are relieved. Fabulous value. Simple, easy and effective.
Well-built product
Solid built desk. I have many things on it and it still functions well.
Great value, with NO assembly required!
Exactly what I needed! A simple, no assembly required, sit/stand desk. Take it out of the box and start using it in 30 seconds. Plenty of room for my All-In-One 22" monitor and keyboard and mouse and a few small office tools. I have pinched nerves in my back and this product has nearly saved my computer life.Fabulous value. Simple, easy and effective.
Multipurpose< Stand Up Desk/Monitor Stand/Ergonomic Workstation
The media could not be loaded.










?Solid Built Stand. I have a heavier TV on it< be extremely careful when you lower the stand, because of the weight, it would slam down fast. Watch out for your fingers! Thank you for reading my review.