Regular price
Sale price
$39.99
Unit price
per
Sale
Sold out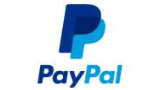 Shipping & Returns

Shipping

Free shipping on all orders to the contiguous U.S.

Return and Refund

We offer a 30 days risk-free return. Check our return and refund policy.
View full details
This monitor riser with drawer is an office must-have in 2022. Made of metal top, mesh drawer, and adjustable legs, this stand helps to raise the monitor or laptop sturdy to eye level and optimize your workstation into an ergonomic one. You can also use it as a desk organizer, a TV box, or a printer stand.
Premium Monitor Riser with Drawer
This computer stand comes with a drawer, which is 11.81'' in length.  The drawer is vertically divided inside. That's just the right length for regular notebooks and pens. You no longer have to worry about losing them. A mesh drawer keeps all your gadgets organized in place.
Adjustable monitor riser for computer and laptop
Monitor risers are turning popular since people realize the height of their screen is one of the key points that influence their working experience. Featured with adjustable legs, this monitor riser has 3 height levels, from 3.9'' to 5.5'' that elevates the screen to a comfortable eye level. The legs are click-to-adjust, you can set up your desired height in seconds. Measures 14.6'' by 9'' (LxW), the stand works perfectly with laptops, 19 to 34 inches screens, mini printers, and more. In all, it is a universal, low-profile monitor stand for desk.   
Laptop cooling stand with metal mesh top
This black mesh stand is not only for monitors but also perfect for laptops. Thanks to its metal mesh platform, the laptop riser helps your devices keep cool all the time, and prevents devices from overheating. Each small vent is designed into a star shape, which is fashionable and functional.
Strong, stable, minimalism black monitor stand
Loads up to 44lbs, even heavy screens can stand steady on the stand without wobble. Made of durable metal with black coating, this monitor riser is a great addition to any desk and any interior design. It upgrades your desktop from a 2D space into a 3D one. You can store books, files, or other items underneath and keep your desktop clean.  
A great monitor riser focus on details 
There is a tablet slot at the front. Each leg features anti-slip pads, to protect the surface of your desktop. 
Assembly can not be easier. The only step is to screw the legs up. No tool is needed. The overall installation can be done within 1 minute.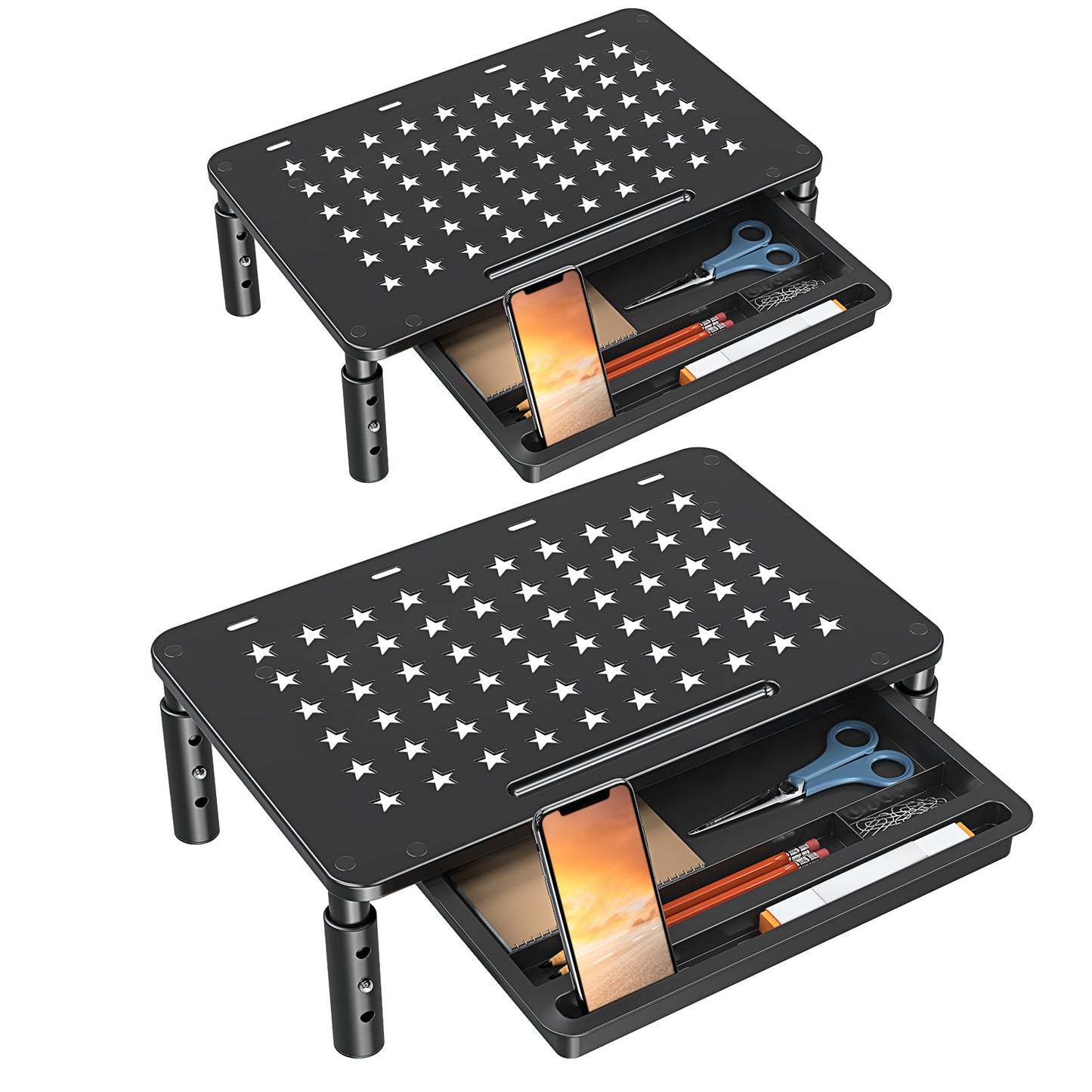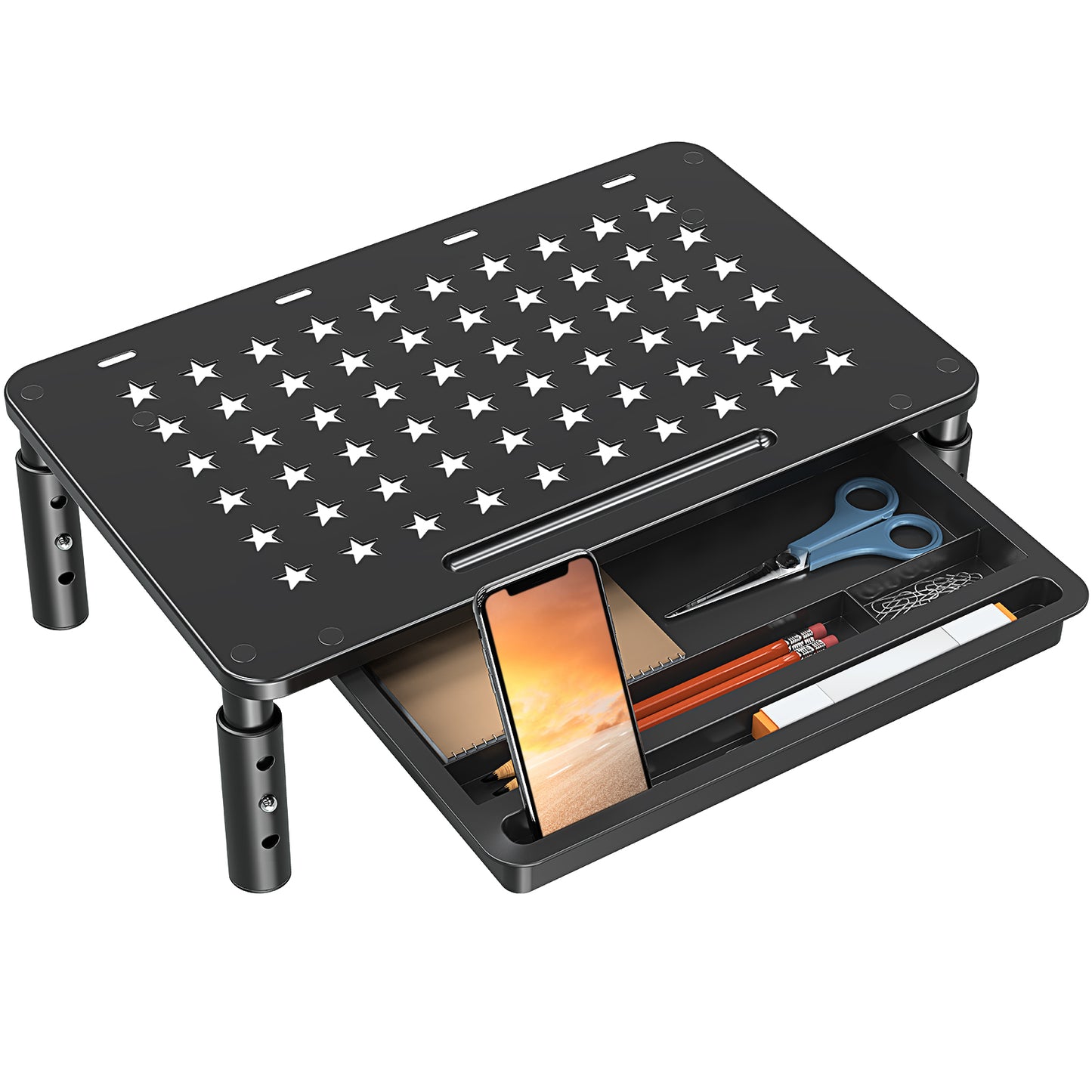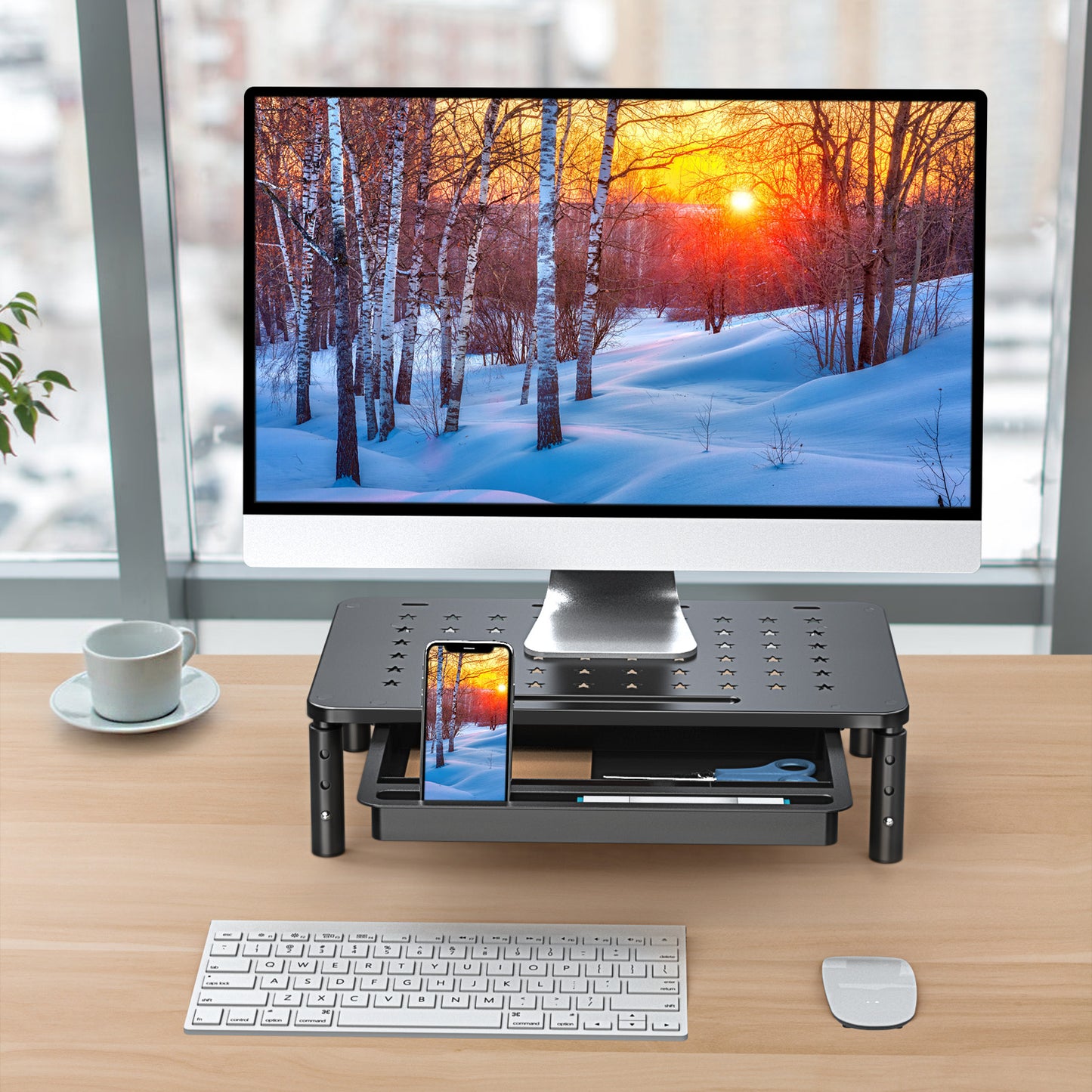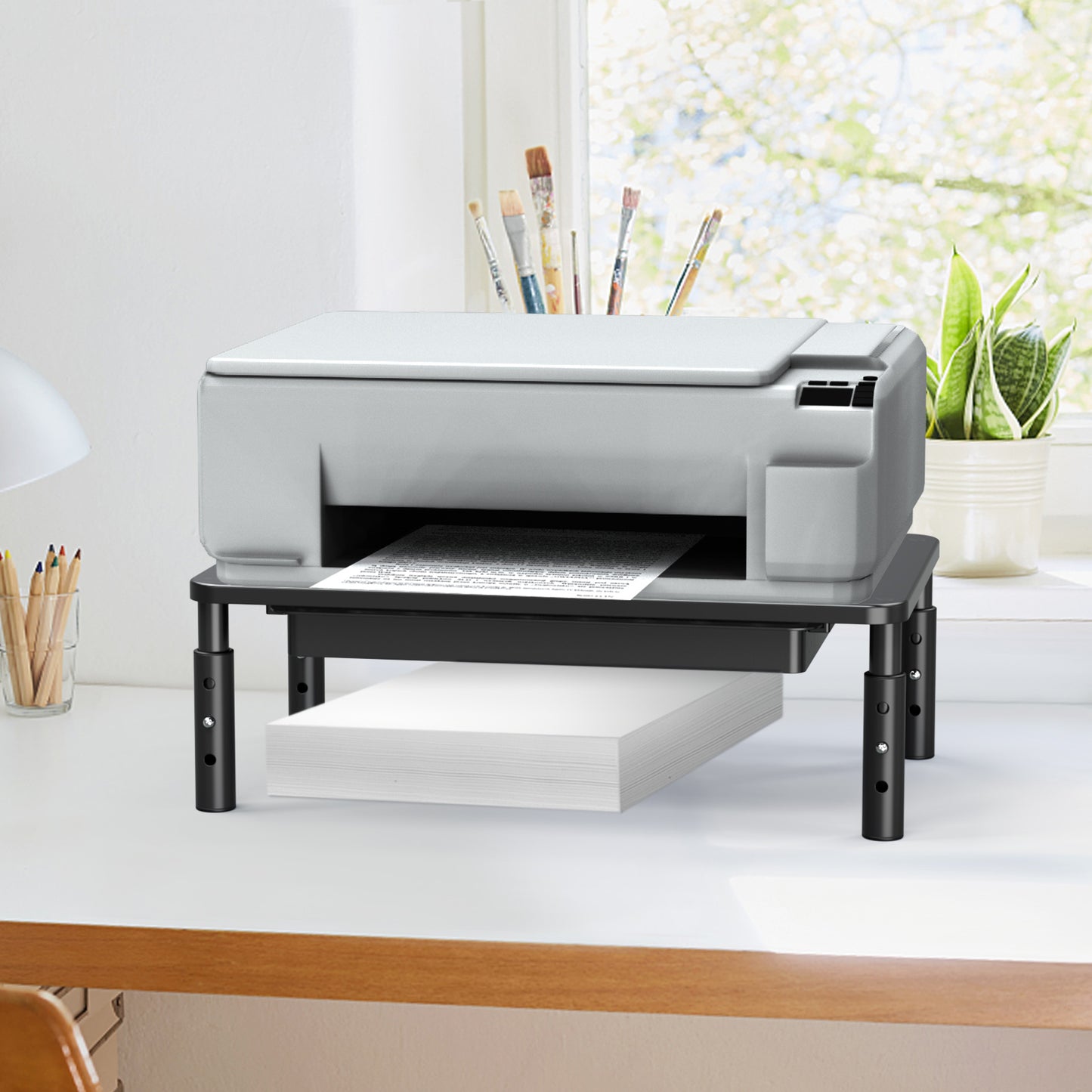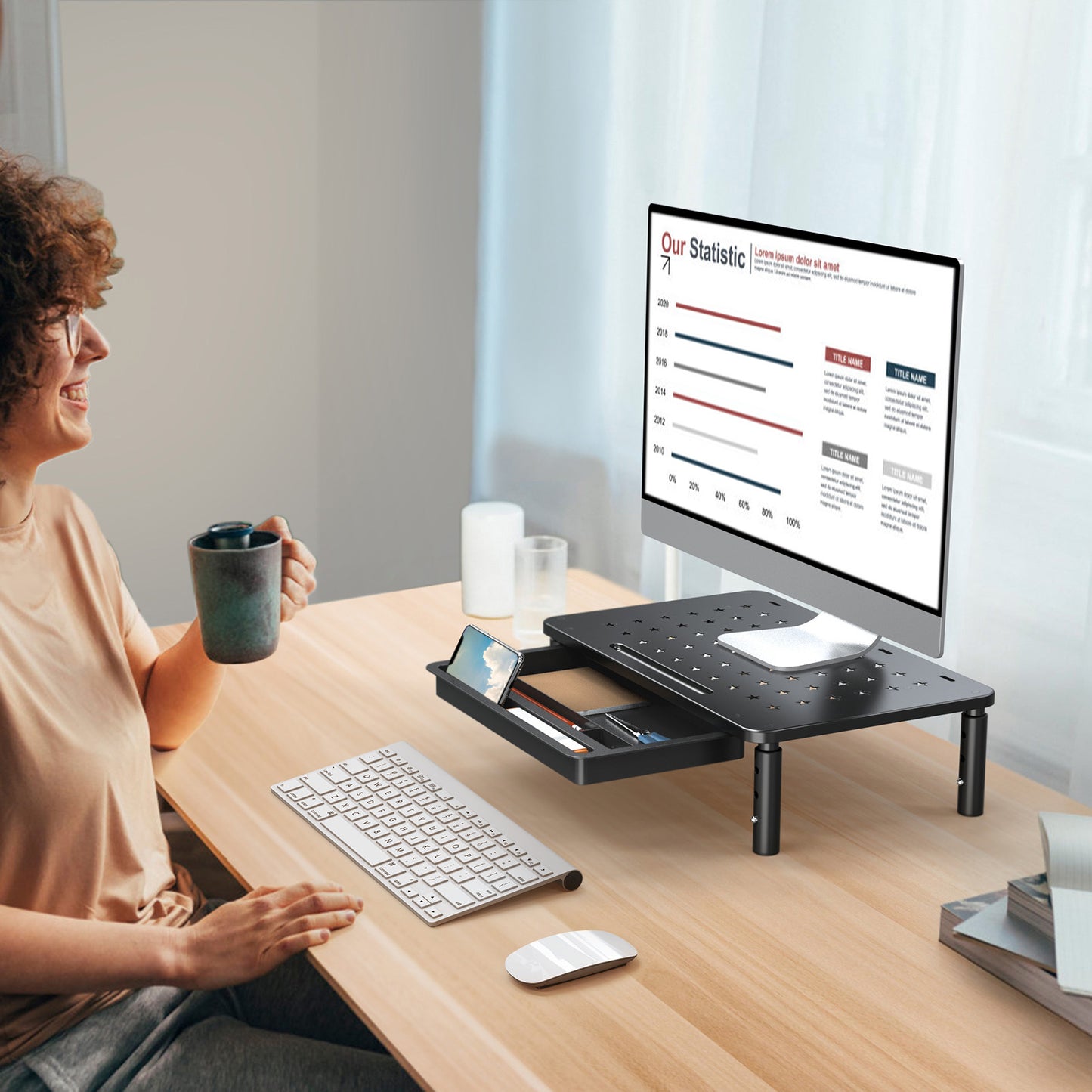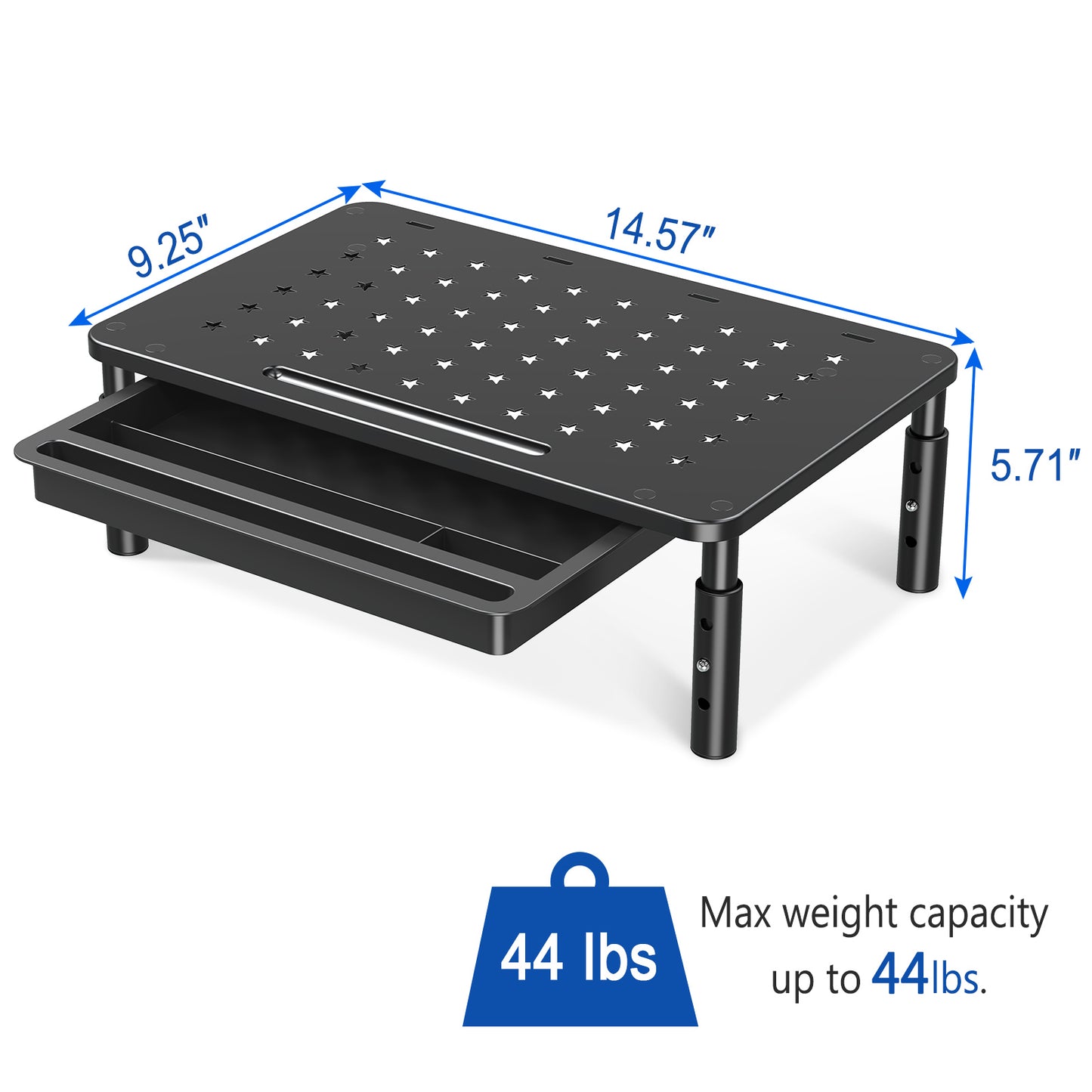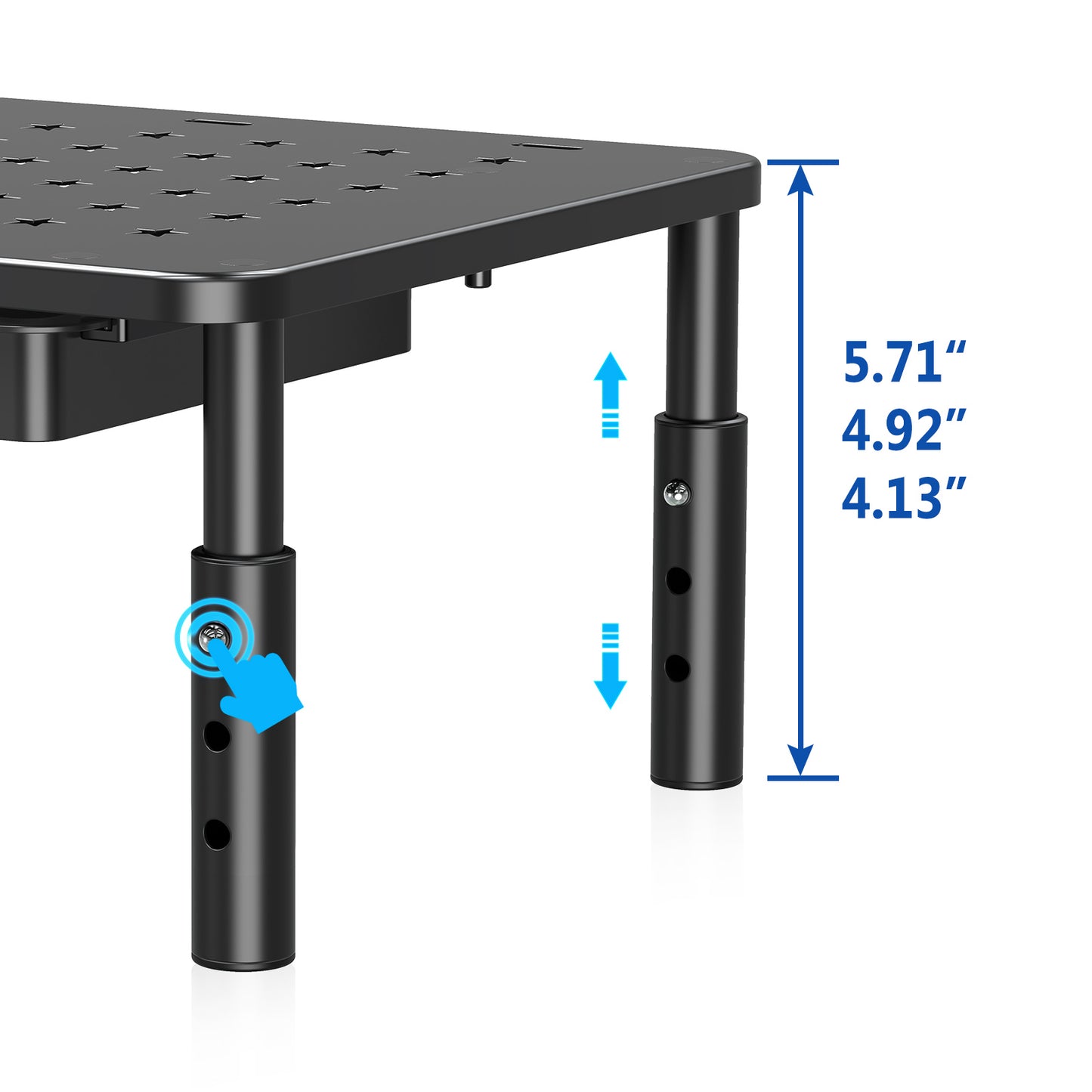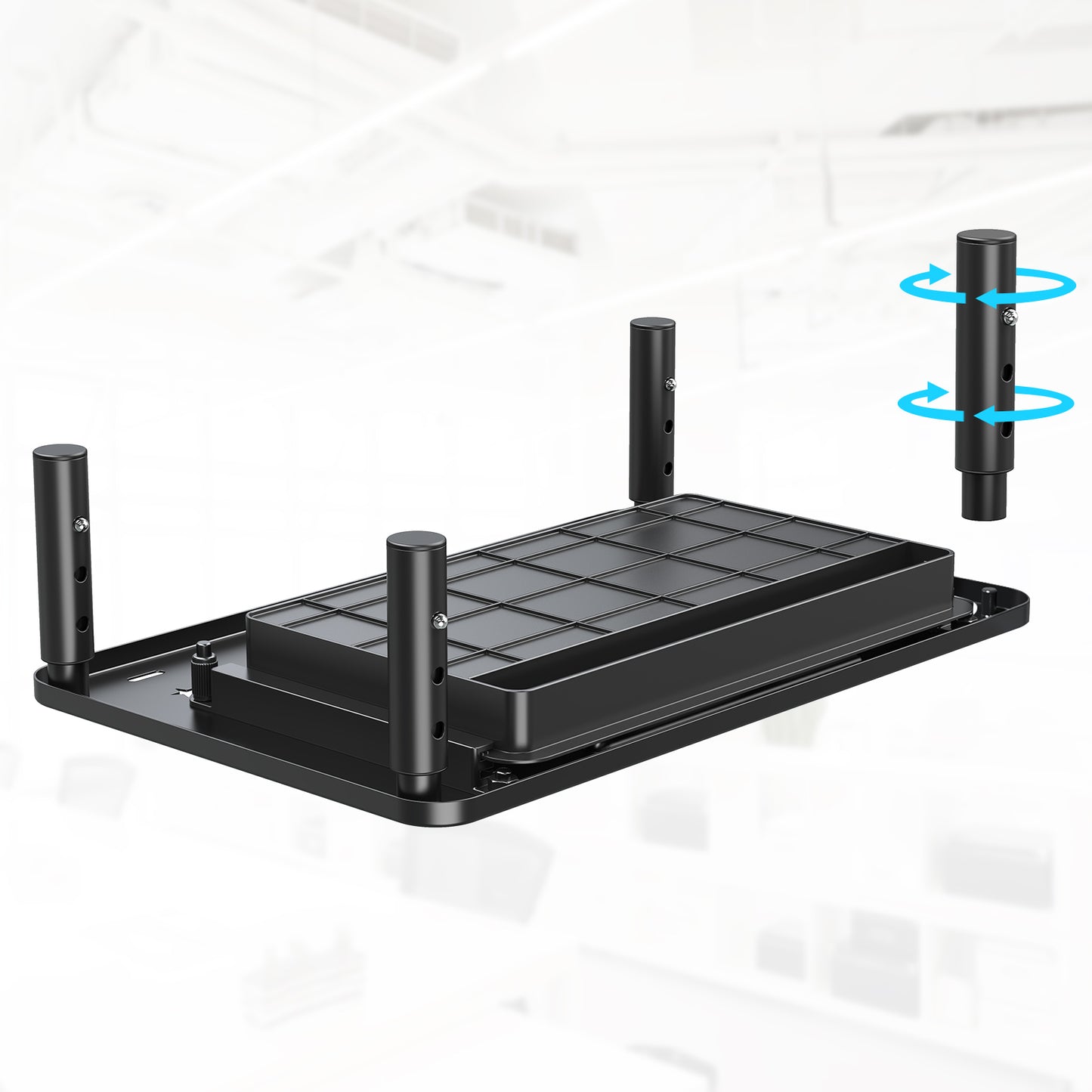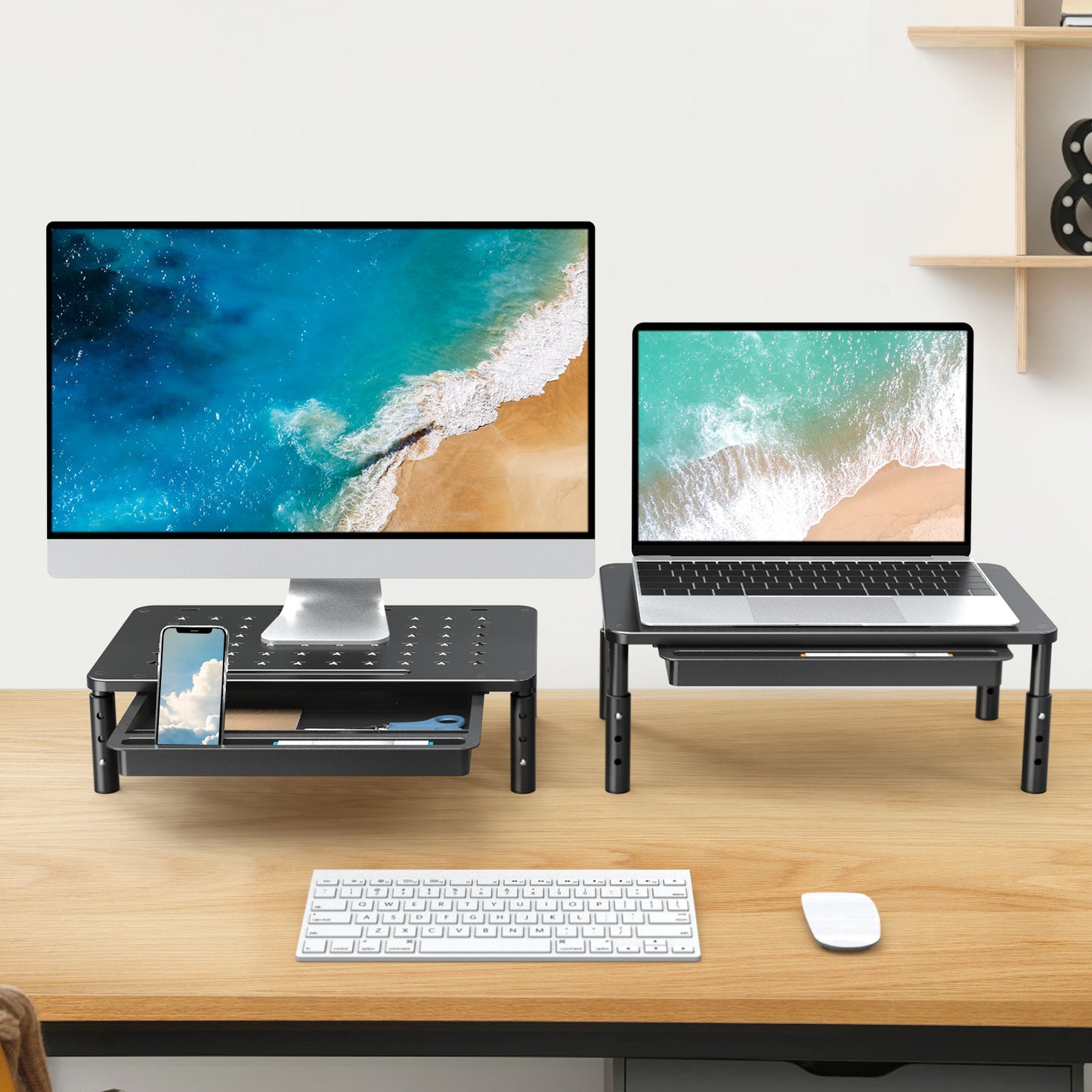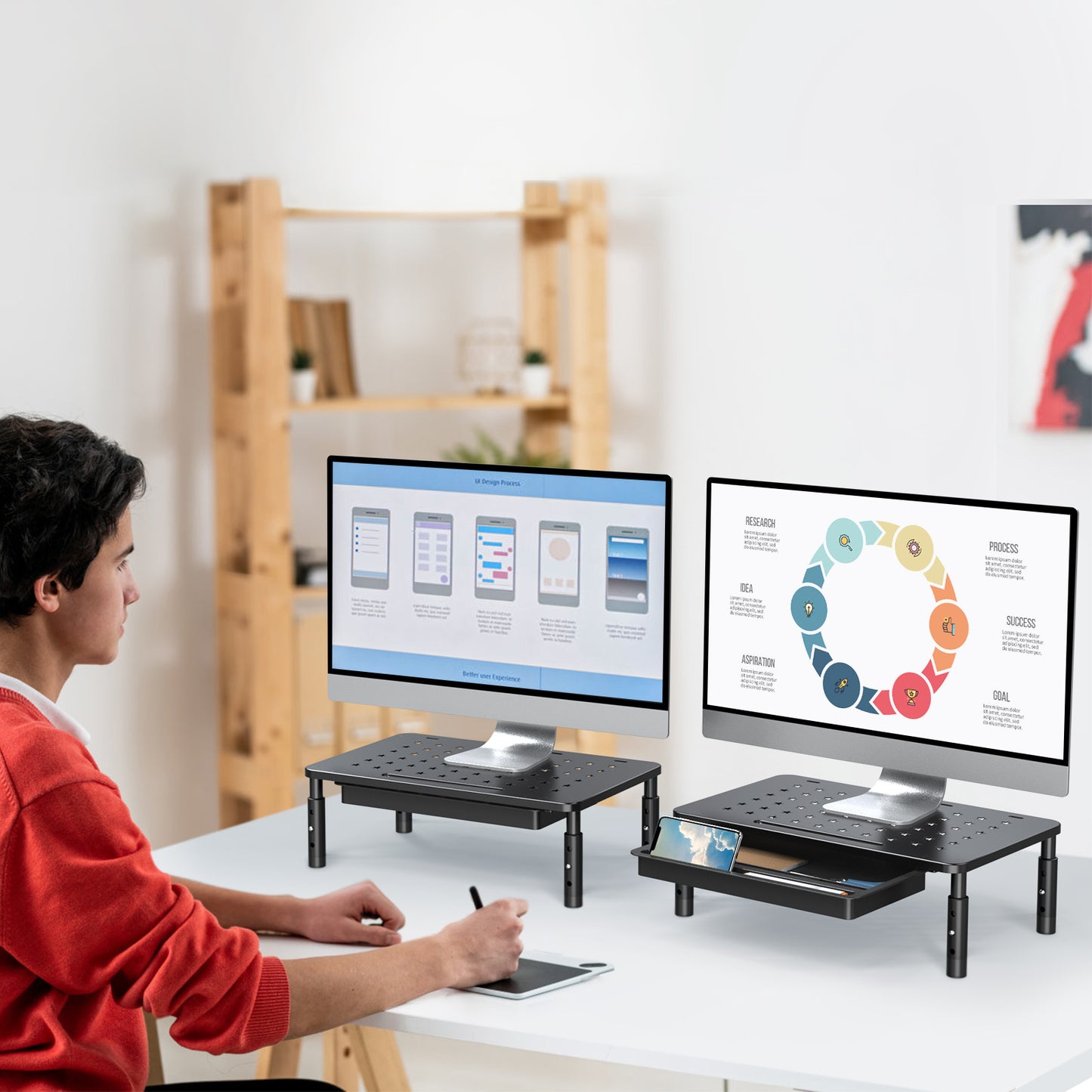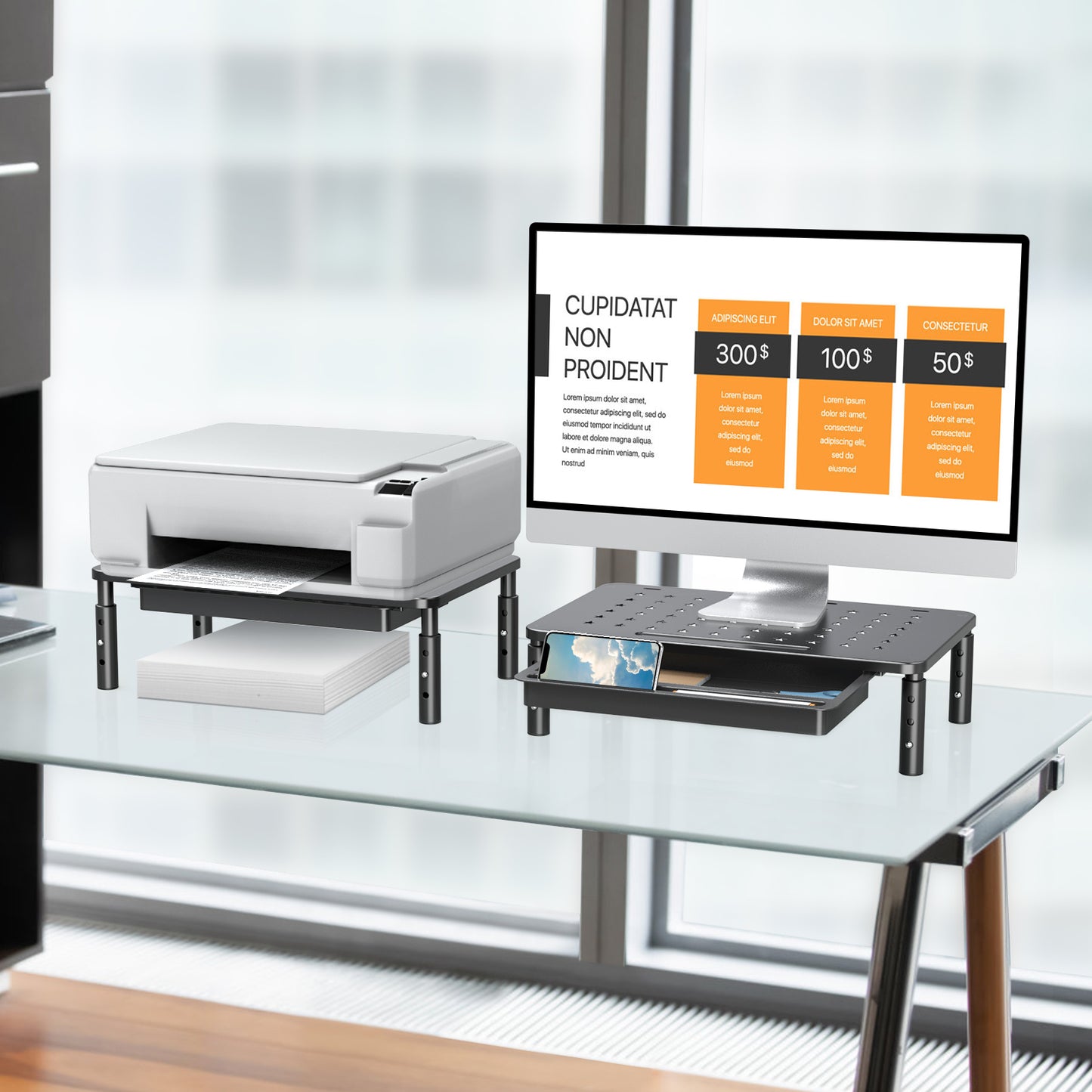 Good Quality Monitor Stand!
I was looking for some adjustable monitor stands and coming across these with very reasonable price. I did not expect much but when they came, I was surprised how they turned out, very sturdy, easy to adjust, and the drawers are also included to keep your pens/pencils and sticky notes tidy. The units are not bulky so they sit on top of the desk nicely and neatly. I would buy these again if I need more in the future.
Adequite for my 27" thunderbolt display
i think my monitor is 35 pounds or so.its a bit shaky. the stand on the apple display is more stable. it would SUCK if the weld or attachment were to break. it seems pretty minimal at the attachment.I -think it will hold this monitor indefinitely without snapping a leg...i trashed the plastic drawer thingy. i wanted some airflow/light flow.i do like the extendable legs and its about an inch taller than most which is why i got it.
Good for Double Monitors and Desk Space
This product is really very good for double monitors and desk space.
Great.
I wanted this to bring my laptop up to eye level and not have to look down constantly. It did what is was supposed to do. I also love the little drawer where I can store pens and other essentials I need to work properly.
Nice monitor stand in the market
This points that I like this product: 1. Height can be adjusted 2. Easy to install 3. Drawer is included. However the stability is not as good as expected, if you need to move your monitors frequently I dont think it will last long